A Guide to Travelling Scotland Solo

Solo travelling in Scotland allows for you to embark on a great adventure. From hiking through the Scottish Highlands, to embracing the rich cultural heritage, you'll be sipping a wee dram like the locals in no time. Our extensive Scottish solo travel guide provides insider knowledge and practical tips for an unforgettable trip in this land of legend, mystery, and natural beauty. Let's get started.

Coming up in this guide:
Why Travel Solo in Scotland?
Solo travelling in Scotland allows you the freedom to delve into its unique heritage, explore its rugged landscapes, and immerse yourself in its vibrant local life at your own pace. From the bustling streets of Edinburgh and Glasgow to the peaceful serenity of the Highlands, solo travelling for the first time in this country offers many experiences for the explorer within. As you embark on this Scottish tour, you're not just sightseeing, you're etching your own narrative onto the land's rich tapestry of tales.
Scotland Destinations to Visit When Travelling Alone
There are numerous top solo travel destinations to name, but to keep things simple Scotland's cities are a good place to start. Whatsmore, if you're crossing the Atlantic, Scotland has direct flights from the USA, making it easier than ever to enjoy a Scottish solo travel adventure.
Edinburgh
Solo travelling in Scotland must include a tour from Edinburgh. The city itself is an irresistible blend of history, culture, and natural beauty, which for its size is not too overwhelming to tour as a solo traveller.

Wander through the cobbled streets of the Royal Mile, crowned by the majestic Edinburgh Castle, and enjoy the modern energy in the New Town. If you time your Europe solo travel adventure right, you can mark your calendars for August. It's in this month the city erupts into a creative wonderland during the world-renowned Edinburgh Festival Fringe.
To experience grand buildings, delicately gracing peaceful valleys, book a place on one of our Scottish Borders tours

Travelling solo from the states? You're in luck. You can board a direct flight to Edinburgh from the USA to kickstart your trip that much sooner.
Glasgow
Immerse yourself in a tour from Glasgow when solo travelling around Scotland. As the country's largest city, Glasgow is the pulsating heart of Scotland's arts scene, has forward-thinking cuisine and is dubbed one of the friendliest cities to explore.

Renowned for its architectural splendour and electrifying nightlife, Glasgow hums with energy. But don't worry if you're more of an early bird than a night owl. We have a guide of the 6 top things to do in Glasgow from our own trips. Experience the grandness of the Glasgow Cathedral, indulge in the quaint allure of the West End, and immerse yourself in the Royal botanical gardens. There's truly something for everyone when solo travelling in Scotland's largest city.

For travellers wanting to pretend to be their favourite TV character, book a place on one of our Outlander tours

Flying from America? Check out direct flights to Glasgow from the USA to ensure a smooth arrival and hit the ground running on your solo travel adventure.
Aberdeen
Known as the Granite City to locals, take a tour from Aberdeen when solo travelling through Scotland. Located on the north-east coast of the country, this city has great connections to iconic landmarks. From touring The Highlands or taking part on a trip to Loch Ness, see where your solo travels in Scotland can take you. While in the city itself, why not step foot in the inspiring museums or take a breather in the open green gardens, to spark your creativity. Still looking for more? Our local guide to Aberdeen has you covered. Ready to explore for yourself?

If you're a traveller interested in historic royal legends or the last ruins of buildings, a castle tour is not to be missed on your trip.
Inverness
Perched on the serene shores of the River Ness, take a tour from Inverness when on a Scottish solo travel journey. As an idyllic gateway to the mystic Scottish Highlands, Inverness is a northern location within the country, providing access to the wildest spots Scotland has to offer. It's here you can quickly reach the Isle of Skye on a day trip or dive into the tale of Loch Ness. Do you believe in the myth?

If you're looking to incorporate the wild isles of Scotland into your holiday, book our tours of the Scottish Islands.
5 Top Tips for Travelling Scotland Solo
Taking a step back to explore our top solo travel tips can help ease any worry you may have before departure. After all, if it's your first time travelling alone, you may not know what to expect. Let's explore.
Be aware of your surroundings: While Scotland can be a safe location to solo travel to, it's always advisable to not get complacent. Although, from our experience Scottish people are some of the friendliest, so hopefully you wouldn't have any trouble.
Update emergency contacts: Having your emergency contact details up to date is advised for all solo travellers not just those visiting Scotland. We'd also advise making a note of the country's emergency numbers too. You never know when you may need them, especially as a female solo traveller.
Be prepared for the weather: Scotland, and the United Kingdom in general, can be quite unpredictable when it comes to the weather. So be prepared for all seasons!
Best time to visit: Touring in the Autumn is arguably the best time for Scottish solo travellers. The landscapes warm to a burnt-orange hue, and the crowds are fewer. It's a warm, dusty dream.
What is Scotland known for?: This country is known for its historic Scottish castles and delicious whisky. Bagpipes, haggis, some Highland coos… we could go on. Be sure to book onto a whisky tour to make the most of the liquid gold and not worry about driving back.

If you're planning on joining Scotland onto your UK solo travel adventure, be sure to read our guide which covers more must see destinations.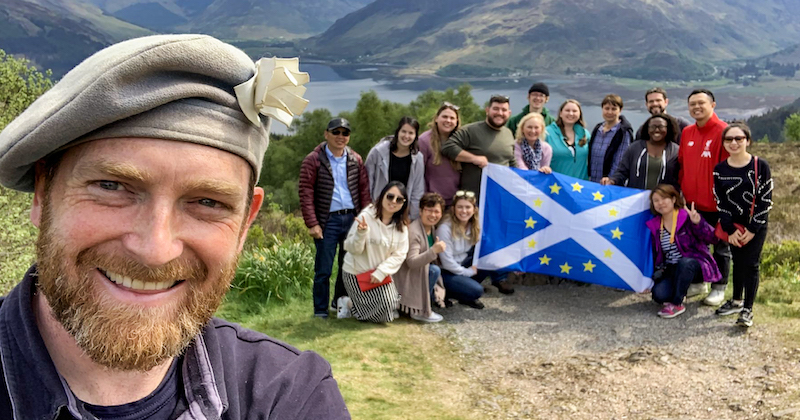 How to Travel Solo Around Scotland
Solo travelling in Scotland is made easy through its wide array of transport options. From public transport, to small-group tours or renting a hire car, endless opportunities greet you. Discover our solo travel guide if you're looking for more inspiration prior to your trip.
Embrace the Unknown on a Small-Group Tour
One of the safest and most enriching ways to travel solo in Scotland is through small-group tours. We pride ourselves on providing authentic, immersive experiences in the comfort of a small group. Never more than 16 people, our mini-coaches take you beyond the traditional to enrich your curiosity leaving you with answers to why. Why did a location become famous? What was the royal connection to the ruins? All can be answered with the help of a knowledgeable driver-guide, who is inspired to create a memorable journey for all travellers.
Connect Through the Wide Public Transport
Scotland boasts a well-connected public transport system that includes trains, buses, and ferries. This makes it an excellent location choice for solo travellers in Scotland with environmental considerations. Although it's worth noting, our responsible travel initiative promotes caring for the environment in order to preserve it for generations to come.

If you're interested in boarding the local rail network while solo travelling in Scotland, read our guide to the main train stations in Scotland. It can become your best friend to plan your route effectively.
Tour Solo with Confidence
So what are you waiting for? Your solo travels in Scotland await. Discover the wonders of this land and make unforgettable memories when aboard a small-group tour. But why stop at Scotland? Tour England, take a trip to Ireland, or cross the channel to explore Europe and all it has to offer. Where will you begin?

Make sure you stay up to date with all our new tours and departure points when you sign up to our newsletter.