10 of the Best Castles in Scotland to Visit

There are many castles in Scotland begging to be explored. In fact, it's thought that there used to be a staggering 3,000 castles across Scotland. Nowadays, they number closer to 1,500. Dotted throughout the country, a Scottish castle is never far away. They lie ready to excite visitors with enthralling legends, fascinating history and incredible views. If you're looking for a Scottish castle adventure, then our castle tours are an excellent way to experience their magic. Not quite tempted yet? Read on to discover 10 of the best castles in Scotland and be inspired to pay them a visit.
Table of Contents:
1. Edinburgh Castle
Edinburgh Castle is one of the most popular castles in Scotland and it's famed worldwide. Standing proud above the city (and seen from near Rabbie's cafe), Edinburgh Castle is an iconic part of Edinburgh's skyline. As you might expect, the castle has a long and rich history. The oldest part is St Margaret's Chapel which dates back to the 12th century. Since then, Edinburgh Castle has housed many royals. Among these is Mary Queen of Scots, who gave birth to the future King James VI within its walls. It's also been used as an army stronghold and even remains partly a military base today. Offering visitors stunning views, amazing architecture and entertaining stories, we think it's pretty safe to say that Edinburgh Castle is one of the best castles in Scotland.
2. Stirling Castle
Castles in Scotland don't come much more symbolic than Stirling Castle. Located on the border between the Scottish Highlands and Lowlands, Stirling Castle guarded the lowest crossing point of the River Forth for centuries. This position made it a valuable stronghold during the Wars of Independence with England between 1296 and 1356. During this period, Stirling Castle changed hands eight times. The fortress also overlooked some famous bloody battles. One of the most notorious of these is William Wallace's victory over the English at Stirling Bridge in 1297. The 220ft tall National Wallace Monument commemorating Scotland's great hero can be seen to the north of Stirling Castle. Another nearby battle from the history books was Robert the Bruce's defeat of Edward II at Bannockburn in 1314. As if this wasn't enough, Stirling Castle is also importantly linked to the history of Mary Queen of Scots. It was here that she was crowned Queen of Scotland, aged only nine months. Now known as the "Key to Scotland", Stirling Castle offers a spectacular view of the surrounding area from its impregnable walls. Tempted to visit this significant Scottish castle? Hop aboard our day tour from Glasgow to Stirling Castle and Loch Lomond.
3. Eilean Donan Castle
One of the best castles in Scotland to visit is Eilean Donan Castle. An iconic and gorgeous 13th-century castle Eilean Donan once warded off Viking invasions. It sits on its own little island where the waters of three sea lochs meet and is famed for this picturesque setting. You may also recognise Eilean Donan from the popular 80s film Highlander. As with many castles in Scotland, Eilean Donan's origins involve warring clans. The Mackenzies, the Macraes and the Maclennan clans all laid claim to it at one point. Eilean Donan was later destroyed in 1719 during the Jacobite Rebellions. Luckily for us, the Scottish castle has been restored and you can visit it on a few of our small-group tours. Combine Eilean Donan Castle with a tour of the majestic hills of Torridon and Lochs Ness and Maree on a Rabbie's day tour from Inverness. Or venture further and hop aboard our Eilean Donan Castle and the Isle of Skye Tour.
4. Inverness Castle
Another impressive castle in Scotland which you don't want to miss is Inverness Castle. Perched on a cliff overlooking the beautiful River Ness, Inverness Castle is recognisable by its red sandstone walls. The structure you see today only dates back to the nineteenth century. However, the history of Inverness Castle reaches much further back in time. From the 6th century, when the site was made a stronghold of the northern Picts through to the present day, Inverness Castle has held great importance. It even featured in Shakespeare's play Macbeth as the place where Macbeth murders King Duncan. Combine a trip to this Scottish Castle with one of our many tours departing from Inverness.
5. Culzean Castle
Built in 1792, Culzean Castle is unique from other castles in Scotland because it hasn't been involved in conflict with the English! It also isn't the crumbling fortress that may come to mind when you think of Scottish castles. With its plush interior, pristine gardens and perfect greenhouse, Culzean Castle seems almost modern. Even so, it's still one of the best castles in Scotland to visit. Mysterious mediaeval caves, stunning views, impressive architecture; the list of reasons why you'll love Culzean castle is long. Want to learn more and see it for yourself? Join us on our Culzean Castle and Ayrshire Coast tour.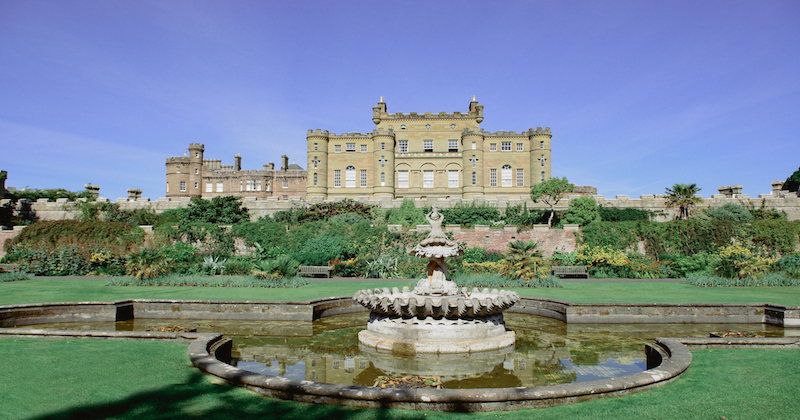 6. Craigmillar Castle
Sometimes thought of as Edinburgh's "other" castle, Craigmillar Castle is often missed by tourists. However, it's one of the best castles in Scotland to visit and you'll treasure your time here. Built in the early 15th-century, Craigmillar Castle is one of the best preserved castles of its time period. You can spend hours exploring its labyrinth of chambers. Or why not brave the climb up the old tower house? You'll be rewarded with breathtaking views across Edinburgh. This is also another one of the many castles in Scotland which have been used as a filming location. It most recently featured in the Outlander series. You can explore other Outlander filming locations such as Doune Castle on our range of Outlander tours.
7. Brodie Castle
One of the lesser known castles in Scotland, Brodie Castle is still well worth a visit. Surrounded by the lush countryside of Moray on Scotland's East Coast, the rose coloured turrets of Brodie Castle feel like something out of a fairytale. In springtime, the castle is even more magical as the gardens are filled with bright daffodils. The castle gets its name from the Brodie clan who originally built the structure in 1567. Throughout the years, its halls and towers have become filled with fascinating antiquities and artefacts. Now, it's a treasure trove for you to delve into as part of our Scottish Castles Experience. Brodie Castle is also famous because it neighbours Culloden. It was at Culloden Battlefield that the Jacobite uprising came to an end in 1745 and the last land battle in Great Britain took place.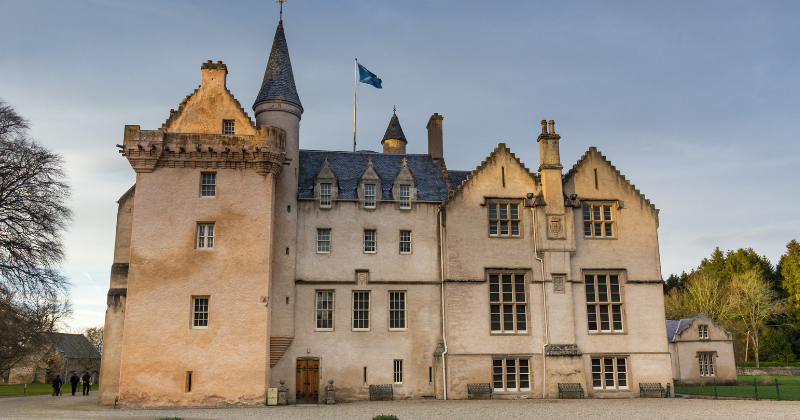 8. Blair Castle
Blair Castle is a stunning white building nestled into the landscape of Highland Perthshire. Like many other castles in Scotland, it's stood strong throughout the country's turbulent history. As the home of the Atholl family for over seven centuries, Blair Castle has witnessed great changes across the Mediaeval, Georgian and Victorian eras. Traces of this history can be felt and seen by visitors lucky enough to spend some time here. The castle has hosted Mary Queen of Scots as well as the Young Pretender Charles Stuart (affectionately known as Bonnie Prince Charlie). What's more, Blair Castle features a magnificent nine-acre Georgian walled garden which looks astounding in the Scottish sun. In the warmer months, you can explore the majestic Blair Castle on our Whisky and Castles 2 day tour from Edinburgh.
9. Dunnottar Castle
You can find the ruins of Dunnottar Castle perched on a cliff edge in Stonehaven on Scotland's East Coast. This fortress is one of the most photographed castles in Scotland thanks to its dramatic backdrop. It's also popular with movie directors who have used the site in many films including Victor Frankenstein (2015) and Franco Zefferrelli's adaptation of Hamlet (1990). But Dunnottar Castle isn't just a treat for photographers. History lovers will adore this Scottish castle too. There is evidence of Picts living at Dunnottar as far back as 5000 BC. Since then, it has been visited by Christian missionaries, Vikings, Mary Queen of Scots and King Charles II to name a few. Perhaps most famously though, it was at Dunnottar Castle that a small garrison protected the Scottish Crown Jewels from the force of Cromwell's army. On the coast just south of Aberdeen, this dramatic Scottish castle is an unforgettable stop on our Dunnottar Castle & Royal Deeside day tour.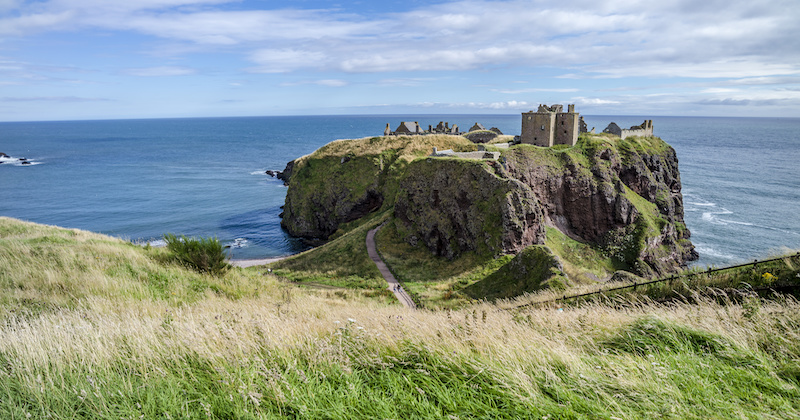 10. Lochleven Castle
You may think that living in a castle in Scotland is a dream come true. But for Mary Queen of Scots, Lochleven Castle was a nightmare. This Scottish castle was her prison in 1567. She was held hostage here and forced to abdicate the throne in favour of her son. Still mostly intact, Lochleven Castle now seems like a rather charming tower. It's easy to forget it has a slightly sinister history. Visitors can enjoy the peaceful island setting as they learn more about this Scottish castle.
Bonus: Alnwick Castle
Although not technically in Scotland, we feel that Alnwick Castle deserves a mention. Located about an hour south of the Scottish border, Alnwick Castle is the second largest inhabited castle in England, after Windsor Castle. However, it is for its starring role in the first two Harry Potter films that most people will recognise Alnwick Castle. Its 900-year-old walls were the filming location for Hogwarts as well as also featuring in Downton Abbey. You can visit this stunning stronghold on our day tour of the Northumberland Coast.
Experience the wonder of Scottish Castles with Rabbie's
Feel inspired to visit some of these amazing castles in Scotland? Rabbie's provides small group tours departing from Edinburgh, Inverness, Aberdeen and Glasgow to a selection of these fantastic sites. You can marvel at the culture, learn about the history and take in the scenery. All the while, our friendly and knowledgeable guides make the trip extra special as they share their expert knowledge and captivating tales of the castles. Whether you journey to join us from one of the many train stations in England or via direct flights to Scotland from the USA, Rabbie's will welcome you aboard. Travel with us for an unforgettable journey into the past today.