Everything You Need to Know about Train Stations in Scotland

The many train stations in Scotland make exploring this beautiful and fascinating country a breeze. Connecting city breaks with countryside escapes or even further abroad, getting to Scotland and travelling its hidden gems couldn't be simpler. Our guide has all the information you need to make sure your Scottish journey goes off without a hitch.
Table of Contents:
Where Are The Main Train Stations in Scotland?
There are 359 train stations in Scotland. The railway network spreads across the country, connecting some of Scotland's most popular spots. The main train stations can be found in Scotland's major cities including Edinburgh, Glasgow, Inverness and Aberdeen. Below we share some of the top information to know about these stations.
1. Edinburgh Waverley Station
Edinburgh Waverley is one of the oldest train stations in Scotland and has been serving rail passengers since 1846. It's located right in the heart of the city, near top attractions such as Edinburgh Castle, the Royal Mile, and Princes Street. Edinburgh Waverley train station is also a two-minute walk from Rabbie's cafe where you can enjoy some refreshments before catching one of our small-group tours. For the tour itself, make the easy four-minute walk from Edinburgh Waverley past the Melville Monument to our departure point at Edinburgh Bus Station on North St Andrew Square.
2. Glasgow Central Station
Glasgow Central Station is the largest train station in Scotland. Handling around 28 million passengers annually, it's also one of the busiest train stations in the UK. But just because it's busy, doesn't mean it's not beautiful. Glasgow Central is known for its impressive Victorian architecture which dates back to the station opening in 1879. The station is conveniently located near famous sites such as Glasgow Cathedral and it's also just a 12-minute walk from our Glasgow tours departure point. Simply take the Union Street exit from Glasgow Central Station and head north down Renfield Street. Combining one of our mini-coach tours with your further travel couldn't be easier.
3. Inverness Station
Some consider Inverness Station the gateway to Scotland's majestic Highlands. The most northerly city in Scotland, Inverness is certainly a good base from which to explore Scotland's Highland treasures. Once you arrive at Inverness train station you're immediately within walking distance of fascinating historical sites such as Inverness Castle, as well as the beautiful banks of the River Ness. What's more, you're surrounded by lots of options for food and drink including the popular Mustard Seed restaurant. If you're heading off on one of our 1-3 day tours from Inverness, you'll be happy to hear our local departure point is the bus stop next to Inverness Cathedral on Ardross Street, IV3 5NS.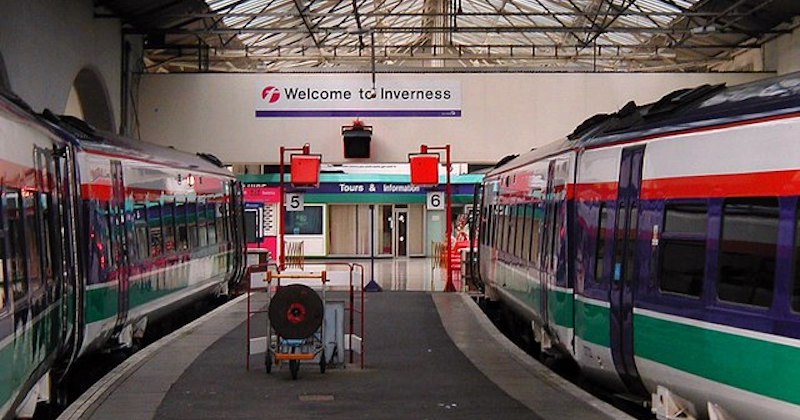 4. Aberdeen Station
Last but not least, Aberdeen Station is another of the major train stations in Scotland. Located in the very heart of the city, the transport hub has some of Aberdeen's top attractions on its doorstep, from the Maritime Museum to the must-see William Wallace Statue, which are both within a 15-minute walk. Our mini-coach tours from Aberdeen also depart from right around the corner. You could even pick up a Krispy Kreme donut or a Costa coffee on the way.
What Are The Main Train Routes in Scotland?
There are five main railway routes which connect the train stations in Scotland. These are:
The East Coast Mainline - Running north along the east coast between Edinburgh Waverley and Aberdeen
The West Coast Mainline - Running east to west between Edinburgh Waverley and Glasgow Central connecting the Lowlands
The Highland Mainline - Connecting some of the most northerly train stations in Scotland, running between Inverness and Thurso
The West Highland Line - Running north along the west coast from Glasgow to Mallaig and Oban in the Scottish Highlands
The Borders Railway Line - Running through south Scotland from Edinburgh to the beautiful Borders
These railway lines form an amazing network that makes it possible to explore all the different sites Scotland has to offer. What's more, the train journeys are known for being some of the most scenic in the world.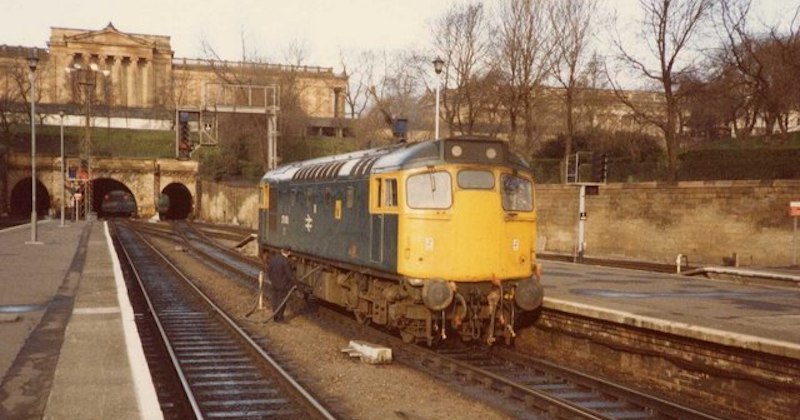 Can You Take a Train From London to Scotland?
Yes, it's easy to take a train from London to Scotland and vice versa. Both London King's Cross and London Euston are connected to Scotland by rail and offer direct train journeys.
Train journeys from London to Edinburgh Waverley take around 5 hours 42 minutes
Train journeys from London to Glasgow Central take around 5 hours 38 minutes
Train journeys from London to Aberdeen take around 9 hours and 23 minutes
It's also possible to travel to Scotland directly from other train stations in major English cities such as Manchester, York and Bristol.
Experience The Wonder of Scotland with Rabbie's

If you wish to explore more of Scotland, simply travel up by train and then hop aboard a Rabbie's tour. Offering trips to many hotspots such as Loch Ness and the Isle of Skye, as well as exploring hidden gems and off-the-beaten-track spots, unlock the beauty of Scotland with a Rabbie's tour. Not ready to book now? Sign up to our newsletter to stay up to date with the latest tours and departure points.