How to Travel Scotland on a Budget 2023

If you're wondering how to travel Scotland on a budget, we're here to help. Exploring this pretty place doesn't have to cost a pretty penny. With our top money-saving tips you can learn how to travel Scotland on a budget without sacrificing the good times. Make the most of what this country has to offer without breaking the bank and explore Scotland with a Rabbie's small-group tour now.

Table of Contents:
Is Scotland Affordable?
Scotland can be a very affordable destination for travellers on a budget. Compared to some other European countries, Scotland may seem slightly more on the expensive side at first, however there are many ways to bring the price down. If you stay in budget-friendly accommodation such as hostels, make the most of all the free (but no less amazing) attractions and cook your meals or look for deals at local pubs and cafes, Scotland can be an affordable option for your next trip. On average, a budget trip to Scotland is estimated to cost around £55, €62, or $66 per day.
What Is the Cheapest City in Scotland to Visit?
Some of the cheapest cities in Scotland to visit on a budget include Stirling, Perth and Aberdeen.
Stirling has been named one of the cheapest cities in all of the UK. Located in the centre of Scotland, Stirling is home to the National Wallace Monument, Stirling Castle, as well as the picturesque river Forth.
Perth is located on the beautiful banks of the river Tay. Once Scotland's capital before Edinburgh, Perth is nicknamed the 'Fair City' for its elegant architecture and regal spirit.
Aberdeen can be found on the north east coast of Scotland and is the third largest city in Scotland. This affordable city boasts a harbour, a beach, and distinctive architecture. What's more, Aberdeen is surrounded by countryside, hills, and valleys and it has excellent access to the Cairngorms National Park.
If you're wondering how to travel Scotland on a budget, these are three of the most affordable cities to stay in.
When is the Cheapest Time to Visit Scotland?
The cheapest time to visit Scotland is during the off season between November and mid-March. However, try to avoid the inflated prices over the Christmas period to keep costs low. Just because winter is the cheapest time to visit Scotland, doesn't mean it's not still a magical time to go. Less crowds means more freedom to explore at your leisure, shorter queues for attractions, and fewer people ruining your photoshoots. Need more convincing? Discover some of the top reasons why travellers love visiting Scotland in winter.
What Is the Cheapest Way to Travel Around Scotland?
There are many factors which can affect the price of travelling around Scotland, from the time of year to how far in advance you book tickets. However, two of the cheapest ways to explore more than one part of the country are by train and by small group tour.
By train. The country is well connected with many train stations making it quick and easy to travel from one end of Scotland to the other. If you book in advance, trains can be one of the cheapest ways to travel around Scotland.
By small group tour. If you want to see multiple places across Scotland, hopping aboard a small group tour can be another affordable option. Not only do you get to stop off at some of the best sites to see in Scotland, but you also can enjoy amazing views from our comfortable mini-coaches on the way. This option can be more relaxing and affordable than renting a car or the cost of driving yourself. Another benefit of exploring Scotland from a small group tour rather than by train is that our mini-coaches can take you directly to the site, whereas you may have to combine a train with a bus or taxi to reach the best destinations. Lastly, by joining a small group tour you get the additional advantage of being shown the country by our expert driver-guides who can share their knowledge with you.
In terms of travelling to Scotland, it is a relatively easy destination to reach. If you are coming from the UK, many train stations in England are connected to major Scottish cities. Alternatively, direct flights to Scotland from the USA and Europe make it easy to reach this destination from further abroad.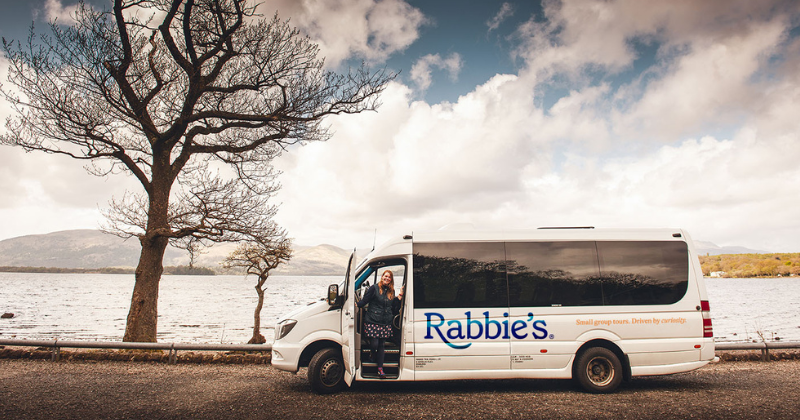 Top Money-Saving Tips to Help You Travel Scotland on a Budget
The top tip for how to travel Scotland on a budget is to plan in advance. Here are some pointers of the things you should try to do before your trip to keep prices low.
Book your accommodation. The cheapest accommodation can book up quickly so try to book as far in advance as possible. The most budget friendly accommodation can include hostels and B&Bs.
Eat at lunch time. There is so much delicious Scottish food to try but eating out can be expensive. Luckily, there are plenty of restaurants and cafes in Scotland which offer great lunchtime meal deals. For example try Bloc+ in Glasgow where you can get a £4 burger on Tuesdays or a £6 steak on Wednesdays. Planning out your meals in advance can also help keep this cost low.
Choose free entertainment. Research some free attractions in Scotland and plan your holiday around these. For example, you don't have to spend money to have a wonderful day at Loch Lomond. Simply pack a picnic and enjoy walking the picturesque hills and marvelling at the beautiful loch below you. Some other free attractions in Scotland include:
Following these tips, you can still have a fantastic time in Scotland whilst on a budget.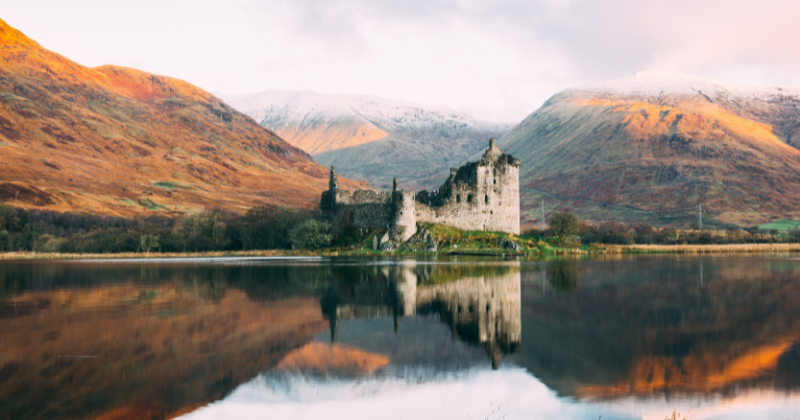 Travel Scotland on a Budget with Rabbie's
Hopefully this guide has shown you how to travel Scotland on a budget. Whether you're planning to visit for a family staycation or as part of a grand solo travel adventure, Scotland can be an affordable option you won't want to miss. Discover magical waterfalls, the vibrant culture, the world famous Loch Ness, and much much more. Discover the magic of Scotland aboard a Rabbie's tour and your trip will be made even more memorable by our driver-guides who share fun facts and captivating stories as you travel. Book now or sign up to our newsletter to be the first to hear about the latest updates and deals.