7 Must-See Reasons to Visit Dumfries & Galloway

Dumfries and Galloway, the beautiful Scottish Lowlands. Often missed by those visiting Scotland, this region on the extreme south coast of the country has much to offer its guests. Remarkable historic landmarks, coastlines that hug the sandy beaches, and let's not forget the green forests that are waiting to be explored. And this is just a handful of the reasons to visit Dumfries and Galloway, we haven't even begun to share the many attractions you can experience. Allow our years of knowledge and experience tempt you to visit this lesser-known part of Scotland.

Table of Contents:
Where is Dumfries and Galloway?
Located in the south-west region of Scotland, Dumfries and Galloway is about 25 miles (40km) from the English border. Known for its unspoilt scenery, this overlooked area is often referred to as the 'Scottish Riviera' for its warm gulf stream felt throughout the year, especially spring and summer. Experience the warming weather gift for yourself when touring Scotland during peak. If a quieter pace is more your style, touring throughout winter or taking an autumn trip is just as beautiful in this region, however it is advised to check opening times for attractions you want to visit due to reduced hours out of peak season.
7 Reasons That Make Visiting Dumfries and Galloway Special
Spectacular Castles
Dark Night Skies
Sublime Coastlines
Picturesque Villages
Luscious Forestry
Amazing Attractions
Majestic Nature
1. Spectacular Castles
A fantastic reason to visit Dumfries and Galloway is that the area is home to some of the best castles in Scotland. Dumfries and Galloway is located near the border between Scotland and England. Consequently, this zone formed one of the first lines of defence during the many wars between these two nations. The result is battle-worthy fortresses and castles.

One of the most impressive castles to visit during a Dumfries and Galloway holiday is Caerlaverock Castle. Although in ruins now, this mediaeval castle is well worth a visit to witness its unique triangular shape. What's more, the huge northern gatehouse is striking to behold. This is definitely a highlight for many guests on our tour of this Scottish region.

Another castle highlight which you have the chance to see in this area of the country with Rabbie's is Threave Castle. The view of this formidable island fortress is as impressive as it is beautiful. If you love castles, why not explore some of Scotland's finest on our Rabbie's castle tours?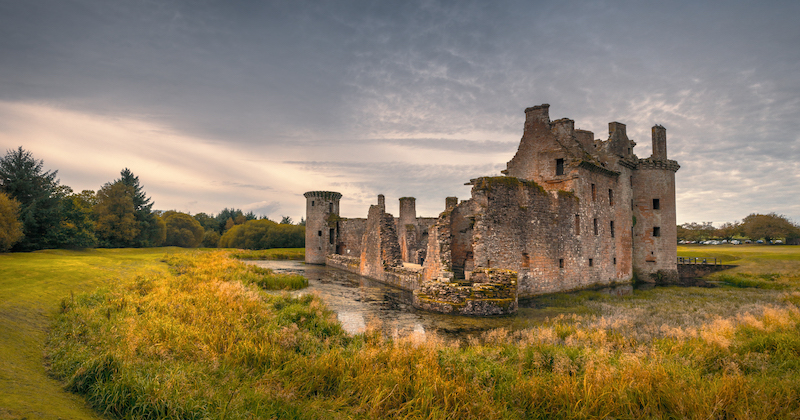 2. Dark Night Skies
Another top reason to visit Dumfries and Galloway is that the area is home to some of the darkest skies in Europe. This gives visitors the opportunity for truly spectacular stargazing if they're passing through to tour the Scottish Highlands. At some points, over 7,000 stars and planets are visible with the naked eye. The bright band of the Milky Way is usually easy to see stretching across the sky. If you're extra lucky, you may even be able to see the Northern Lights.

The dark skies of Dumfries and Galloway are a result of the very limited light pollution in the area. On Rabbie's Two Day Dumfries and Galloway Tour, the overnight stay is within the Galloway Forest Dark Sky Park. This area was the first Dark Sky Park in the UK, so the perfect stay for keen stargazers or those who want to encapsulate the magic and share with loved ones.
3. Sublime Coastlines
The rugged coastline and incredible sea views are another top reason to visit Dumfries and Galloway. Nothing short of spectacular, visitors could spend hours admiring these changing landscapes, from the dramatic cliffs of the Rhins of Galloway to the expansive stretches of beach at Sandyhills. Travel responsibly while visiting on a small-group tour and experience the Solway Coast from the comfort of our mini coaches. These truly incredible vistas are enough of a reason to visit Dumfries and Galloway on their own.
4. Picturesque Villages
Dumfries and Galloway is littered with pretty villages begging to be explored. Down winding paths and cobbled streets, you'll be able to discover friendly pubs, sweet bookshops, cosy cafes, and more. The warm, bustling atmosphere of these towns will make you want to visit Dumfries and Galloway again and again. Each time something charming and new will be waiting to be uncovered. During a small-group tour you can visit the unspoiled and historical town of Kirkcudbright. Your Dumfries and Galloway holiday will also involve a night in the enchanting Gatehouse of Fleet.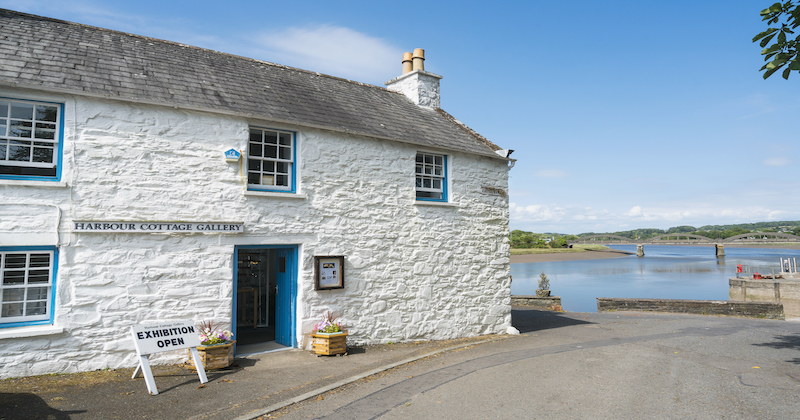 5. Luscious Forestry
One of the top reasons people visit Dumfries and Galloway is to explore its expansive green areas. In the Galloway Forest Park, you can discover wonderful waterfalls, fabulous forest walks, and even a red deer range where visitors can get up close and personal to some wild red deer. Whether solo travelling the region or making it a worthy stop on the way to the famous Highlands, the acres of woodland and green spaces offer a welcome moment of escape from busy lifestyles.
6. Amazing Attractions
Alongside wonderful natural attractions, Dumfries and Galloway also has its fair share of amazing man-made landmarks. These include the Port Logan Fish Pond and the Mull of Galloway Lighthouse, both of which are amongst the top reasons to visit Dumfries and Galloway. The Port Logan Fish Pond is often thought of as the first aquarium in the UK. Dating back to the Victorian era, this unique natural aquarium is home to a wide range of sea fish and marine life where you can see hermit crabs, rays, starfish, and more.

The Mull of Galloway is the most southerly point in Scotland. The lighthouse stands proudly on the cliffs and looking out over the sea, almost like a guard to passing ships. Walking around this spectacular peninsula will be an unforgettable moment on your visit to Dumfries and Galloway.
7. Majestic Wildlife
Last but not least on our list of reasons not to miss a visit to Dumfries and Galloway is the majestic wildlife. The area of Galloway and Southern Ayrshire is a UNESCO Biosphere Reserve. This is a title awarded to places with a world class relationship between people and nature. Covering more than 5,200km², there is plenty to explore during your visit to Dumfries and Galloway. Keep your eyes on the skies and you may spot Red Kites, Golden Eagles, and Ospreys. In summer, swathes of adorable sea puffins also visit the rugged coastline of Dumfries and Galloway.
Experience the Warmth of the Scottish Riviera with Rabbie's
Feel inspired to visit Dumfries and Galloway? Hop aboard our two day tour departing from Glasgow and see a selection of these fantastic sites for yourself. You can marvel in the culture, learn about the history, and take in the scenery. All the while, our friendly and knowledgeable driver-guides make the trip extra special as they share their expert knowledge and captivating tales. Already seen Dumfries and Galloway? Why not explore a whisky trip or visit some Scottish Islands instead? Join us for an unforgettable adventure today.