Explore Scotland's 9 Must-See Waterfalls

The tranquility of being near a waterfall is unlike anything else, whether you're listening to the soothing sounds or taking a dip in the pool beneath.
While Scotland's water spots are certainly a treat for the eyes, they're also a great way to escape and improve your wellness and wellbeing.
If you're feeling ready to take the plunge into water wellness, here are nine beautiful waterfall locations in Scotland you must explore.
1. Black Linn Falls, Perthshire
Where: The Hermitage, 2 miles west of Dunkeld
How to get here with Rabbie's Tours: Highland Lochs, Glens & Whisky – 1 day tour
This pearl of Perthshire is located in a spellbinding scenery of the Hermitage, flowing through the remnants of the ancient Perthshire forest. This picturesque woodland was initially designed as a pleasure ground for the Dukes of Atholl in the 18th century and became a well-known beauty spot admired by Queen Victoria, artist J M W Turner, and the poet William Wordsworth. Walk a mile-long path to enjoy gushing views of the River Braan tumbling in three streaks at the Black Linn Falls. The beauty of this spot is enhanced by a picturesque Georgian folly, the Ossian's Hall.
2. Glenashdale Falls, Isle of Arran
Where: Whiting Bay, Isle of Arran
Based near Whiting Bay on the Isle of Arran, this 6-mile walk takes you through beautiful woodland towards the double-drop falls of Glenashdale. It's the most stunning waterfall on the island and you can admire it in all its glory from two viewing platforms. But the 42-meter falls are not the only spectacle in this area. Up the trail, you can get face to face with a mysterious Iron Age fort and 5,000-year-old chambered tombs called Giant's Graves.
3. Falls of Foyers, the Highlands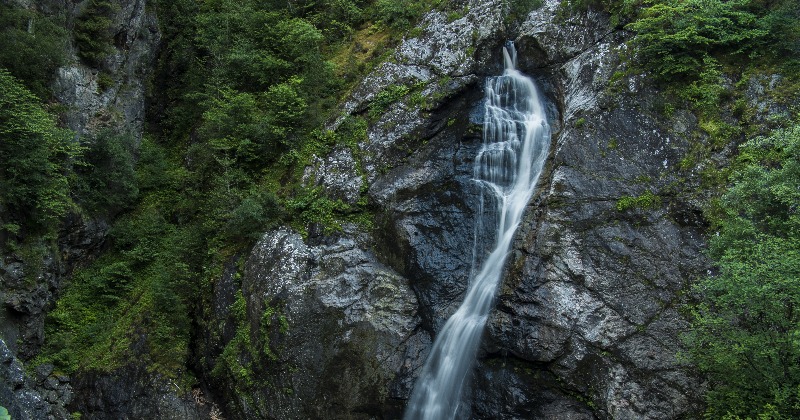 Where: Foyers by Loch Ness
How to get here with Rabbie's Tours: The Complete Loch Ness Experience – 1 day tour
Tucked away on the quieter south-east side of Loch Ness is another spectacular waterfall; Falls of Foyers. This magnificent cascade drops 42 meters into a gorge and winds its way through a forest till it meets Loch Ness. A 1.4-mile round trip takes you through beautiful woodland, inhabited by elusive red squirrels, to two viewing platforms. Here, you can admire the falls in all their glory and read the Robert Burns' verses he composed upon seeing the waterfall.
4. Black Spout Waterfall, Perthshire
Where: Pitlochry, Highland Perthshire
You can reach this stunning waterfall via a 3-mile circular walk. This route takes you through a lovely woodland towards a platform overlooking the Edradour Burn, from where you can see the Black Spout Waterfall. Continue your walk and then enjoy a reinvigorating dram at Edradour, one of the smallest whisky distilleries.
5. Falls of Measach, North-West Highlands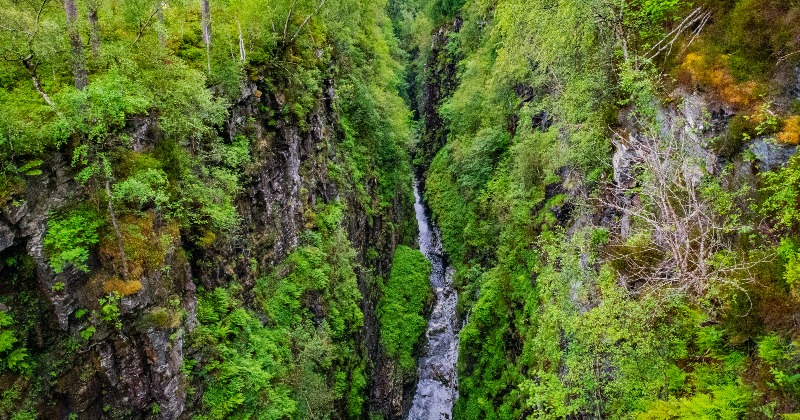 Where: Corrieshalloch Gorge National Nature Reserve
How to get here with Rabbie's Tours: The North Coast 500 – 3 day tour
This is what we call a small walk with a big view. After 15-minutes of walking from a car park, you feel your hair raise as you stand on a Victorian suspension bridge hanging over Corrieshalloch gorge. This mile-long canyon takes its name from the Gaelic for 'ugly hollow', but with the rumbling River Droma and lush greenery, this is one of the most striking places in Scotland. Due to the box shape of the gorge, the river drops around 100m over the course of ¾ mile in a series of waterfalls. The 45-metre-high Falls of Measach is the most spectacular of them.
6. Loup of Fintry, Stirlingshire
Where: Near Fintry, Campsie Fells
A short walk of half a mile from the village of Fintry takes you to the Loup of Fintry. This waterfall drops down over multiple steps and looks at its best after heavy rainfall. Pack some snacks and enjoy a picnic in this stunning landscape.
7. Dog Falls, The Highlands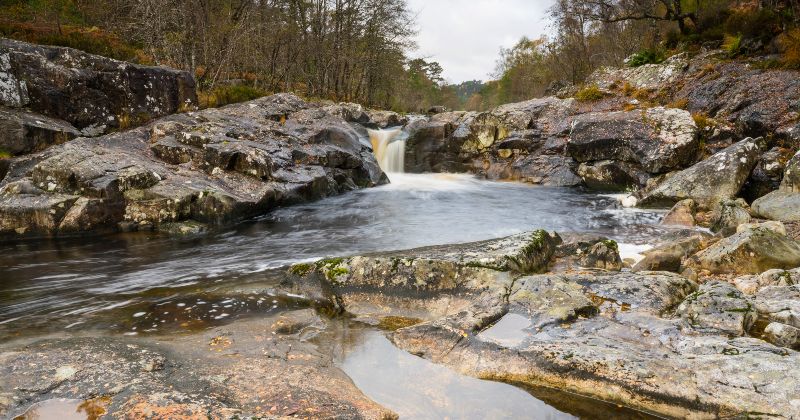 Where: Glen Affric National Nature Reserve
How to get here with Rabbie's Tours: Glen Affric, Culloden & Clava Cairns – 1 day tour
Glen Affric is a collage of remarkable mountains, ancient pine trees, and glistening lochs and rivers. It boasts a waterfall of a peculiar name, the Dog Falls. This series of cascades is the River Affric tumbling down a rocky gorge. It takes only half an hour to reach the viewing point of the falls, and it's a brilliant opportunity to relax and discover the remnants of the ancient Scottish pinewood.
8. Mealt Falls, Isle of Skye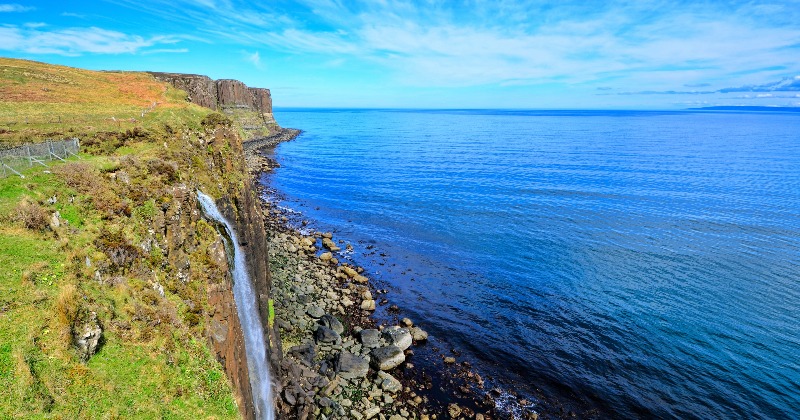 Where: South of Staffin, Isle of Skye
How to get here with Rabbie's Tours: Isle of Skye Tours
It seems like everything on the Isle of Skye is more dazzling and dramatic. And waterfalls are no different. The Mealt Falls is a magnificent waterfall that plummets 55m from sea cliffs into the Sound of Raasay. Its beauty is highlighted by Kilt Rock - the dramatic and weathered cliffs rippled like a pleated kilt. Mother Nature got creative here and formed the pleats from basalt columns propped on a sandstone base, giving them the resemblance of Scottish traditional dress.
It takes just a couple of minutes to get to the viewing point from a car park, so everyone can easily enjoy this stunning vista. If you crave a bit of adrenaline, come visit the Mealt Falls on a very blustery day and witness the raw power of nature. When a high wind comes from the east, it blows the waterfall backwards!
9. Falls of Feugh, The Royal Deeside
Where: near Banchory, the Royal Deeside
How to get here with Rabbie's Tours: Dunnottar Castle & Royal Deeside – 1 day tour
The Falls of Feugh is a well-known beauty spot in Banchory in the Royal Deeside. This disarray of boulders and rock steps form a beautiful set of rapids which you can admire from an old stone road bridge.
We love this place because within a couple of minutes away from the town centre you can encounter one of the most stubborn animals on the planet. In autumn and very early spring, wild salmon laboriously leap up these falls to spawn higher up the river in its home stream. The best months to witness this epic journey is September to November and February to March.
We hope we've inspired you to restore your well-being by setting out on a search for beautiful Scottish waterfalls. Visit any of them to become mindful of your surroundings and reconnect with the land, history, and heritage. That's the best medication we can prescribe for regaining your inner calm.