Everything You Need to Know about Train Stations in England

There are many train stations in England which make it quick and easy to travel the country. Whether you want a grand tour of the country, a short city break or a peaceful countryside escape, England's railway network makes it possible. You could even travel further abroad to Europe or the rest of Britain by train from England. Our guide has all the information you need to know about train stations in England to make planning your adventure easier.

Table of Contents:
Where Are The Main Train Stations in England?
There are 2,576 passenger train stations in England. The railway network spreads across the country, connecting some of England's most popular spots, from the most southern train station in Penzance all the way to Berwick-Upon-Tweed in the north. The main train stations in England can be found in the major cities including London, Bristol, and Manchester. Below we share some of the top information to know about these stations.
1. London's Train Stations​​​​​​​​​​​​​​​​​​​​​​​​​​​​​​​​​​​​​​​​​​​​​​​​​​​​​​​​​​​​​​​​​​​​​​

London is home to some of the most famous train stations in England. Harry Potter fans will know London King's Cross as the station where students go to platform 9 and 3/4s to board the Hogwarts Express. London Paddington also features in children's literature as the station after which Paddington Bear gets his name in the works of Michael Bond. London Waterloo is one of the biggest train stations in England and London Victoria is one of the busiest. All these major overground stations are connected by London's underground or tube. This makes exploring the city and beyond very straightforward and affordable.
One way to explore more of England is to hop aboard a Rabbie's tour bus. We have a departure point directly behind London Victoria train station on Bulleid Way. From here you can take a day-trip to escape fast-paced city life. Or, choose one of our exciting multi-day tours from London for an even grander adventure.
2. Bristol's Train Stations
Bristol has two main train stations - Bristol Temple Meads and Bristol Parkway. These two stops are key in connecting much of the west country to other train stations in England. Not only is Bristol Temple Meads one of the oldest train stations in England, it's one of the oldest in the world. Dating back to 1840, the station is considered a National Heritage Site.
Direct trains between London and Bristol Temple Meads usually depart every 30 minutes and the journey only lasts around 1 hour and 45 minutes
Direct trains run between Manchester and Bristol Temple Meads and take approximately 3 hours
You can also travel directly between Bristol Temple Meads and Edinburgh with the journey taking about 6 and a half hours
If you want to explore further west, the journey between Bristol Parkway and Cardiff only takes about 50 minutes
We're excited to announce that we have some new tours departing from Bristol. With amazing sites such as Bath and Cheddar Gorge not far away, Bristol is a fantastic starting point to some great tours of England.
3. Manchester's Train Stations
Manchester Piccadilly is the largest and busiest railway station in Manchester, serving as a major hub for northern transport and trains running to destinations across England. Once you arrive at Manchester Piccadilly train station, you're immediately within walking distance of tourist attractions such as the Alan Turing memorial and the National Football Museum. What's more, you're surrounded by lots of options for food and drink including the very popular cafe Idle Hands Coffee. If you're heading off on one of our day-trips or multi-day tours from Manchester, you'll be happy to hear our departure point is right next to Manchester Piccadilly train station. Find us at the NCP car park on Store Street to begin your trip.
What Are The Main Train Routes in England?
There're many railway routes across England but the main ones run out of London. They include:
The Anglia Route - connecting London to the East Coast of England
The East Coast Mainline - running out of London up the East side of England to northern cities such as York, Newcastle and on to Scotland
The North West Route - running west and north out of London, this line connects major cities such as Manchester and Liverpool, as well as the rural Lake District
The Western Route - running west and south out from London to the tip of Cornwall
These are just some of the routes which form the base of England's amazing train network. Hop aboard today and travel between hotspots and hidden treasures.
Where Can You Travel To From England by Train?
It's possible to explore more than just English treasures travelling by train. Not only is the country well connected to other countries in Great Britain but the Eurostar makes it possible to reach Europe from London by train as well. Some of the top places you can go by train from England include:
Scotland - The English rail network extends to many train stations in Scotland. Train journeys from London to Edinburgh take around 5 hours 42 minutes. Train journeys from London to Glasgow Central take around 5 hours 38 minutes
Wales - Travelling from London to Cardiff by train takes around 1 hour 50 minutes
France - The Eurostar journey from London to Paris takes 2 hours 16 minutes
The Netherlands - The Eurostar journey time from London to Amsterdam is 3 hours 52 minutes
Combining rail travel with Rabbie's mini-coach tours is one of the best ways to experience everything Britain has to offer.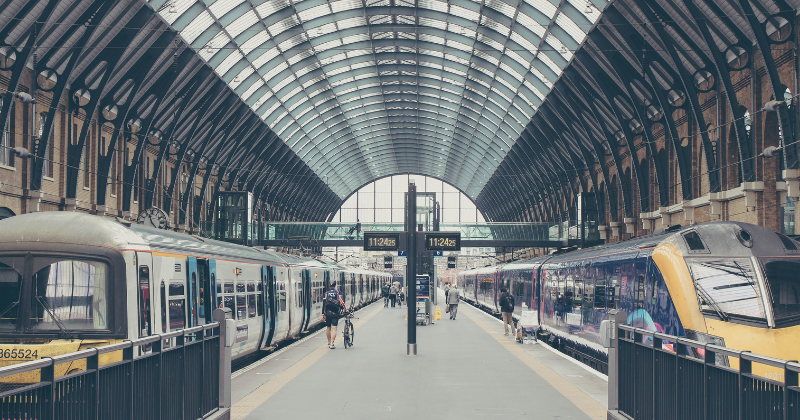 Experience The Wonder of England with Rabbie's
The train stations in England make it convenient to travel long distances across the country. But for a journey you'll never forget, make sure to jump aboard a Rabbie's small-group tour. With departure points conveniently located near major train stations, experiencing the magic of England couldn't be simpler. Not only do our luxury mini-coaches mean you will be travelling in comfort, but they are also able to travel down narrow roads so you can get off the beaten track. Additionally, our friendly team of driver-guides will make your journey even more enjoyable by sharing fascinating facts and scintillating stories. Join us for the adventure of a lifetime today!