Colours of Scotland

I had the idea for this blog while on a little holiday back in 2022. It was just me, my car, and a killer playlist. With my camera sitting ready in the back seat of the car, I was desperate to get out in nature and take some beautiful photos of Scotland.
This place inspires me, as it has done for many people for thousands of years. Something about Scotland lures people in. It's cosy and mysterious. Drenched in history and shrouded in mist. The ground covered in snow one minute, and vibrant heather the next.
Its roads were made for road trips. Its hills are for true explorers. Its history and culture are one of both tragedy and passion.
So there I was, with a checklist of places in mind, and I set off on my adventure around the Cairngorms National Park longing for those iconic views that define Scotland's incredible landscape.
It's the largest national park in the UK, home to one-quarter of Scotland's native forest, filled with stunning bodies of water and endangered species. Inverness is the closest city, but you can get there in a day from Edinburgh or Glasgow. I wouldn't recommend doing a day-trip though, as it would be a long day. But planning an overnight trip (or several days) would give you more time to fully appreciate this region.
Nearly half of the national park is considered 'wild land', so... into the wild I went.
While on my holiday, I realised two of the places I planned to explore had something in common. First was the Pink House. The other, the Green Loch. I was amused that I was checking off these colour-specific locations. And it got me thinking about all the colours of Scotland. You may picture Scotland and imagine wide stretches of moorlands, shrouded in mist, with a hint of bagpipes in the air. Now, while that sounds ideal, it's not all Scotland has to offer.
I'm now somewhat determined to check off all the 'colours of Scotland', as it were. So, sit back and relax as I take you through what I consider to be the wild and wonderful colours of Scotland.
Red: Carlowrie Castle in Autumn
This spot is high on my bucket list, but I'll have to time it for autumn because I definitely want to catch Carlowrie Castle drenched in blood-red vines. It's a beautiful place to visit any time of the year and is a popular destination for weddings and other gatherings.
The 32-acre grounds are absolutely stunning and covered in an array of beautiful plants, many of which are rare species brought from overseas by a very interesting lady called Isobel Wylie Hutchison. She was the granddaughter of Thomas Hutchison, the man we have to thank for the construction of this castle. Growing up in the castle, Isobel turned to the greater outdoors when she lost both her father and brothers in quick succession. This sparked a passion for nature and exploration, and Isobel grew up to become a successful Artic explorer and botanist.
So, it's on my list to visit the beautiful garden Isobel left behind, and to see her family's castle blooming red in autumn.
Yellow: Gorse
I live in Edinburgh, right around the corner from Holyrood Park. I consider myself blessed to live so close to this beautiful landscape, and often find myself sitting in the sun during spring and summer on my lunch break, staring up at Arthur's Seat. My favourite time to witness this spot is during late winter and early spring when the gorse blooms.
Gorse is a flowering shrub that will prick you every which way if you're not careful around them. The bright yellow flowers may be beautiful, but their stems are covered with sharp spines that show no mercy.
Last year, I kept meaning to head up into the hills around my house for a photoshoot – preferably around sunset so I could capture the glow of the sun coming through the flowers. This is the year for it, folks!
Pink: The Pink House
I had been dying to visit the Pink House for months, ever since I saw my friend's photos from her visit. And what I love most about this spot is that it's incredibly secluded. I was there by myself for nearly an hour, so I ran around taking photos to my heart's content.
You'll definitely need a car for this one. Parking is a little odd, since you have to pass through private property to reach this destination. You leave the motorway and journey down a winding, single-lane road for about 20-30 minutes. Eventually, you reach the gates of this beautiful house. Just outside the gate, there is a small area to park. You then need to walk through this gate and past this person's house, essentially going through their driveway (it feels weird, but it's right – trust me).
When you reach a fork in the road, go right and the flat walk takes about thirty minutes to reach the Pink House and the lovely loch it sits on, Loch Glass. My only advice is to be respectful and not to worry if you hear gunshots like I did. Hunting, anyone?
Green: An Lochan Uaine
It could be argued that all of Scotland is basically green. I admit it's true, but it's one of my favourite colours so I'm not complaining. However, I went out of my way to see the Green Loch. Also known by its local name, An Lochan Uaine, the Green Loch is well worth a visit.
It's one of those hidden gems that is slightly out of the way, so your average traveller won't visit it. Located near Aviemore, this otherworldly loch glistens green in the sunlight. To get there, you're going to need to ditch your car and put on your hiking shoes. But not to worry, it's an easy, flat walk called the Green Loch Aviemore Walk.
It's a loop walk, if you're interested, but I just went there and back along the same section of the path, as I was pressed for time and had plenty of other things I wanted to see on my short holiday. You'll want to park at the Glenmore Forest Park Visitor Centre.
You'll approach the Cairngorm Reindeer Centre and then a forked path will appear. Turn right and keep an eye out for signposts that will guide you all the way to the loch.
On a nice day, I'd recommend taking a picnic or your swimwear for the ultimate secluded 'beach day out'. The ducks are pretty friendly there, so keep an eye on your food.
Purple: Heather and Thistle
Now, this is Scotland. A rolling glen stretched out before you, brushed with the purple of heather. I've yet to see this for myself, but this must be the year. Scottish heather is both versatile and beautiful. It's hardy and fast-growing. Most importantly, it loves wet soil, which is convenient since this is Scotland.
Come at the right time of year, and you'll likely see a spot of heather, since it spreads over millions of acres of Scottish moorland, glens, and hills. No wonder it's one of Scotland's national flowers.
So, why is it called 'Heather'? It could be from the old Scottish word 'haeddre', used to describe a 'heather place'.
I need to find myself a field of heather and stand in the middle of it, stat. Not to mention the Scottish thistle, which is Scotland's national flower. It may be a prickly wee weed, but its unique look and burst of purple often catches the eye of passersby.
Orange: Coos
Call me cliché, but I love a good hairy coo. Many travellers arrive in Scotland, venture into the Highlands, and will not rest until they see a coo. Also known as Highland cattle, these cuddly-looking creatures have long, shaggy coats and domineering horns. Thanks to their coats, they are a hardy breed, capable of withstanding the harsh and varying Scottish weather.
There are a few types of coos; some are black, but the most iconic one sports an orange-y coat. This is the one people come to see, though I'll obsess over any type I come across.
I'm not a tour guide myself, but from what I know, pretty much every tour that heads even somewhat into the Highlands will have at least one person asking if they will see a hairy coo. I was that person, back in 2014 when I travelled to Scotland for the first time and went on a Rabbie's Small-Group Tour (back before I worked with the company). Our driver-guide Steven was a gem, and he knew how much I wanted to see one (I now realise what a cliché I must have been). When he spotted some on the side of the road, he announced 'COO' over the speakers, then (safely) pulled over and let us jump out for some photos. A highlight of the trip, I assure you.
Then again, I'm that person that will announce the presence of animals on any road trip. From cows to sheep, llamas to goats, I will not miss an opportunity to point them out... even if it's every couple of minutes.
Still, there's something about the hairy coos that have captured the hearts of people around the world. They look like giant teddy bears (with horns, watch those) that need to be cuddled. I wouldn't risk getting too close to one, they are wild animals with horns after all, but they're generally pretty calm animals as far as my experience goes.
Rabbie's can never guarantee spotting the hairy coo while on tour, but some tours you might be interested in (that have a higher chance) are the 3-day Isle of Skye tour from either Glasgow or Edinburgh, the 1-day Cairngorms National Park & Whisky tour from Inverness, the Loch Ness & the Highlands 1-day tour from Aberdeen, and the 1-day Torridon, Applecross & Eilean Donan Castle tour from Inverness.
White: Cairngorms National Park
Am I cheating by picking snow? Well, I don't think so. As an Aussie, we so rarely get proper snow that the thought of it sends a thrill through me like a Scot in a whisky distillery.
The basic rule in Scotland is, the further north you go, the more snow you'll see. Generally. But one place you should definitely check out during winter is the Cairngorms National Park, mentioned at the start of this blog. I didn't go during winter on my visit but apparently, it is the place for snow.
Apparently, it's the snowiest location in the UK , and is Scotland's hub for snow sports. If you're into skiing or snowboarding, this is where you want to go. I am dying to get more photos of the snow, I barely have any. A bucket-list photo for me is to get a picture of Scotland's iconic pine trees stretching out before me, covered in snow.
Black: Puffins
When I decided to move to Scotland from Australia, my dad said I was not allowed to come home until I had seen and photographed puffins. Fair enough, I say. I've yet to have the pleasure, however I am planning a trip to Mull, Iona & Staffa in June and am praying to the photography-gods that I spot some adorable little puffins.
As a child, I grew up watching The Swan Princess and my favourite character was Lieutenant Puffin. Not an overly original name for him, but he was a delightful character who loved martial arts and was as loyal as they come. So, now when I go to see them, I'm going to have his voice running through my head the entire time.
These small seabirds are sometimes called the 'clown of the sea', thanks to their black and white feathers, brightly coloured beak, and orange legs. While their dumpy little bodies might make you think they'd be land-locked, they can fly and are often spotted flying low over the waves. They feed by diving into the surface of the ocean, sometimes as deep as 60 metres, munching on herring, hake, and sand eels. Yum.
The best time to see them is between March and August, and the further north you go, the better chance you have of seeing them. But if you don't have time to go north, head to somewhere like North Berwick and take a boat ride out to Bass Rock where they can often be spotted. These tours book out fast, so plan ahead.
You could also journey to Staffa where they can be spotted lounging on the basalt rock structure that looks like it's from a science-fiction movie.
Grey: Standing Stones
There's always been a fascination with standing stones. All you have to do is look at somewhere like Stonehenge in England to realise that travellers flock to these amazing monuments every day. Scotland has the best of them though. I'm not biased, it's just the plain truth. England is great, don't get me wrong, but it doesn't hold a candle to Scotland's mysticism.
Scotland is covered with standing stones. And ever since Outlander dropped on Netflix, the obsession has grown. Travellers come from all over the world to press their hands upon some standing stones hoping they will be sent back in time to meet their very own Jamie Fraser.
These stones have been around for some 10,000 years, when settlers first arrived in Scotland. These monuments were likely a place of ceremony, worship, burial grounds, and somewhere for a good old-fashioned party.
So, where can you see these amazing structures? Some of the best are:
As you can see from the list, most of these stones can be found on the islands. But that's why Clava Cairns is a great option, since you can get a train to Inverness from Glasgow and Edinburgh. Just be careful when touching the stones. I mean... do you honestly think you could survive 1700s Scotland? I like to think I could, but who knows.
Blue: Luskentyre Beach
I debated whether to put this under white or blue, since Luskentyre Beach is known for its stunning green-blue water. And people tend to think there are no beautiful white-sand beaches in places like Scotland... and they couldn't be more wrong.
Enter Luskentyre Beach on the Isle of Harris in the Outer Hebrides. It was named one of the UK's best beaches in the TripAdvisor Traveller's Choice Awards, and my good friend says it's one of the most stunning she's ever been to.
It's the Maldives of Scotland. And far cheaper, to boot.
So, there are my colours of Scotland. Do you see what I mean now? It's not all grey skies and brown moors over here. Every country has its own secret beauty (sometimes not so secret) and I truly believe that if you pay close attention while exploring Scotland, it will continue to surprise you, just as it has me.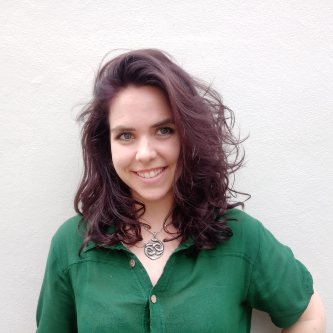 Bronwyn lives and breathes words. Before coming to work at Rabbie's, she spent 7 years in publishing and is a published author of YA fantasy books. Born and raised in Sydney, she was drawn to Scotland and affectionately calls it her 'soul home'. An avid traveller herself, Bronwyn's favourite places (so far) are Mongolia, Iceland, Morocco, and Scotland (of course). When she's not writing, she can be found exploring the Scottish Highlands with her camera, on the lookout for coos and men in kilts.