Top 5 Things to Know Before You Visit Edinburgh

We strongly believe that every traveller should visit Edinburgh. As Scotland's capital and one of the most famous cities in Europe, Edinburgh has a lot to offer. This vibrant city boasts a welcoming atmosphere, stunning architecture, and gives visitors a unique glimpse into history. There's something for everyone here, from fans of Harry Potter to lovers of military history. Moreover, Edinburgh is a fantastic base to explore the rest of Scotland from. If you're planning a trip, here are some of the top things to know before you visit Edinburgh.

Table of Contents:
How to Get to Edinburgh
It's easy to visit Edinburgh via train, plane, car, or bus. The city is very well connected, with a central airport, train station, and tram service. This makes the journey to Edinburgh straightforward no matter which mode of transport you choose.
1. Visit Edinburgh by Train
Edinburgh has two main train stations - Edinburgh Waverley and Haymarket Station. Edinburgh Waverley is one of the oldest train stations in Scotland and is the more central of the two.
You can visit Edinburgh by train from many areas in Scotland.
You can also visit Edinburgh by direct trains from England:

Direct trains from London to Edinburgh Waverley usually last around 5 hours and 42 minutes.
Direct trains run between Manchester and Edinburgh Waverley and can take as little as 3 hours and 8 minutes.
Hopping aboard a train can be a straightforward way to visit Edinburgh. This is also a great option if you want to combine visits to multiple cities across Britain.
2. Visit Edinburgh by Plane
Another way to visit Edinburgh is to fly into Edinburgh Airport (IATA code: EDI). There are regular flights to and from other major cities in the UK and Europe as well as direct flights to Edinburgh from the USA.
Direct flights between Edinburgh and London take 1 hour 25 minutes.
Direct flights between Edinburgh and Dublin take 1 hour 10 minutes.
Direct flights between Edinburgh and Belfast take 50 minutes.
Direct flights between Edinburgh and Bristol take 1 hour 15 minutes.
Direct flights between Edinburgh and Madrid take 2 hours 55 minutes.
Direct flights between Edinburgh and Lisbon take 3 hours 10 minutes.
If booked in advance, flights to Edinburgh can be very reasonably priced. What's more, the Edinburgh tram makes journeying between the Airport and the city centre easy. Trams depart every 7 minutes, between 7am and 7pm and tickets can be purchased from the station at the airport.
3. Visit Edinburgh by Car
It's possible to drive into Edinburgh though we wouldn't readily recommend it. Not only can finding parking be a pain, but some major roads including Princes Street and Shandwick Place are off limits to private cars.
If you do intend to visit Edinburgh by car, one option is to park outside the city and use a Park and Ride service to get into the centre.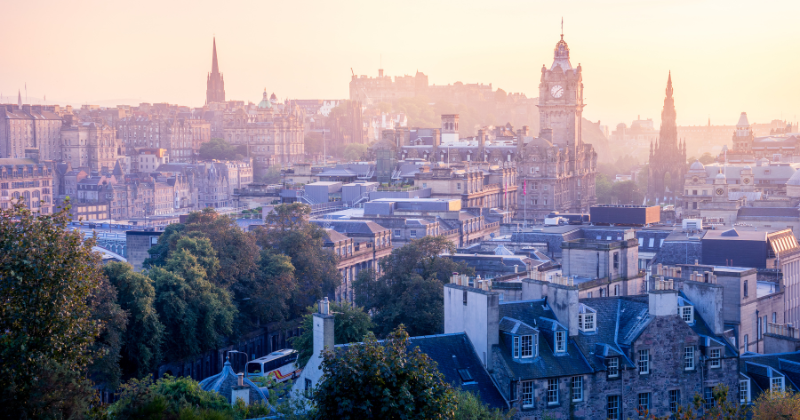 When's the Best Time to Visit Edinburgh?
In our opinion, there's no best time to visit Edinburgh. The city is amazing all year round. Between June and early September, the days are at their longest and the chance of sunshine is at its highest. In August, theatre and comedy lovers can enjoy the many shows of the Fringe Festival. In the British winter time, the city is lit up with magical lights and Christmas markets. From solo travellers to family trips, there truly is no bad time to visit Edinburgh.
Top Things to Do in Edinburgh
When it comes to top things to do in Edinburgh, the options are virtually endless. From magnificent museums to inspiring natural wonders, it can be quite overwhelming to know where to start. For inspiration, here are three top things to do in Edinburgh:
Visit Edinburgh Castle. Not only is Edinburgh Castle one of the most recognisable landmarks in the city but it's also one of the famous castles in Scotland. Located on top of Castle Rock, Edinburgh castle offers visitors stunning views of the city. Within its walls you'll discover a wealth of history with the oldest part of the castle dating back to the 12th century.
Climb Arthur's Seat. An extinct volcano, Arthur's Seat rises out of the city and its peak reaches 251 metres above sea level. It takes around 2 hours round-trip to hike up Arthur's Seat and the views from the top are breathtaking. The walk itself is a mix of terrains, some sections are easier than others, so be prepared and wear good shoes. Once you're at the top, you can take in gorgeous natural scenery including a loch and native Scottish wildlife.
Explore the Royal Botanic Garden. Founded in 1670, the Edinburgh Royal Botanic Garden is home to more than 13,000 species of trees, plants, and flowers from around the world. Sprawled over 70 acres this attraction is a peaceful oasis in the midst of Edinburgh city centre.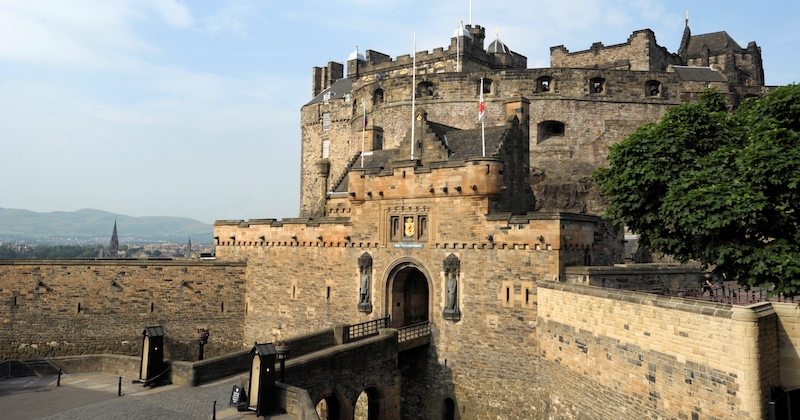 Best Places to Eat in Edinburgh
A top reason to visit Edinburgh is for the food. The city is a cultural melting pot and as such it has a very inventive food scene. From Michelin starred restaurants to simple pleasures, there's something for every palate. Treat your taste buds, discover interesting fusions, and try at least one deep fried item. Here are three of the best places to eat in Edinburgh:
Whiski Rooms. Famed for offering some of the best haggis in Edinburgh, the Whiski Rooms are sure to impress. Their hearty dishes are the perfect fuel for a day of exploring. Alongside delicious food, this top Edinburgh restaurant also boasts over 300 different types of whisky on its menu.
Forage and Chatter. Tucked away in a handsome Georgian townhouse, Forage and Chatter offers a delightful dining experience. This is one of the best restaurants to feast on Scottish cuisine. Locally sourced, seasonal menus are served in a friendly and cosy setting.
Maison Bleue. Behind the distinct blue facade of Maison Bleue is a welcoming restaurant you won't want to miss. Offering a fantastic fusion of French, North African and Scottish cuisine, this eatery has a mouthwatering menu that changes with the seasons.
Places to Visit Near Edinburgh
Some people feel that you can never spend enough time in Edinburgh. However, if you can bear to tear yourself away from this city, there are a whole host of awesome destinations not too far from Edinburgh. You could manage these spots on a day trip, but for the chance to really experience them, we recommend staying overnight in these areas.
Loch Ness. One of the most famous places in Scotland, Loch Ness is at the top of many travellers' bucket lists. The mythical Loch Ness monster attracts many eagle eyed visitors who are hoping to catch a glimpse of the infamous Nessie. Even if you don't spot the monster, there's plenty of beauty to see at Loch Ness. The idyllic freshwater loch is surrounded by lush forests, rolling hills, and quaint villages. You can visit Loch Ness on our day tour from Edinburgh, or we even have an overnight trip up that way you might like.
Alnwick Castle. Just south of Edinburgh is the impressive Alnwick Castle. Originally built in 1096, this castle has featured in many wars between the Scots and the English. Harry Potter fans may recognise Alnwick Castle as one of the film sets for Hogwarts School of Witchcraft and Wizardry. As if that wasn't enough to tempt you to visit, Alnwick castle also boasts beautiful gardens which are a pleasure to stroll around. If you're looking for a day trip, we offer a wonderful day tour to Alnwick Castle departing from Edinburgh city centre.
Cairngorms National Park. The largest National Park in the British Isles, the Cairngorms are a wonder to behold. Within this stunning landscape, visitors can enjoy a range of outdoor activities such as walking, mountain biking, and kayaking. The Cairngorms are also home to an array of wildlife and lucky visitors can spot Highland cows, red deer, and more. The Cairngorms National Park is another of the spectacular destinations you can visit on a Rabbie's tour.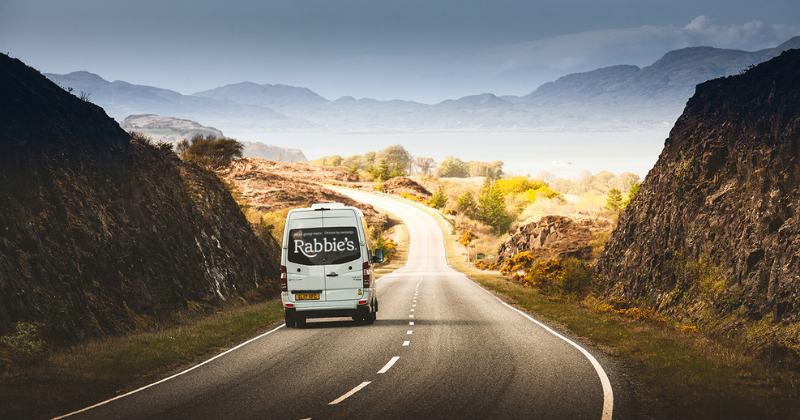 Visit Edinburgh and Beyond
The United Kingdom is home to many treasures and Rabbie's are making it easier than ever to explore them all. Not only are our mini-coaches designed for top comfort but the panoramic windows give you the best views. We offer small group tours around Scotland, England, Ireland, and Wales. You could even travel further abroad with us and try one of our fantastic Europe trips. Book a tour now or sign up to our newsletter to hear the latest updates about new tours and departure points.