Explore Our Tour Buses
Our tour buses are a vital part of our business. Not only do they transport you from A to B, but they're also shelter from the British weather, a comfortable place to sit back and enjoy a good old story, and the icebreaker to meeting fellow, like- minded travellers. Hop on board and we'll show you round our mini-coaches so you can get a sense of what to expect from your next Rabbie's tour.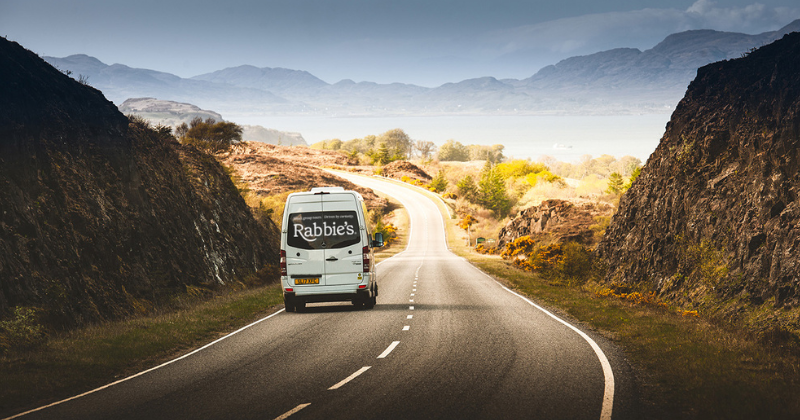 Inside our Tour Buses
Rabbie's white mini-coaches in Great Britain have our name on the outside, so once you've spotted it you know you're boarding the right bus.
To get onboard by the front left passenger door, you must be comfortable climbing the three small steps. The height between the ground and first step is 260mm, the first step is another 160mm, and the final step is 175mm. Unfortunately, our driver-guides aren't able to offer physical assistance when you board or disembark from the buses or at any point during the tour. Please refer to our accessibility statement if you want to know more.
Once aboard the mini-coach you will have the option to sit in pairs or individually. Pre-booking seats isn't available due to logistical reasons. Individual seats are located on the passenger side, while pairs are found behind the driver's seat. Whichever you choose, you'll be able to have a great view of your surroundings thanks to our large windows which span the full length of the bus.
Your safety is important to us, so our driver-guides will explain the health & safety drill before the departure and will ask you to wear a three point seat belt when the bus is moving.
Although there are no toilets aboard the tour bus, our driver-guides make regular comfort breaks for you to use the bathroom facilities if needed.
Space For Your Luggage
In the United Kingdom, we use 16-seat Mercedes mini-coaches for all of our tours. For our Ireland tours and Europe tours, we use a different manufacturer, but they're similar in layouts and facilities.
Each bus has a luggage compartment above your head where you can store your personal belongings needed for the day or any gifts you may pick up along the way. Your main piece of luggage is stored in the boot of the vehicle. Our mini-coaches can only stay nimble and get you off the beaten track if we stick to the weight regulation. That's why, depending on a tour, you're allowed to bring one big suitcase or rucksack that's no heavier than 20kg, or a main bag or rucksack that should weigh 14kg.
This should be one piece of luggage similar to an airline carry-on bag (approximately 55cm x 45cm x 25cm / 22in x 17in x 10in). You can also have a small bag or a rucksack for your onboard personal belongings. Once you've booked your tour, keep an eye out for your confirmation email to check all the luggage details.
If it happens that you pack too much and your luggage exceeds these limits, you can store your extra luggage in your departure city and pick it up once your trip with us has finished. Please note we do not have storage facilities but we can recommend some third-party companies here.
In Europe, some of the buses won't have the Rabbie's logo on the outside, but as long as you arrive at the departure point, you should have no trouble finding the right one.
Travelling Britain by Bus
When you travel around a country on a mini-coach, you can relax in the comfort of your seat because you'll never get lost, you always take the scenic route, and you're free to sample the local tipple without worrying about driving. Combine a train journey with our bus tour, on a ' rail and trail route', and you can easily discover more of the United Kingdom's beauty and stories.
Doing it the 'Rail and Trail' way is easy. You can travel the length and breadth of the country by train and then change to our mini-coach at one of our seven departure points to explore unique, off-the-beaten track locations.

Our mini-coaches comfortably seat up to 16 people and are small enough to go down the local roads that lead to your favourite hidden-away treasures the larger coaches can't reach. And visiting those lesser-known places and finding the stories that go deeper and live longer in our minds is what makes travelling with Rabbie's so unforgettable.
The Benefits of Travelling in our Tour Buses
The benefits of travelling by our tour buses are in no short supply. We just can't stop talking about the benefits of travelling by our tour buses, so. We've summed them up for you:
You can relax in the comfortable seats inside a Mercedes 16-seat mini-coach
Admire the full landscape wherever you travel thanks to large windows
Pack what you need for your adventure in our large luggage compartment for bags, gifts, walking frames, and collapsible wheelchairs
Travel responsibly: our buses are better for the environment than using your own car
Hear the local stories and legends from our driver-guides who know places like the back of their hand
Go past the landmarks and visit lesser-known locations only locals know about
Visiting these lesser-known villages and communities is important to the people living there, as our tours help their economy. That's why we always recommend the best local accommodations and restaurants over larger well-known chains when you book your multi-day tours. Supporting local businesses helps to keep communities alive for years to come, meaning more people can enjoy the landscapes around them. Find out more about how we are trying to travel responsibly.
Create Your Own Private Tour
Wouldn't it be great to experience the comfort of our tour buses without the time restraints of a scheduled tour? If that sounds good to you, maybe you'll want to create your own private tour. There can be many reasons for you wanting to book a private tour:
Heritage journeys to Scotland to find your family Clan
Team bonding days with work
Freedom to roam the landscape at your own pace with friends
A desire to create your own tour to explore in the footprints of your favourite writer
Whatever your reason for booking a private tour, we'd love to help make your dream trip come to life. When you book, we ask for you to provide as much detail as you can, making it easier for us to plan the perfect route for you to take. On the day, you'll have one of our driver-guides alongside you to share local insights and historic events of the location you may not have known about. If this sounds like your kind of trip, get in touch with our private tour team today.