Everything You Need to Know About Scottish Clans

Scottish clans are a fascinating part of the country's history and culture. If you have Scottish roots, you might be curious to discover more about which clan you are a part of. Or maybe the concept of Scottish clans just intrigues you. From tumultuous rivalries, to magnificent legends, Scottish clans offer a lot to excite the imagination. On our Scotland tours, you can retrace the steps of great Scottish clans. Learn more about your heritage and explore the many sites of Scotland with Rabbie's today.
Table of Contents:
What is a Scottish Clan?
A Scottish clan is a group of people who are tied together by familial bonds or a strong sense of kinship. The word 'clan' derives from the Gaelic 'clann' or 'clanna' which translates to 'children'. This title refers to the blood relationships which originally bonded clans. However, clan members weren't always directly related. Many men became members of a clan by swearing allegiance to the chieftain in return for protection or work. Scottish clans were usually associated with specific areas of the country. The clan chief functioned as a protector, judge and leader for the inhabitants of each area. Sometimes clans would try to expand their territories. The result was bitter rivalries and feuds. For centuries, the clan system was the base of political order in Scotland.
The History of Scottish Clans
Scottish clans are thought to date back to the beginning of the 12th century. They seemed to develop as a way for the monarch to maintain order in the Scottish Highlands. This area had experienced much social unrest with northern rebellions, and fierce battles against Norsemen. As a result, powerful Celtic warlords rose to preside over local families in return for protection. These groupings evolved to form clans.
Scottish clans were largely formed of tenant farmers and labourers who were loyal to the dominant family of the area. This family was headed by the clan chief. In turn, the clan chiefs were generally loyal to the Scottish monarch. The clan chief was an inherited position and many clans take great pride in being able to trace the lineage back to the 13th century. Scottish clans provided a shared sense of identity. This typically centred around an ancestral Scottish castle which held clan gatherings and celebrations.
Scottish clans were the foundation of the political system in Scotland until the battle of Culloden in 1746. At this battle, the Scottish Jacobites who wanted to see Charles Edward Stuart (or Bonnie Prince Charlie) on the throne, suffered a bitter defeat. This blow brought an end to the war against the English troops and supporters of King George II. To consolidate power, George II introduced the Act of Proscription and the Heritable Jurisdictions Act. The first act forbade the playing of bagpipes, clan tartans and speaking Gaelic. The second removed the land authority of clan chieftains and reverted all ownership to the Crown. Whilst these Acts were directed at the whole country, they destroyed the Highland culture in particular. Scottish clans were forced to disperse with some relocating to America. Despite Scottish clans losing their power, the sense of connection between members persists even to this day. Every year, almost 50,000 people from all over the world convene in Edinburgh to be a part of the Clan Gathering parade.
Where do Clan Names Come From?
Commonly Scottish clans were named after their original chief. This means that most clan names are Scottish surnames. Often new members would adopt this same surname when they became part of the clan even if they weren't directly related. Most clan names are believed to be anglicised forms of Gaelic, French, and Norman words. For example, the clan name 'MacLachlan' comes from 'Mac' which means 'son of' and 'Lochlann' which means 'land of lochs'.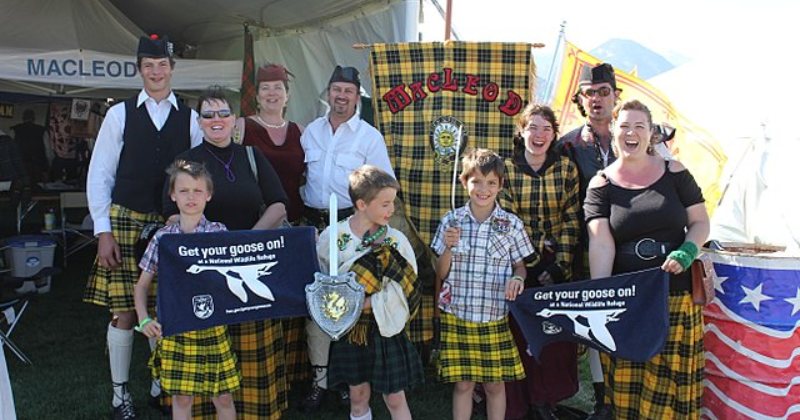 How to Find Your Scottish Clan
If you are Scottish, there are many online resources available which can help you find your clan and trace your history. For example, Clan Finder can tell you your clan's motto, crest and history. You can visit the areas and castles connected to your clan on a Rabbie's small-group tour. If you are a proud member of a Lowland clan, explore our Border tours. Or if you are of Highland heritage, hop aboard one of our mini coaches from Inverness or Aberdeen. Not Scottish or can't find your clan? You can still join in the sense of community. The tradition is that anyone offering allegiance to the chief becomes a clan member. So you can choose a clan and embrace the culture. You can display your clan pride by wearing their tartan or crest.
Discover Scotland with Rabbie's Tours
Reconnect with your heritage or expand your understanding of all things Scottish with a Rabbie's tour. Our driver-guides have years of experience and knowledge under their belts which they can't wait to share with you. Discover everything from the iconic history of Mary Queen of Scots to the fantastical legends of the Old Man of Storr. Rather explore England or Ireland? We offer incredible tours to both these countries too. Book today, pack your camera and prepare to make some magical memories.