Food, castles, clans, beaches, wildlife: our dedicated team will help you tailor your trip based on the things you love. Or you can simply create your tour based on one of our pre-made scheduled itineraries.
Your vehicle can range from a saloon car to any size of coach, and your guide will be an expert in storytelling, local insights, and historic tales. You'll benefit from our expertise in exploring the UK and Ireland, and you can choose exactly where you stay and what you see.
Why would I want to create my own tour?
Our scheduled trips leave on set dates and are available to anyone. Whereas a private tour is exclusive for you and your chosen group. It's perfect if you're wanting to go when we have fewer tours running, or have a good idea.
You can go anywhere in the UK and Ireland. If you need inspiration, look through our other tours, add the ones you like to your 'favourites', and imagine how you could join them up.
Prices depend on the length or your tour and what you want us to book for you. You can have an all-inclusive package, which includes transport, guide, accommodation, meals and entrances, or you can have us provide the transportation only.
What's the accommodation like?
You can stay in castles, country houses, budget hotels, B&Bs, boats, or hostels: anywhere you like. We're friends with a lot of the local accommodation providers, so we're happy to help you find the most memorable places to stay.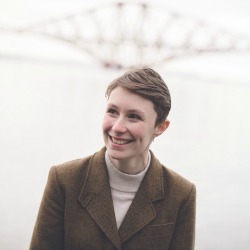 Elizabeth

Private Tour Consultant
"I've been with Rabbie's quite a number of years now, but I've been a planner for a lot longer.
My family struggle with making decisions to say the least. So armed with dad's credit card (and his blessing), I put myself in charge of planning family holidays from a young age.
Then in university, I helped organise hill walking holidays. Which was amazing fun, but sometimes a challenge given the budget for any trip was a shoe string, a bag of beans, and whatever change we could find down the back of the sofa.
Now with a whole fleet of Rabbie's buses to call upon, I find things a lot easier.
At the end of the day, I just love a good plan when it comes together, so I keep making them."