My Solo Travel Experience & the Things I Love About It

I know what you're thinking: travelling alone – are you crazy? But hear me out. There's a reason you're here reading this blog, after all. Just a wee bit curious, are we? There's a lot to be said for the experiences we encounter when travelling with people. I'm a huge fan of exploring with friends and family, don't get me wrong. I'm not going to sit here and say that solo travel is the only way to go. No. It's just one of the ways and I'm going to share my experience with solo travelling over the years.
Coming up in this post:
Why You May Want to Consider a Solo Travel Experience
Experiencing Solo Travel Through Work
What are my Favourite Things About Road Tripping Solo?
My Solo Travel Experience Checklist
Tips for Experiencing Solo Travel
My Solo Travel Experience to Mongolia
Why You May Want to Consider a Solo Travel Experience
So many people won't even consider experiencing a solo travel tour for a number of reasons. Maybe they fear it being unsafe, especially as a woman, travelling alone. Some worry they'll grow bored. Others think the cost of exploring as a 'single' is too high. All valid concerns. I've had them myself. But it's never stopped me. And here's why it shouldn't stop you too.
Here's the thing: we live in a busy world. Everybody seems to have a million and one things occupying their attention and time now, don't they? You can't tell me you haven't messaged back and forth with at least one friend, both of your diaries open, as you desperately try to find a night where you're both free to have dinner with one another.
Now imagine trying to organise a holiday or small-group tour with them. Or multiple friends. Likely, you've already had this experience.
And if you've got the free time, or the desire, to go on a UK or even a European trip... why should you have to wait? Or compromise? Sometimes there's a thrill in planning a holiday with someone, to share that excitement as the trip approaches, imagining the adventures you will experience together.
But there's another thrill I want – no, need – you to experience. Solo travelling. Knowing that you're about to disappear on your own into the wilderness of some overrun landscape, or into the electrifying commotion of a foreign city... It's like having a secret.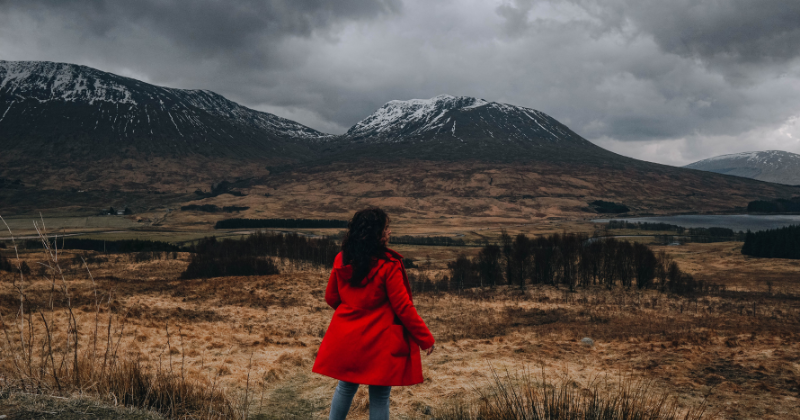 People in your life begin to wonder what you will get up to while off on your own. Which solo travel destinations will you visit? Will they ever see you again? (Kidding). Chances are they will experience the entire thing with you on social media (guilty), but half the fun is in the anticipation. In the planning.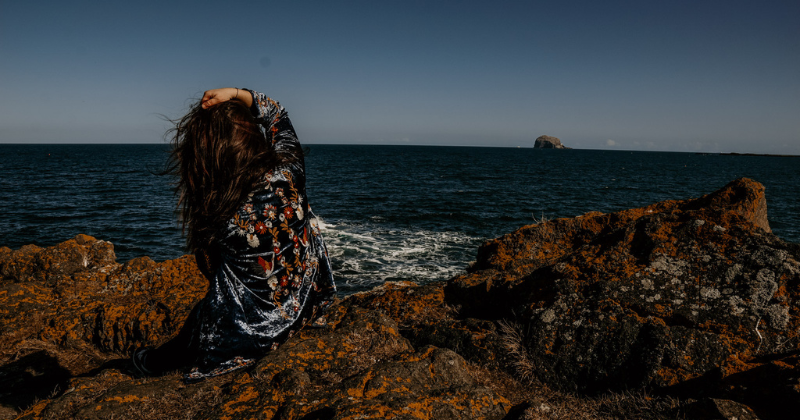 Experiencing Solo Travel Through Work
Being an Australian living in Scotland, I made a decision when I moved that I wouldn't waste my time here. I wouldn't let this opportunity slip by. When I move back to Australia, whenever that might be, I will have toured every inch of Scotland (I hope).
Realistically, that means I will need to experience travelling alone some of the time. Not everyone has the time, means, or flexibility to be constantly travelling. I have been lucky enough to get a job with Rabbie's as their content creator, which means I even get to explore on behalf of them.
Take my recent trip to Italy, for instance. This trip was a perfect mix of travelling with friends and alone. The trip was in three parts. Part one was returning to Venice for my fourth time (can you tell I love it there?) and taking two of my friends from Scotland with me. I had a blast exploring the floating city with them.
Part two I was on my own to explore Verona. I decided to stay in a hostel to save money, but what ended up happening was I made a friend. Erwan and I spent some time exploring Verona together, but there was still quite a bit of time spent on my own as well. There were perks to both. It was nice to experience things with Erwan, but I also enjoyed my own space, giving me the freedom to go where I wanted and spend as much time as I liked there.
For me, there's an added element to enjoying solo travel in Europe. I'm a self-portrait photographer, which means that when I travel, if I find a spot I like and want to take photos, I don't like being rushed. If I'm travelling with someone, I feel very conscious about making them wait for me. When I travel alone, if I want to spend an hour in one location taking a million photos... I can.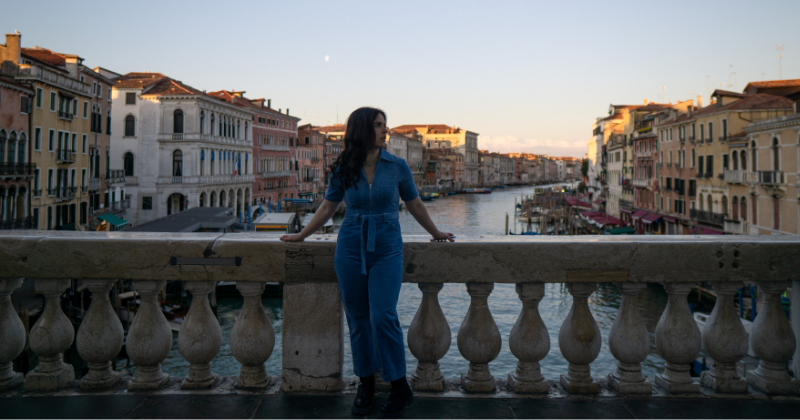 Part three of my Italy trip was on a Rabbie's tour in the south of Italy. You might not think an elderly American couple, a middle-aged American couple, and a young single from Australia/Scotland would have a blast together... but we did. Steve, one half of the elderly couple, took a real shine to me (and I to him) and we still email back and forth to this day. It's stories like this that remind me of the beautiful experiences you can have while solo travelling.
You can read all about my 6-day Italian tour with Rabbie's to provide your own inspiration to visit. Because what I really want to talk about now is the solo trip I took in October 2022. This was a proper solo adventure. I hired a car, grabbed my camping gear, and headed off into the wilds of Scotland all on my own.
What Are My Favourite Things About Road Tripping Solo?
A first-time solo travel experience can bring with it new passions or even a new perspective outlook on everyday tasks. My favourite things when I travel alone include:
All the snacks in the car are for me alone.
I can listen to whatever music I like – even if it's the same playlist over and over. I spent most of this trip listening to my instrumental playlist, driving through the Scottish Highlands with a soundtrack of Lord of the Rings, The Lion King, and Outlander (of course).
You have your own safe space. Something about a car being yours and yours alone. It was my home for the next few days and every time I got back in it, with a new souvenir, snack, or memory, it felt like coming home at the end of a long day.
The only schedule I had was my own.
The freedom to stop anywhere, at any time, for however long. Alright, not anywhere. I'm not going to stop in the middle of the road. But I was driving along some road somewhere, and there was this canvas of ferns blanketing the forest ground to my left. But since it was autumn, the ferns were bright orange. I (safely) slammed on my brakes and pulled off to the side of the road. I then spent about half an hour frolicking among the ferns. Observe below.
My Solo Travel Experience Checklist
Speaking of lists, you might be wondering what my checklist is for travelling solo. I'm not too concerned about my safety in a country like Scotland. In saying that, a certain level of street-smarts is required for any type of travel. If Scotland is on your list this year, read our guide to solo travelling in Scotland for all our helpful tips and tricks.
While in the land of the Scots, I really wanted to go wild camping, for instance. But given that I was on my own and had never camped alone before, I figured it was smarter to go for campgrounds. I let my parents and a trusted friend in Scotland know where I was staying and when just in case.
I also made sure to have the must-haves in my car: a big bottle of water, extra food, and a first aid kit. Also, a good general knowledge of how cars function is a good idea. I (vaguely) know how to change a tire, plus know the basics: how to check the oil, water, etc.
Having a list of emergency numbers is a definite.
Obviously, your safety checklist is going to change depending on what kind of travel you're doing. For instance, I live in Scotland and am a citizen. But if you're travelling in a foreign country, particularly one where they speak another language, you should have embassy numbers/addresses written down somewhere, and a phrasebook handy.
Checklist Overview
To recap (because who doesn't love a good checklist?):
Have a certain level of street smart about you
Review the conditions before you go / think about safety
Let family and / or friends know your travel plans before you go
Keep extra supplies in the car eg. food / water / first aid kit
Understand the basics for a car breakdown
Keep a list of emergency numbers to hand
Think about your location and if you have a potential language barrier to overcome
How to Overcome Initial Nerves
I was alone and isolated for much of my journey in Scotland. But if I was in a city, to be honest, I'd feel more at risk. Muggings and the like. Each comes with its own 'risks', and each place is different, so just make sure you do some research beforehand. Read blogs and reviews from people who have been there, and done that. Rabbie's have a whole host of experience within the team and provide many solo travel guides which make for excellent reading over your mid-morning coffee.
The only time I was a little nervous was when I went to visit this incredibly secluded place called the Pink House on Loch Glass. It's a bit of a trek to get there. You'll need a car, and you park it outside this property... which you then go onto. You literally walk through their front yard. I was a bit concerned, but my friends had previously done this exact route and several sources on the internet also confirmed this was how you access the Pink House. I walked alone for about 30 minutes until I reached this incredible spot.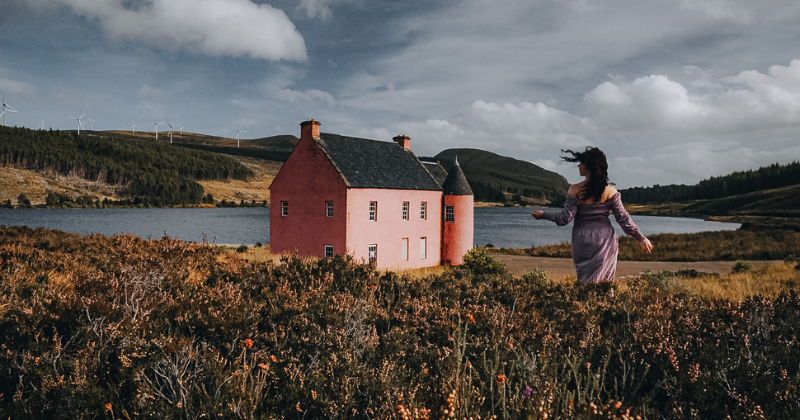 On the way back, I heard a gunshot. It was a bit unnerving, but I assumed it was locals hunting somewhere nearby. That was my one 'eek' moment.
Those three days running around the Cairngorms National Park on my own remains one of my favourite trips to date. I am desperate to recreate it sometime this autumn, as I'm absolutely in love with Scottish autumnal colours.
Tips for Experiencing Solo Travel
If it's your first time travelling solo, worry not. There are many people who will help you along the way, but my tips for solo travelling include:
A good dose of street smarts will get you far
Ask people for advice
Research till your heart's content
Take it slow
Trust your gut
There are many places in both Europe and further afield that are pretty safe for travellers, even solo ones. You might even prefer to start on home ground and do a solo travel tour of the UK. My trick when I'm alone, especially if I'm in a really touristy place (like Venice, for example) is trying to look like a local. Sure, we all love a good ensemble of khaki pants, joggers, bucket hats, and enormous cameras... but would you honestly dress like that in your own city? I make an effort to wear 'normal' clothes when on holidays and to put my camera away whenever possible.
In saying that, I am a big advocate of using proper cameras while on holiday. Ok, you might argue that they make you a bigger target for being robbed, but I remember this moment in Italy somewhere. I went into this quirky little shop where all the clothing and accessories were made from recycled vintage clothing. And the woman behind the counter looked like she was a character from A Series of Unfortunate Events, all big hair and thick glasses. There was a wildness about her, rather standoffish too. But the second she saw the large camera slung around my neck; her steely façade melted, and she flew into an excitable Italian tangent. Of course, I had no idea what she was saying, and I made that clear. So, with her limited English and mostly hand gestures, she explained that she was so happy to see someone with an actual camera and not just their smartphone. And while I do love a good smartphone, I actually couldn't agree more. It was a lovely moment between two people who didn't speak the same language but who understood each other perfectly.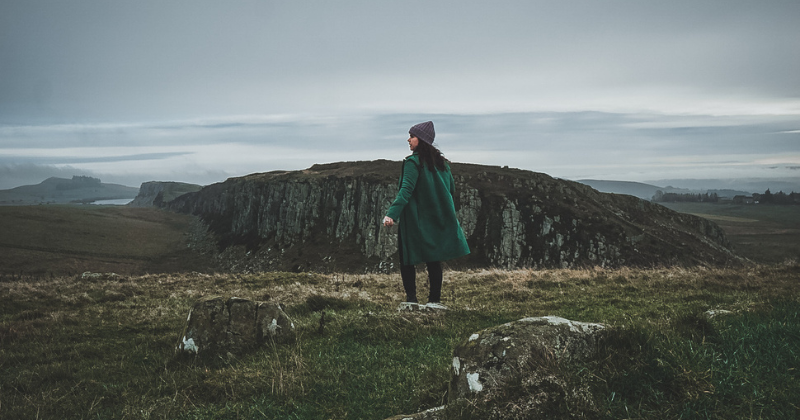 My Solo Travel Experience to Mongolia
I remember when I started telling people about my upcoming solo travels to Mongolia. I was met with surprise and often confusion. My manager at the time gave me a funny look and warned me against going there. And something inside me fluttered. Not fear – excitement. I'm not reckless. I'd done my research. Mongolia wasn't as 'dangerous' as people thought – in fact, it's far safer than a lot of more frequented countries, like South America, for instance.
The thing about Mongolia is... no one has been there. I don't know a single other person in my life who has been there. Except for the friends I made while I was there.
That's the thing about solo travel – you don't technically have to do it alone alone. Since Mongolia held some risks to it and is considered one of the most remote regions in the world, I decided to join a small-group tour. Suddenly, I wasn't going 'alone' anymore. But there are people in my life who would consider travelling on a tour without a buddy, something they would never do.
I admit I was a little nervous. Looking up past trips on this company's website, it looked like it was a whole bunch of couples that frequented these tours. I started picturing six couples, all lovey-dovey, enjoying a Mongolian sunset... and then little old me. Just off to the side, enjoying it on my own. But I knew that wouldn't be the case. Humans seek out companionship, it's in our DNA. I knew I would get 'adopted' while on tour.
Funnily enough, I didn't need to.
Life in Mongolia For Me
When I arrived in Ulaanbaatar, the capital of Mongolia, and met the rest of the tour, I was both surprised and thrilled to realise that, of the ten people on tour, there was only one pair. And that was a father/daughter team. Everybody else was there on their own.
Our tour guide, Tim, expressed his complete and utter shock over this. He confirmed that usually the tours are filled with couples and that this was the first time ever he'd had a tour that was almost entirely singles. Something was in the air. Something in the universe went: time to bring these adventurers together and form bonds for life.
And bond we did.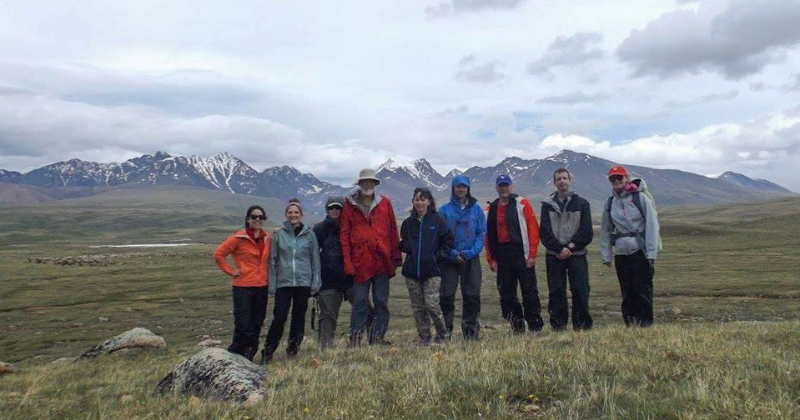 We were an eclectic group of travellers looking to experience what adventure lay ahead. Leslie from the Canadian father/daughter team had just graduated college and her father, Brad, bought this trip for them as a congratulations. Max was a 70-year-old firecracker, who placed a pair of his underwear on his walking stick to dry off after a swim like a flag declaring this to be 'Maxland'. Tessa, leaving her kids at home with the hubby, had joined the adventure to write about it for the newspaper she worked for in Hong Kong.

And then there was little old me – not sitting off to the side like I'd feared. Instead, I'd been tent-paired with a lovely young American girl called Annie and we had fused at the hip the moment we met. In what other scenario might I have met her if not for this solo trip? I could have gone the rest of my life without meeting this kindred spirit from the other side of the world. And the decision to travel solo, to not let the fact that I didn't have a travel buddy stop me, was what brought us together.
That was the best trip of my life. And it's not even what I'd call a solo travelling experience.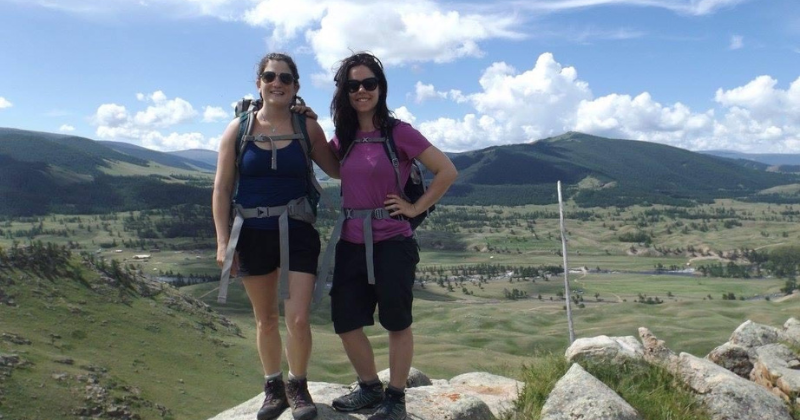 And that's the beauty of travelling solo. When I'm alone, I'm more inclined to branch out and talk to the locals, even if there's a language barrier. And, in my experience, most people are good people. Start up a conversation, ask questions, and be curious. Most importantly: don't be a tourist. Be a traveller.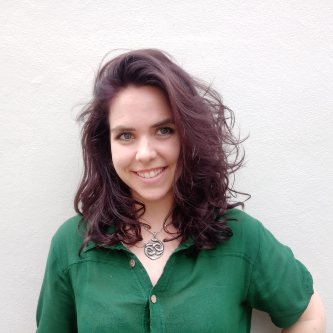 Bronwyn lives and breathes words. Before coming to work at Rabbie's, she spent 7 years in publishing and is a published author of YA fantasy books. Born and raised in Sydney, she was drawn to Scotland and affectionately calls it her 'soul home'. An avid traveller herself, Bronwyn's favourite places (so far) are Mongolia, Iceland, Morocco, and Scotland (of course). When she's not writing, she can be found exploring the Scottish Highlands with her camera, on the lookout for coos and men in kilts.