The Story of Bibury and the Yellow Car

In 2017, Bibury made the national BBC news and was talked about around the world.
You'd say it's nothing new; after all, this quintessentially English village is said to be the most beautiful hamlet in the whole country.
But the reason why news from Bibury went viral divided the hearts of people across and beyond the UK.
And it all started because of a Vauxhall Corsa.
A retired dentist, who lived on Arlington Row, usually parked his car outside his 17th century cottage. You'd think there's nothing wrong with this: It's his house.
But the problem was this car was 'fiery yellow'. It stood out amongst the idyllic rural scenery.
So visitors and photographers started complaining about it because the car didn't fit in with the surroundings and spoiled their photos.

It seemed like people forgot it was a normal village with people living in it, not a painting just to be looked at.
The residents were outraged by these opinions and stood by the old man and his yellow car.
But that's not the end of the story.
They Killed the Car
One morning in early January 2017, Peter woke up to find his car vandalised, with broken windows and the word 'move' scratched on its bonnet.
It was horrifying for Peter and the community. It was even worse when he realised the cost of fixing his Vauxhall was too high and he would have to write it off and get a replacement car.
This was the sad end of the vibrant little car.
But the horrible act of vandalism sprung people to action. Locals collected money to help the 84-year-old get a new car. Someone even came up with an idea of a bright yellow cars rally to show the support of the Corsa blamed for ruining tourists' photos.
The idea caught on. There were so many yellow car owners willing to take part that the number had to be limited due to the safety reasons.
And so, Bibury made the national news again when hundred cars turned up to drive through the village on the April Fool's Day to show solidarity with the resident.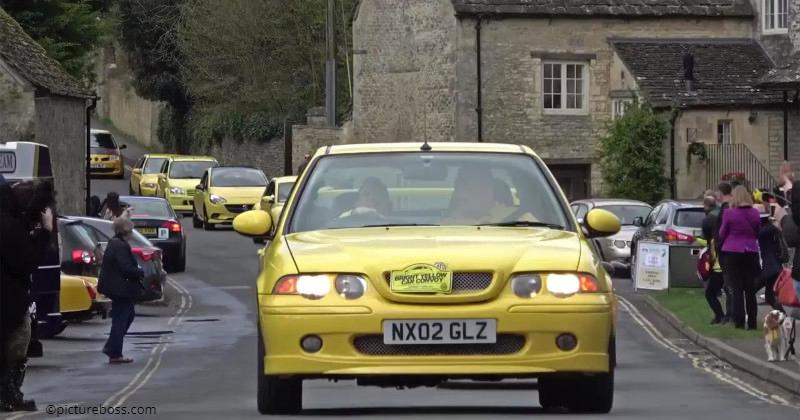 Even Vauxhall bosses were touched by his story and named their shade of yellow 'Maddox yellow'.

A New Car
The pensioner was overwhelmed by this support. When it came to choosing his new car, he resigned from a bright colour and opted for a grey model to avoid further controversy. The elderly man just wanted some peace and quiet during his retirement.
So when you walk along the bucolic Arlington Row in Bibury, you may spot a grey Vauxhall Corsa parked outside a cottage. It really does its best to blend in with the surroundings.
And before you make any comment about it, think twice.
Maybe you're trying to get the best angle of this pretty street for a shot of a lifetime. But there are people like Peter Maddox trying to live here.
No matter where you go, always do your best to respect the places and people you see while travelling. This is a lesson Peter Maddox and his yellow Vauxhall Corsa could teach us.