A Love Affair With Verona

I really should have expected to fall in love with the City of Love. But, like any good love affair, it came as a surprise. Out of nowhere like a sucker punch to the heart.
After a whirlwind week in The Floating City of Venice, I hopped on a train and was arriving just outside of the city of Verona before I knew it. Opting to stay on the outskirts in a hostel rather than within the city limits itself, it was within a lovely and quaint establishment called The Hostello where I made a friend. Hailing from the south of France, Erwan and I decided that, as solo travellers, it was only logical to explore the city together.
Unsure what to expect from Verona, we headed into town that night for a fancy Japanese meal (I had spent the last week exclusively eating carbs, so I forced myself to mix it up) and then a wander around the heart of the city at night. With the warm glow of streetlamps overhead and the smooth marble streets sliding underfoot, we took our cameras for a walk and bonded over our love for photography and travel.
It was at this moment that I fell for Verona.
As travellers and photographers, we discussed the must-do and must-see that were on our lists for the next few days. Erwan had a few more museums and galleries on his list than I did, and I had a list of my own, but we had several spots in common, so we planned to meet up for those. Erwan had already purchased his Verona Card and convinced me to invest in one for the duration of my trip.
Even with four nights in Verona, there still wasn't enough time to do everything I wanted. That got me thinking: if I were only here for a few hours, what would I prioritise? If you were to jump on Rabbie's 6-day Venice, Garda & Romantic Northern Italy tour, you'd get around two hours in Verona. So, what should you prioritise?
The next day I wandered about town with my camera. This is an activity I can highly recommend for photography enthusiasts. The architecture of this city can only be described as romantic. Richly coloured buildings and decadent marbles, luscious flora on quiet streets, neatly hidden cafes and restaurants. Then I found myself once again in the historic centre, staring up at the red and white patterned façade of the Torre dei Lamberti. Dominating what was once an ancient Roman Forum, Piazza delle Erbe, this 84 metre tower has 368 steps waiting to burn your quads and spike your heartrate. Or there's the elevator, but I'm a stubborn one and like a challenge.
If you're a fan of panoramic views or are considering how best to besiege Verona, this is a pretty great vantage point. Perhaps not the best spot for photos, since there is netting wrapped around the edge of tower for safety. Still, that view though.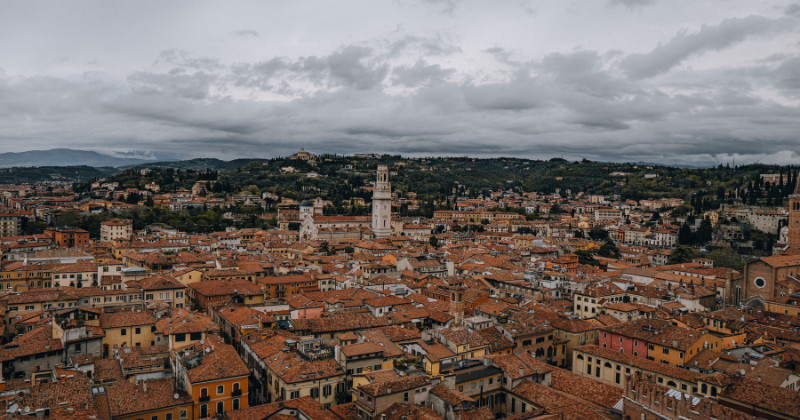 I knew I wanted to see at least one basilica while in Verona. What I didn't anticipate was how many there would be to choose from. In the end I went for one that's a bit outside of town (about a 25-minute walk from the centre) called Basilica di San Zeno Maggiore. With a proud face of cream-coloured volcanic rock and a domineering rose window eye, this church was constructed between 967 and 1398 AD.
You might be wondering how I've gone this long without mentioning the S-word. That's right. Shakespeare. Verona is the setting for his famous play Romeo and Juliet, after all. And many people flock to Verona to see the Casa di Giulietta. Juliet's House. But what many don't know is that the crypt at the Basilica of San Zeno was where our doomed lovers tied the knot.
And this crypt? When I tell you I was obsessed, I mean I was obsessed. It was like a Dan Brown novel come to life. More than that, I half expected the mummy from The Mummy to come creeping out of the darkness at any moment. Dimly lit like your bedroom at night, your mind drifting towards sleep, you feel out of phase with the world as dreams approach. And this was a dream I didn't want to wake from.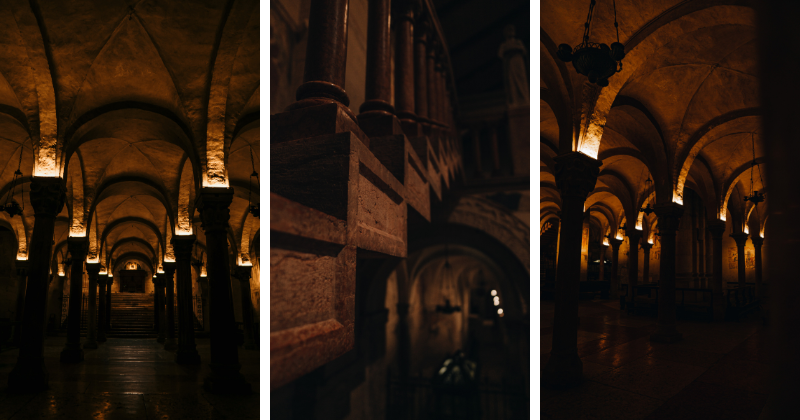 And I'm not even mentioning the rest of the Basilica. The central church and the surrounding presbytery and abbey are just as worthwhile taking in. Erwan was just as impressed by this surprise addition to his itinerary, pleased that he'd tagged along.
Then we wandered the length of the Adige, Italy's second-longest river after the Po. Grateful that I was with another passionate photographer, I found myself stopping every few seconds for an even better angle of the river than I had before. Tall reeds and shrubbery hugging the water's edge, the perfect nestling place for ducks. Bridge after bridge yawning overtop, ferrying locals and travellers alike.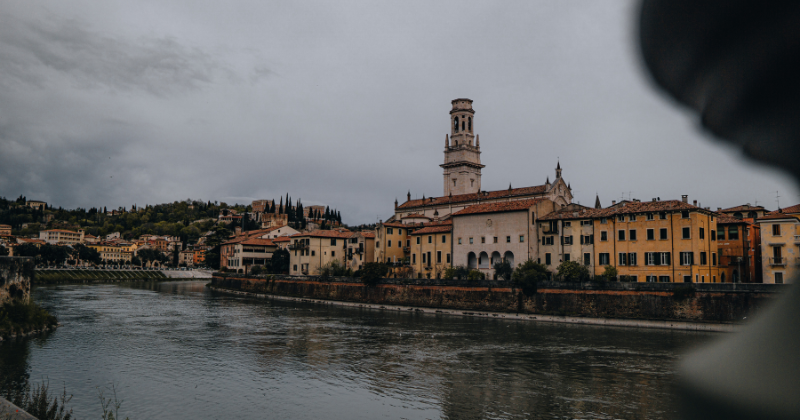 We overshot our destination. La Funicolare di Castel San Pietro, also known as Castel San Pietro funicular. Now this is the panoramic view you're looking for, trust me. It's not as steep as you might imagine, and a rapid trip to the top where the terrace view awaits you.
Erwan and I missed the entrance and accidentally took the route on foot. Do I have any regrets? No. A lot of sweat, but no regrets. The winding pathways to the top held their own secrets and beauty, and I got my favourite shots of the day on the way up.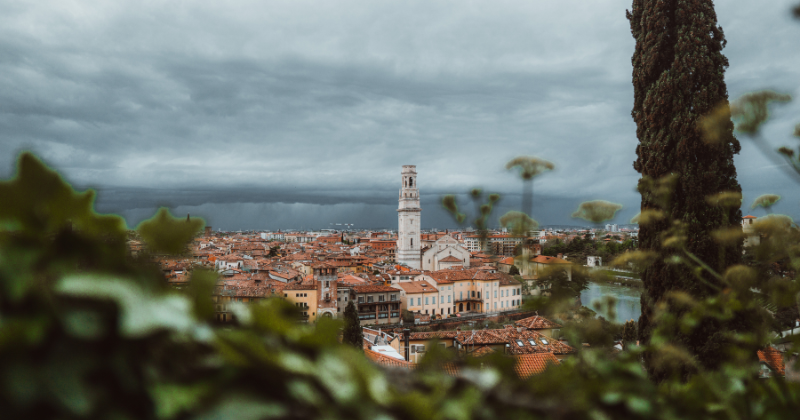 Overcast by a brewing storm, the sky above Verona looked like a scorned lover returning for revenge. But in the wake of her inevitable downfall, she was somehow even lovelier. Of course, we had to take the funicular down, just to say we had. And, as the rain began, so did our return journey to the hostel.
Erwan was off the next day, so my Verona adventure continued solo. Judge me if you will, but I had to see Juliet's House for myself. As a huge fan of the movie Letters to Juliet, I'd had an idea of this place in my head for many years.
Upon entering the quaint courtyard, a humble crowd of tourists were worshipping at Juliet's feet. Not what you might imagine, of course. Cameras were out, faces were lit with smiles, and a man and his wife stood either side of Juliet's bronze statue. The wife had her hand on Juliet's right breast, robbed of its golden hue by thousands of hopeful romantics over the years, while her husband (I sure hope he was her husband) placed his own hand on his wife's breast. I appreciate his ability to adapt and think on his feet. I'm sure it made a great photo for back home.
I believe you can take a (pre-booked) guided tour inside Juliet's House and even have a chance to stand on the balcony above (Romeo, Romeo...), but I opted to simply enjoy the view of one of the world's most iconic love stories.
Most people have heard about Juliet's House but fewer know that just around the corner is Romeo's House. It may not be as dramatic as Juliet's balcony and statue, and you cannot go inside, but it holds a beauty of its own. Graffitied with the love and pain that so many feel beating inside of their hearts, every inch of the stone wall is covered with messages from people around the world. And a plaque, to commorate the work of Shakespeare, sits at the heart of it all. His words might be more beautifully written than the scribblings on the wall, and yet if Romeo's House proves one thing, it's that we are all poets when it comes to love.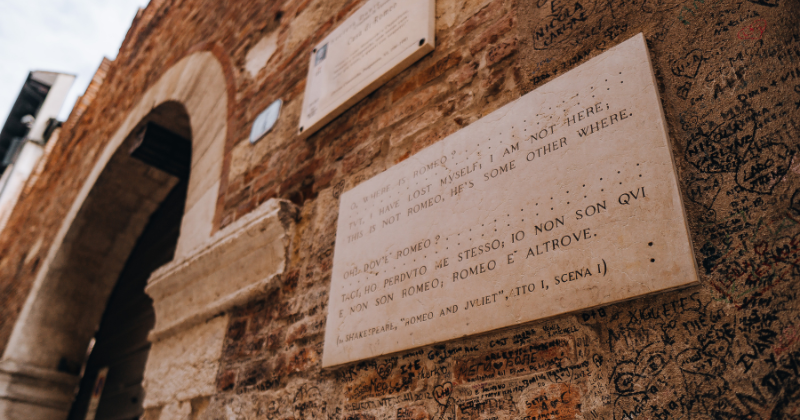 It was time for a bit of culture, so I headed to Verona's Castelvecchio Museum. A museum in a castle, need I say more? This is what I love about Europe. Being from Australia, we don't have castles, let along museums in castles. No surprise it was once considered a prime military building, as inside you'll find an army of sculptures, statues, paintings, ancient weapons, goldworks... you name it.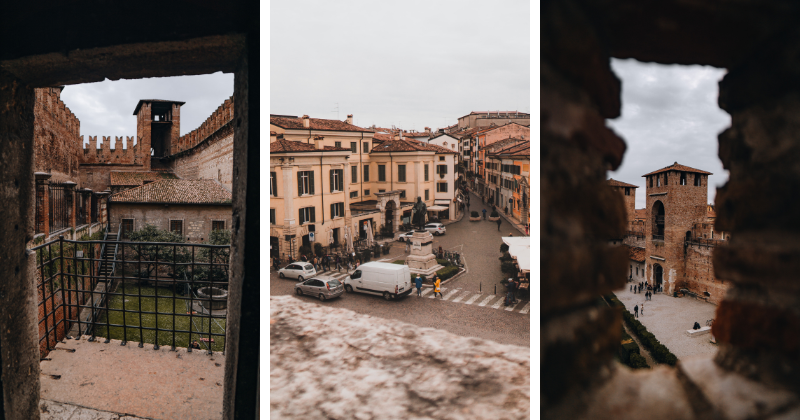 And then there's Lake Garda. An easy day trip from Verona, luckily on the 6-day Venice, Garda & Romantic Northern Italy tour, you head there after Verona for several hours. Now that I live in Scotland, I'm not quite used to the sun anymore. And the day I went to Lake Garda was like the first moment you step onto the warm sand of your favourite beach. Sitting by the lakeside with an enormous pepperoni pizza, a guilt-ordered salad, and an icy beverage, I soaked up the sun like a lizard on a rock. The sunburn was worth it.
So, what if you're joining us on a small-group tour and only there for two hours? There are plenty of things to do in Verona, as this blog shows, but here's a little two-hour itinerary I can suggest:
Wander into town, grab a gelato and explore the streets as you make your way to...
Torre dei Lamberti - you'll likely need to pre-book your ticket for a certain slot, and choose between the elevator or stairs. I'd give yourself 30-45 minutes for this.
Juliet's House - This is just around the corner from the tower. If you just want to take in the sight, ten minutes should suffice. However, if you want to see the inside, give yourself at least 30 minutes. Make sure to pre-book this.
Romeo's House - is just around the corner and you'll only need about ten minutes before you head back to the bus to meet up with your tour.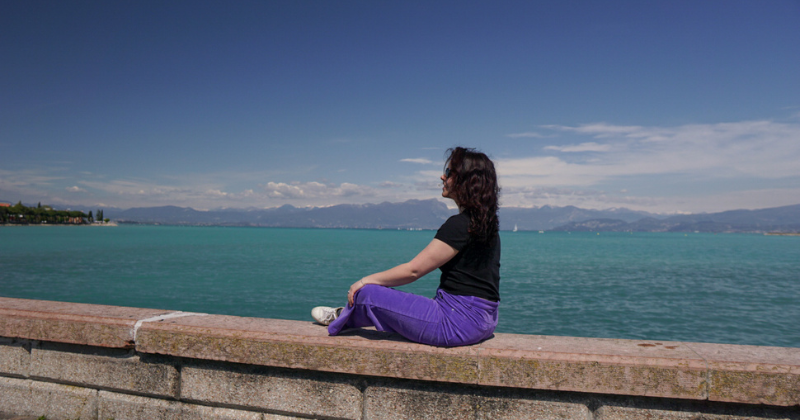 Verona. I remember her fondly. Like an old lover you long to have back. But, despite the distance and time that has passed, you smile when you think of her. Because even though you miss her, those days were too special to see in any other light.