Venetian For a Day

We arrived at night. Venice was quieter than I'd ever seen it. The ferry bobbed down the canal, zigzagging between its stops every few metres. It was the slow way to see Venice at night. The violent thrum of the engine beneath us, the slap of water against the city's skeleton, my friend and I delirious with exhaustion and excitement.
This is how you start an adventure, I thought.
The journey had already involved a bus, a plane, another bus, and now a ferry. And when we hopped off at what we hoped was the correct stop, Megan and I looked ahead into one of Venice's many winding streets that stretched out before us. The shops were closed, the street empty, nothing but a few yellow streetlamps to guide the way.
Venice is distracting at the best of times, and nighttime is no exception. As we set off in search of our hotel, suitcases dragging behind us, I kept marking down points on the map to return to, nooks I wanted to explore, shops I wanted to examine.
The thing about Venice is it's not a city designed for an easy stroll, necessarily. You spend your days walking the streets, burning blisters into your very soles, and if you're anything like us and move accommodation mid-visit, you find that navigating its cobbled streets and endless bridges is a challenge with a suitcase. By the time we reached the third floor of our hotel building, we were panting as if at the end of a marathon. The Venetian marathon.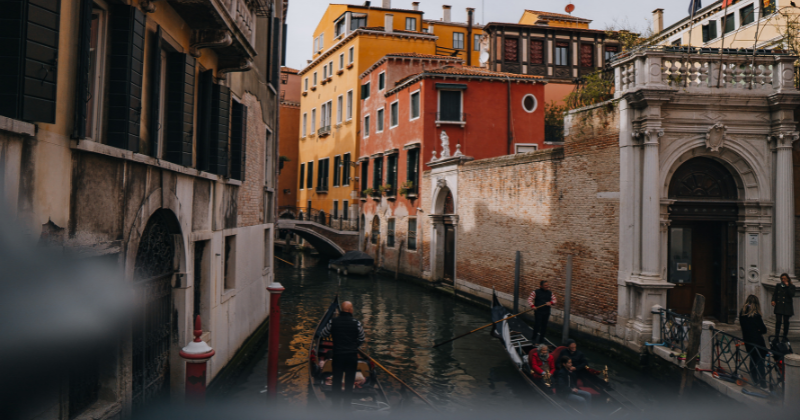 As we checked out the next morning, the man at our first hotel eyed off our enormous suitcases with pity and confusion.
'This is not a city for those,' he said. 'You should have brought backpacks.'
This we already knew. Alas, this was the suitcase I owned and I'm not in the business of overspending right now. Besides, perhaps I enjoy a challenge. So, onwards we went to our Airbnb where we would be later meeting our other friend Steph.
If you can't already tell, I absolutely adore Venice. This trip was my fourth visit, though the last time was nine years ago so it was definitely time to see what my favourite city was up to.
The weather was divine the entire time we were there. On our first day, Megan and I wandered down to the main canal, where this lovely garden called Giardini Reali steals the spotlight. With coffee and pastries, we basked in the sunlight and the start of our adventure.
Venice is one of those places where you can visit time and again and always find something new to do. Part of the fun of my job at Rabbie's is getting to explore new places on behalf of work and see what makes a place worth visiting. So, that's what I was there to do. To get to know Venice intimately. To do the leg work for you. To help narrow down what you should do if you visit.
Whether you're planning to visit on your own, or join us on tour in Europe, you don't need me to tell you that Venice is a unique world worth peering into. Even if only for a moment. If you join us on tour, you'll have a full day to explore this city. So, what should you do during that time? Keep reading and I'll list what I did, and if I think it's worth your time.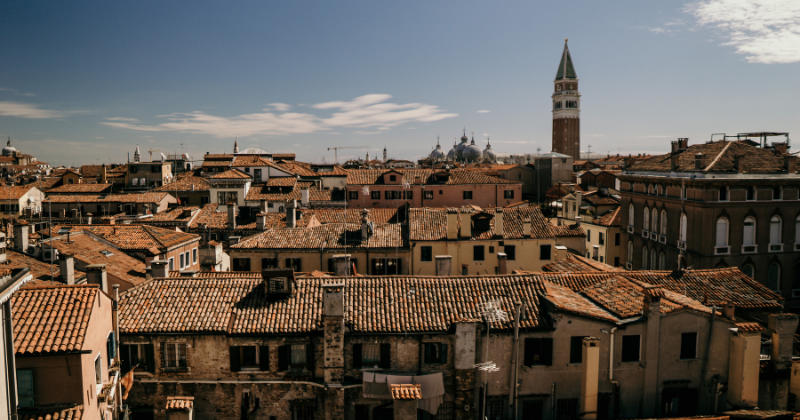 The Merchant of Venice
I'd done a lot of research in the lead up to my trip. I was determined to explore other parts of Venice that I'd not seen before. First on our list was visiting The Merchant of Venice. Not too far from the main attractions, you'll find this store tucked away in Campo San Fantin. Campo, or campi, are equivalent to squares and are usually a hub of restaurants, shops, and often a chiesa (church).
Stepping inside the Merchant of Venice is like stepping back in time. Back in the 17th century it was a pharmacy. Today, all the original features remain. And we're not talking rows and rows of horribly packaged products lit by fluorescent lights. We're talking white-marble columns in the Tuscan style. Dark wooden cabinets with ornate carvings of beautiful women in various poses. Orange and black marbled floors, worn from time. And bottles of elite and illustrious perfume lined up like delicate chocolates waiting to be sampled. It's on the pricier end of souvenir shopping, but if you're a perfume enthusiast, I cannot recommend it enough.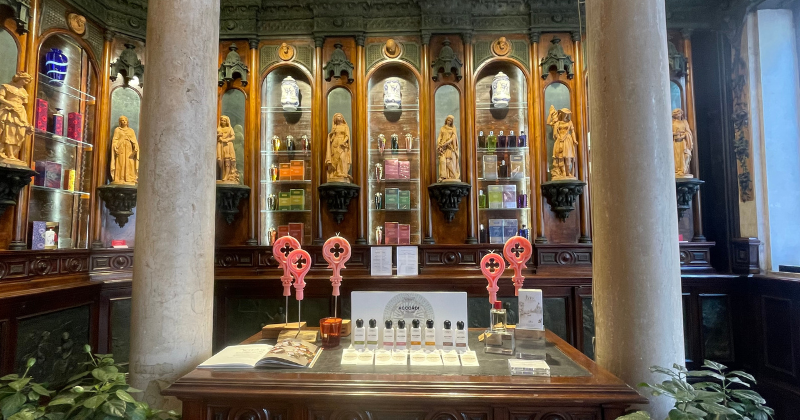 Get Lost
This isn't the name of some store. I literally mean get lost. The great thing about Venice is that it's a relatively small island and it's near impossible to actually get lost. To end up somewhere incredibly far away from your accommodation. However, if you find yourself at the bus stop, you've gone too far so I'd recommend turning around and heading back towards town.
One of my favourite things to do in Venice is to simply wander. Put your map away and just walk. If you see a quirky looking alley, go down it. If you see a store that looks interesting, go inside. One of my favourite moments of this trip was when I saw a quiet alley that no other tourist was going down and I decided to investigate. At first there was nothing of note. Then I took another turn and while it started out dank and dark, I was rewarded for my faith.
At the end of this alley was a dead end. The blue water of the grand canal stretched out to my left and right. Boats whizzed by. People milled by the water on the other side. And I had my own piece of paradise for a few moments. It was perfect.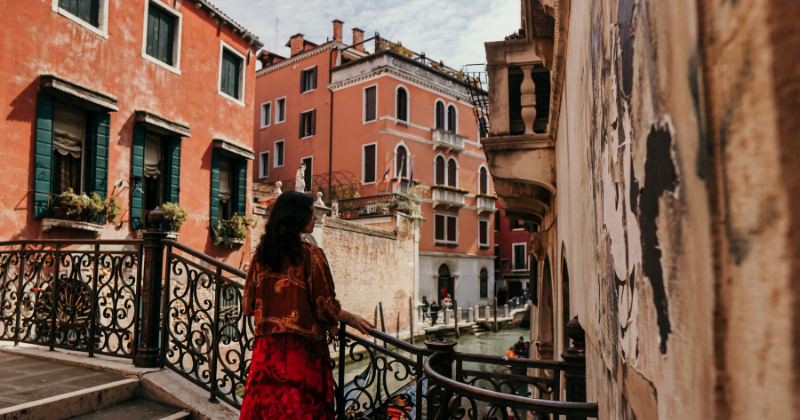 You never know what's around the corner in Venice. You might get lucky and find your spot, the way I found my bridge (above). Different places and things speak to people in their own way. It doesn't always need words. Sometimes a feeling is enough.
And if you suddenly realise that you need to be in San Marco to go on a tour of the Basilica, worry not. This is where you need to take notice of your surroundings. On the walls throughout Venice are signs for the bigger attractions, such as the piazzas. Sometimes they are official yellow signs, easier to spot. Other times they are little more than graffiti scribbled across the stone. Trust those words, they won't lead you astray.
Indulge in the Food Scene
I don't know how familiar you are with Tiktok, dear reader, but there's a video trend where you get someone to film you at the start of a night saying, "Hello my name is XXX and this is my first drink of the night". And then you do it throughout the night, so you can all see the progressive drunkenness ensue. It's rather hilarious. I did the same in Italy... but with gelato. I decided to film myself every time I had a gelato, just to see how many times I had one and because... well, I can.
I had 19 gelatos over the course of my 18 days in Italy.
Is it weird that I'm proud of myself? What's great about Italy is that the Italians do not judge when it comes to food. They live their lives to enjoy them. They enjoy il dolce far niente, 'the sweetness of doing nothing'.
I can't remember the number of pizzas I had. Or pasta. Or breadsticks. Sweet treats in between every meal. I did not count calories. I did not punish myself. I did not feel guilty for yet another gelato, or another pastry. Why? Because Italians do not either and we can learn a thing or two from them. So enjoy.
Scala Contarini del Bovolo
This one is a little off-the-beaten-track, as it were. I remember looking it up prior to my adventure in Venice but, in all honesty, I'd not looked much since and had forgotten what to expect. And what a treat forgetting was.
Round and round it goes. Up and up. Twenty-eight metres high, spiralling towards the sky like a giant shell trapped so far from the ocean. Your mind unravels just looking at it.
In the 19th century, the Palazzo below was converted into a lodging house. One of the guests, a German astronomer called Wilhelm Tempel, discovered a comet and nebula from the top of Contarini's tower. And now that I've been there myself, I can easily see why this gives you the best view in town.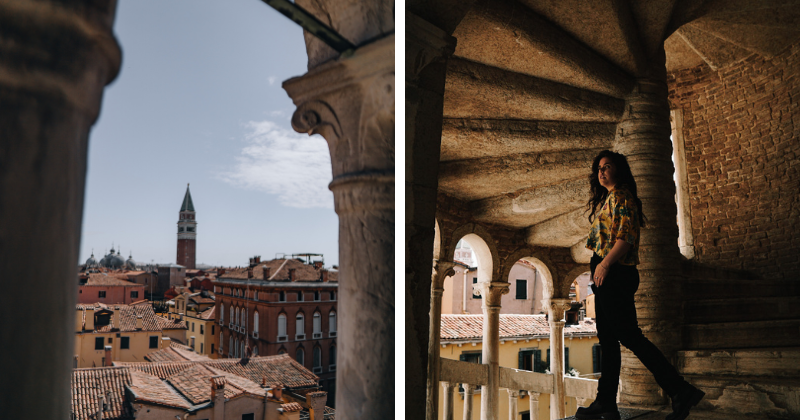 Libreria Acqua Alta
Originally this one had been on my 'off-the-beaten-track' list but now I realise it is far more popular than I first thought. In saying that, it is amazing and that's why people flock here. This cosy bookstore is a dragon's cave of vintage books, quirky knickknacks, and even a few resident cats.
If you're claustrophobic, I'd recommend sitting this one out. Not only is the bookstore packed with ceiling-high shelves and stacks of dusty tomes, it was pretty full of people when I visited too.
Maps of places that seem too beautiful to be true. Vintage magazines of times long past. Aged books with sagging edges and dull faces. I knew it was a big ask when I went to the teller and asked if they had any editions of Le Morte d'Arthur by Sir Thomas Malory. I've been collecting editions for years now and absolutely needed one from Venice.
I was tucked away in a corner on a lopsided stool as people past me by, rummaging through a section of the shop that looked particularly ancient. Alas, I did not find what I was looking for but I had a thrilling time trying.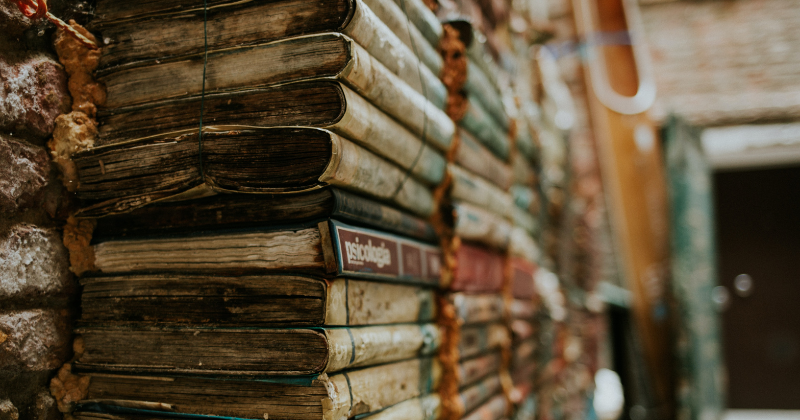 St. Mark's Clocktower
You know those moments when you see a place in a different light? When you have one of those moments that feel exclusively yours? That was St. Mark's Clocktower.
Please, please, please do this. Trust me. Unless you're claustrophobic or afraid of heights, then I'd say avoid this particular attraction.
In the hubbub and madness of Piazza San Marco, among the mosh pit of tourists, you're likely to spot the iconic Doge's Palace or Saint Mark's Basilica. We don't blame you. They're loud and impressive and demand all your attention.
But these two have a little brother and he is often overlooked. Tucked away in the same piazza, St. Mark's Clocktower is often admired in a quiet fashion. The clockface of royal blue and rich gold dominates one of the piazza's most frequented thoroughfares. And yet many don't realise that there is a whole world inside. The person behind the face, if you will.
And the clocktower is full of personality.
Both the tower and the clock date from the last decade of the 15th century, though changes have been made in recent years to the clock's mechanism. We organised a tour of the interior and scaled the narrow staircases up each level of the tower. And each held its own fascinating story.
Until very recently, a family would reside inside the tower. Back in the 1500s, the Council of Ten decided a permanent keeper was needed to keep the clock in working order. No different to a lighthouse keeper, though far louder.
This man and his family would live inside the very tower itself. Our tour guide showed us the designated children's bedroom, tucked snuggly behind what is now the digital clock.
And don't even get me started on the view from the top.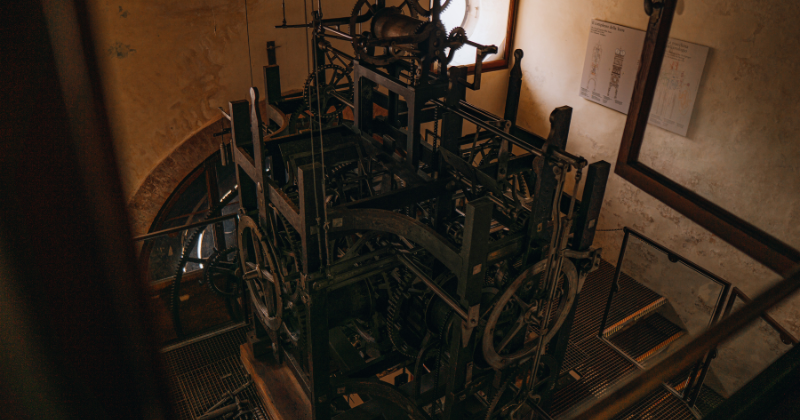 San Giorgio Maggiore
Three times I'd already been to Venice and somehow never made it off the main island to the ones that surround it. Luckily, this time I had enough presence of mind to change that and headed on a short ferry ride across the grand canal to San Giorgio Maggiore.
If you've been to Venice, or know anything about it, you'll recongise this little island. Or, rather, you'll probably recognise its Palladian church. It's been photographed. It's been painted by artists like Monet.
I'd seen online that if you visit the church, you can head up to the very top and get panoramic views out over Venice. What I didn't expect was the church itself. Silent as the early morning, with arched ceilings as overwhelming as mountains, this marbled beauty was bathed in streaks of warm afternoon light. It felt holy, even if it was all in my head. Wandering around with my camera, I felt like an ant in the shadow of a tree. The design of this church seemed so perfect, every surface smooth, pristine, white, and marbled, how could we be anything in comparison?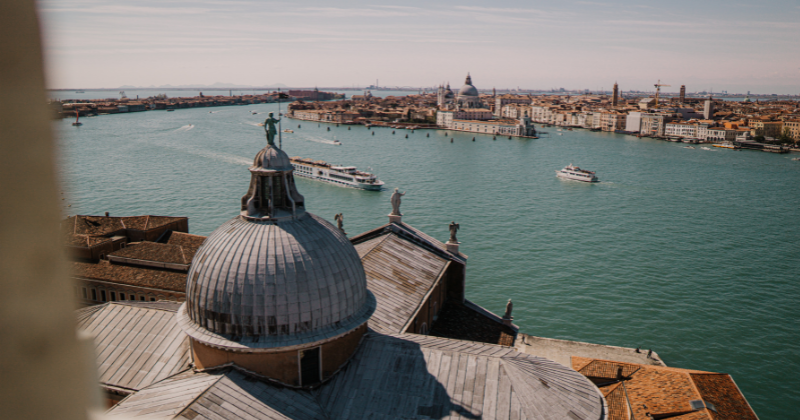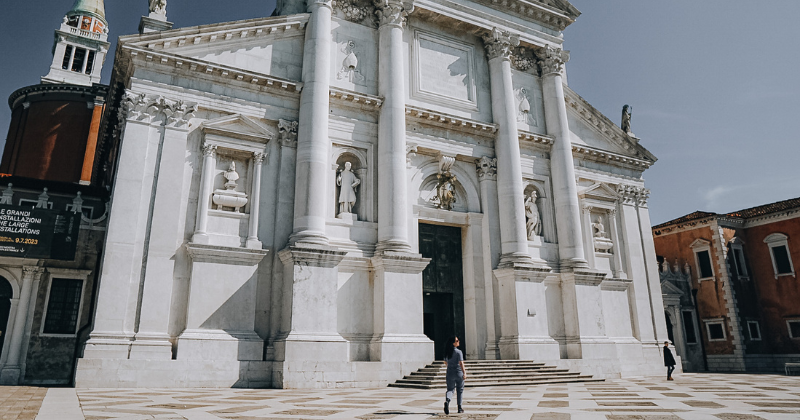 Church of San Zaccaria
Picture this. I'm standing underground on a thin walkway. Either side of me is water, so still I can see the archways and coffins reflected in its surface. Sounds like a dream, doesn't it? Or perhaps a nightmare. But I can assure you this actually happened.
And it happened at the Chiesa di San Zaccaria in Venice. Like many of these incredible ancient buildings, this 15th-century church has seen a lot in its time. Pope Benedict III took refuge here once. One hundred nuns took refuge in the cellars during a fire, only to die from smoke inhalation.
And for me, the quiet beauty of the crypt somehow reflected this pain back to me as if through the mirror of the water below.
Entrance to the church itself is free and, for a small donation, you can head into the crypt like I did. In all honesty, this was probably my favourite moment while I was exploring. Unexpected and more powerful than I'd anticipated, this chiesa is well worth a visit.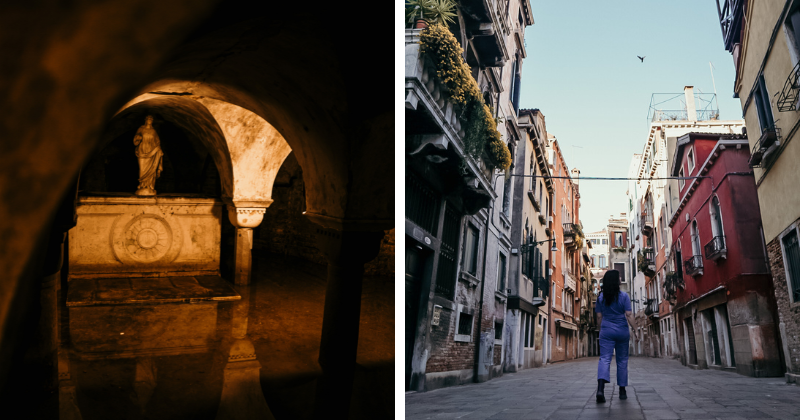 Travel in Style
Now, I know this is super touristy, but I couldn't help myself. It had been 15 years since I'd taken a gondola ride, the last being with my family and, in the one photo I have, I'm wearing a white puff jacket and a red beret. Every time I look at it, I think 'What was I thinking?!'
And now, so many years later, I was in Venice with two of my wonderful friends and we decided it was time to explore Venice the way it was meant to be explored: by water.
The average gondola ride lasts 30 minutes and costs €80 (in cash). My biggest piece of advice is to avoid the more popular spots and canals, where there will often be lines for the gondolieres. Instead, do what we did, and wander off into a quieter part of Venice and keep an eye out for these theatrically dressed men with their straw gondoliere hats.
The only question is: what kind of gondoliere will you get? One that sings loudly in Italian? One that flirts with you? One that stands in eerie silence behind you? One that delves into the history of the city they love? Half the fun is in not knowing. They are the New York taxi drivers of Venice. You never know what kind of story you're going to have on the other end.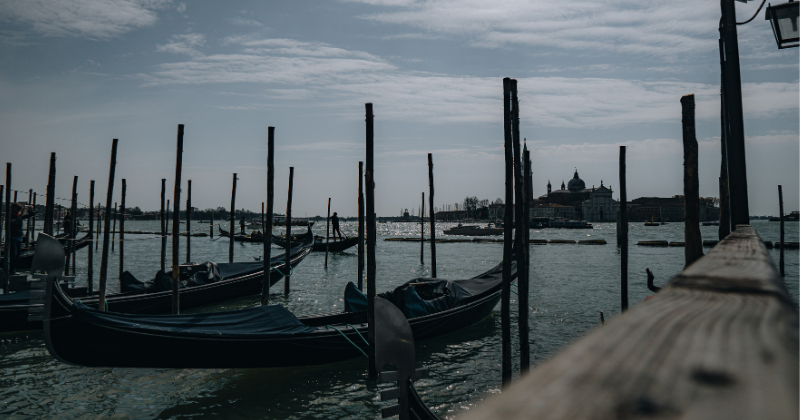 Ponte di Rialto
A visit to Venice literally cannot include the Rialto Bridge. It hovers over the main canal like the most beautiful piece of history you've ever seen. It is the link between the sestieri of San Marco and San Polo. Look closely as you approach, you might just see the relief of St. Mark scored into this 15th-century masterpiece.
The one downside to this spot is its popularity. If you go at any point during the day, you'll be fighting to get a photo without a dozen other people in it. My friend and I woke up for a sunrise photoshoot around the city and our first port of call was Rialto Bridge. Even at sunrise, there were people milling about. But it was far more peaceful, and the soft pinks and oranges of early morning light that dusted the grand canal was worth the missed sleep.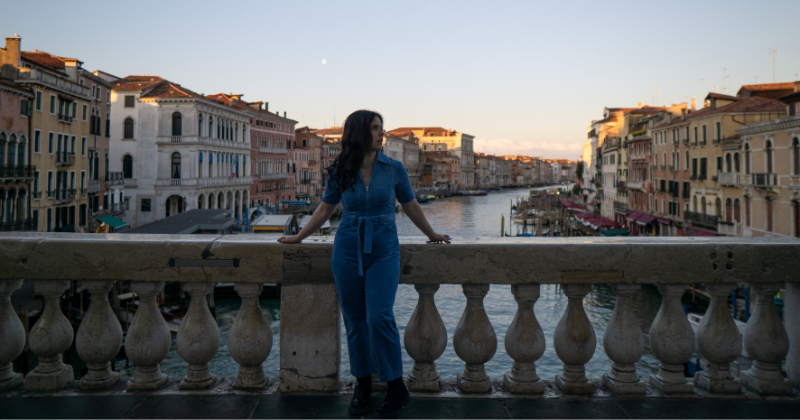 St. Mark's Basilica and Doge's Palace
Some things are undeniably beautiful. The kinds of things that attract worldwide attention. People can't help but stop and take a dozen photos. They'll spend the money if it means getting up close and personal with them.
From afar, it's easy to question. Is it really worth it? Is it really that amazing? Sometimes, in the flesh, it can be a letdown. But I assure you, my camera got a really good workout on both these visits and, despite being popular tourist destinations, I would highly recommend St. Mark's Basilica and Doge's Palace. Pre-booking tickets is an absolute must. I got great skip-the-line tickets through Get Your Guide.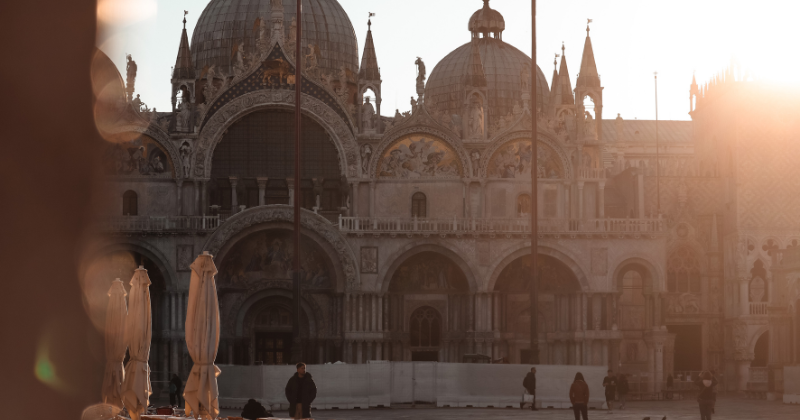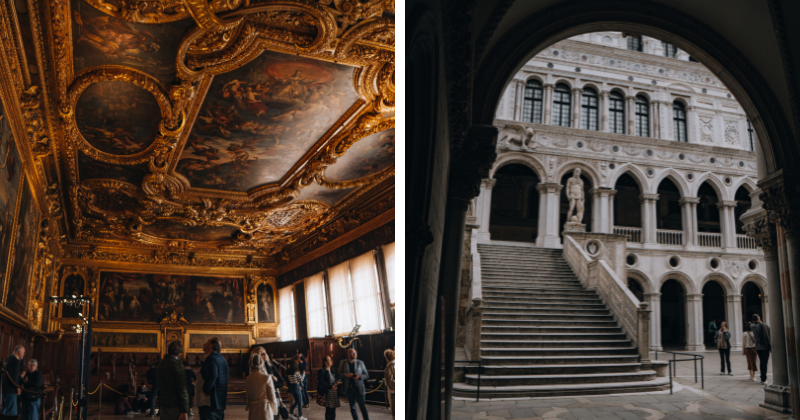 When the morning fog lifts from Venice, taking with it that gentle haze and quietness of the early hours, you'll be consumed by its vivaciousness. You'll wander its tangle of streets and discover tucked away corners where locals take a breather from the life of the main footpaths.
Venice is a city of contradictions. The thrum of people bring life to this dilapidated labyrinth. The shine of the water weaves among the cracked facades like veins in an ageing body. You see more than people everywhere you look; you see ghosts. Echoes of times long past in the sagging buildings. A row of empty gondolas waiting to be repaired at the Squero di San Trovaso. Moving impressions of incredible minds at the Gallerie dell'Accademia.
You might find yourself lost in it for days, just like I was. I guess you just need to ask yourself what side of Venice do you want to know? You could spend days exploring, but even in a single day, you'll find there's plenty to love.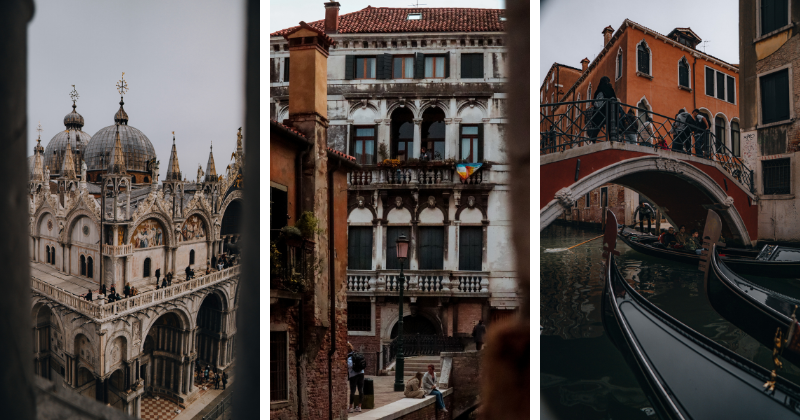 We head there on several of our tours, including the 6-day Venice, Garda & Romantic Northern Italy tour, and the 13-day Italy's Iconic Coasts & Cities tour, where you'll visit Venice for a day between 10am and 5pm (give or take). Why not use this list as inspiration and see the side of Venice you want to know. Maybe you want to see it all. Start off at the Doge's Palace and end up at in the crypt of San Zaccaria. A well-rounded explorer, you are.
If you do join us on a small-group tour, here's a pro tip: it takes about 20-30 minutes to walk from the bus station into the centre of Venice (San Marco Piazza), so give yourself plenty of time at the end of the day to get back to the Rabbie's bus.
So, maybe we'll see you there? In among the throng of people, we could meet up for a slice of pizza or a fresh gelato along a quiet canal somewhere. Befriend the pigeons, spot the locals, or maybe sit still and try to hear the ghosts of Venice.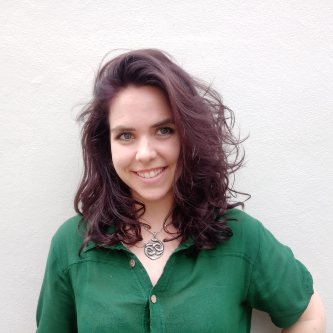 Bronwyn lives and breathes words. Before coming to work at Rabbie's, she spent 7 years in publishing and is a published author of YA fantasy books. Born and raised in Sydney, she was drawn to Scotland and affectionately calls it her 'soul home'. An avid traveller herself, Bronwyn's favourite places (so far) are Mongolia, Iceland, Morocco, and Scotland (of course). When she's not writing, she can be found exploring the Scottish Highlands with her camera, on the lookout for coos and men in kilts.