An Interview with our Guide, Kevin Bowie

We've always loved Inverness.
It's close to some of our favourite spots in Scotland and a great hub of Highland culture.
Yet, we still sometimes feel like tourists when we visit.
So, we tried to get to know the town a little better with one of the locals, our very own driver-guide, Kevin Bowie.
Introduce yourself, please.

Well, I'm new to Rabbie's. I drove a lorry for 20 years, so when I came here it was a big change for me. But so far, I'm loving every minute of it!
Do you have hobbies?
I've been playing lawn bowls since I was 12-years old. I even played for the Scotland under 25s team! I'm a little less competitive now though.
Finish this sentence: Everyone in the world should…
Relax.
Are you from Inverness?
No, but not far. I'm from Nairn and moved here around 10 years ago.
What one thing would you recommend people to do in Inverness?
That's easy: Try and find the Loch Ness Monster! We've not seen much of her lately though. Maybe it's the weather or she's just away on holiday.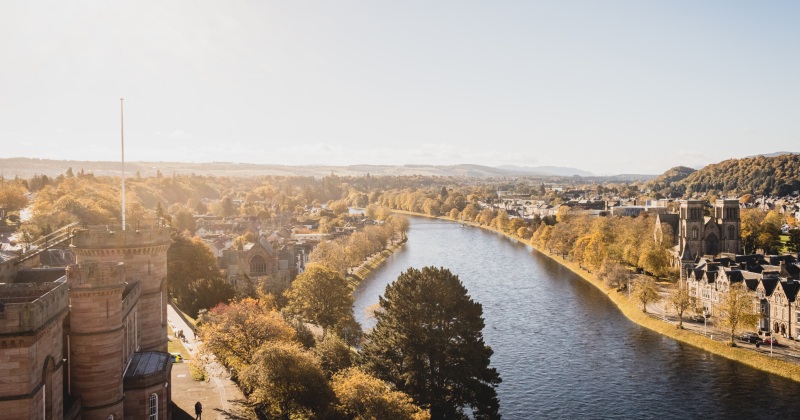 What's the best thing about Inverness?
I'd say the scenery, all the bars and restaurants. There's such a wide-selection here. But the best thing is everyone makes you feel more than welcome.
What's the most beautiful place near Inverness?
My home town, Nairn has a beautiful beach and is only around 20 minutes away;
Nairn has a beautiful beach and is only around 20 minutes away
although maybe I'm a little biased. And obviously you can't beat Loch Ness on a calm day. The reflections look great on camera and it's only 10 minutes from the city.
What's your tip for Rabbie's passengers?
Relax, and enjoy the day and the scenery. You'll be travelling around beautiful places, so just try to take in as much of it as you can.
Do you have a favourite Rabbie's tour?
They say west is best - and I agree
Well, they always say west is best - and I agree. Heading out on the Torridon and Applecross day tour and the Skye day tour from Inverness. Both explore the best scenery Scotland has to offer.
What would your ultimate tour of the British Isles include?
So many people come on our tours and recommend Ireland.They say the scenery is not too different from here. So, I'd love to do a nice long trip around that part of the world and find out what all the fuss is about.
What do you like most about Rabbie's?
It's a laid-back company with a great reputation. And working as a guide is amazing. I get to meet lovely people from all over the world while visiting gorgeous places. I especially love to hear about the different cultures on board the bus and find out why they came to Scotland. All these people in our little country makes me very proud.
What's your favourite tour story you tell?
Oh, that'd be a shocking experience I had with some Highland coos near Durness.
I was on holiday by Loch Eriboll, and when we were passing through a town, I saw some cows looking rather spectacular. So, I told my wife I'd come back in the morning to get some photographs.
But when I got there in the morning, they were deeper in the field. So, to get the photos I wanted, I needed to clamber over an embankment for a long-range shot. But still it wasn't the right position. So, I moved right up to a fence near and grabbed it to balance.
Unfortunately, this fence was electric. Very electric.
So, soon as I laid my pinkie on it, a shock sent me flying onto the bonnet of my car. I was shivering in a wreck. I thought I might die. So I drove back to my wife as quick as I could, so she could check if I was okay. Luckily, I was!
I suppose the moral of the story is that some pictures of Highland coos aren't worth it and don't touch any fences in the Highlands.