An Insider's Guide to Manchester


Manchester: birthplace of the Suffragettes, Manchester United football team, and legendary rock band, The Smiths. This city is a cultural hub with a vast and dramatic history within the music, literature, and sports industries. With such a rich and interesting past, it's unsurprising there's no shortage of things to do and see in one of England's most popular cities.
So let's look at a few of the best things to do.


Museums & Galleries
Manchester is abundant in museums and galleries. It's sure to impress the socks off any art lover or history buff. So, if you're looking for a little insight into Manchester's past or need something to do on a rainy day, check out these institutions.
Art and architectural enthusiasts will savour a visit to Whitworth Art Gallery, located within the grounds of the University of Manchester. The Whitworth incorporates an eclectic collection of local and international art.
Browse the textiles gallery, admire carefully preserved fine art, soak in Britain's best wallpaper collections, and consider the meaning behind cutting-edge contemporary art and sculpture. Once you've seen all you can, meander over to the café overlooking Whitworth park. The floor to ceiling glass windows offer relaxing views - perfect for pondering over your favourite artists.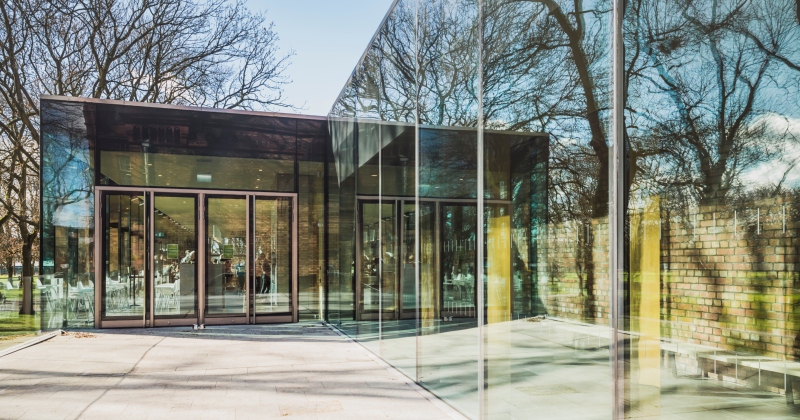 Football fanatics can enjoy this unconventional museum charting the history of one of the world's greatest sports. There are plenty of interactive games and tests to keep you entertained. Try your hand at being goalie, test your attack and defense tactics, and practice your passing skills. This unique museum experience is perfect for football fans of all ages, and a great way to spend a rainy afternoon in Manchester.


Shopping
Whether you love high street brands, rowdy marketplaces, or independent stalls; Manchester has a fantastic range of shopping precincts to tempt you into spending your well-earned cash.


Bustling Altrincham Market is an experience you don't want to miss. Not only is the atmosphere lively and electric, but the food is delicious! Choose from a variety of vendors offering everything from woodfired pizzas to delicately flaky pastries, craft beers, award-winning hearty pies, and handmade chocolates. On weekends, you can also find florists, local artisans and vintage clothes stalls offering a range of high-quality wares.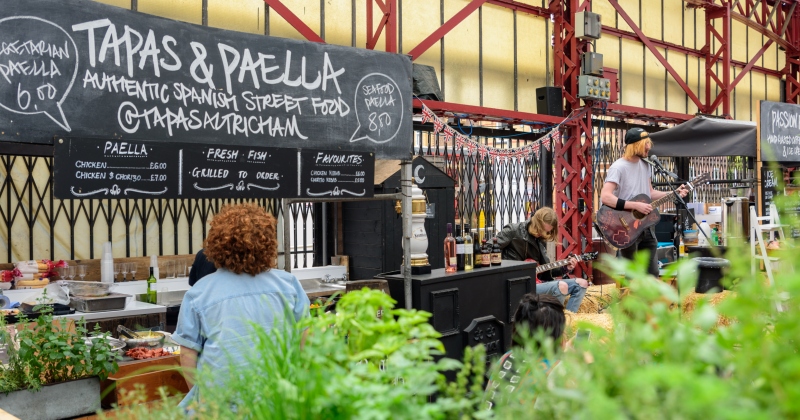 Fashion fiends and designer fans will wish to make tracks towards Spinningfields - Manchester's elegant financial district. Packed with high-end shops, restaurants, and cocktail bars; it's certainly the chic place to be. Seek out The Avenue for popular international and local designers such as Armani, Mulberry, and Phillip Stoner. There's even a champagne and blow dry bar for those looking to treat themselves before a night out in Manchester's iconic clubs and bars!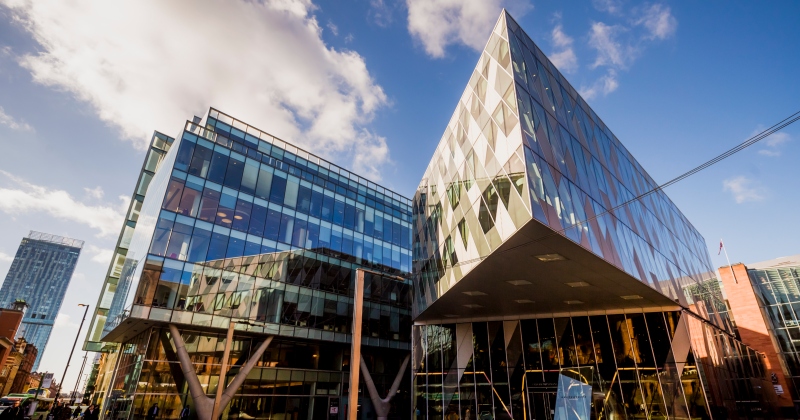 Looking for unique local gifts that go beyond your typical, mass produced 'I love Manchester' magnet or keychain? Oklahoma is the largest independent gift shop in Manchester and boasts a wide range of handmade, fair trade, and ethically produced goods. Walking into Oklahoma is like entering a wonderfully colourful and carefully curated den, filled to the brim with items eager to catch your eye and take up residence in your home. Here you'll find homewares, toys, stationary, jewellery and cards made by local artisans and established brands. Whether you're looking for something special for yourself or a loved one, you're sure to find a suitable memento of your Manchester travels at Oklahoma.


Cultural Landmarks
Where do we even start here? There are countless fantastic cultural buildings, streets, statues and institutions in Manchester. Here are two of our favourites.
Admirers of historical architecture will enjoy casting their eyes upon this fine example of neo-gothic design. The ornate vaulted ceilings alone are worth the visit. There is something distinctly church-like in the design of the reading room at the John Rylands Library. It's difficult not to feel reverent when considering the amount of time and care put into the building's preservation since its opening in 1900. And we haven't even mentioned the massive collection of rare books and manuscripts held within its walls. The ancient collections chart the progress of theological thinking, bookbinding methods, typographical breakthroughs and advancements in science, politics, philosophy, and medicine. An ideal attraction for lovers of architecture and literature alike.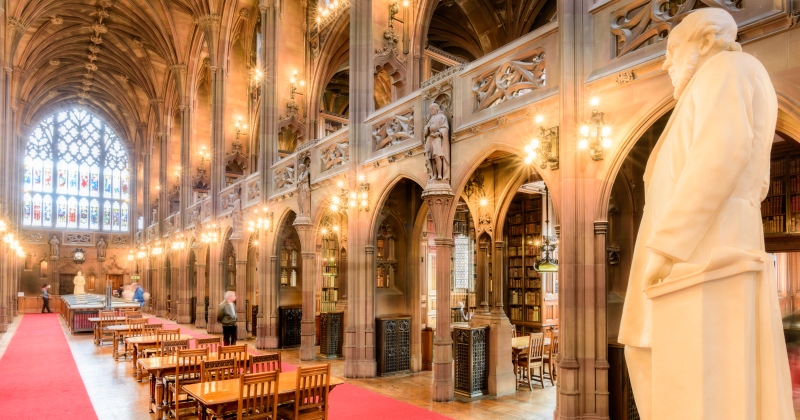 Party-goers seeking a good time need not look further than Manchester's famous Canal Street: the beating heart of the city's gay village. Jam-packed with thumping clubs, colourful bars and welcoming pubs; it's definitely the place to be on a Friday and Saturday night! Canal Street is a cultural celebration of the LGBT+ community and its history within Mancunian society. Great food, drinks, entertainment and company is readily available seven nights a week in this welcoming and vibrant city district. If you're visiting in August 2019 make sure you immerse yourself in Manchester Pride; one of the biggest annual Pride events in the UK.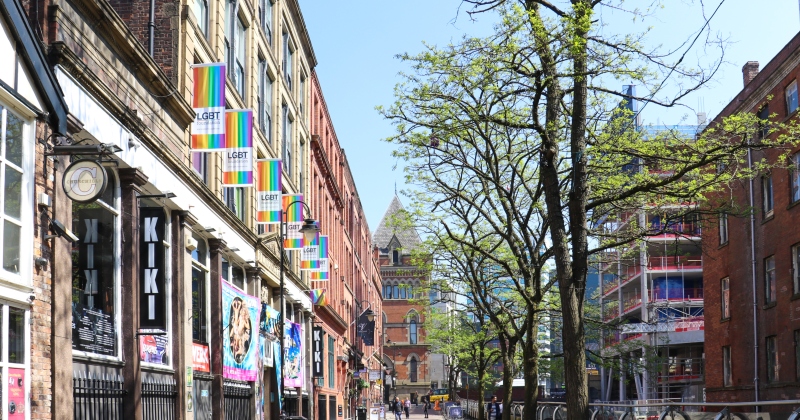 Natural Landmarks
Eager to get out of the hustle and bustle of the inner city? Greater Manchester offers numerous parks and reserves ideal for nature lovers and those simply looking for a change of scenery.
Hollingworth Lake is about a one-hour train ride out of Manchester city, but well worth the trek for those keen to experience a tranquil walk through nature or a thrill-seeking activity. Spanning 118 acres, day-trippers can enjoy guided and self-guided walks, top notch picnic spots, environmental exhibitions, and the quintessential British flora and fauna of the nature reserve. For individuals wishing to get the blood pumping, the water activity centre offers wind surfing and sailing activities. There's also the opportunity to take part in rock climbing or mountain biking sessions. Hollingworth Lake is the ideal spot for a day trip into Greater Manchester when the sun is out.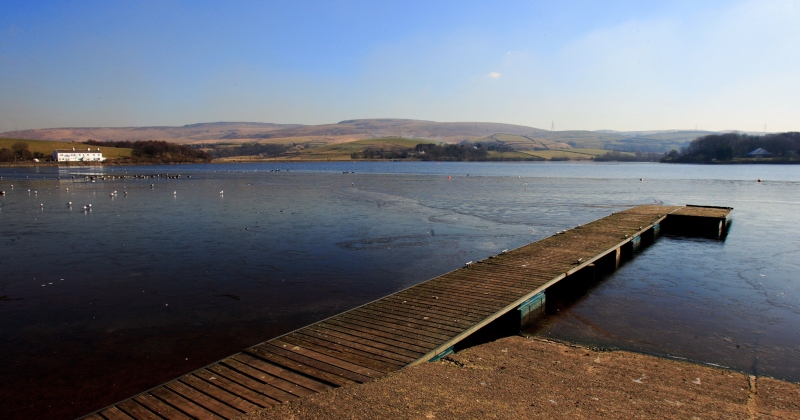 Further Afield
Looking to expand your horizons beyond Manchester? Perhaps you'd like to explore more of England or venture into Wales? Manchester is a great starting point. Rabbie's offers many trips from the city. Here's a little sneak peak of the types of places you can explore.
Craving picture-perfect country villages, rugged moorlands, rolling hills, and majestic estates? Venture into England's northern countryside and immerse yourself in local culture, history and legend. Oh, and incredibly tasty food! Did somebody mention Bakewell pudding?
Travel into Wales' awe-inspiring national park, Snowdonia and revel in its natural beauty. Wind down the cobblestones of ancient Medieval and Tudor villages. View the scenery that inspired some of the world's greatest poets and perhaps even write down a phrase or two yourself.
Tall mountains, deep lakes, quaint villages and serene views are plentiful on this escape from England's bustling cities. Discover the wonders of country life at your own pace. Breathe in the fresh forest air, feel the mist of waterfalls on your skin and enjoy warm local hospitality.
This guide hasn't even begun to encompass the range of sites and activities that Manchester and its surrounding countryside has to offer. But we hope these hand-picked recommendations have given you a little food for thought and plenty of inspiration for your next trip.
See all of Rabbie's tours from Manchester here.
Photos courtesy of Marketing Manchester.