5 Must-See Medieval Cities


Historic architecture, mazes of cobbled alleyways, and ghost stories galore: medieval cities are wonderful places to satisfy your wanderlust.
And what's more is they're also very unique and each has put its stamp on British history.
Read on to find out why these five are must-visits to anyone looking for a true medieval experience.
Canterbury
Steeped in medieval history, it's no surprise the city of Canterbury is first on the list! It lies on the River Stour in the county of Kent and it's Cathedral a UNESCO World Heritage Site.
History buffs will not be disappointed. The cathedral, city wall (founded in Roman times), ruins of St Augustine's Abbey, Norman Castle, and the oldest extant school in the world are all worthy of a visit.
A perfect time to visit is in October when the Canterbury Festival takes place. The original festival was created in 1929 within the cathedral walls, but today fills the whole city. Down the maze of medieval alleyways, you'll find everything from music to comedy, theatre to arts!
Immerse yourself: The Canterbury Tales exhibit offers a real taste of medieval life. Geoffrey Chaucer and his entertaining characters provide an audio tour through their pilgrimage from London to Canterbury Cathedral.
Oxford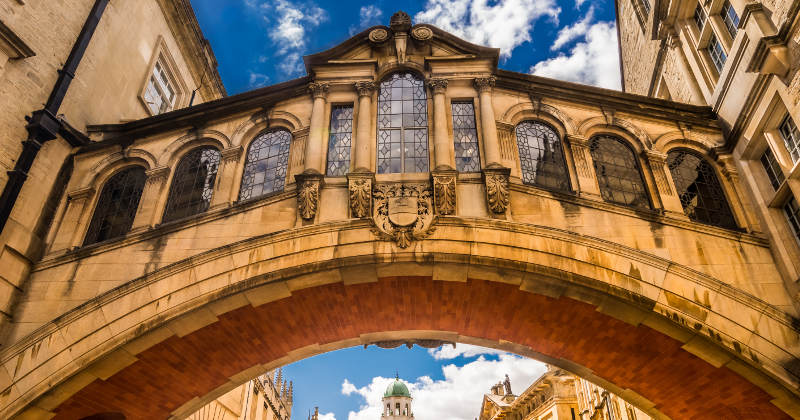 Nestled in the South-East region of England, Oxford is undoubtedly famed for being home to the oldest university in the English-speaking world. But, you don't have to be a student to want to visit. Ancient meets modern to create a beautiful cosmopolitan city filled with historic buildings, museums, shops, bars and restaurants.
Student or not, a trip is not complete without a visit to Christ Church – part of the university and the only college in the world that's also a cathedral. Look up and see the famous Tom Tower and cathedral spire! If you're into Harry Potter, the inspiration for Hogwarts Great Hall comes from the Tudor dining hall. Make sure to take a camera, there are many other movie location photo opportunities available!
Venture further: Just out of the city centre lies Blenheim Palace Historic House and Gardens – birth place of Sir Winston Churchill and current home of the Duke of Marlborough. The grand palace, park and gardens are open to the public at a small cost.
Bath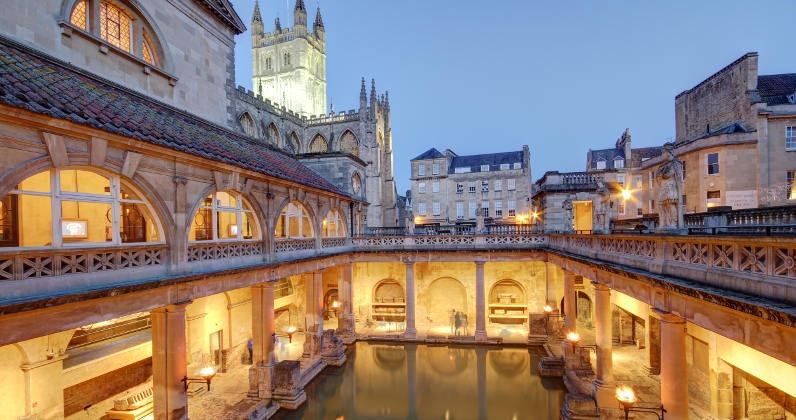 Located in Somerset, close to the Cotswolds, Bath was founded upon natural hot springs which plays a huge role in its history.
It's famous Roman-built baths were constructed around 70 AD and are fantastically preserved. Today you can walk through the impressive ruins and marvel at the Great Bath, where natural hot water still flows. A great way to complete the experience is by bathing in the naturally warm waters (just like the Romans did) at the Thermae Bath Spa.
The city is abundant with beautiful architecture, iconic sights and fascinating history! Did you know - it has more museums in a square mile than any other English city?
Get active: Cycle the Two Tunnels route. This 12.5 mile stretch passes through the longest cycling tunnel in the UK and passes by Midton Castle – bizarrely once owned by actor Nicholas Cage.
Get to know the city on our one day tour to Bath, Avebury and Lacock.
York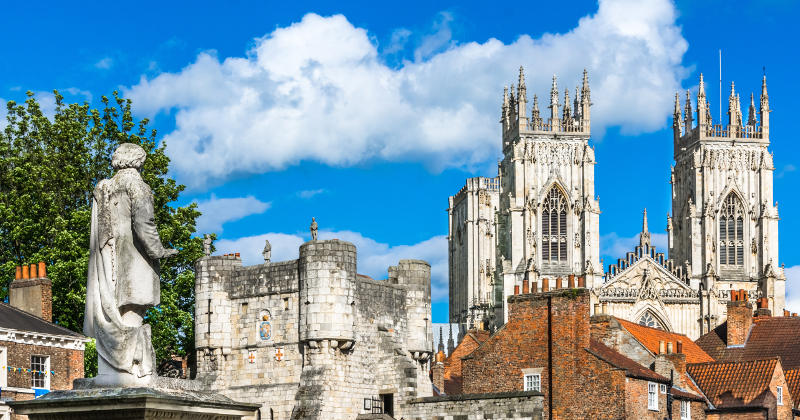 There's nowhere in the UK that says medieval quite like York. This historic walled city in North-East England has a rich heritage and wealth of attractions including York Minster – the beautiful Gothic cathedral.
The city was founded by the Romans as Eboracum in 71 AD. The Saxons later named it Eoforwick and The Vikings, Jorvik. The Vikings played a significant role in York's history, invading and settling in 866. The Jorvik Viking Centre offers a step back in time to experience the sights, sounds and smells of this period.
Wandering along The Shambles also gives you a taste into what it once was. This is one of the UK's most historic and picturesque streets with overhanging timber-framed buildings dating back as far as the fourteenth century.
Something unusual: A lesser-known fact about York is its strong connection to the chocolate industry. Rowntree's and Terry's have turned York into the UK's home of chocolate. York's Chocolate Story attraction offers a great insight into this unusual history.
Edinburgh
Last, but not least and easily making it on to the list, is Scotland's capital city! Dominating the skyline is the historic fortress, Edinburgh Castle – one of Scotland's most popular attractions. The Old Town, made up of medieval tenements and narrow alleyways, begs to be explored. While the grand buildings of the Georgian New Town, constructed in the 18th century, will capture your gaze.
For a history-fix, Holyrood Palace and St. Giles church are worth a visit. Make sure to check out the statue of Greyfriars Bobby too. Festivals, top-class dining, great shopping and exciting nightlife means there's always a good time to visit. During the summer months the city comes alive with music, comedy, arts and theatre as it hosts seven spectacular festivals.
Great views: For the best views of the city climb Arthur's Seat, an ancient volcano sitting 251m above sea level.
Planning your stay in the capital? our city tour is an ideal way to see the key sights in just two hours.