Hard to Reach Gems from Edinburgh

You dream about visiting Scotland's mysterious castles, tasting your favourite malt whisky, or being astounded by the geological wonders. But how do you get to these remote places?
For a wee country, it has a lot of highlights off the beaten path. Most likely you'll end up in the capital city of Edinburgh, so we've created a guide for you to compare your travel options to some of the most difficult to reach gems in Scotland.
Skara Brae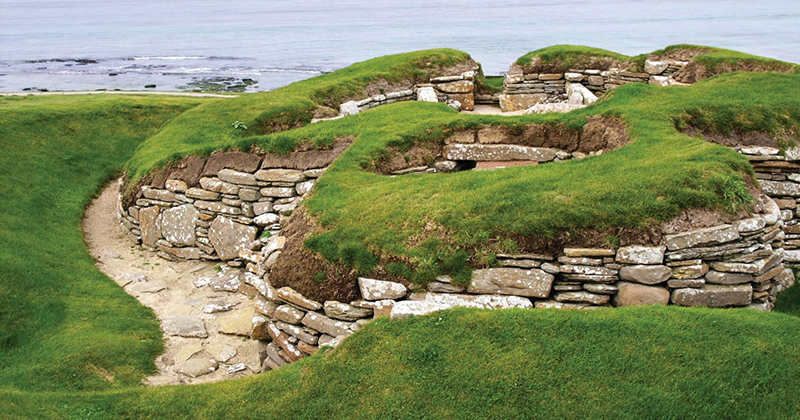 Skara Brae is a stone-built Neolithic settlement on the west coast of Orkney. In both 1850 and 1925, the high winds and high tides of great storms stripped away the top layers of grass revealing the outline of stone buildings. After further excavation, a well-preserved community of houses were found and radiocarbon dating confirmed that people lived here for around 600 years, between 3200 BC and 2200 BC.
Today, it's regarded as one of the best-preserved Neolithic settlements in Western Europe.
How to get there:
1. Car
It takes eight hours of non-stop driving from Edinburgh. Once at the top of the Scottish mainland you'll have to catch a ferry from Scrabster, Gilla Bay or John O'Groats over to Orkney. Then it's around a 30-minute drive from Kirkwall to Skara Brae.
Pros - provides you with a lot of freedom to choose your route, when to stop and for how long.
Cons - flicking through guidebooks is boring and without correct information, it can be hard to know where you should stop along the way. You'll need to hire a car, pay for fuel, drive on the opposite side of the road (if applicable), and organise a separate ferry journey at the correct time.
2. Flight
A flight takes one hour and 15 minutes from Edinburgh to Kirkwall in Orkney. It costs around £250 for a one-way journey.
Pros – quickest method of getting there.
Cons – you fly over the top of the Highlands, missing all the beauty and world-renowned scenery. Once in Kirkwall, you'll have to organise hiring a car or use public transport to reach Skara Brae. It's also expensive and no guide means you learn very little about Skara Brae and Scottish history to add to your enjoyment of the trip.
3. Rabbie's Tour
10-day Orkney & the Outer Hebrides tour
Stops along the way – before reaching Skara Brae, you'll see Stirling, Glencoe, Inverness and Kirkwall. After Orkney, you'll visit the Outer Hebrides and enjoy amazing stone circles, white sandy beaches and remote castles.
Organised – we organise the driving and ferry for you. Our driver-guides receive live updates of traffic problems so they can take different routes and ensure you have the best experience possible no matter the weather or traffic. You just sit back and relax with a camera in your hand, we'll do the rest.
Local knowledge – our driver-guides provide you with lesser-known facts about Skara Brae and Scottish history because we believe in going beyond the guidebooks.
Islay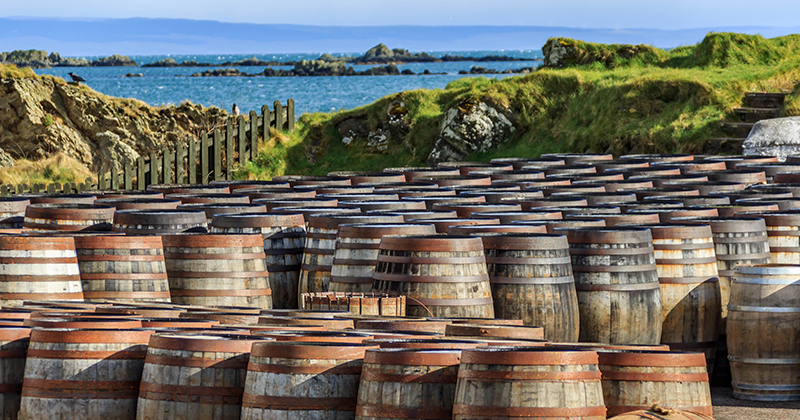 The Isle of Islay is the southernmost island in the Inner Hebrides of Scotland. And it's known as the 'Queen of the Hebrides'. Scotch-lovers travel from all over the world to visit its many distilleries. Islay single malt whiskies are some of the strongest flavoured of all malt whiskies because the island's peaty water is used at every stage of production. Some find this distinct taste endearing, others appreciate it less.
Southern Islay distilleries (Ardbeg, Laphroaig and Lagavulin) produce medium-bodied whiskies with strong notes of peat-smoke, brine and iodine. Northern Islay distilleries (Bruichladdich and Bunnahabhain) are unpeated and have much milder notes like fruity or creamy by contrast. This is because the water used is straight from a spring before it has had contact with peat. Bowmore distillery is in the middle of the island and shares elements of both northern and southern distilleries.
How to get there:
1. Train, Bus and Ferry
Catch a train from Edinburgh to Glasgow Queen Street (1 hour 10 minutes). Walk to Buchanan Bus Station and get the 926 bus which only departs 3 times a day (3 hours, 18 minutes). From Kennacraig Ferry Terminal get the ferry to Port Askaig (2 hours).
Pros – quite cheap as all public transport combined will cost under £100 to get onto Islay. You can enjoy many drams of whisky if relying on public transport.
Cons – requires you to organise multiple types of public transport, deal with delays, loose change, waiting at stops and walking in between stations. Once on Islay, you'll have to hire a car or use the limited public transport to navigate around the island. You also need to decide which distilleries to see (tough choice) and rely on guidebooks to teach you about the island.
2. Car
This would take over six hours to drive to Islay from Edinburgh city – longer if you account for toilet breaks.
Pros – you can choose your route, including stops like Loch Lomond along the way.
Cons – drinking alcohol at distilleries and driving is a definite no, so you'll need a designated driver. But who's the loser who has to come on a whisky holiday and not sample the good ol' stuff?
3. Rabbie's Tour
8-day Islay, Edinburgh & Speyside Whisky Holiday tour
Social – by public transport or car you'll probably have company, but there's something special about sharing a whisky experience with other like-minded people and tasting a dram or two together. Our small group tours have a maximum of 16 people, ensuring a more personal and friendly environment for you to enjoy.
Extra stops – you also get to visit Speyside which has the most whisky distilleries per square mile than anywhere else. Comparing the peaty Islay whiskies to the sweeter and more citrusy Speyside malts in one trip will leave you feeling like a true connoisseur. We also throw in Edinburgh, Loch Lomond and the Cairngorms for the lovely scenery.
Drink driving – we want you to enjoy exploring the full palette of Scottish whiskies, whilst also staying safe on the roads. Having a scheduled tour means you get chauffeured around Islay without mixing drinking and driving.
Fingal's Cave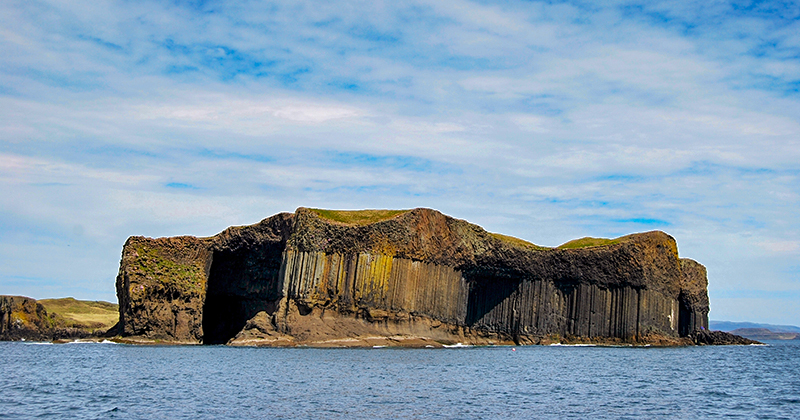 Fingal's Cave is a sea cave on the uninhabited island of Staffa. Staffa is in the Inner Hebrides of Scotland, west of the Isle of Mull. The columns of hexagonal basalt rock are formed by a similar ancient process as Giant's Causeway in Northern Ireland. It got its name from a poem by 18th century Scots poet-historian, James Macpherson. This island is also renowned for its large colony of puffins who breed there each year.
Although equally as impressive as its Northern Irish cousin, Fingal's Cave is a geological wonder that's a lot more remote and difficult to reach.
How to get there:
1. Train
Take the train from Edinburgh to Oban, then a boat trip to Staffa.
Pros – nice view from Glasgow to Oban part of the journey with Loch Lomond and mountains all around.
Cons – miss out on a chance to stop and enjoy the West Highlands. Trains can also be very expensive.
2. Flight
Catch a bus to Glasgow Buchanan Bus Station (1 hour), then another bus to Glasgow Airport (30 minutes). Fly from Glasgow Airport to Tiree (1 hour). Get a sea tour from Tiree to Staffa to see Fingal's Cave.
Pros – fastest method to get there.
Cons – environmental pollution from a flight, a lot of transport changes, waiting around, airport security, flight delays, limited options for boat tours from Tiree, missing out on seeing other parts of Scotland.
3. Rabbie's Tour
8-day Islay, Iona, Mull & Skye tour
Environment – we operate modern fuel-efficient mini-coaches, which produce a lot less carbon emissions than a flight. We also tax ourselves £10 for every tonne of carbon we use and our whole team votes for which community or environmental projects we spend this money on every year. You can find out more about our environmental efforts here.
Driver-guide knowledge – seeing Fingal's Cave is impressive. But hearing our driver-guides talk about the legends, myths and stories behind it that inspired many musicians and writers is priceless.
Extra stops – you'll also explore Oban, the 'Seafood Capital of Scotland'; the whisky distilleries and beaches of Islay; and the legendary Isle of Skye.
Eilean Donan Castle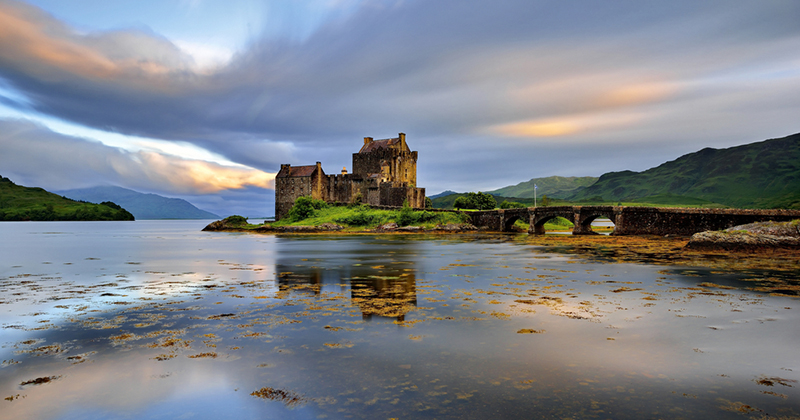 It doesn't get much more remote than a castle on an island in a Highland loch of Scotland. However, this hasn't stopped thousands of people venturing out to see it, resulting in the nickname 'the most photographed castle in Scotland'. It's strategically located on Loch Duich at a merging point of three lochs. The castle has existed there for over 700 years but has been attacked, ruined and rebuilt many times.
How to get there:
1. Car
Four and a half hours of non-stop driving will get you to Eilean Donan Castle, via the A9 road.
Pros – freedom to choose your own route, music and stops.
Cons – without local knowledge, it's likely you'll use the same accommodation/cafés/bars/shops etc. as many other people. This causes queues, traffic congestion, erosion and prevents money being spread out to remote communities. You also miss out on all stories about the western Highlands if you drive yourself.
2. Rabbie's Tour
9-day Iona, Mull, Skye & Orkney tour
Support local communities – using smaller coaches and having expert driver-guides means we can take you to lesser-known attractions and recommend locally owned accommodation. This helps rural communities and protects the environment from too much erosion in one place.
Extra stops – you can die happy after seeing Eilean Donan Castle, but to truly experience Scotland (and get the best photos for Instagram!), you need to explore the islands like Iona, Mull, Skye and Orkney. Each island has its own unique character and history which will leave you yearning to find out more.
So, now you have an idea of your options when planning a trip to these remote parts of Scotland. As a friendly small groups tour provider, we're obviously biased towards our way of travelling. But whatever you decide, don't let the remoteness stop you from seeing these great places and discovering the best Scotland has to offer.