A Guide to Skye: The Misty Isle

So, you're thinking about heading to the Isle of Skye? I don't blame you. The Misty Isle is famous for a reason. More than one, to be fair. People obsessively watch the TV show Outlander (guilty), humming 'Over the Sea to Skye', and then later listen to bagpipe music while they peruse the internet for images and must-visit places in Scotland. I am guilty of all of this. There's a reason I moved to Scotland. This country continues to draw people to its shores, almost as if we've been hypnotized by the landscape, the history, the myths, and the promise of a home away from home.
And nowhere encapsulates this sense of Scottishness and magic more than the Isle of Skye.
I should know – I've already been four times. Each time I've gone, it's been a little different. The first time was back in 2014 when I was visiting Scotland with my mum. And mum told me about this great company she'd heard of called Rabbie's Tours. They had this ideal 3-day tour to the Isle of Skye from Edinburgh, you see, and it was just what we wanted.
The small-group tour was a perfect way to be introduced to this magnificent landscape. Mum and I held onto those fond memories of Skye, Scotland, and Rabbie's Tours for years to come. So much so that when I moved to Scotland in 2020, I applied for a job with Rabbie's.
Bring on my second trip to the Isle of Skye – I did the same 3-day tour but this time we explored a few new areas as we were travelling in a cooler season. And travelling as a member of Rabbie's Tours made me see Skye in a different light, seeing what excited people and what drew them in.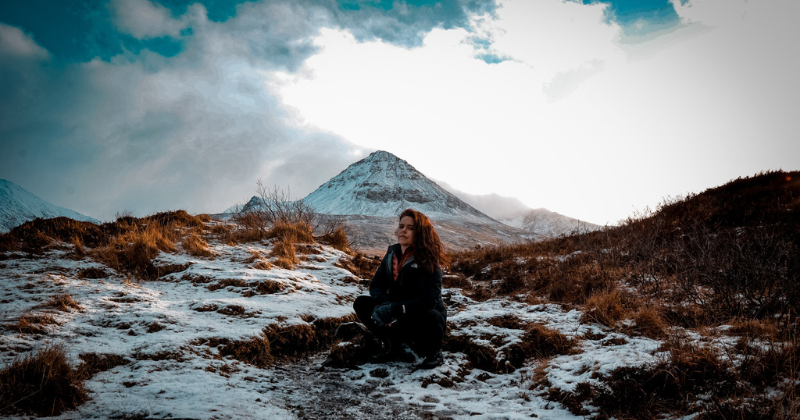 My third trip was prompted by a friend of mine who had been living in Scotland for nearly two years and who had never made the trip to Skye. The second she told me I knew I had to rectify it. That night I started planning our self-drive tour of Skye. Luckily for my friend, I am a bit of a planner and thoroughly enjoy taking control of the to-do list. If this was to be her only trip to Skye, I knew she had to see the iconic spots, so I started there.
My final trip was with Rabbie's, but not on a tour, as part of a volunteering expedition. Joined by several of my colleagues, we paired with a charity organisation called Staffin Trust and restored the pathways around Lealt Falls. You can read all about that experience here.
As someone who has done the tour of Skye and also done it on her own schedule, I'm sure you're wondering: which one is better? Honestly, there is something to be said for both. I'm the kind of person who loves to stop on the side of the road for an epic shot, so having complete control over my schedule is something that appeals to me.
However, I fondly remember the driver-guide on our first tour, Steve, who knew I had a hankering to see a Highland coo. So, when he spotted one on the side of the road, he announced over the speaker 'COO!' and (safely) pulled over so I could get a photo with one. That's what I loved about the Rabbie's tour to Skye. The full day on Skye is flexible and the driver-guide wants to know what you want to see and do, adapting accordingly where possible. Many of the places I'm about to list below are places we can visit while on Rabbie's Isle of Skye tours.
Whether you decide on a tour or prefer to self-drive, here are a few tips from someone who is kind of obsessed with Skye and Scotland and everything in-between.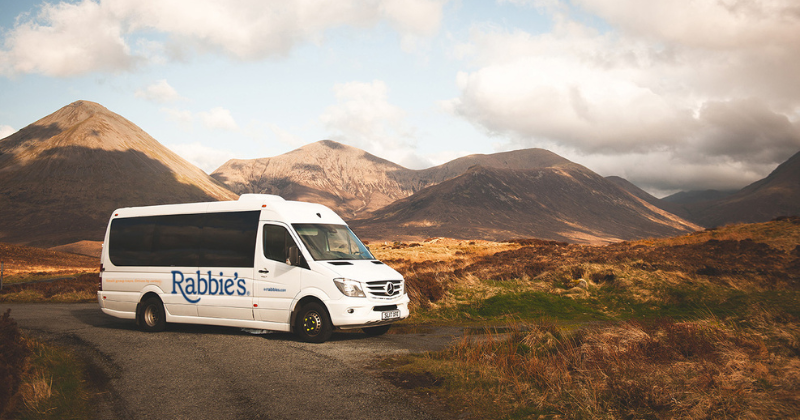 Things you're going to need when visiting the Isle of Skye:
1. Good hiking boots
Mud. So much mud. No matter the season, be ready for it. So, I'd advise a good pair of hiking boots or something that doesn't get wet easily, plus your driving/inside-the-car shoes. When my friend Maja and I went to visit Talisker Beach (more on that later), we were completely soaked by the time we returned to the rental car, so I was grateful for those clean runners.
2. Weather-proof jacket and spare clothes
Did you catch it before? Soaked. Completely soaked. Even with my water-proof jacket, the Scottish rain has this weird tendency to overpower even the most expensive weather-proof items. Don't let this put you off. To be honest, sometimes a nice stormy day is exactly what I want in a place like Skye. Sets the mood. So, bring some spare clothes and a towel to dry yourself off.
3. A killer Scottish playlist
It is completely unacceptable to go to the Isle of Skye and not listen to bagpipes. I don't care if you don't like the sound (in which case, why are you in Scotland?), it's like going to Australia and not trying Vegemite while listening to Midnight Oil. It's like going to France and not having a croissant with butter and jam with a view of the Eiffel Tower. You get the point.
Here are a few must-have songs on your playlist:
Anything by Skipinnish
Anything by the Red Hot Chilli Pipers. Pipers, not Peppers.
Far Side of the World by Tide Lines
Shake that Bagpipe by The Sidh
Colours by Elephant Sessions
The Skye Boat Song – Outlander theme song
Sunshine on Leith by The Proclaimers
Caledonia by Dougie MacLean
Loch Lomond by Runrig, The Tartan Army
Anything by Del Amitri
Anything by Clanadonia
A Scottish Soldier by Andy Stewart
I could go on forever. If you join us on a Rabbie's tour, the driver-guide will have this taken care of – trust me. It was on a Rabbie's tour that I first heard Skipinnish and I've been obsessed ever since.
4. Camera
There is no such thing as too many photographs. Anyone who says otherwise needs to be put in the time-out corner.
5. To-see list
Isle of Skye isn't the biggest place on the planet, but there are endless things to see. With a lot of single-lane roads and long drives in between destinations, make sure you plot your route out. This will save you back-tracking and losing precious time. Even you spontaneous folk, listen to Auntie Bronwyn. You want to get the most out of Skye? Plan a route.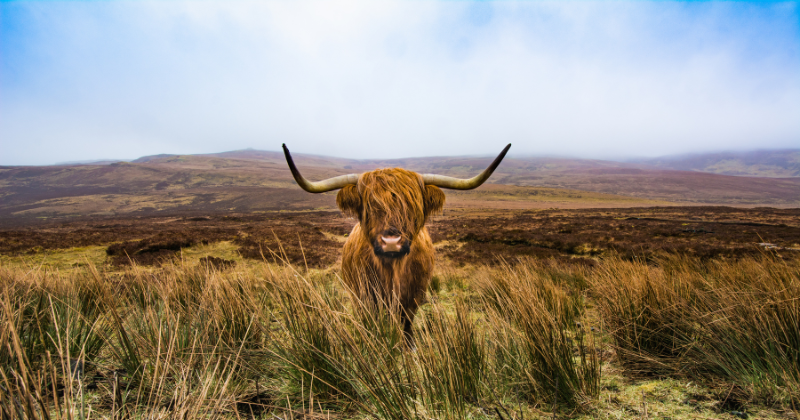 Where to stay on the Isle of Skye:
1. Portree
On a Rabbie's tour, you usually stay in Portree, the main hub on Skye. This quaint little town has a nice selection of restaurants for your evening munchies. My favourites are The Granary and Taste of India. It's a wee town, so be ready to be flexible.
2. Pods and beyond
When choosing a travelling companion, the key is how well you know them. I knew Maja would want the same vibe as I did when we travelled there in 2022. I wanted small, I wanted isolated. And since we were driving, we could do just that. So, we opted for a small pod just big enough for two. It had a shower, two beds and basic cooking facilities – everything we needed since we were only there in the evenings to rest after our long days of adventuring.
For this kind of accommodation, I'd recommend AirBnB for sure. There are plenty of these adorable pods all over Skye. We stayed in one near a tiny place called Carbost, which was a great hub for our day trips.
Alternatively, there are always the slightly boujier options. And if you're driving yourself, the options are endless. The place to start would be to have a think about your evenings. Do you want to go out for dinner or have chill nights in cooking for yourself?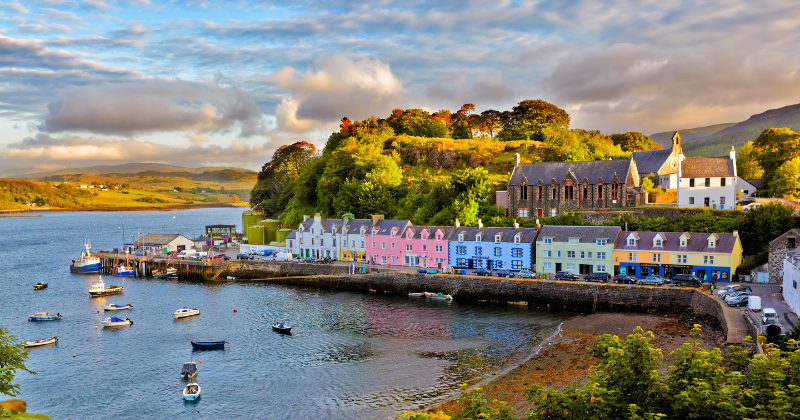 What should I see on the Isle of Skye?
1. Glencoe
Not on Skye, but this is your must-see route on the way to Skye. It takes a bit longer but please drive through Glencoe. Not only has it been featured in films like James Bond's Skyfall and Harry Potter movies, but Glencoe is also one of the most beautiful places in all of Scotland.
In Scottish Gaelic, the word glen means valley. This route is popular for drivers, hikers, cyclists – everyone, because it is simply stunning. You can also spot the famous white house and join everyone in their jealousy over not living there.
If you're lucky, you'll be blessed with a cloudy, misty day. Don't get me wrong, I love sunshine, but Glencoe is a magical place. Scotland is not synonymous with sunshine and rainbows. You think of rain, of mist, of snow, of wild heather brushing the landscape. The clouds hugging the landscape from above. A storm rolling in. Sounds dramatic, doesn't it? But that's Scotland for you.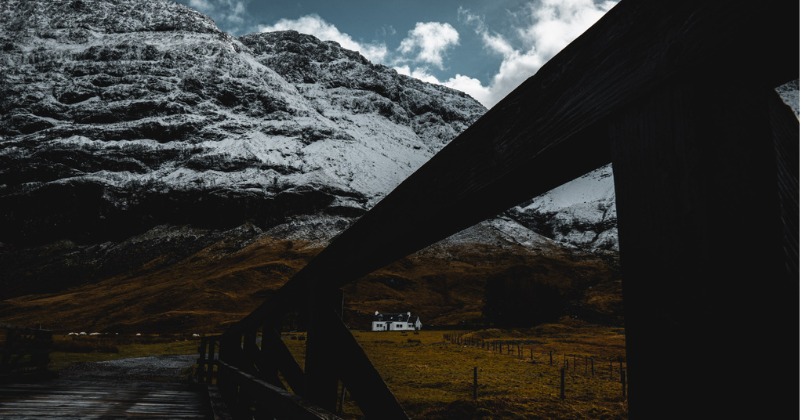 2. Fairy Pools
You've finally made it to the Isle of Skye. Where to first? That's up to you and your chosen route, but the Fairy Pools should definitely be on that list. You'll need some flexibility, however, as sometimes the pools are flooded, and visitors are advised not to attempt the walk out to see them. That did happen to Maja and I on our trip but it didn't dampen our spirits. Instead, we continued along our route to a nearby beach for some beautiful views.
If you do make it there, it's easy to imagine ethereal beings living in the crystal-clear waters there. With that backdrop of enormous mountains, it almost feels as if nowhere else in the world could possibly exist beyond the Fairy Pools.
Keep an eye out for fairies and selkies, otherwise you may never leave. #TheDream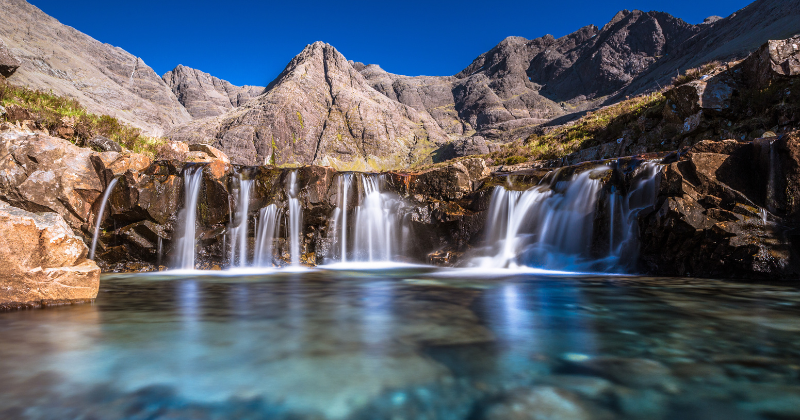 3. The Fairy Glen
This is one of my favourite places on Skye, partly because a scene from the movie Stardust was filmed here (one of my favourite movies of all time). Utterly magical, you'll be first drawn to the large hill with a basalt topping. From a distance, it looks like a castle and has been nicknamed Castle Ewan. For those with a streak of bravery, you can climb to the top but be careful, it's quite a tricky climb.
From on high you will get the best view of the stone ring display below. All around you are haggard trees, twisted and covered in moss, surrounded by a craggy landscape. It's honestly impossible not to be swept up in the mysticism of it all. And, if you're lucky like me, you'll be able to snap an amazing shot without anyone else in it (BYO cloak).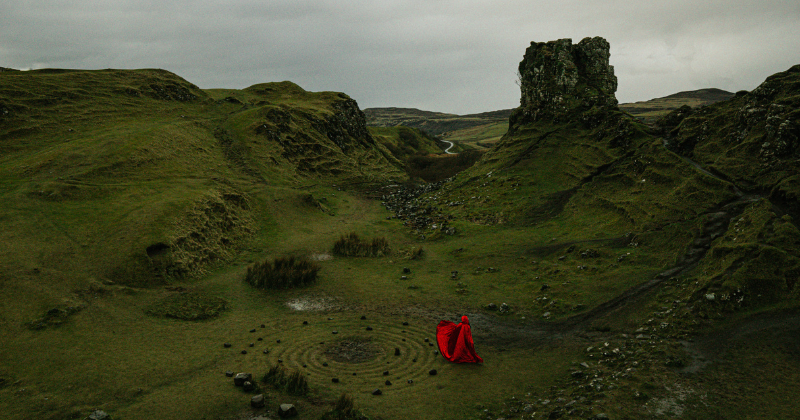 4. Old Sligachan Bridge
Basically everywhere you visit on Skye will have some myth or legend attached to it, and Old Sligachan Bridge is no exception. There are a couple of myths attached to this bridge but my favourite one supposedly guarantees you eternal beauty.
Legend goes that by sticking your face in the river that runs under the bridge for 7 seconds, you'll be granted eternal beauty. I've done it twice just to be sure. Needless to say, it works. *flicks hair*
Even if you visit in summer, Scottish water tends to be on the icy side. Be ready when you stick your face in the water, it literally takes your breath away.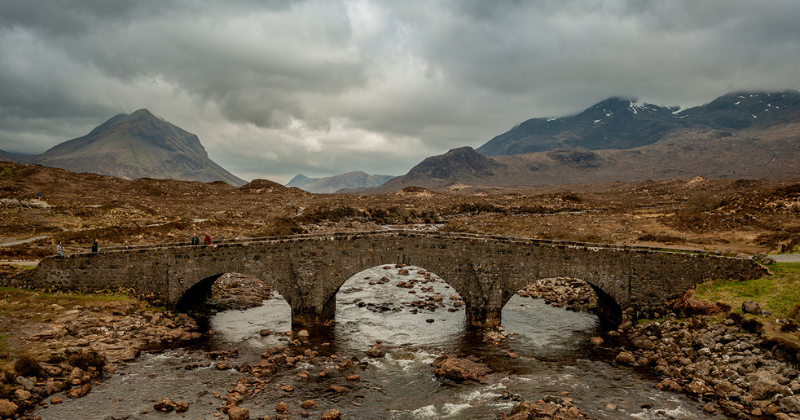 5. Neist Point Lighthouse
This one is a bit of a drive but well worth the effort. On the most westerly tip of Skye, Neist Point Lighthouse commands the most incredible view of the ocean below. If you can make it here for sunset, you might just leave believing in magic.
It's one of the most famous lighthouses in Scotland and for good reason. There's a bit of a walk involved to get from the car park out to the lighthouse, so allow yourself some time (about 45 minutes total). Once at the tip, keep an eye out for local wildlife, including whales, porpoises, and a variety of seabirds.
If you don't fancy doing the walk out (like my mum when we visited), you can simply sit and enjoy the unending views of the sea and sky.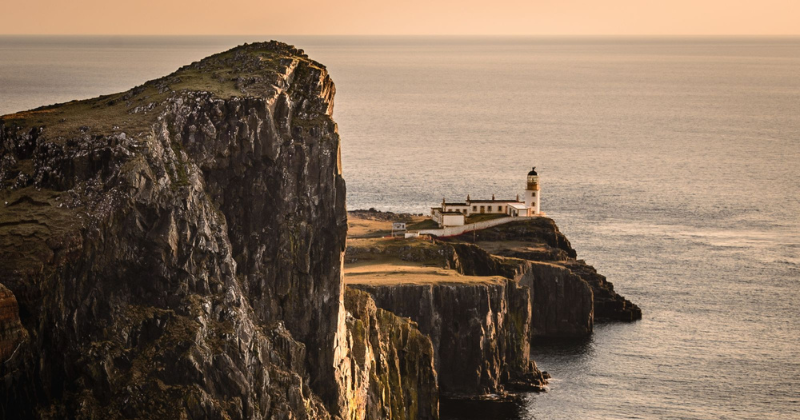 6. Distilleries: Talisker Distillery (or sample local delicacies)
All this exploring takes it out of you. While nature is fantastic, there are other things it gives us that are unmissable. Enter: Scottish Whisky. One of the key ingredients in whisky-making is water: of which Scotland has plenty. Another thing Scotland has plenty of? Whisky distilleries.
The Isle of Skye is no exception. I'd recommend Talisker Distillery, the oldest working distillery on Skye. Even if whisky (or drinking) isn't your thing, the whisky-making process really is fascinating, and you can take a tour of the facility.
7. Talisker Beach
You may recall me mentioning Talisker Beach at the beginning of this blog. Since I'd been to Skye twice already, on my third trip I wanted to add on somewhere new just for myself. Talisker Beach did not disappoint. Despite the weather (I was soaked, remember?), it was an absolutely stunning spot.
The walk from where we parked our car took maybe around 20 minutes and we were accompanied by many sheep along the way. The quiet road is spotted with miniature waterfalls and rolling hills, before finally you reach the beach itself. An ominous-looking spot, the grey sandy beach is surrounded by impressive cliffs and the bed of enormous stones underfoot adds a wonderful texture to photos for those seeking yet another impressive shot of Skye. My advice? Wear a pop of colour for your photos, see below.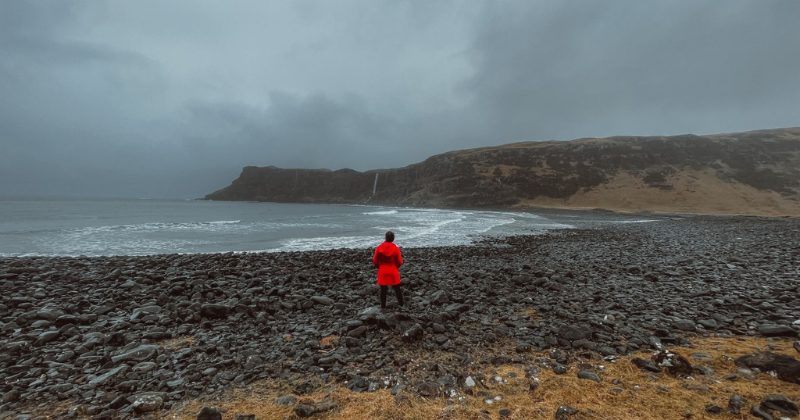 8. Quiraing
This is one of my favourite spots on Skye. You'll likely get blown over at some point, so definitely don't wear any loose clothing or a hat that might fly off at any minute. But the views are incredible and if you're a photographer, you won't want to leave.
This cliff-face was formed by a massive landslip and is part of the Trotternish ridge. At the local car park you can enjoy the beautiful views and, if you've time and energy, go for the loop walk around the Quiraing. Make sure you're ready for it, though, as the walk is about 6.8km and takes at least 2 hours with no stops.
It also comes as no surprise that this epic location has been used in many films, including Stardust, Transformers: The Last Knight, Snow White and the Huntsmen, The BFG, and the 2015 adaptation of Macbeth. Can anyone say #cinematography?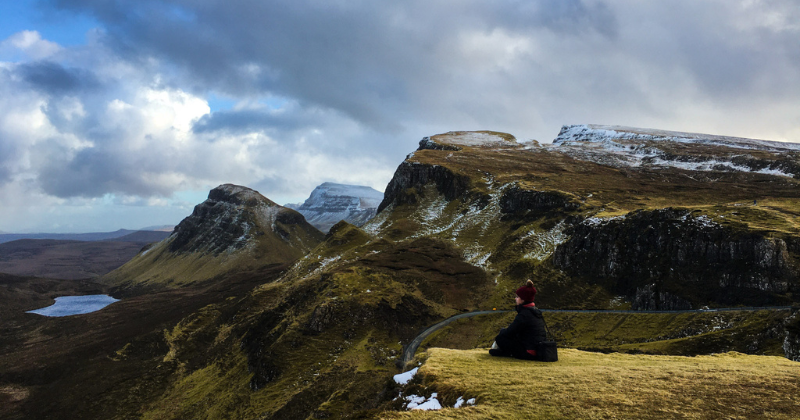 9. Old Man of Storr
Now, this is what I call a photographer's dream. On a Rabbie's tour, we stop for views of this amazing rock formation – the Old Man of Storr. This amazing spot is not far from Portree and juts out of the earth at 160-feet-high.
They are one of the most photographed spots in Skye, for obvious reasons, but they also are the source of several odd little myths. It's up to you to choose what to believe. So named the Old Man of Storr due to its resemblance of a man's profile, my favourite legend is the one that says a giant was wandering Skye, minding his own business, when he just fell over and died. The earth covered him, and the big pointy bits of rock are said to be his fingers... or perhaps something else. Oh yes, we're mature here in Scotland.
Another spot that is a film-favourite. This otherworldly rock formation was used in the movies Prometheus and The Wickerman (1973).
If you're self-driving around Skye, why not attempt the hike up to the top? I did, carrying my heavy camera bag and some costumes, including a full-length (and heavy) velvet dress, for this wee result.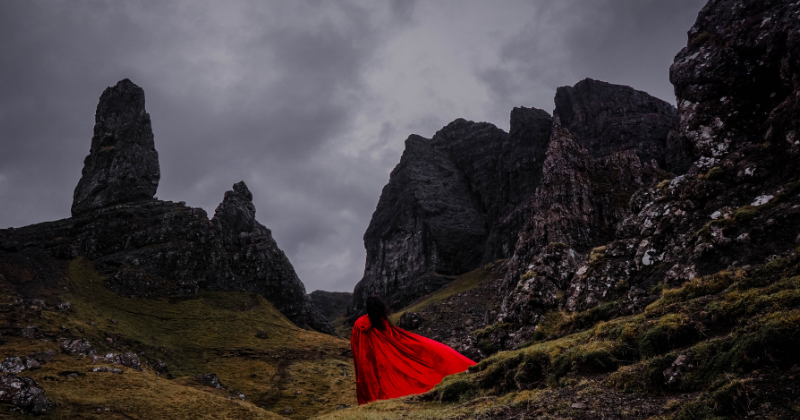 10. Dinosaur Tracks at An Corran
If you're staying in Portree, you might consider jumping in the car and heading up to An Corran beach. Why? While wandering around this adorable little spot, you might just stumble across the dinosaur footprints found there.
As someone who grew up watching Jurassic Park,The Mummy and Friends, I always wanted to be a palaeontologist like Ross. The footprints were discovered in 2001 by dog walkers, believe it or not. Scientists descended and concluded that the footprints date back to around 170 million years ago.
Don't mind me, just nerding out a little bit.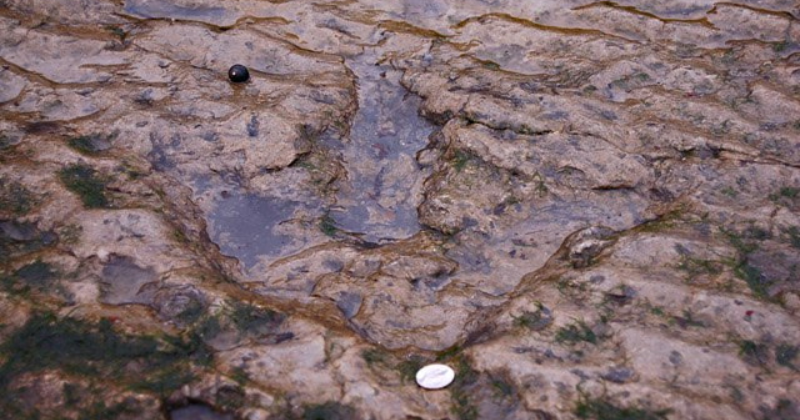 11. Elgol Beach
If you're all about a good beach, you should add Elgol to the top of your list when visiting Skye. One of the hidden gems of the isle, you'll adore Elgol beach's rocky landscape, and it holds a particular beauty during sunset. It's a photographer's dream. And if you fancy a wee dip in the water on your trip to Skye, this might just be the place to do it.
The village of Elgol itself is quaint and worth a visit too. The area gives you stunning views of the Cuillin Mountains and Loch Scavaig – perfect for you to gaze upon with a cup of coffee. You can also take a boat trip from Elgol to Loch Coruisk if you fancy. Be sure to be on the lookout for local wildlife.
12. Northern Lights
While spotting the Northern Lights can never be guaranteed (they are a natural phenomenon, after all), if you're visiting Scotland during winter and are desperate to see the lights, it's time to head north. Skye has a few areas that do boast seeing the lights, but your best bet is to head as far north as possible.
Ever wondered how this amazing phenomenon works? The Aurora Borealis, as it's known, is caused by charged particles accelerated into the Earth's atmosphere along magnetic field lines. We know you'll be tempted to whip out your camera when you see them, but sometimes just sitting and marvelling at the wonders of the universe is the way to go.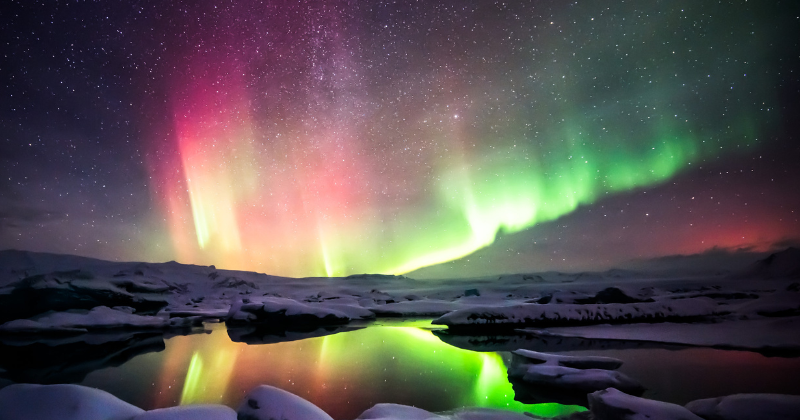 13. Dunvegan Castle and Gardens
No trip to Scotland is complete without visiting a castle. While you're on Skye, we'd recommend stopping by Dunvegan Castle. It's the oldest inhabited castle in Scotland and has been the ancestral home of the Chiefs of clan MacLeod for 800 years. You can take a tour of this fortress castle, and its beautiful gardens, or even jump on a boat trip to see the nearby seal colony.
If that isn't enough, you can even stay there in one of their five charming holiday cottages. I've yet to make it to the castle myself but I definitely fancy staying there.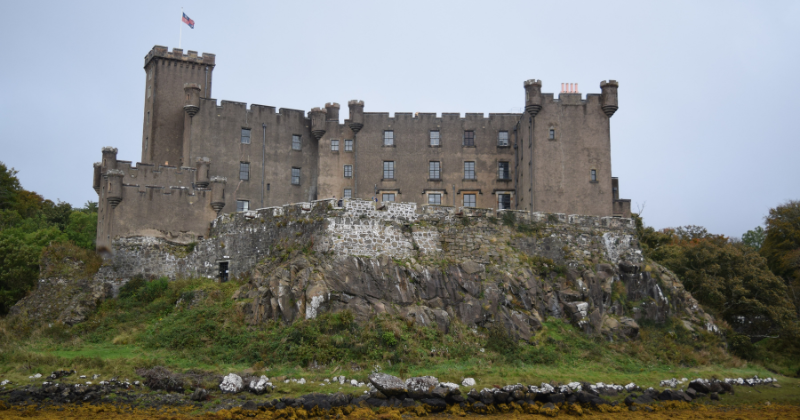 14. Brother's Point
We'll let you in on a little secret. If you're craving stunning views and an invigorating walk, but don't want to battle alongside the hoards, you can head to a place called Brother's Point. Also known as Rubha nam Brathairean, this short 1.5-2-hour walk will give you those killer views. Best part is that it's not that well known so you're more than likely to have a bit more peace and quiet on this walk.
Head out to the peninsula where the views are simply stunning. There's even a little (rocky) beach there, so why not grab a picnic and head on out there for the day?
15. Kilt Rock
This one is pretty popular with visitors and when I visited myself, I could definitely see why. The basalt columns of this sea cliff shoot up vertically, almost looking like the pleats of a pleated Scottish Kilt. And the accompanying waterfall plummets 200ft straight down into the sea.
If you listen carefully and the wind is strong enough, you might just be able to hear what sounds like an organ instrument humming in the air. This might be brought on by the wind striking the man-made fence, which isn't particularly majestic, but the sound itself adds to the whole experience, so who are we to complain?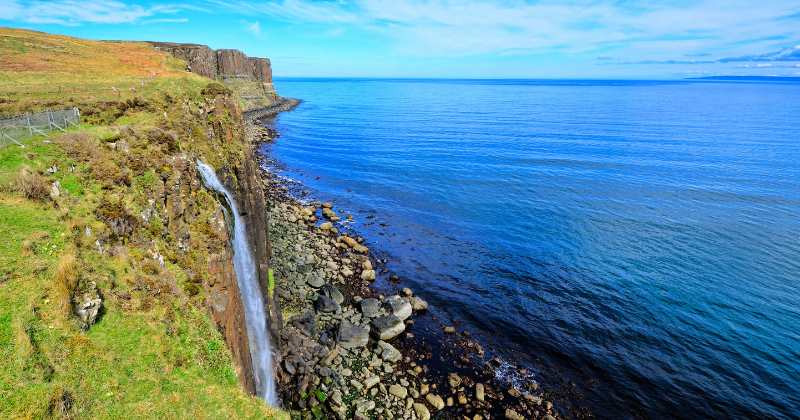 16. Take a Boat Trip to see the Sea Eagles
This is high on my to-do list for when I return to Skye. I am determined to battle the seasickness I am ensured to get in order to go eagle spotting. Apparently, this opportunity is available right out of Portree, allowing you to explore the Skye coastline while looking out for local wildlife.
Seals, dolphins, whales, puffins, seals, orcas, sharks and, of course, the rarest bird of prey in the UK, the White-tailed eagle.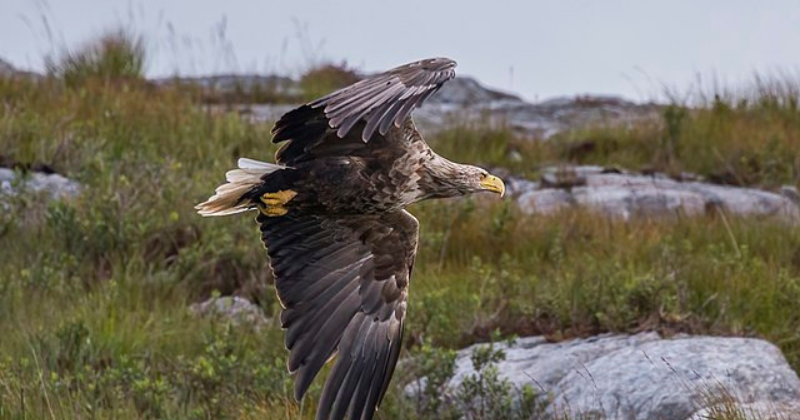 You can see what I mean earlier by insisting that you plan a route when visiting the Isle of Skye. This list is just a tiny example of what's available. There's so much to do and making a priority list might not be a bad idea. As someone who has been four times, I was actually marvelled by how much I've not yet done while I was researching 'things to do in Skye'. So, if you've only got a few days to explore, you've got plenty to choose from.
And if you're visiting Edinburgh, Glasgow or Inverness, Rabbie's would be more than happy to take you to the famous Isle of Skye on our comfy mini-coaches. If you're interested in visiting more of Scotland's islands, check out our top recommended islands here.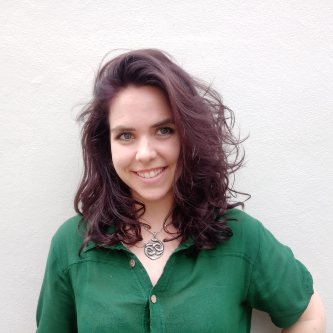 Bronwyn lives and breathes words. Before coming to work at Rabbie's, she spent 7 years in publishing and is a published author of YA fantasy books. Born and raised in Sydney, she was drawn to Scotland and affectionately calls it her 'soul home'. An avid traveller herself, Bronwyn's favourite places (so far) are Mongolia, Iceland, Morocco, and Scotland (of course). When she's not writing, she can be found exploring the Scottish Highlands with her camera, on the lookout for coos and men in kilts.