Castles & Palaces Connected to Mary Queen of Scots

Mary Queen of Scots, born Mary Stuart, was the daughter of King James V and his French wife, Mary. Born on 7th December 1542, she was the sole surviving heir to the Scottish throne. She also holds the title of being the first woman to rule Scotland on her own. Even if it didn't last for very long! During her brief reign, Mary found comfort in a number of Scottish castles and palaces. Each one marked a significant milestone in her life, which today can still be echoed when you visit. The castles and palaces listed hold a wealth of history, especially when connected to public figures, such as Mary Queen of Scots. Her end was just the beginning, but her tale lives on and ignites the imagination for all those who are intrigued.
Sadly, we'll never fully understand the story of this fascinating woman. But we can get an insight into her life when we follow in her footsteps.
We've prepared a guide to the seven most important historical castles and palaces connected to the iconic Queen of Scots. So, embark on her trail and explore the places which mark the turning points in Mary Stuart's life in Scotland.
7 Castles & Palaces You Can Visit Which Are Connected to Mary Queen of Scots
Mary Queen of Scots is an icon figure in history, whose tales are still being told to this day. You can learn snippets of her life by visiting the following locations on select tours of Scotland. Each one is led by our knowledgeable driver-guides who are sure to feed you extra information you may not learn from the books.
1. Linlithgow Palace
These spectacular ruins of what used to be a grand palace for Scottish royalty was the birthplace of Mary Stuart. And still to this day, Linlithgow Palace is most famously recognised for this royal birth. Although, visitors can also appreciate the rich history and atmosphere created from the many rebuilds of the structure. Located in almost equal distance from Edinburgh and Glasgow, reaching Mary Queen of Scots birthplace is simple. Accessible both by public transport and driving, we recommend making this a stop while in Scotland.
Mary Queen of Scots' care-free 'childhood' lasted only six days. When her father James died, Mary became queen. The infant ruler was also the great-niece of Henry VIII of England. This gave her a claim to the English throne and inevitably put her on a political roller-coaster.
You can visit this peaceful palace on our Outlander Adventure one day tour. And when you come here, make sure to pop into St Michael's Parish Church where Mary Queen of Scots was baptised.
2. Blackness Castle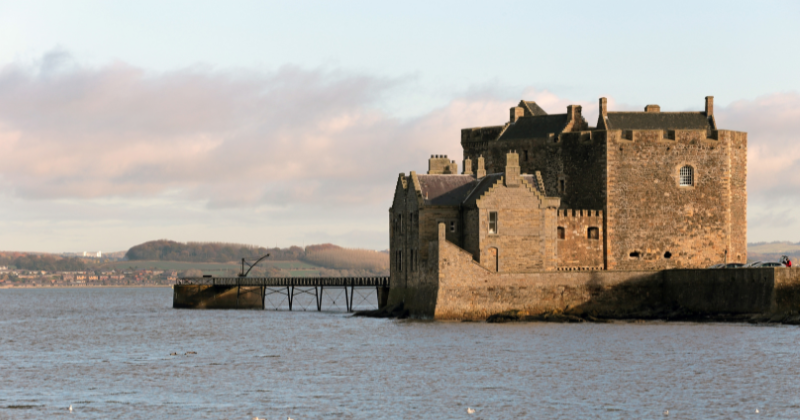 When Mary Queen of Scots was born in 1542, there was a plan put in place for her to be kept at Blackness Castle, under guard. This was for her own protection during a war with the English now known as 'the Rough Wooing'. But this plan never saw the light of day. Instead the castle, which sits on the Firth of Forth, became an artillery fortress. For this reason, Mary Queen of Scots never visited Blackness Castle in person. Nevertheless, the fortress remained loyal to her in the civil war against the leading Protestant nobles of Scotland.
More recently, Blackness Castle has formed new ties to Mary Queen of Scots. The location was used as the Palace of Holyroodhouse for the 2018 film Mary Queen of Scots starring Saoirse Ronan and Margot Robbie.
3. Stirling Castle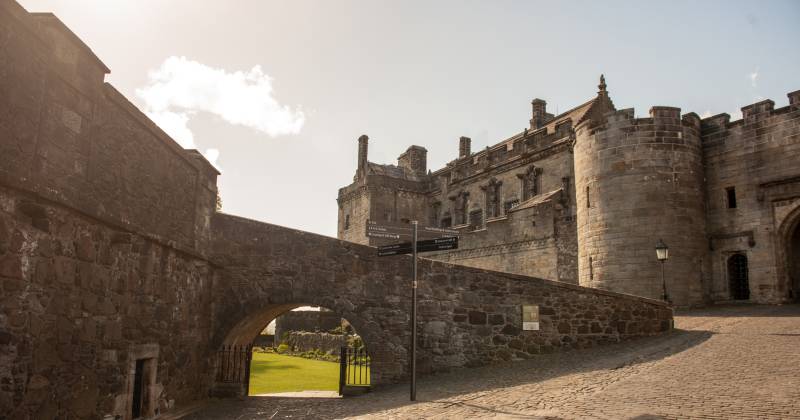 A palace as much as a fortress, Stirling Castle was one of the most used Scottish royal residences.
Mary was crowned Queen of Scotland in the Chapel Royal, aged only nine months. It's said that she howled non-stop throughout the ceremony.
The little Queen of Scots and her mother spent almost five peaceful years in the safety of the Royal Palace. But things quickly changed.
Mary's guardians opposed the previously arranged agreement of betrothing her to Henry VIII's son. Edward, Prince of Wales was raised as a Protestant, Mary was a Catholic. This just wouldn't work out for Catholic Scotland.
So, a new marriage was arranged for her, and Mary Queen of Scots sailed to France to marry the Dauphin François.
Explore the splendidly decorated and furnished Stirling Castle for yourself. You can bask in the history when you book our Loch Lomond National Park, Kelpies & Stirling Castle one day tour.
4. Palace of Holyrood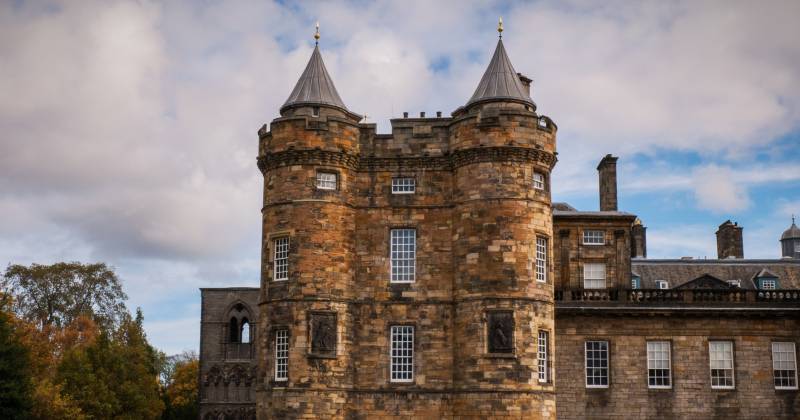 After Mary Queen of Scots lost François and became a widow at the age of 18, she decided to take her rightful place on the throne of Scotland. The charismatic ruler chose the Palace of Holyrood for her home and enjoyed its lavish interiors and remarkable gardens. But her life in this residence wasn't like a fairy tale.
The Queen of Scots got married to her cousin Lord Darnley in the palace's private chapel. Darnley was a drunk, and an unfaithful gambler.
He became jealous of Mary's Italian secretary, Rizzio, and along with some Protestant conspirators, Darnley murdered the Italian. And it happened in front of the Queen, who was six months pregnant at the time.
You can still see Mary Queen of Scots chambers in the Palace of Holyrood. And if you look closely, you can spot the marks on the floor which are said to be Rizzio's blood.
5. Falkland Palace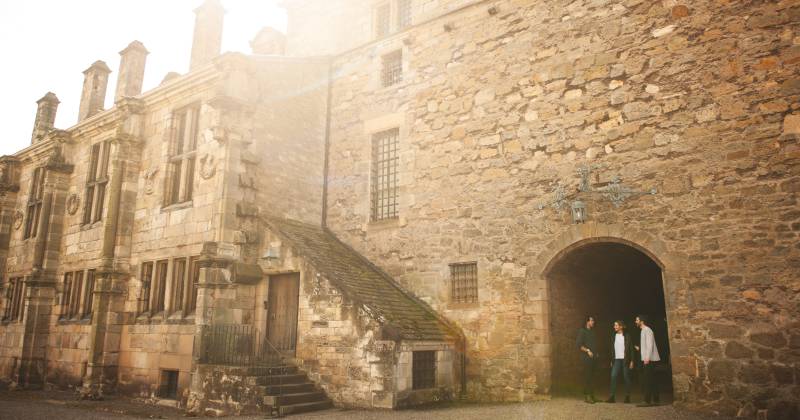 The Palace in Edinburgh wasn't the only royal residence of the Stuarts. At the beginning of her reign, Mary Queen of Scots would often escape to her beloved Falkland Palace. It embodied the grandeur of the mediaeval Scottish court and gave her access to the beautiful countryside. Close to nature and far from politics. Here, the young Queen could let her hair down and show a bit of her lively spirit.
In Falkland, Mary would indulge in her passion for the outdoors, falconry and hunting. And she would scandalise her courtiers while playing tennis in men's breeches. Shocking!
6. Edinburgh Castle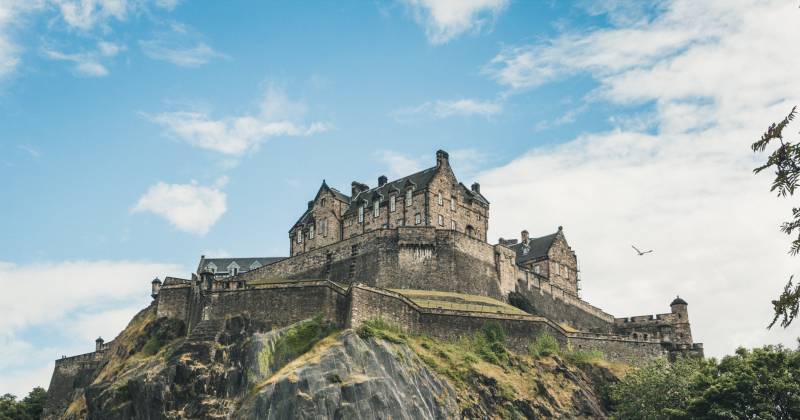 For a couple of months after Rizzio's death, Mary Queen of Scots was afraid of a coup against her. That's why she chose the mighty Edinburgh Castle as a safe place to await the arrival of her child.
The Queen gave birth to a healthy boy she called James. They say the city celebrated this news by setting 500 bonfires.
Mary Queen of Scots secured her succession and strengthened the Stuart dynasty. Things were looking up. Most importantly, little James VI would achieve what his mother never could – unite the Scottish and English crowns.
Make sure to visit the tiny room where James VI was born when you explore Edinburgh Castle. Edinburgh is a magical place full of history and character. Our tours from Edinburgh combine the bustle of the city with the hidden Highland gems. Discover on your next chosen tour.
7. Craigmillar Castle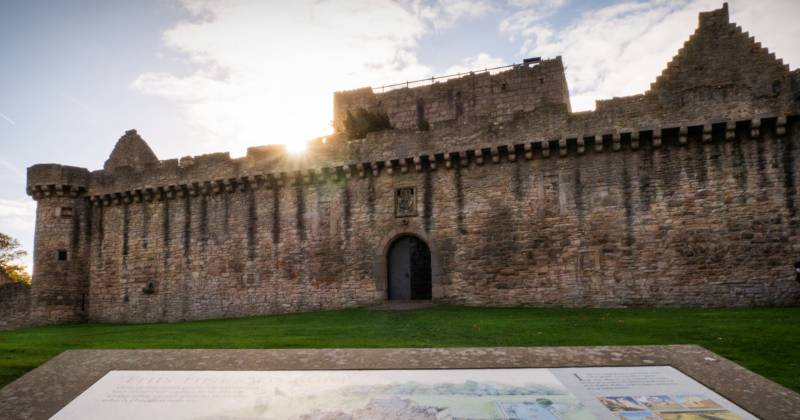 Located just three miles outside of Edinburgh's city centre, the beautiful ruins of Craigmillar Castle provide a refuge from the hustle and bustle of the city.
It was also a happy retreat for Mary Queen of Scots. She stayed in the castle to recover from the birth of her son and to get a break from Darnley. Their marriage was on the rocks at this stage, probably not in the least because he stabbed her friend to death.
Supposedly, it was here the lords suggested to get rid of the troublesome husband. The scheming began, and they say the lords signed a pact called the 'Craigmillar Bond' with a plan to kill Darnley.
The whole plot is still a bit of a mystery. There's no surviving copy of this document and we don't know if Mary Queen of Scots secretly knew about it. But we know it showed Mary in a really bad light when Darnley was found smothered in his garden and the Queen re-married only three months later.
Craigmillar Castle is famous not only for the connections to Mary Queen of Scots. The castle has become a bit of a star, appearing in the Outlaw King and Outlander. When joining one of our Outlander tours, you can discover the wonders for yourself. We may be biassed, but we think these landscapes are more incredible in person than on the small screen.
Walk in Mary Queen of Scots Footsteps on a Scottish Tour
So there you have it. A seven-stop trail which will help you discover more about one of our favourite icons; Mary, Queen of Scots. Each castle and palace has its own sentimental connection to the Queen. When you visit you can absorb the rich history and culture they hold. Discover more about Scottish castles you can visit with our helpful guide.