9 Must-Visit Places in the UK and Ireland in 2023

Sometimes there's nothing more daunting than choice. With 2023 comes a whole new year, a chance for experiences and adventures, to delve into that travel bucket list and tick off a few more must-see places.
If your plan is to visit Great Britain or Ireland, we can take a little of the stress out of planning with a few suggestions. There are the obvious ones – Isle of Skye, London, Bath – but maybe 2023 is the year for trying something new and unexpected?
1. Dumfries
Nicknamed 'The Queen of the South', Dumfries is the largest town in Scotland's south-west. History fans will love a visit here, including stopping by the garden at Moat Brae, known as the birthplace of Peter Pan. Author J.M. Barrie visited the house and gardens often during his childhood and it was the inspiration behind Peter Pan and Neverland.
If you're a Robert Burns fan, head to the Robert Burns' Mausoleum or the house where he wrote some of his best-known poems. The house has also lured other famous visitors like Wordsworth, Keats and Coleridge... perhaps you'll be the next famous writer on the list?
We head to Dumfries on our 2-day Scenic South West of Scotland tour departing from Glasgow.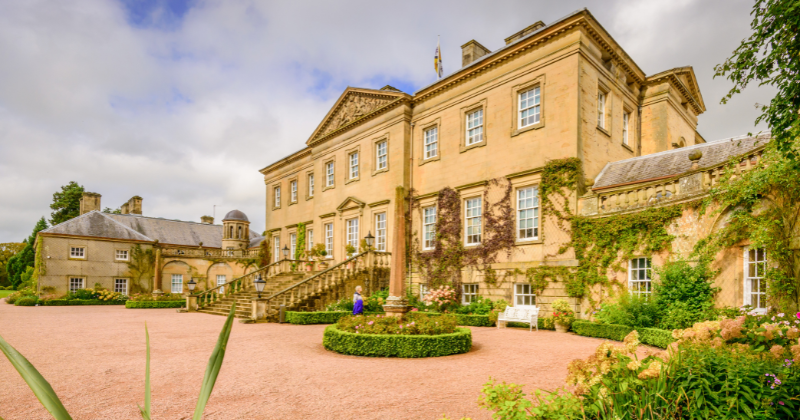 2. The Hermitage
For something a little slower and more peaceful, you can pop by the Hermitage for a stroll. The forest was originally designed by the Dukes of Atholl in the 18th century as a pleasure ground. You'll see some of the tallest trees in Britain here, not to mention the Black Linn Falls which can be viewed from a lookout known as Ossian's Hall.
Take a time out in the Hermitage on our 2-day Castles and Whisky tour departing from Edinburgh. It really is the perfect tour: nature, castles and whisky? What more could you ask for on a Scottish trip?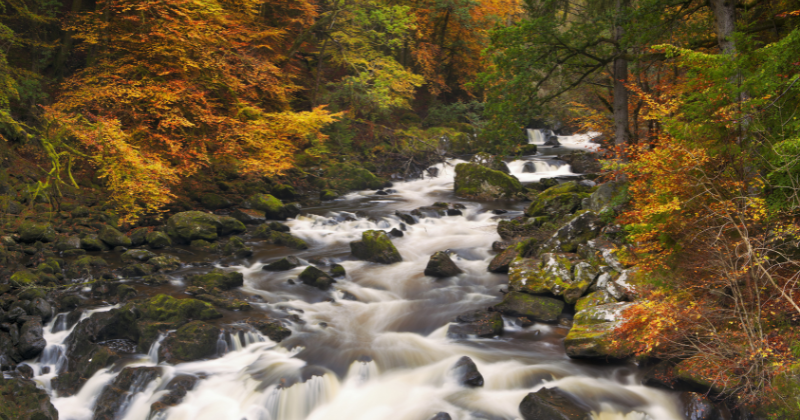 3. Slains Castle
Perched on a cliff overlooking the North Sea in Aberdeenshire are the ruins of a castle with a fascinating history. Originally constructed in 1597, Slains Castle once had three extensive gardens but now it's a roofless ruin (the roof was removed by the owner in 1925 to avoid paying taxes). It's linked to the Jacobite cause, has hosted a number of celebrities over the years, and is the believed inspiration for the setting of Count Dracula (1897) as the author Bram Stoker once visited. One of the best castles in Scotland, Slains Castle is a must visit.
It makes for a great photo (and the views don't suck either). You can visit Slains Castle on our 1-day The North East Coastal Trail tour departing from Aberdeen.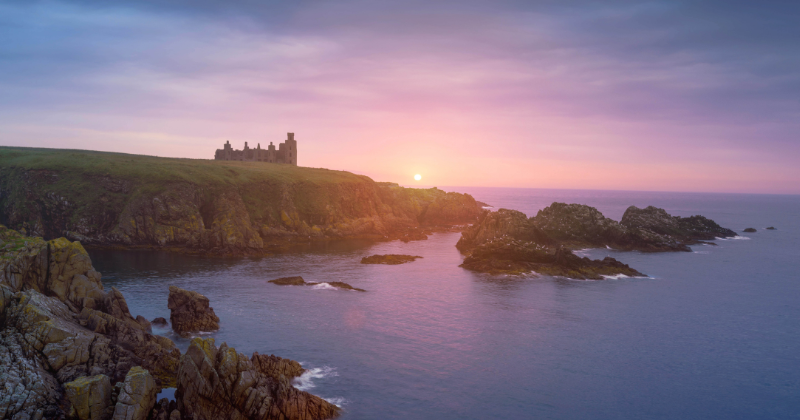 4. Wales
So often people come to the UK and often forget that there is this whole other amazing country right alongside England. For a small country, there's plenty to do and see, including over 600 castles and three stunning national parks.
If you head off on our 5-day Heart of England, Wales & Yorkshire tour, you can experience some of the beauty of Wales, including Conwy and its epic medieval castle, and a beautifully scenic drive through Snowdonia National Park.
You can also experience the beauty of Wales on our 4-day South Wales, Cotswolds & Oxford tour departing from Bristol.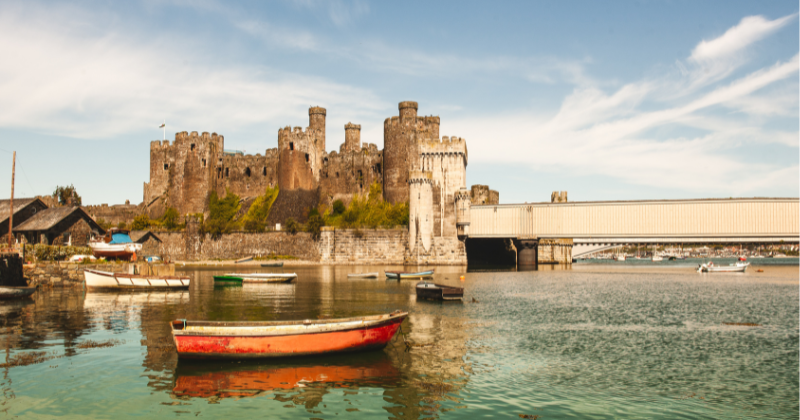 5. York
There are many reasons to visit York and Yorkshire – including Robin Hood's Bay. But did you also know there's a Viking Festival in the city of York between 11-19th February 2023? If you can time your trip, we spend two nights there on our 3-day Yorkshire Dales & the Peak District tour from Manchester.
Even if you miss the festival, you can still visit the JORVIK centre. And don't forget to take a wander down the Shambles – this labyrinth of streets is the supposed inspiration for Diagon Alley from JK Rowling's Harry Potter series. While you're there, pick yourself up a wee ghost figurine from The York Ghost Merchants.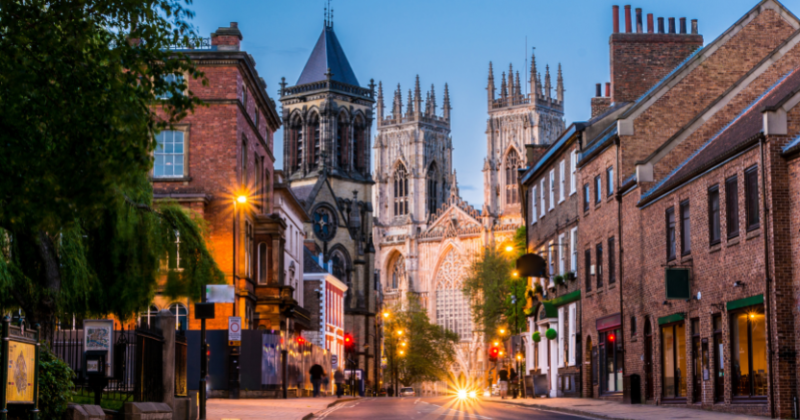 6. Cornwall
Cornwall is the perfect place to connect with England's noble past and spirituality, not to mention the legends of King Arthur. We head to Cornwall on our 5-day Devon & Cornwall and our 7-day Isle of Wight, Stonehenge, Cornwall & the Southern Coast tours both from London. We also have a brand new tour from Bristol, the 4-day Cornwall, Devon & Stonehenge tour.
For King Arthur fans, you'll get a kick out of visiting the ruins of Tintagel castle perched atop a romantic cliff. Supposedly this is the birthplace of King Arthur and, even if it's not, you'll love the views.
You also must gaze upon St. Michael's Mount in Cornwall, England's very own version of Mont-Saint-Michel.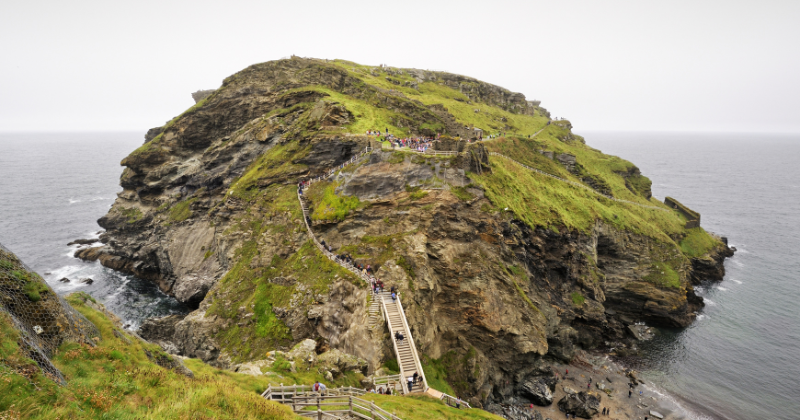 7. The Cliffs of Moher
Heading over to Ireland now, you don't want to miss seeing the Cliffs of Moher. This is one of Ireland's most famous spots and it's no wonder when you finally see the waves crashing against the shale and sandstone cliffs.
It's also a hub for those who love plants and animals. There are as many as 20 different species of birds to be seen, so get your camera ready. The cliffs have also had their time in the spotlight, featuring in several movies such as Harry Potter, The Princess Bride, Leap Year, and many more.
We take you there on our 3-day West Coast Explorer tour from Dublin.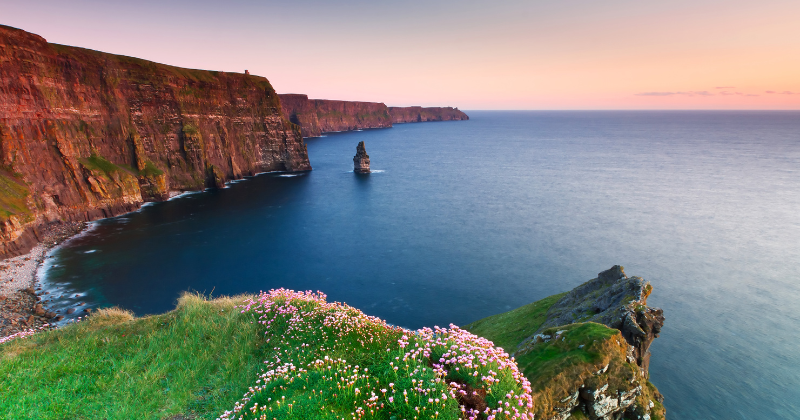 8. The Giant's Causeway
There's something alien about the Giant's Causeway. That expanse of 40,000 interlocking basalt columns with an oceanic background really is awe-inspiring. While the science behind it explains that this is the result of an ancient volcanic fissure eruption some 60 million years ago, some prefer to believe in something a little more mystical.
Legend has it that Northern Ireland was once home to giants and that the Giant's Causeway is the result of two warring giants. What do you think?
Ireland is full of amazing treasures and wild landscapes just waiting for you. Interested? Check out our tours from Dublin and Belfast.
9. Orkney
Experience the wildness of the Orkney islands. There are plenty of islands to choose from in the UK, including the famous Isle of Skye, but there's something special about Orkney. Perhaps it's the remoteness, or maybe it's the history, but we simply love it there.
You can't miss a visit to the 5,000-year-old village of Skara Brae, not to mention the mystical prehistoric stone circle at Brodgar and the Druidic standing stones of Stenness.
We have several small-group tours that go to Orkney, including our 3-day Orkney Explorer from Inverness, all the way to our 10-day Orkney & the Outer Hebrides tour from Edinburgh.
We could keep going and rattle off a dozen more incredible must-visit places for 2023, but we hope this gives you a spark of inspiration. Whether you decide to go by train, self-drive or join us on tour, we hope you have amazing adventures in 2023.