Views of Italy: An Instagrammer's Guide

There was this moment, quite recently, when I was touring Italy, and I was wearing my favourite purple jumpsuit. I had my camera in my hands, and my friend Steph by my side, and the streets of Venice were quiet. We'd woken early to drop our other friend off at the bus station and then decided a sunrise photoshoot around Venice was the only logical next step.
We were standing beside the fish market. It wasn't open just yet. And yet I could still smell yesterday's fish on the air. It wasn't unpleasant, as you might imagine. It was one of those smells, one of those moments, that was so still you could almost hear it.
A few locals wandered the streets, some on their way to work, others getting in their morning runs before the Venetian streets swarmed with tourists and residents alike.
Then we made our way to Piazza San Marco. The sun glistened over the top of St Mark's Basilica, throwing streaks of warm light across the empty chairs and tables, the vast canvas of stone beneath our feet, catching in the puff of smoke from a local worker having his morning cigarette.
And looking around the piazza, I noticed we weren't the only photographers who'd had the idea to get up with the sun and take advantage of this undeniably beautiful city while it was quiet. Everyone knows Venice is one of those places where getting a photo without dozens of others in the background is akin to walking on water. Impossible.
There was this couple. The beautiful woman wore a sheer white dress and sunlight filtered through it from behind. The man took the photos. I moved out of the way to watch, knocking my camera in the process. Being on its tripod, I watched in horror as my camera angled lens-first towards the hard stone ground below.
Something smashed. I cringed. And before I knew it, the other photographer was by my side, helping me pick up the pieces and assess the damage. He understood, since it's every photographer's worst nightmare. Luckily, the damage was superficial, and my camera still works to this day.
Thank whatever photography god was watching over me in that moment, because otherwise I wouldn't have been able to get photos like these.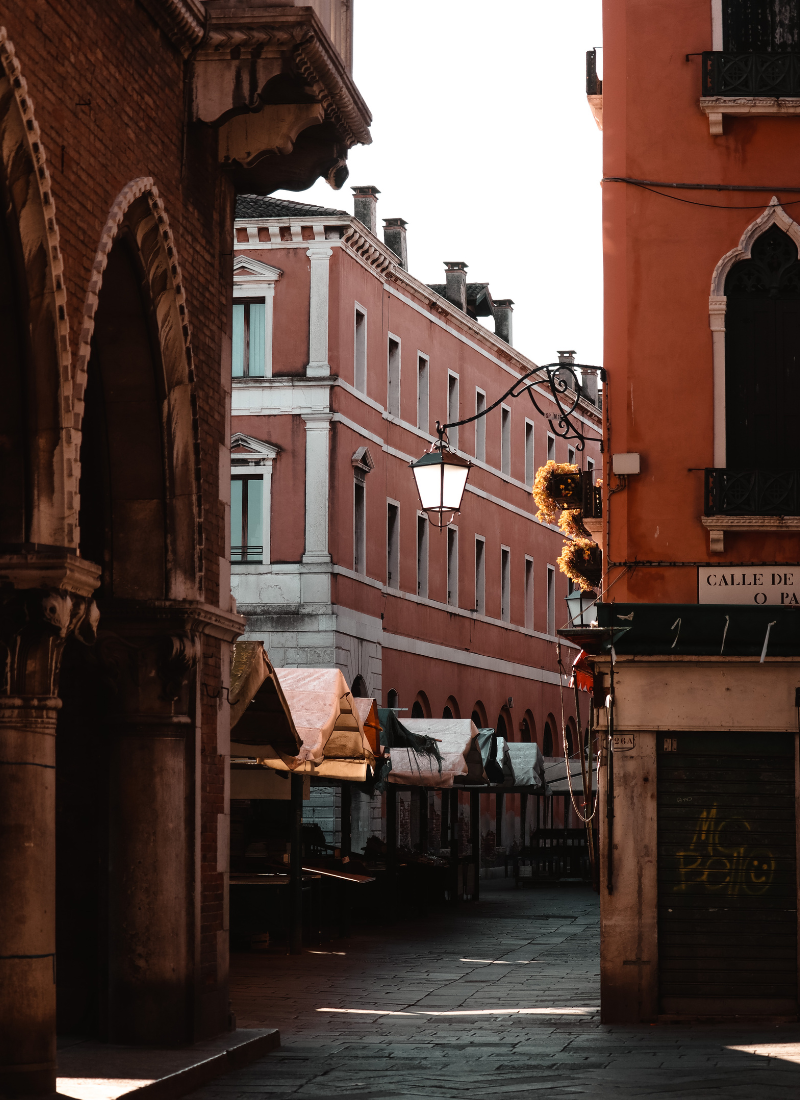 It got me thinking about Italy. And photography. And what we love so much about this sweet, vivid, and colourful country. About why it's one of the most visited countries year after year. Why people dream of wandering through a warm Italian village, gelato in hand, photographing every inch of the place because Italy is just like that, isn't it? From the ruinous charm of Venice to the luscious greens of Tuscany, Italy is beloved.
I spent 18 days in Italy and my goal, apart from eating a lot of carbs and gelato, was to get as much content as I could. For myself, for work, even some for my dad, believe it or not. The pressure was on, but Italy generously did a lot of the work for me. She's good like that.
I saw this TikTok the other day about the 'types of girls on a girls' trip'. There was 'in a relationship', who is always on the phone. The 'active single'. The 'day drinker.' And, finally, the 'content creator'.
Ah, there I am. As someone who has been to Italy more times than she can remember, I'd like to think I've seen some of the best places it has to offer. So, if you're a fellow content creator like me and are looking for some tips for Italy, you've come to the right place. I'll touch on some of those iconic locations, but I've also seen a few spots that might not be on your radar already. Without further ado, here are 12 Instagrammable places in Italy.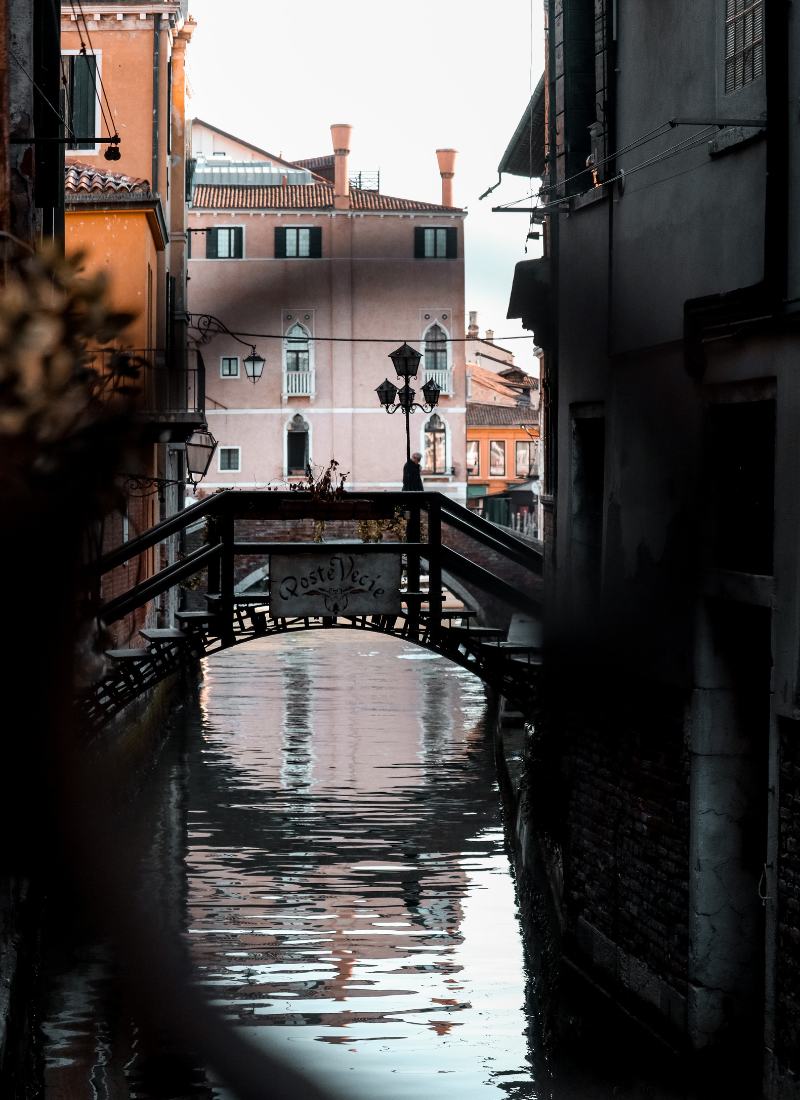 1. Castelmezzano
Let's start with something a little less known. Now, you've likely heard of the Dolomites. This mountain range in north-eastern Italy is a popular tourist destination. Thousands come every year to photograph its incredible knife-point peaks, or to ski its generous snowfields. And I completely agree that this is a place you should visit. I've yet to have the pleasure but it's on my list.
But did you know there's a smaller version down south known as the Dolomites of the Lucania Region? Smaller, quieter, but with an atmosphere akin to the haunting Ered Nimrais mountain range in Lord of the Rings. You'll need a car and a sturdy stomach to reach this out-of-the-way destination. But who doesn't love sharp hairpin turns?
Scaling that mountain, you'll be rewarded when you reach Castelmezzano. It's the 'best place you've never heard of', trust me. A colourful little village is squashed into the mountainside, nestled under the looming gaze of sheer gunmetal peaks. Surrounded by autumn colours and hugged from above by hail-threatening clouds, it should have felt ominous. Instead, it felt like every fantasy I'd ever had about travelling come true all at once.
I kept a keen eye on the peaks, half expecting a dragon to crawl over the top at any moment.
But there was no dragon (that we could see). And there were no people, apart from a smattering of locals. I spotted an old Italian nonna peeking out at us from her window, a strange look on her face, as if to ask, 'what on earth are you doing here?'
How was it possible, that in a place so stunning, that we were the anomaly? Shouldn't this place have been swarmed with tourists? I guess so. But it wasn't. Were it not for the nonna, and the single café that was open, it could have been abandoned.
2. Lake Como
Here's somewhere that is most certainly not abandoned. But no number of people could keep me away from Lake Como. Set against the foothills of the Alps, up north you will find this too-good-to-be-true lake. Hugged by more than enough little towns to keep you busy, Lake Como is known for its dramatic scenery, famous residents, and plenty of picturesque nooks.
It's been years since I've been, but what sticks in my mind is how blissfully warm the air was. How the sun danced with the water. How we found endless entertainment in the many towns, streets, restaurants, and stare-worthy moments.
Anywhere in Lake Como is Insta-worthy, in my opinion. Most visitors find their way to Bellagio, the crowning jewel of Lake Como. Crowds during the day might make it a bit harder for that iconic shot, but you could always get around this by staying in Bellagio and getting up for that perfect sunrise shot.
3. Venice
I could write for days about Venice. I won't, I promise. But there's something about it that draws me back time and again. My most recent visit was my fourth time there and each time I find something new to obsess over.
There are so many well-known and hidden spots for a great photo. Everyone adores St Mark's Basilica, and the surrounding Piazza San Marco, but how do you deal with those crowds? Easy. Get up for a sunrise shoot, like I did.
Rialto Bridge is usually swarming with people trying to get a shot over the Grand Canal, but when I went... well, the photo says enough.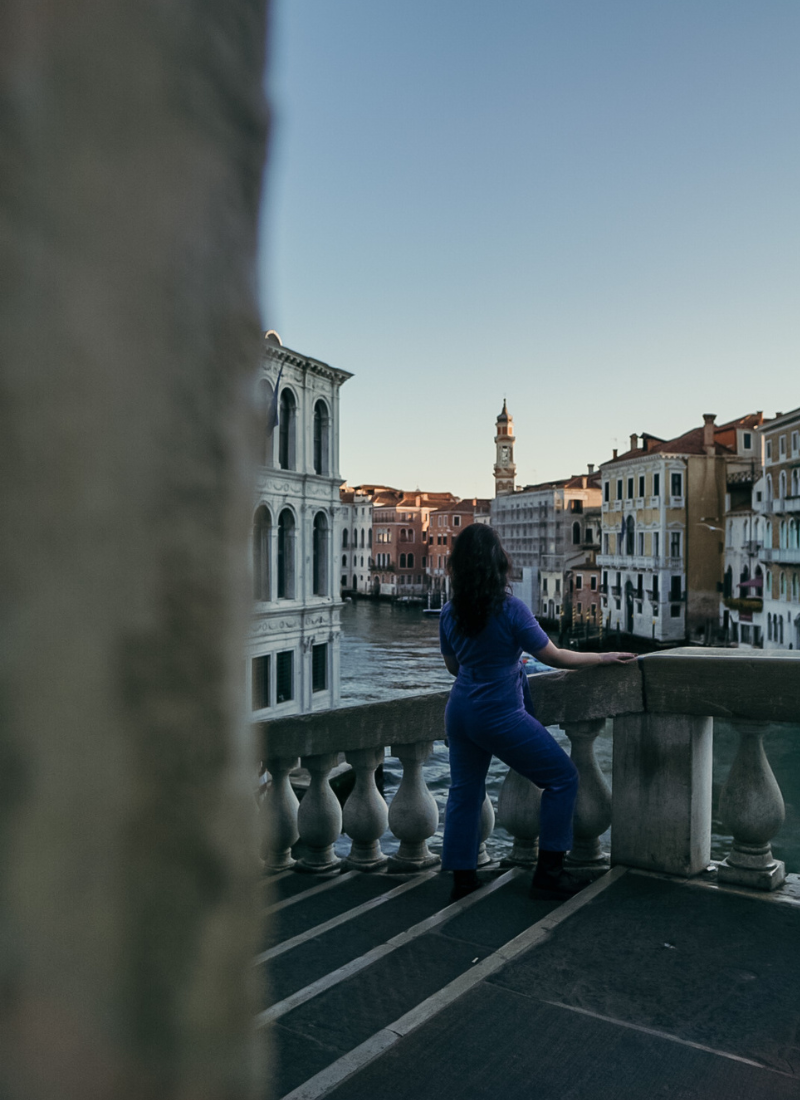 The way San Marco glowed in the early morning light was more beautiful than any jewel I've seen. The soft haze of light in the backstreets reminded me of those quiet mornings you only get in an English countryside. Something so peaceful and precious in that moment.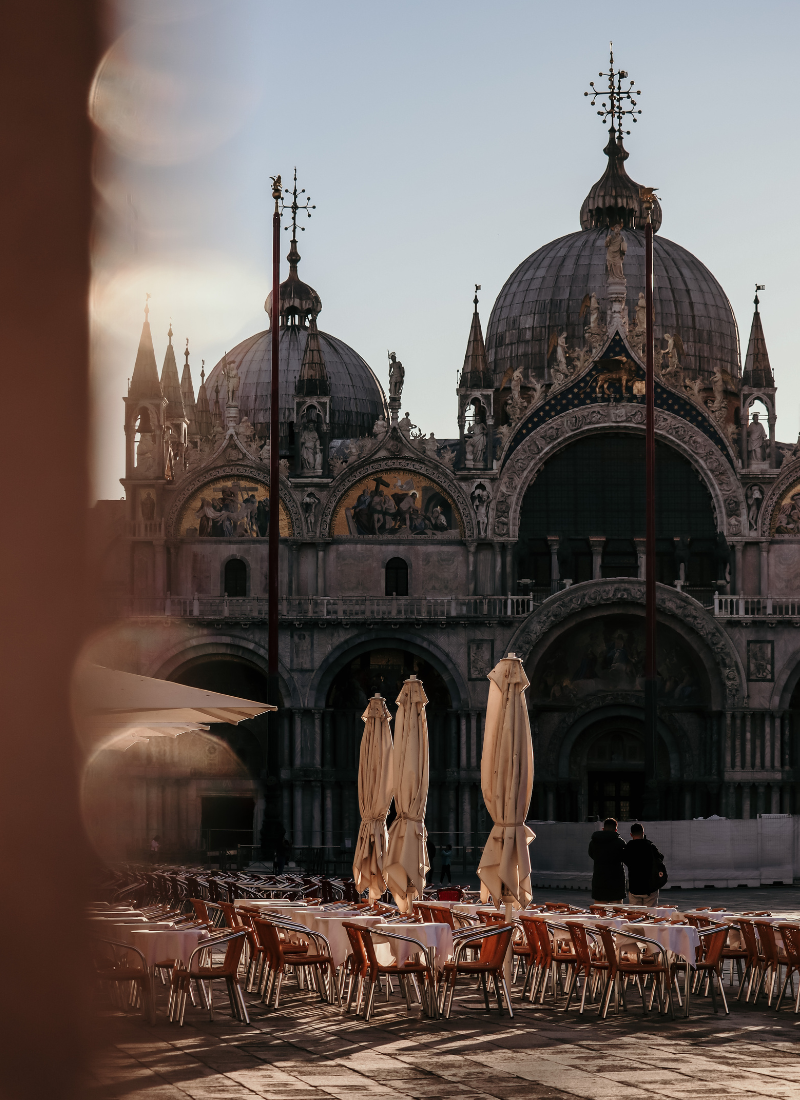 Don't forget to head away from the popular spots. What's great about Venice is how extensive its winding streets are. You can always find a private spot away from the crowds. And then there's those lesser-known tourist spots like the incredible La Scala Contarini del Bovolo. Hang up there long enough and you'll get some alone time with one of the most beautiful views of Venice.
Or take a quick ferry ride over to the island of San Giorgio Maggiore. For the price of a gelato, you can head up in the lift to the top of the tower inside the church and get this unbelievable view back over the whole of Venice. As I stood up there, taking a thousand photos, I wondered how it took me this long to do this.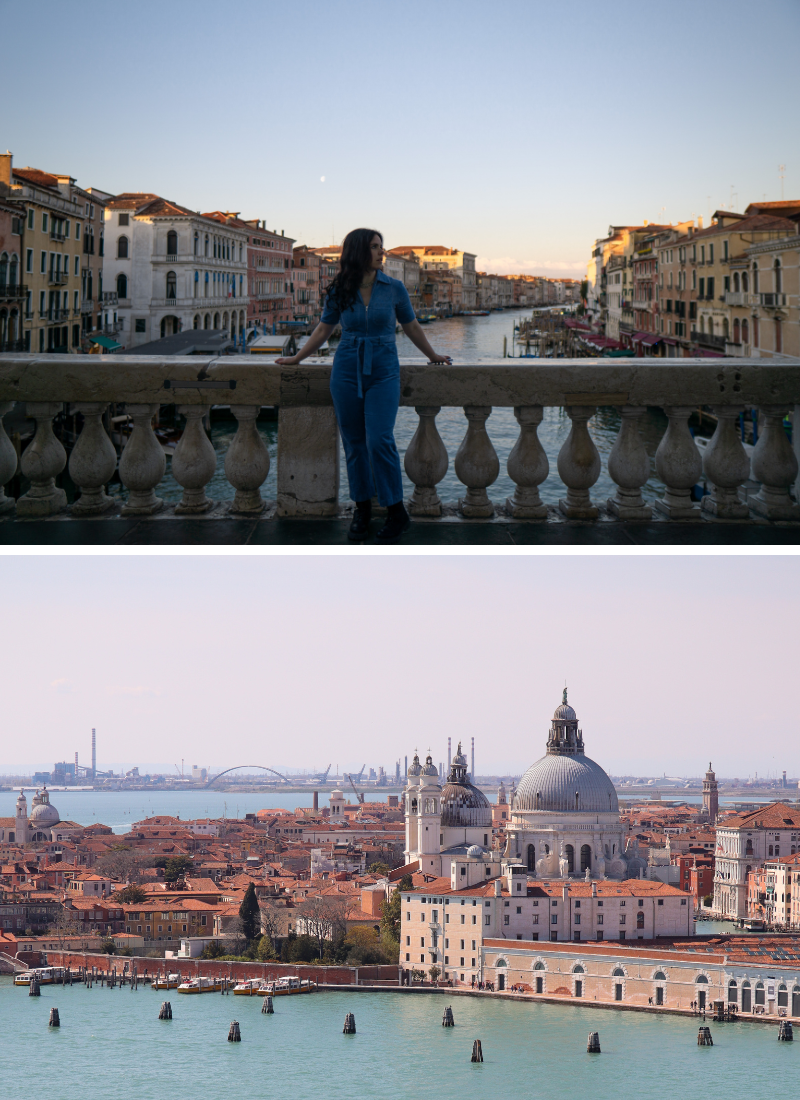 4. Matera
Oh, now you're in for a treat. When you arrive in Matera, don't be fooled by the crowds. First up, you must go to the lookout and get a killer view of the labyrinth you're about to explore. And, trust me, once you head down into the depth of Matera's winding and dusty streets, you'll forget about anything except where you are.
Tucked within the Basilicata Region of southern Italy (also known as the Forgotten Region, read more on that here), Matera is a rocky outcrop that has now become a unique homestead for many. The complex of caves carved deep into the mountainside, coupled with the wild and gut-dropping walks surrounding the town, Matera is one of those places that make you think it was a set built for a film.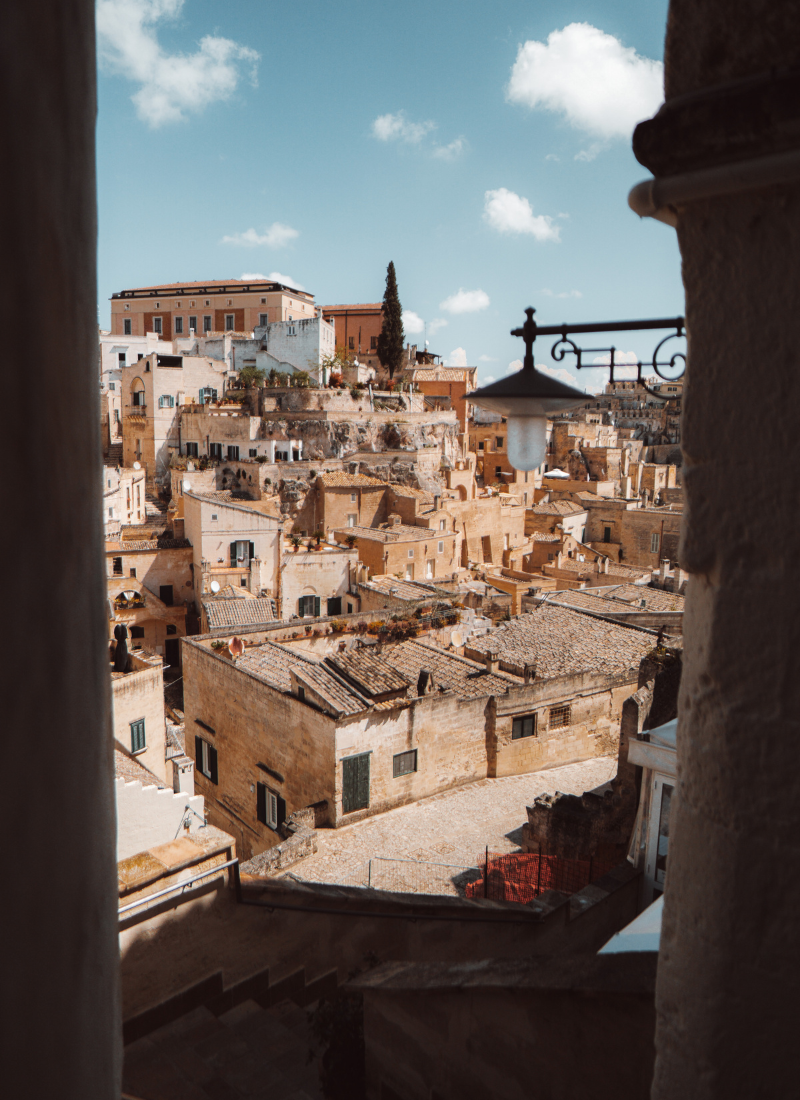 Because how can something like this be real?
Lucky for us, it's no illusion. You might even recognise it from movies like No Time to Die, the latest Bond film, or the classic The Passion of the Christ.
5. Vesuvius
Now here's one you may not have considered yet. While she has a pretty nasty temper, Mount Vesuvius is a fairly welcoming lass. Don't mind her spewing smoke, or the fact that she's caused a lot of destruction in her past, she's well worth saying hi to.
Photographing the inner darkness of Vesuvius itself makes for a startling photo, but there's also the incredible views of the towns below that make for a stop-and-stare moment. Personally, I couldn't help but imagine what that view would be reduced to if and when she ever blows again. But for now, all you have to do is take the easy walk up to the top and you'll be rewarded with a spectacular scene.
My advice would be to go first thing in the morning when she's open for visitors. It can get a little crowded during the day, and it's always nice to have a few moments to yourself.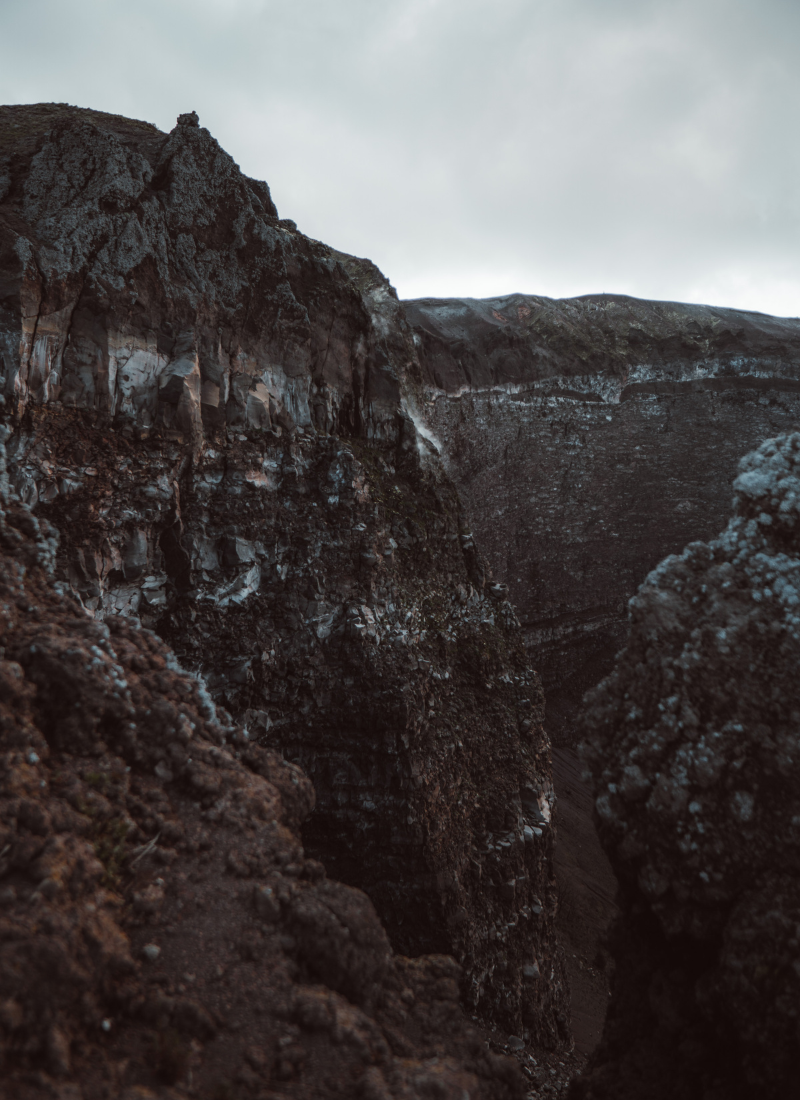 6. Polignano a Mare
If you've not heard of Polignano a Mare, get ready to thank me because, honestly, I'm obsessed. You'll want at least a few hours to explore this gorgeous jewel of a town and give yourself the chance to get a little lost as you do. It's more fun that way.
The restaurants and shops of the old town were buzzing, and there was a heightened energy in the air, like a strong whiff of the sea waking you up in the morning.
Down by the water, you might fancy dipping your toes in. If you've got enough time, it could be the ultimate beach outing. The water is real, I promise. Somehow. And I even spotted some people exploring the nearby caves that undercut the town, so the adventures are endless.
Hot tip: while the view of the water from the bridge (Ponte Borbonico su Lama Monachile) is incredible, make sure you head into the old town and wind your way through the side streets until you find one of the viewing platforms. From here you can overlook the water, see the caves below, but also get a view back towards the bleached town of Polignano a Mare itself.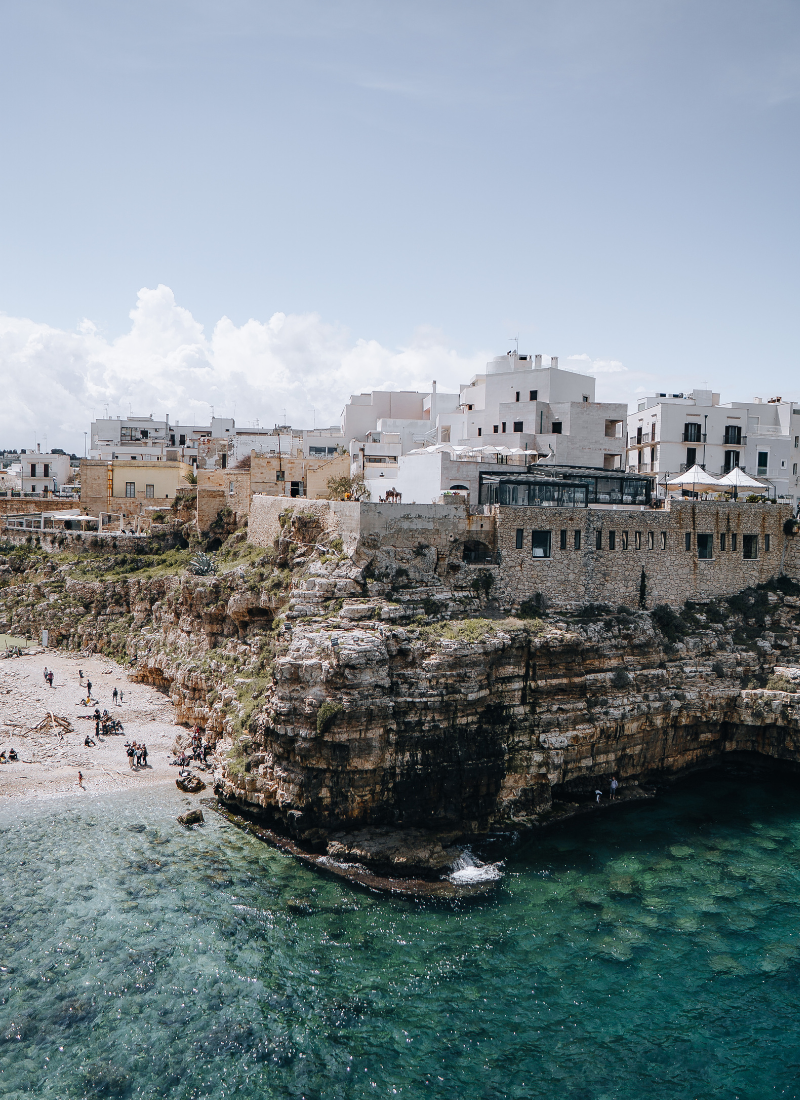 7. Florence
It's been years since I've been to Florence, but I remember it so fondly. The Piazza della Repubblica. The towering Cathedral of Santa Maria del Fiore. The rich architecture and beautiful streets, friendly locals, and moreish food.
The whole city is worthy of its own photo album. Worthy of our attention. And the world does notice it. People flock to this captivating city, with its Renaissance architecture and frenzy of artwork, from priceless pieces in museums to poignant paintings on the sides of buildings. It's sordid history involves public assassinations of powerful Medici family members in front of 10,000 people at an Easter church service.
But enough of that deplorable history.
So, where you should snap this envy-worthy photo in Florence? You could give the Ponte Santa Trinita a go. It's far less crowded than the iconic Ponte Vecchio, but the best part is that it gives you views of Ponte Vecchio. In my opinion, that's the photo you want to get!
There's also the Oltrarno Neighbourhood, a trendy and true Florentine experience, packed with local bars, cafes, gelaterias... not to mention luscious vine-covered walls, stone facades, quirky Italian streets, and beautiful gardens. All perfect for Instagram.
8. Positano (and the Amalfi Coastline)
Now I'm going to preface this section by saying that if you decide to go during the summer seasons, be prepared for madness. The Amalfi Coast and all its ensuing villages are an absolute must, but you're not the only one with that idea. I recently spent a day coasting along the winding cliff-hugging road of the Amalfi Coast and gosh I fell in love.
But as did many others. So if you can go on a shoulder season, or even in winter, I say go for it. Might give you an opportunity to get shots without all the other tourists in it. In saying that, sometimes a flurry of people adds to a photo. And despite all the people and cars, I still managed to get some beautiful shots of this incredible area.
Positano is somewhere I've wanted to visit ever since I watched Under the Tuscan Sun and admired Frances in her white dress on the back of a Vespa as she headed to see her lover. We know how that turned out, but it's not Positano's fault.
How could you fault something so beautiful?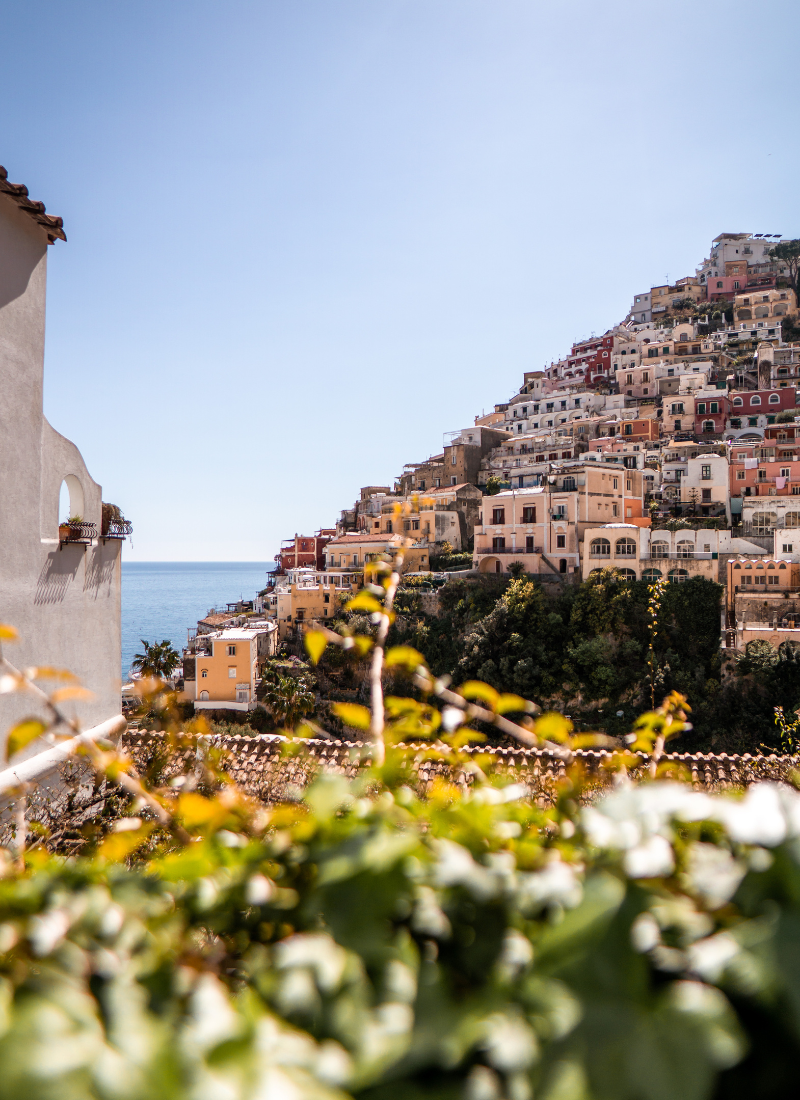 9. Verona
Now, here's a cute little place I wasn't expecting to love as much as I did. But I really should have expected to fall in love with the City of Love. Go figure.
At first I wasn't quite sure what to expect. I was staying in a hostel just outside of the historical centre. I met this lovely French guy and, since we were both solo, we decided to explore the city together. That night we had dinner in town and then walked through the marbled streets of Verona when the sky was dark, and the lights glowed warm like a hearth.
That was the moment I fell for Verona.
The next day was an adventure overcast with a brewing storm, but I loved it all the more. Erwan and I decided to head up the funicular, the Funicolare di Castel San Pietro, to get a view out over the city. Along the way, we took a meandering jaunt along the Adige River, playing in the reeds down by the waterside, admiring the architecture. We're both photographers, see.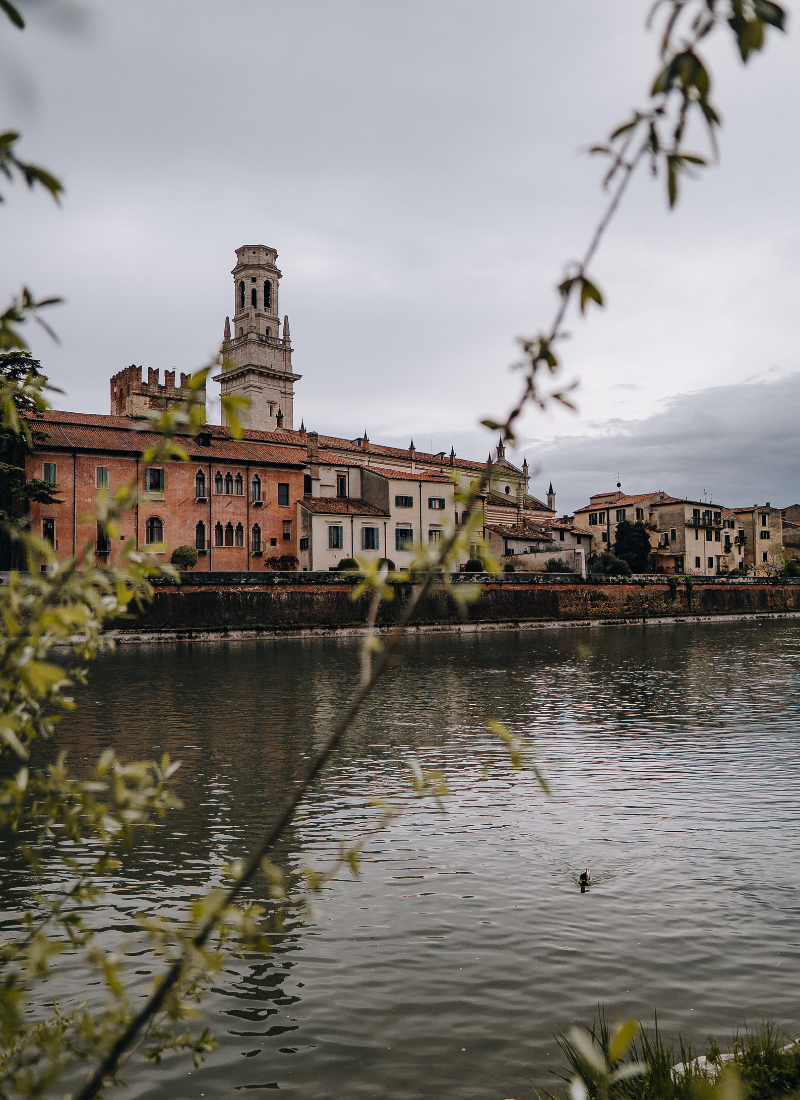 We somehow missed the entrance and ended up taking the stairs to the top. It's not as bad as it sounds. And there were some fun surprises along the way, including a really creepy statue. The view at the top made the sweat worth it. In the distance, the sky threatened a downpour, as if Mother Nature was Verona's scorned lover coming to seek her revenge.
But, in the end, how could anyone be mad at Verona?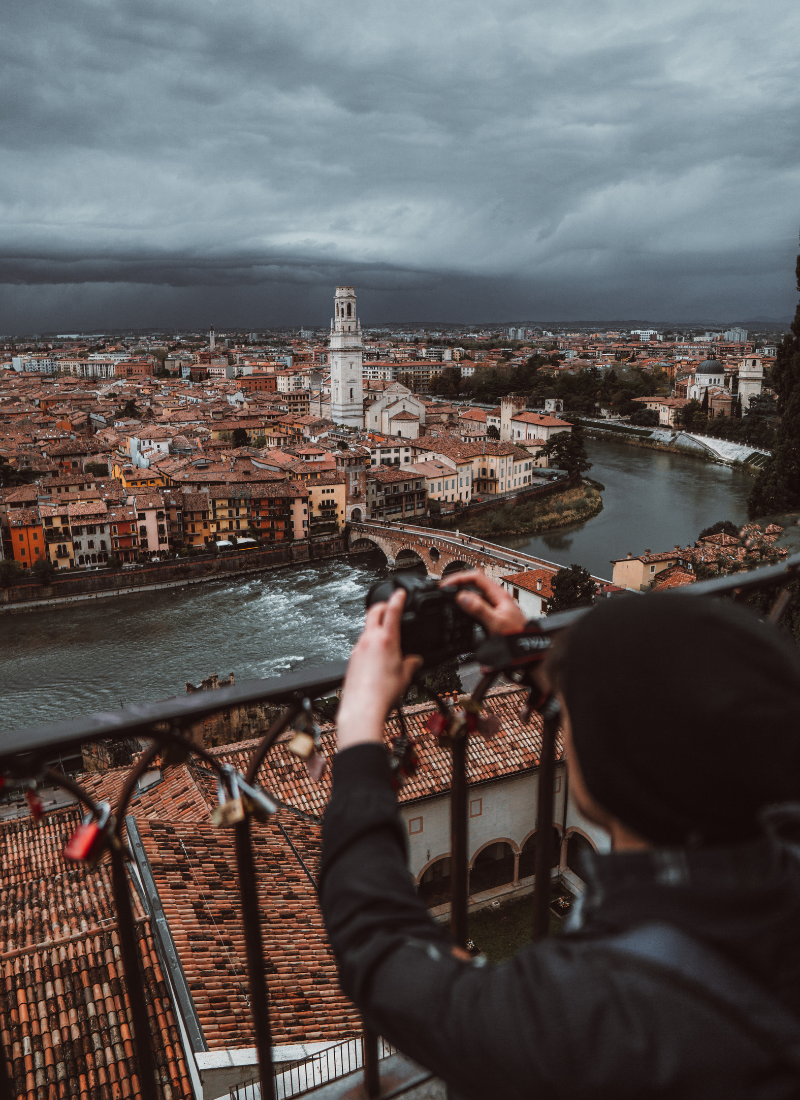 10. Cinque Terre
If you're looking for romantic Italy, you've found it. The centuries-old villages of Cinque Terre are as rugged and mesmerising as you could hope for. All you have to decide now is which of the five villages will you stay in? Monterosso, Vernazza, Corniglia, Manarola, or Riomaggiore? Cinque Terre translates to "Five Lands", after all.
My mum and I stayed in Manarola. Can't fault the place. I still remember standing at one of the many viewing points, watching the sun set with an orange cry of defiance, over a star-black ocean. Then we wandered a little further into town and chose one of the many restaurants on offer for our evening meal. A hint of freshly spiced fish on the air. A light jacket kind of evening. Good wine and even better conversation. Waiters that make you laugh, a little bit flirtatious. Earning themselves an even bigger tip.
And that's just Manarola. It's easy to get between the five villages, it just depends how you want to do it. Undeniably, the most scenic way to do so is the use the walking trails that run along the coastline through all five villages. Sadly, as my mum is petrified of heights, we couldn't do this but there's always next time.
And since I'm prone to seasickness, we didn't take the boat. Look at us go. Instead, we took the train. See what I mean? Endless choices, no matter your preferences.
So, where are the best spots for a photo? Manarola, I can confirm, is absolute perfection. Colourful houses are perched like wild seabirds on the cliff, gazing out at the Mediterranean Sea.
If you're up for the walk between the villages, you will definitely find many incredible spots for a great shot. Go on, imagine it at sunset.
Monterosso boasts the only long stretch of gorgeous beach for you to enjoy like a kid in a sandbox. The combination of ice-clear water and colourful umbrellas lining the sand like kids waiting to rush the water make for an iconic aren't-you-jealous-of-my-holiday photo.
11. The Trulli of Alberobello
One word. Obsessed. How could I not fall in love with these little beehive-shaped huts, coloured in white, stamped with pagan symbols, row after row of them, like a community of hobbits reside here?
See what I mean?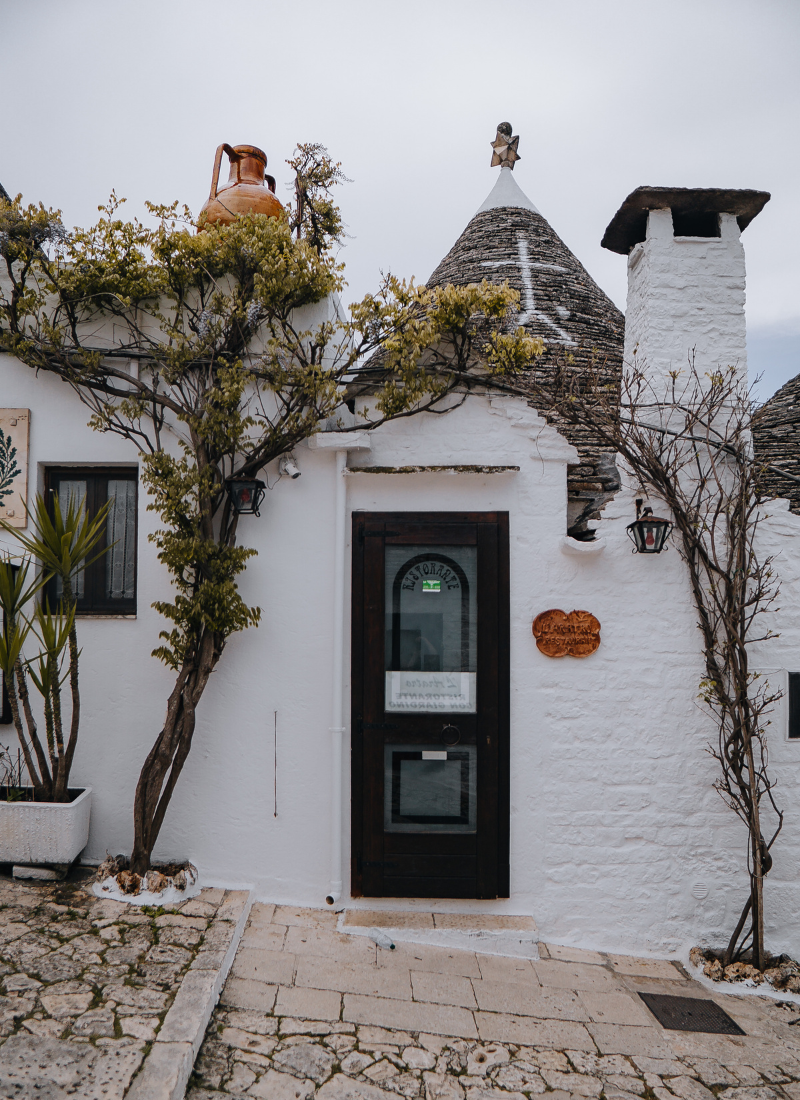 These limestone dwellings are unique to the southern region of Puglia. As you can probably imagine, they don't make the most practical homes and are no longer in use for everyday living. However, in the town of Alberobello, you can explore the insides of these remarkable little houses in the form of shops and holiday rentals.
Anywhere in town will make for a great photo. My advice is to simply wander, as I did, and find a spot that resonates with you. This was one of mine. And I recommend wearing a pop of colour so you stand out among the white canvas of Alberobello.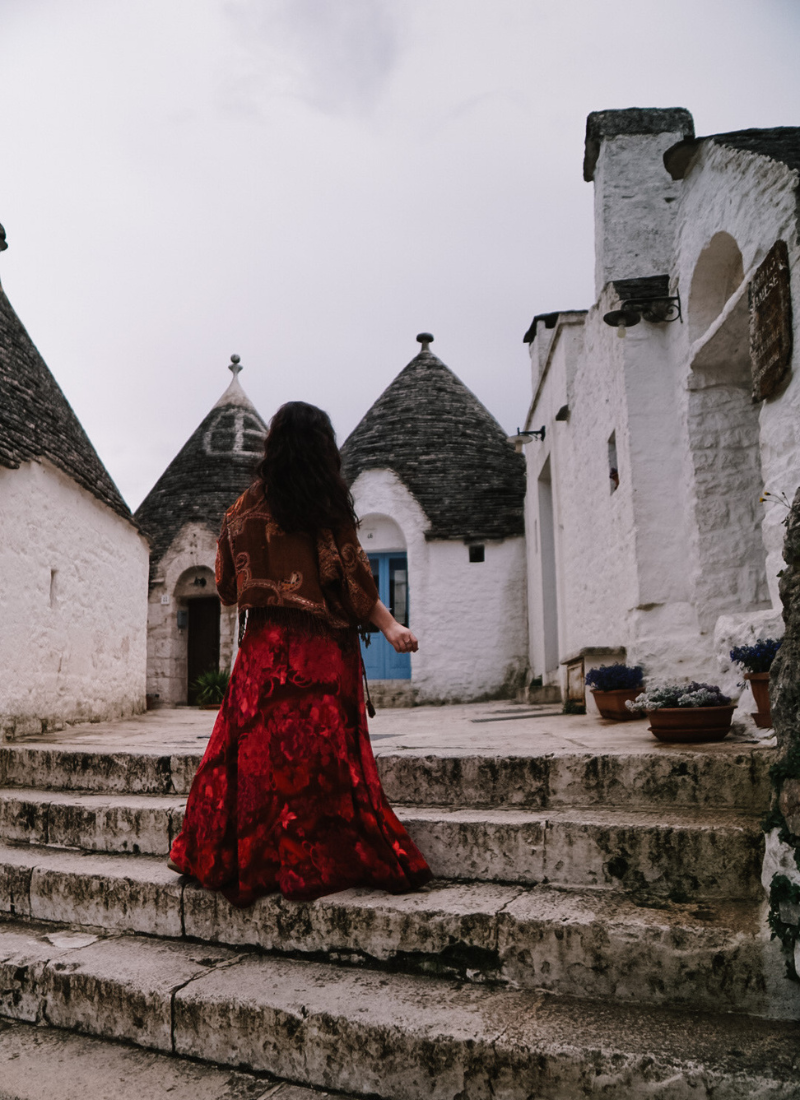 12. Sea stacks in Puglia
Italy is no stranger to beauty. And it has more than enough gorgeous landscapes to keep your camera full to the brim. We spoke earlier about the Amalfi Coast, and that's just one of many incredible coastlines and water-front views that will imprint on your mind like you've stared directly into the sun a little too long.
Cinque Terre anyone?
And then there's Sant'Andrea, one of the most popular little villages down south in the heel of Italy, in a region known as Puglia. Sant'Andrea not only has a gorgeous beach for you to enjoy, but it's those rock formations that you'll want to see. Trust me.
These looming rocky towers turn an already stunning waterfront into an artful display of Mother Nature's power. These sea stacks were created over time by the erosive power of wind and waves colliding with the coastal cliffs. A truly stunning sight for both you and your camera.
Let's be honest with each other. I don't need to sell Italy to you. We all know you're going to go there at some point. If you're anything like me, you'll go back more than once. All I can hope is that this list gives you a little inspiration and guides you to a few spots you may never have otherwise explored.
You might even be asking yourself how I came across some of these places? The Trulli of Alberobello. Matera. Vesuvius. I'd love to claim credit for thinking of journeying to these spots on my own, but I'd be lying. I recently did the 6-day Pompeii, the Amalfi Coast & Irresistible Italy tour with Rabbie's and, honestly, I'd go back in a heartbeat.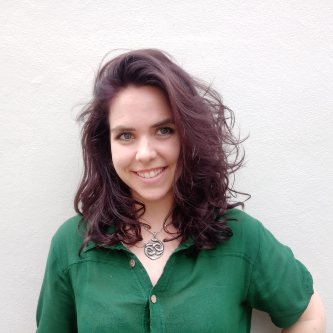 Bronwyn lives and breathes words. Before coming to work at Rabbie's, she spent 7 years in publishing and is a published author of YA fantasy books. Born and raised in Sydney, she was drawn to Scotland and affectionately calls it her 'soul home'. An avid traveller herself, Bronwyn's favourite places (so far) are Mongolia, Iceland, Morocco, and Scotland (of course). When she's not writing, she can be found exploring the Scottish Highlands with her camera, on the lookout for coos and men in kilts.