6 Days on Tour in Italy: "I Wish I Could Go Back."

From the Forgotten Region of Basilicata to Vesuvius, Positano to Polignano a Mare, Rabbie's own Bron reviews the 6-day Pompeii, the Amalfi Coast & Irresistible Italy tour.
How many gelatos is too many gelatos? If you're anything like me, the answer is: "the limit does not exist". Because when you're in a place like Italy, you can take comfort in knowing that Italians do not judge when it comes to good food. In fact, they encourage it. They revel in their culinary mastery, the waft of a fish market in the early morning, the crunch of a fresh bread stick, and the happy dance you do when your fire-oven pizza is set down in front of you.
There's an Italian saying that has become one of my mantras for life. Il dolce far niente. It literally means "the sweetest of doing nothing". There's something about how I feel when in Italy that changes my stride. I loosen my grip on life. That control many of us are used to having. Oh, I shouldn't eat that. Oh, there's no time for this. Oh, I'd better do xyz.
I mean... you could. Or you could grab a slice of pizza, find yourself a quiet alley beside the canal in Venice, and make friends with one of the local pigeons. Name her Delilah.
Might sound a little bonkers to you but this is an actual recount of something I did while in Italy this past April. I'd spent about a week and a half ferrying myself about Venice and Verona. And then I found myself in Rome the night before the start of my small-group tour with Rabbie's.
Now, you might be asking: "Bron, are you telling us that you got paid to go on tour and eat gelato?"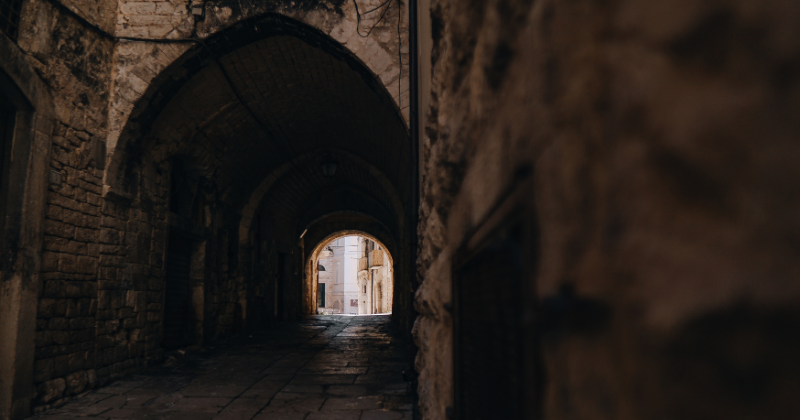 Why, yes, that's exactly what I'm telling you. But it was more than that. Sometimes Scotland feels so very far away from Europe, when it's actually the opposite. Yet despite its proximity, it truly is a whole other world. A world of grand archway doors in quiet streets, of vine-crawled walls, and orange vespas parked haphazardly on the sidewalk. A crumbling echo of history sits in a field of olive trees, rows and rows of them, like an army ready to serve.
We thought to ourselves... what's going on with those Italians and their charming lifestyle? Their enviable menus and sweet-as-gelato views?
So, there I was, standing in a floor-length pink skirt and multicoloured top, readying myself for a new adventure with new friends. Steve, an elderly gentleman from the USA, turned to me and said: "You look like you're from the 70s."
Little did he know I'd selected my Italian adventure outfits very carefully. Gone were the grey-metal clouds of Scotland. The entire time I was in Italy (18 days in total), there was one hour of rain (with hail) and the rest of it was glorious, glorious sunshine. I wanted to meet Italy head-on with as much colour and enthusiasm as I could muster.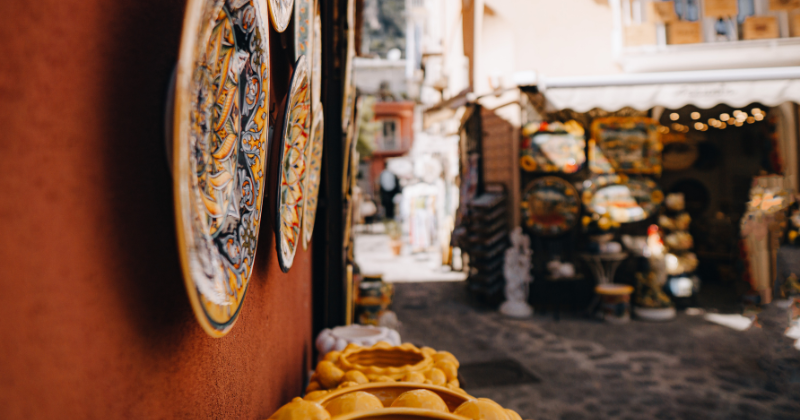 Before we crack on, let me introduce you to our fellow Rabbie's companions for the tour. The aforementioned Steve and I found a common rhythm while on tour. Conversation with him always held my attention and he was the kind of person who wrote me a sweet thank-you letter halfway through the tour, hoping to stay in touch. His wife, Andrea, had a gentle soul and an even gentler tone, and everything she said resonated with me. We bonded over the difficulties of this modern world, but always with a hopeful tone.
Then there was Moji. Her energy was off-the-charts and the moment I met her, I knew we'd get along. We bonded over exploration and adventure, how alike I was to one of her daughters, and we constantly complimented each other's outfits. Her husband, Farhad, had one of the most inquisitive minds I've met in a long time, and he kept us all on our toes throughout the tour.
Our tour guide, Francesca, was Italian through-and-through. More than once I saw her gesture like a true Italian and we shared a deep love of Tartufo, a traditional Italian dessert. Her smile was wide and her mind a teeming treasure-trove of history, facts, stories, and jokes. Our driver, Andrea, was exactly the kind of person you want driving you through the sometimes-terrifying streets of Italy. He was calm and collected, but with a driving talent that rivals Formula-One racers. I most definitely would have hit something if it had been me behind the wheel.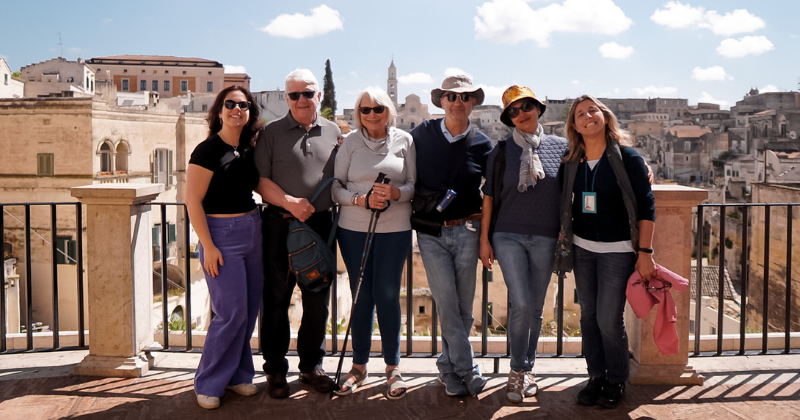 Day One
With six new friends, we said goodbye to Rome and headed for the monastic fortification of Montecassino. Upon arrival, we were greeted by the cry of a single word imprinted in blazoning red above a weathered metal door.
PAX.
In Latin, it means 'peace' and once you hear of Montecassino's history, you'll understand why this has become an important message for them. I don't want to give too much away, but let's just say... I kind of believe in miracles a bit now. The great statue of Saint Benedict that sits in the courtyard remained completely untouched after the bombings of WWII... everything around it was charred black from hatred and war, and yet the statue remained. If that's not a sign, I don't know what is.
With a stoic-faced façade, an interior of glistening gold, and a view of an enviable scope, it's safe to say Montecassino is a special place.
Tips: You can use your camera but not the flash or tripods. Make sure you are dressed appropriately for day one, so no short shorts or revealling tops. Remember – this is a working monastery! Also, make sure you visit the gift shop and buy yourself some of the sweets there which have been handmade by the monks themselves. I regret only buying one bag for myself, which I devoured in a few days, and had to resist the urge to open the others which were gifts for my parents...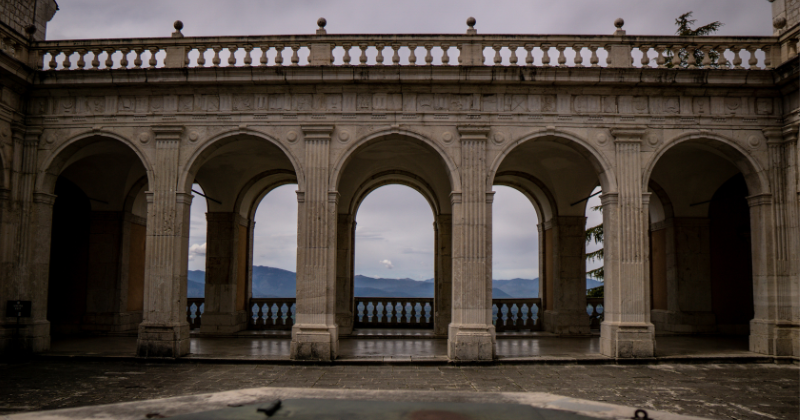 Next up we visited the ruins of San Pietro Infine. This forgotten nook nods its head to a time when war ravaged the region. It's been left to rest in peace, to run amuck with the local wildlife, and a few snacks for the strays wouldn't go amiss.
We finished the day with a stop in at Benevento. Once part of the Appian Way, history fans will enjoy getting to know why this town was once so important to the Romans. Make sure you stop in at the Chiesa di S. Sofia. Little she may be, but this church truly is a pocket of heaven. And keep an eye out for local candy shops and grab yourself some Liquore Stregga chocolate. It's typically eaten around the festive season, but the time of year meant nothing to me once I'd had a bite of this sharp and delectable chocolate.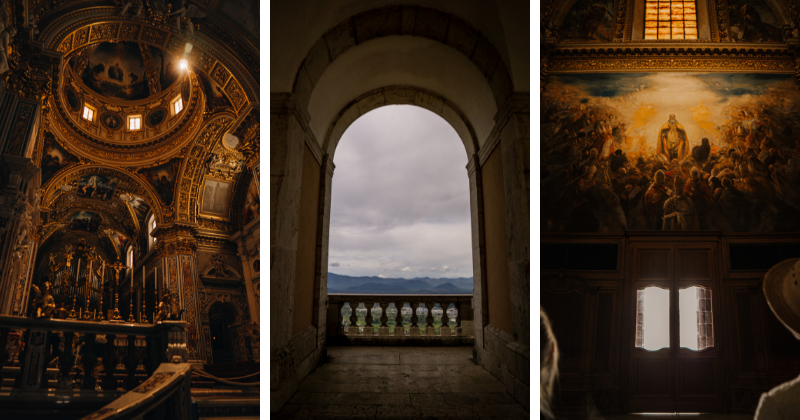 Day Two
Today is all about the Puglia (Apulia) region. That part of Italy's boot is romanticized for its sparkling coastline, luscious farmland, and out-of-a-dream white-kissed towns.
Trani was my first experience on the tour of the winding Italian streets that I ended up being completely obsessed with. We began by walking through parts of this seaside town together, and I kept screenshotting where I was on the map so I could come back and take photos. Utterly obsessed. Walking along the waterfront, the first stretch of the endless sea I had seen on this trip, a stark castle façade looming behind me and the domineering peak of the basilica waiting ahead, it's no wonder it's known as "the Pearl of the Adriatic".
I stopped for a photo at the basilica and a man told me I was fine if I stayed where I was, but not to go any closer, as there was a film set and crew busily working away. While others were lurking, curious to see some insight into the film industry, I took little notice, completely wrapped up in the architecture and gentle beauty of Trani. The others got stuck inside the basilica, funnily enough, and had to wait for the film crew to finish their shot. Meanwhile, I found myself a cute little café and grabbed a snack. What was it that I ate? No clue. But it was delicious.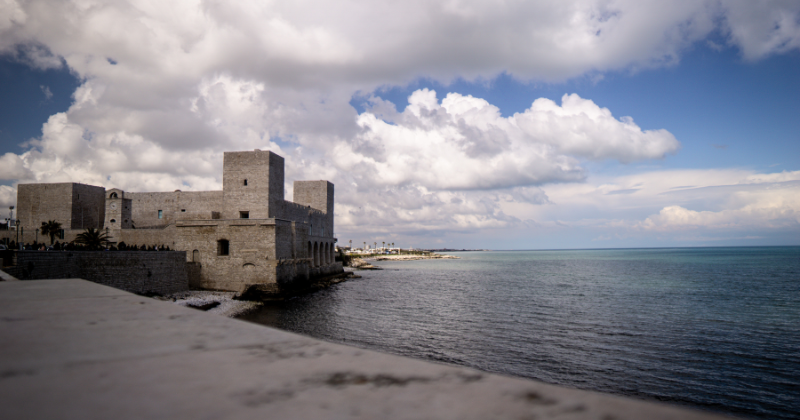 Where we went next... I'm not sure I have the words to describe. But I certainly have the pictures. So many pictures. Polignano a Mare was my number one spot on the trip. I'm telling you now, this little cliff-clinging town was everything I'd ever dreamed a warm Italian adventure would be like. Every restaurant was bustling. Every side street a trove of quirky locals, meandering travellers, and quiet doorsteps with blooming flowerpots surrounded by weathered sandstone.
With the warm and gentle sea breeze my close companion, I tucked myself into a local restaurant and proceeded to inhale one of the nicest pizzas of my trip. I wish I could go back and eat it again.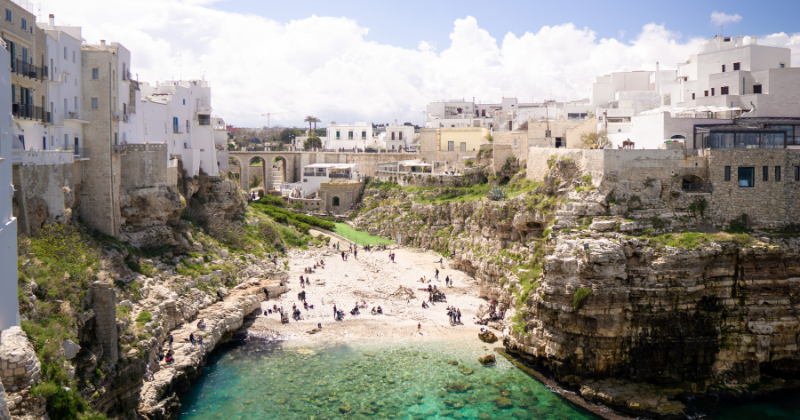 Tip: While the view of the water from the bridge (Ponte Borbonico su Lama Monachile) is incredible, make sure you head into the old town and wind your way through the side streets until you find one of the viewing platforms. From here you can overlook the water, see the caves below, but also get a view back towards the bleached town of Polignano a Mare itself.
Day two really is competing for top place. Day two went hard. Because next up were the trulli of Alberobello. Took me a few goes to get saying this town's name right. On the drive to Alberobello, hints of the majesty to come were spotted among the landscape. Tucked between the deep green foliage surrounding us, the white of the trulli sparked brightly, like enormous white flowers sprouting from the earth. But once we arrived in Alberobello, and saw the trulli en masse, like the hug of a Hobbit village or the complexity of an ant colony, nothing could compare.
These limestone dwellings are unique to the southern region of Puglia, shaped almost like beehive huts, with conical roofs and painted white like the clouds drifting in the sky above. They didn't make the most practical homes and so are no longer in use for everyday living. However, in the town of Alberobello, you can explore the insides of these remarkable little houses in the form of shops and holiday rentals.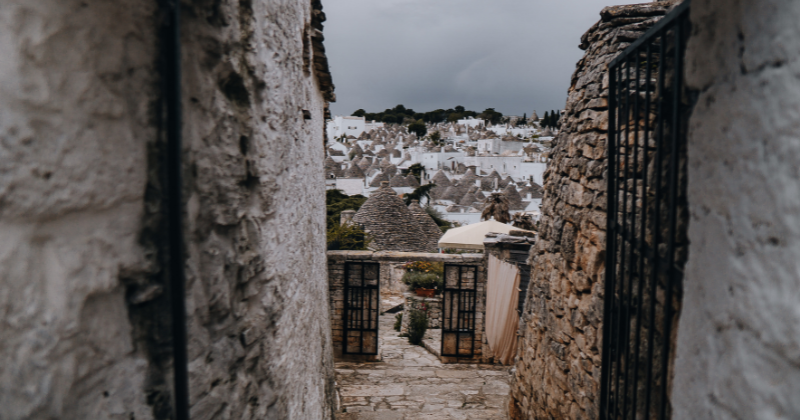 No surprise here, but I ran around taking as many photos as I could. But, when the 'work' was done, I settled on a little bench on the main road, listening to a local man singing in Italian, feasting on my not one, but two desserts... because I couldn't decide which one I wanted more and I'm an adult so I can do what I want.
That night we headed to the two-thousand-year-old city of Lecce, where we'd be staying for the next two nights. Our hotel was a ten-minute walk to the historic center and on approach you're greeted by a grand archway and a bustle of little cafes and restaurants, a smattering of tables and chairs, and the smiles of locals and tourists alike who are glad to have a glass of wine in hand after a balmy Italian day.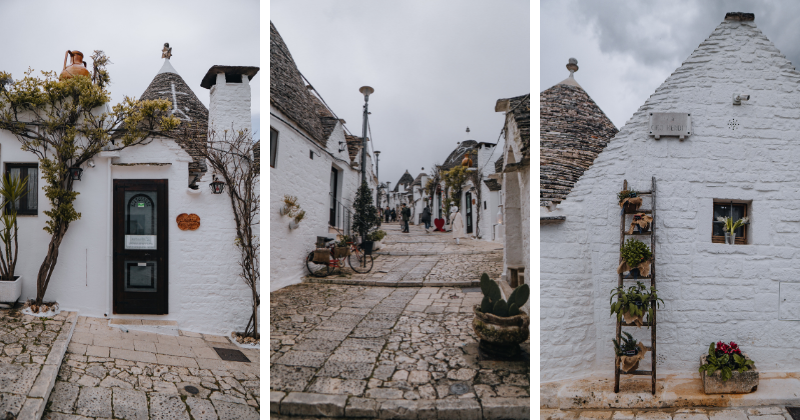 Day Three
You know that song Under the Boardwalk by The Drifters? If I could sum up day three it would be that. We started our day at the utterly beautiful Gallipoli – no, not that Gallipoli, but the shimmering seaside town at the very heel of Italy. The streets were quiet, the water an unfathomable blue, and there was this sweet moment when Steve reached out and took Andrea's hand and I found myself smiling at how lucky we were to be there.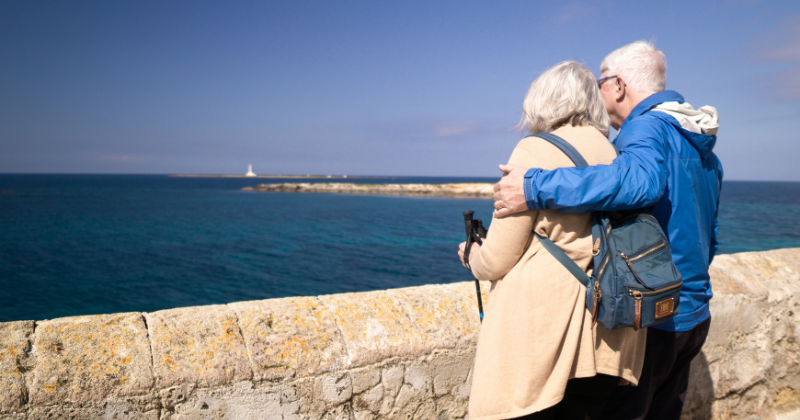 And just when I thought the day couldn't get even more shimmering, we arrived in Otranto. There was this moment... we'd been walking from the bus, down past the castle, through the winding streets, and we turned this corner and the ocean yawned before us like it had suddenly consumed the entire world and all that was left was this incredible blue.
After a bit of wandering, I was drawn back to the waterfront to have lunch. One thing I had to do while in the Apulia region of Italy was to have a fresh plate of Orecchiette pasta. Orecchiette means 'small ears', due to its shape, and it's a traditional handmade pasta of this region. My mouth is watering just thinking about it.
In the afternoon, we headed back to Lecce and were given time to explore this city during the day. There is plenty to see in the historic center and I found myself wandering about, stopping for photos of gargoyles one minute and street musicians the next.
Day Four
Welcome to Basilicata, the Forgotten Region. I just love that name. It's so dramatic, it sounds like we've stepped into a fantasy novel or something. And, in a way, we had. Basilicata is a region of southern Italy that is blanketed in forests and bursting with mountainous peaks.
As we drove, I was taken in by a landscape kissed by Irish green. Tall reeds of deep green grass played with the breeze, experts at catching the midday sun. Together they created an ocean of their own. And in the same way a whale might break the water's surface, dusty craters would appear out of nowhere, these clusters of dry earth living symbiotically alongside thriving plants.
But why is it known as 'the Forgotten Region' when, as far as I could tell, the world knew plenty of it? Well, supposedly, until recently, Basilicata was a very desolate and neglected part of Italy. Tucked away down south, it was far from the 'modern' world and a rather barren and challenging place to live, for farmers in particular.
One good thing about the rapid globalization of the world is that lesser-known places, these 'forgotten regions', are being noticed and technologies, modernity, and travellers now have the means to get there. Personally, I felt privileged to be exploring this region, and to be given the chance to support businesses along the way.
So, what can one find in this 'lost' land? Matera, that's what.
Any James Bond fans in the house? If you watched the most recent instalment, No Time to Die, you might recall that epic car chase scene through the Italian town at the start of the movie? James is being pursued by a creepy man on a motorbike (what else is new?) and he manages to steal the bike and race through the ancient winding streets of... Matera.
When we arrived in the newer part of town, I was a little overwhelmed by all the people at first. But then Francesca took us to this viewing platform and... honestly, the word 'wow' comes to mind. Not particularly eloquent, I know, but sometimes such powerful beauty reduces us to... wow.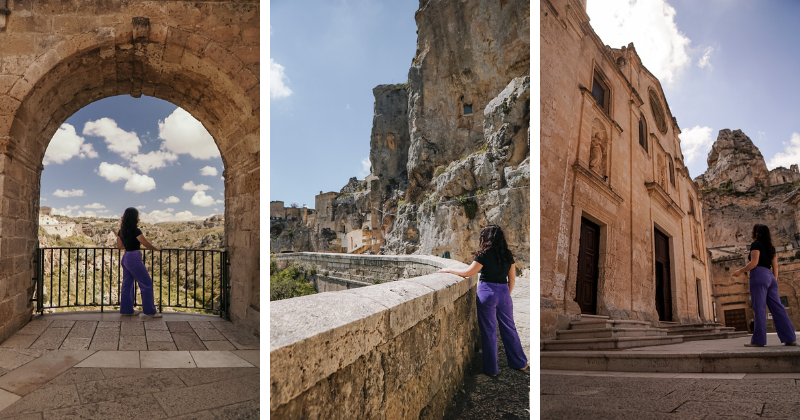 See what I mean, though? And the best part was once we descended into the madness that is Matera, the streets grew quiet and peaceful. I detached from the group and took whichever little path spoke to me. Much like Venice, Matera is a wanderer's dream.
Tip: Head back up to the top of Matera and find a restaurant that overlooks the city below. Lunch with a view.
Oh, but the day just got better and better. I'm a little bit in love with the Forgotten Region. The landscape was like something out of Lord of the Rings. Those endless rows of olive trees only got more impressive. The trunks, some skinny like the growing bodies of children; others thick, ancient and twisted, as if ready to burst with all they've seen over their long years. Some cracked and fracturing, withered like the hand of an old woman. Yet they are wise and practised, like the experienced hand of that old woman who has spent her life honing her craft. These trees are experts at producing the region's revered olives.
I couldn't get over their colour, either. That dusty grey. And the way they blanketed the landscape like a hazy storm cloud that had fallen from the sky and settled in with the green earth around it.
As the drive continued, I started to notice a pattern with all the small villages spotted across the countryside. Always set atop a small hill, commanding the high ground in every direction. For protection? To be closer to God? For the view alone?
And then the road changed. We scaled the mountainside, taking hairpin turn after hairpin turn, and I was exceedingly grateful for Andrea's expert driving. Sharp grey clusters of rocks jutted out of the earth in nearly every direction, like ancient demons bursting out of the core itself.
Then we arrived in 'the best place you've never heard of', also known as the Dolomites of the Lucania Region. Lucania was the historical region of Southern Italy, in case you were wondering.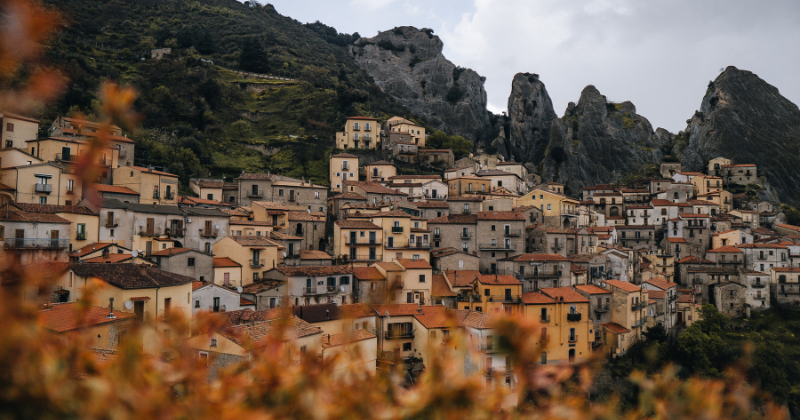 And remember before when I mentioned this whole region feels like Lord of the Rings? Suddenly, we truly did arrive in Middle Earth, also known as Castelmezzano. Squashed against the mountains was the colourful little village, backed by a silhouette of sheer mountain peaks that appear so ancient, I half expected a dragon to crawl over the top of the peaks at any moment, its claws piercing the stone with a crunch.
And as if Mother Nature couldn't help herself adding to the mysticism of it all, the skies opened up and poured rain and hail down on us.
Considering how incredible this place is, we were surprised by how quiet the little village was. We were the only people there who didn't already call it home. As we waited in the doorway of the chiesa for the rain to ease, I spotted an elderly nonna peeking out at us from her window. I gave her a little wave; all she did was stare back as if we weren't real. A good sign. Castelmezzano is a whispered secret between friends, and I feel safe enough sharing it with you.
Everyone agreed it was their favourite part of the trip so far. As surprising as it was beautiful. There were no rows and rows of tourist-trap shops. Instead, there was a little cafe with a man inside. Steve got himself a hot chocolate (his favourite), Moji had her coffee, and I found myself something akin to chocolate cake...but better.
We then said farewell to the Forgotten Region and crossed worlds into something far different, but equally mesmerising: the Campania Region. You might have heard of this one, it's far from forgotten. With ancient ruins and dramatic coastlines, this felt like the Italy we all know and love.
Day Five
If you've ever seen Under the Tuscan Sun, you'll understand why I was excited for today. When Frances goes to Positano to see her lover in a white dress, so casually yet glamorously asking the local policeman to take her up the hills on the back of his Vespa... what a moment.
I want to preface this by saying that on this tour, we normally would be getting the ferry between Sorrento, Positano, and Amalfi. Sadly, Positano's port was closed so we had to drive between the little seaside towns. And I must say... MADNESS. If you're considering doing the Amalfi Coast on your own self-drive, please make sure you are a very good driver. You know that cliché about bad Italian driving? That was today. But, as always, Andrea made us feel very safe and handled the drive like a champion.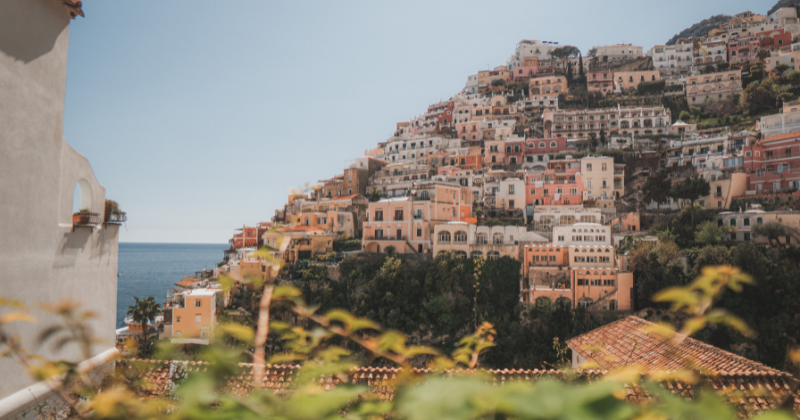 And what a drive it was. Especially from Positano to Amalfi... it was everything you'd dream the Amalfi Coast to be. Supposedly, far up in the north of Italy, it was snowing that day. But not here. Glorious sunshine and a gentle breeze as we overlooked the glistening water, as if this wasn't real life, but a page out of a romantic novel.
Even Positano, thriving and buzzing with people and energy, was just as you'd hope. It was alive with bright colours contrasting against the shine of the ocean. Sitting in a restaurant, having one of the best pizzas I'd had, gazing out at the people passing by and the lap of the water against the sand.
Day Six
Vesuvius. Everybody knows she has a bad temper. The last time she blew a gasket at humanity was during WWII. If that's not a sign from the earth, I don't know what is. And spotting her from afar, a small thrill tickled through my stomach. There she was. The most famous volcano on the planet. The cause of so much destruction; inspiring singers and writers for as long as I can remember.
Spread out at her base were thousands and thousands of people in their homes, their towns, and their jobs. If she were to blow tomorrow, even if everyone cleared out in time, the damage to infrastructure alone would be catastrophic.
"What are they all doing here?" I wondered. Thrill seekers, in my opinion. You couldn't pay me to live at the base of a volcano that is probably due to blow again in my lifetime.
Regardless, I climbed up her back and stood on her shoulder, gazing out at the view she gets to see every day. Her skin is rough, and she spews smoke every day, hinting at her brewing anger, but how could I pass this up?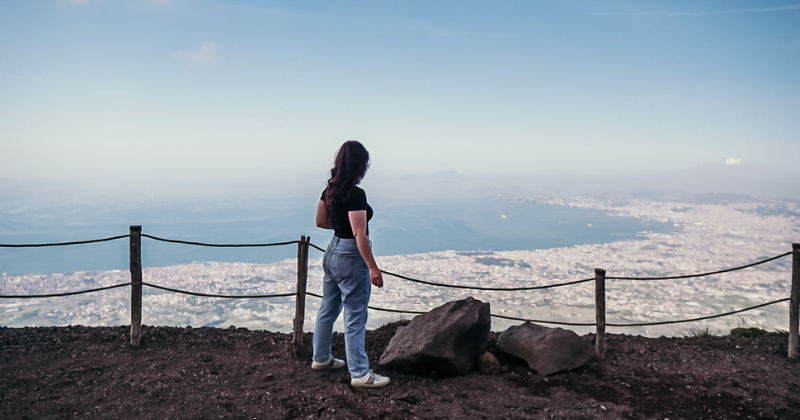 After lunch, we finished the tour with a visit to Pompeii. Seeing the result of Vesuvius' destruction so soon after such an intimate encounter with her was jarring, to say the least. Most know the story of Pompeii and Vesuvius. Many have visited the site where this famous town once stood, seen the ruined streets and empty homes, the long-dead bodies of those unlucky enough to get caught in Vesuvius' wrath and the remnants of their lives left behind.
It was a powerful way to end the tour. Perfect, in my opinion. We'd seen it all by this point. The mountains and valleys. The coastlines and seafronts. And now we're left with a little piece of Italy's history and tragedy. Every country has some. The way they learn from it, the way they share that knowledge, is part of what makes history so fascinating. So useful.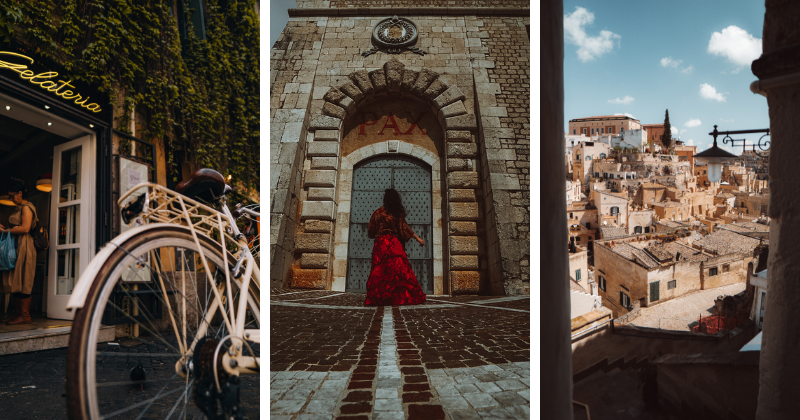 I'd been to Italy several times before this trip, but I can safely say this trip was unlike any of my previous. Being on tour, being with a local Italian guide, gave me an insight to this country I thought I knew. But how much could I truly know? We all know movies lie and embellish. We know tourism has its traps. But Italians know their country: the truths of it, the good and the bad, the reality behind the TV screen. And I'm so glad I got to see it.
If this sounds like your kind of tour, check out the 6-day Pompeii, the Amalfi Coast & Irresistible Italy tour that departs from Rome.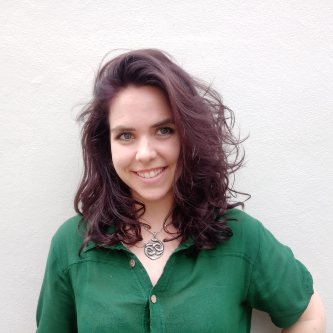 Bronwyn lives and breathes words. Before coming to work at Rabbie's, she spent 7 years in publishing and is a published author of YA fantasy books. Born and raised in Sydney, she was drawn to Scotland and affectionately calls it her 'soul home'. An avid traveller herself, Bronwyn's favourite places (so far) are Mongolia, Iceland, Morocco, and Scotland (of course). When she's not writing, she can be found exploring the Scottish Highlands with her camera, on the lookout for coos and men in kilts.