A Short History of Cumbernauld

Cumbernauld is a Scottish town in the postal region of Glasgow. I grew up in Cumbernauld and lived there for 18 years. But only recently have I uncovered the historic connections my hometown has.
Everyone raised in Cumbernauld is told that it's a new town, but after doing some research, it turns out Cumbernauld has its beginnings back in the Roman period.

Early History of This Scottish Town
Westerwood in Cumbernauld was the site of a Roman fort which was connected to the Antonine Wall, the Roman Empire's most northerly frontier. One of the most interesting discoveries found by archaeologists in the region was a pit full of skeleton hands. Historians believe that this was a tradition adopted by a tribe who joined the Roman Empire. They would cut off the hands of their enemies as punishment or for trophies.
Medieval History of Cumbernauld
The lands around Cumbernauld were owned by the Comyns who were a powerful noble family. They were granted the land by Alexander II of Scotland. The Comyns lost their lands after they were forfeited by Robert the Bruce and given to the Fleming family. This was because the Fleming family supported Robert the Bruce and his wars against England.

Anyone who has watched the recent film, Outlaw King, will know that Robert the Bruce stabbed John Comyn in Greyfriars Church on the Scottish Borders. It was a desperate act spurred by Comyn's refusal to support Robert's treason against the King of England. What you may not know is that it was Fleming who cut off the head of John Comyn, to provide proof that he was indeed dead.
The War of the Three Kingdoms
Oliver Cromwell eventually came to Scotland with his New Model Army to fight the Royalists supporting Charles I of England, Scotland and Ireland. Cromwell sent his general, General Monck, to Cumbernauld Castle with the intention of levelling it. Monck destroyed the castle, but part of its legacy lives on. The stonework of the current Cumbernauld House mansion (standing on the same site) was salvaged from the castle ruins.
How is Mary Queen of Scots Connected to Cumbernauld?
Mary Queen of Scots visited Cumbernauld Castle and she reportedly planted a sweet chestnut tree in the grounds in 1561. Her green thumb stretched even further to Castlecary Castle, where she is also said to have planted a yew tree which still grows there to this day. According to local history, while staying at the castle, one of the castle floors collapsed, killing some servants. Mary took it upon herself to go down to the local village to give her sympathies and condolences to their families.

Unfortunately, Mary's sensitivity towards trees and the common folk did not extend to certain types of animals. When she visited Cumbernauld Castle there were still wild Scottish ox or white cattle roaming in the woods around Cumbernauld. Hunting these beasts was a favourite pastime for the Royals..

Cumbernauld House
Cumbernauld House was built and designed by the famous Scottish architect William Adam. It was constructed in 1731 near the old Castle. One of its claims to fame is that a retreating Jacobite army was billeted there for a night. Another story that isn't typically shared is that of the dragoons who accidentally burned down the last remaining part of the castle, the stables, in 1746. Not much regard for preservation, that lot. The surrounding area of Cumbernauld Glen, however, is still largely intact and is used by the locals today as a nice picnic area and dog walking spot. A must-visit if wanting to retreat to a quieter spot.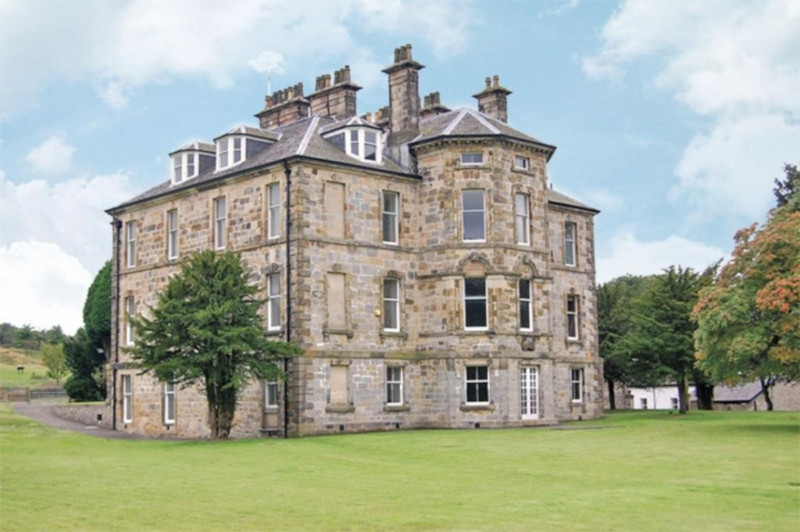 New Town History
Now for Cumbernauld's slightly shadier, not-so-long-ago past. Cumbernauld was designated a new town on the 9th December 1955. It was built in response to the overcrowding in Glasgow. Cumbernauld is the clearest example of a modernist new town vision in the United Kingdom. However, as time progressed the dream started to fade. Regretfully, due to a lack of investment and the poor business acumen of the Cumbernauld Development Corporation, the town did not achieve what was originally hoped for.

Cumbernauld in Fame
Cumbernauld has been immortalised in Bill Forsyth's movie Gregory's Girl, which tells the story of a young boy coming of age and falling in love. It was filmed in and around Cumbernauld with one of the local high schools featuring in it as well. In recent years, near the local airport, film studios have popped up in the industrial park of Wardpark. These film studios have been used for Outlander and Avengers: Infinity War. In fact, Cumbernauld Glen was also used in some of the scenes in the latest season of Outlander. Recreate the dramatic scenes for yourself by booking an Outlander tour with Rabbie's.
Local Legends and Myths
One of my personal favourite legends of Cumbernauld involves a secret tunnel between the castle and the local pub. The tunnel in question is believed to be an escape route that ran from the mansion to the Spur Hotel Pub, which was located a mile away in the village. There is no evidence of this, and there has never been an investigation to try and locate the entrances. However, this is one story I remember being told regularly about that area. Plus, it makes sense to have an escape route from your castle in troublesome times. And what better place to end up than at the bar with a pint?

Speaking of myths and legends in the area, the town just next to Cumbernauld is called Bonnybridge and is the UFO capital of Scotland. So much paranormal activity was reported in the area that NASA sent scientists to investigate the claims.
Cumbernauld has its ghost stories too. Here's one that's been told for decades.

Two men were walking home from the pub in Cumbernauld village via Cumbernauld Glen. As they were walking through the glen, they met a man in a trench coat. He stopped them and asked them for a light for his cigarette. But as they went to give him the lighter, one of them looked down and saw that the man had no feet. He had the legs of a deer and hooves stood where his shoes should have been. The men fled in terror, believing they had encountered the devil himself.

I remember my Dad's friend telling me one night he was walking home late via the glen and he saw people dancing around a fire in a ceremonial way. He didn't stick around too long to find out what was going on. There were always stories of devil worshippers down in the woods when I was younger. So, who knows?
Visiting Cumbernauld
To reach the centre of Cumbernauld, you have the option of train, bus or car.

By train - There are two railway stations, Cumbernauld (Carbrain) Station or Croy Station. Cumbernauld is the most central choice. If you are travelling from Glasgow, the direct route can take up to 45 minutes (24 minutes if choosing the faster train) to travel the 12 mile (19km) distance.
By bus - Reaching Cumbernauld, from Glasgow, by bus is easy. With a route that takes around 21 minutes, you can arrive in the centre before lunch time. Simply book your spot, departing from Glasgow, Buchanan Bus Station.
By car - Just 15 miles NorthEast of Glasgow, you can reach Cumbernauld via car in around 19 minutes (pending traffic). The quickest route from Glasgow is via the M80.

Today you can still go to Cumbernauld Park. There is a beautiful nature walk that takes you past the Mansion, the old Doocot, the site of the old Comyn Castle and the parts where Outlander was filmed. It's a nice place to visit on a sunny day and have a picnic. Just remember that if you venture there after nightfall, you could risk an encounter with the horned beast himself.

You can also visit nearby Bonnybridge where remains of the Antonine Wall are, with the bonus of an old Roman Fort you can explore called Rough Castle. It links onto a path that leads you to the spectacular feature of human engineering, the Falkirk Wheel.

---
Dave is one of our finest driver-guides. He's obsessed with the myths and legends of Scotland.