Where Are Britain's Tallest Mountains?

Have you ever wondered where the tallest mountains in the United Kingdom are located? Well if you love to look down at the world, enjoy peaceful nature, and conquer your limits; you should add marvelling at British mountains to your bucket list.
Let us take you on a tour of some of the most spectacular regions and jaw-dropping summits in Britain.
The Lake District, England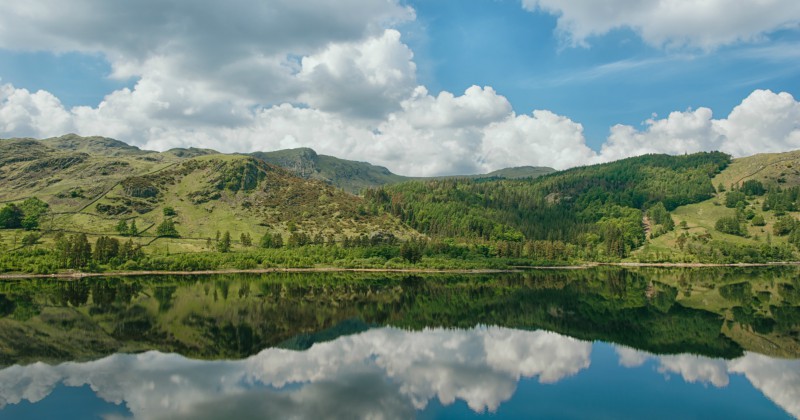 England's tallest mountain stands proudly in the heart of the Lake District National Park. This delightful area in northwest England is a gem and has been awarded UNESCO World Heritage Status.
It's a harmonious landscape where monumental mountains are mirrored in tranquil lakes, and where bustling, charming towns are nestled in spectacular valleys. But you'll not be the first person to admire this area; it's been praised by poets, immortalised in paintings, and photographed by hundreds of people. If you want to discover the beauty of England's tallest mountain and its surroundings for yourself, you can book our Lake District tour that departs from Edinburgh.
England's Tallest Mountain Profile: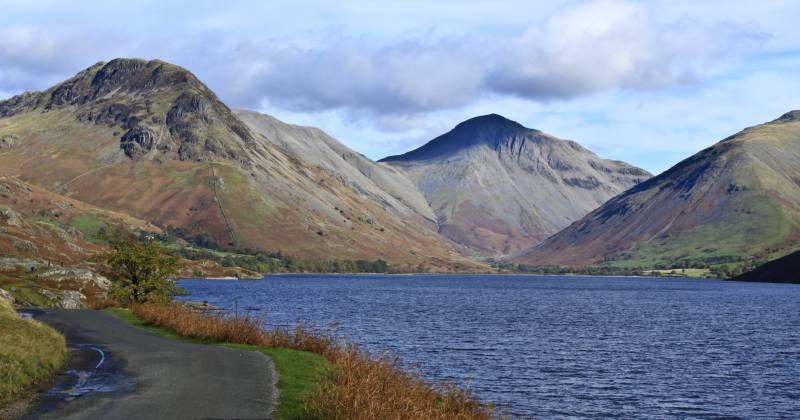 Name: Scafell Pike, nickname 'The Roof of England'
Location: Lake District National Park, by Wastwater Lake
Height: 3,209 feet or 978 metres
---
The name of England's highest peak may seem odd to you. And you're totally right, because the name Scafell Pike is influenced by Old Norse. 'Pike' means peak and 'fell' means mountain - much easier, right?
If you choose to scale this tall mountain, the 'Roof of England' will reward you with breath-taking views across dramatic valleys and Wastwater, England's deepest lake. Once you've seen all the rugged crags, cascading streams, and peaceful lakes; you'll understand why so many poets and writers have searched for inspiration in the Lake District.
Your perfect moment here requires one more thing: Kendal Mint Cake. A local energy booster which has been taken on many Everest expeditions. Be sure to take one with you when planning to climb one of the UK's tallest mountains.
Snowdonia National Park, Wales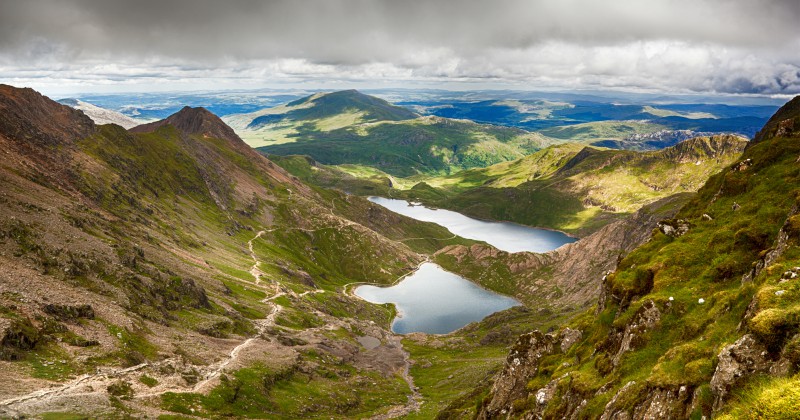 Snowdon, the tallest mountain of Wales, rules over Snowdonia National Park in the North-West of the country. This wild region boasts the best of both worlds: rugged mountains and spectacular coasts. It takes your breath away with the beauty of pristine waterfalls, grassy slopes, and quaint villages steeped in history. When you come here, be prepared to dive into the world of legendary warriors, mythical giants, and monsters who shaped the landscape and identity of this land.
Experience the wonder in real time by embarking on one of our Wales tours.
Wales's Tallest Mountain Profile: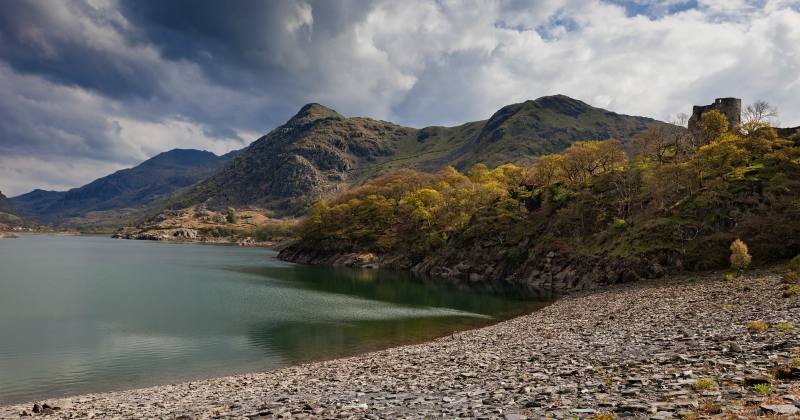 Name: Snowdon
Location: Snowdonia National Park, Gwynedd
Height: 3,560 feet or 1,085 metres
---
The tallest mountain in Wales, Snowdon, is steeped in myths and stories. A legend has it that King Arthur killed the fearsome giant, Rhitta Gawr, here. His body is said to be hidden under huge stones at the summit of the mountain. This is how Snowdon got its Welsh name: Yr Wyddfa - 'the tumulus' or 'the barrow' which may refer to Rhitta's mound of rocks.
Snowdon will surprise you with a selection of routes, an easy ascent, and a café! Yes, at the top of one of the UK's tallest mountains, you can reinvigorate over a cup of tea or a mug of soup and use your binoculars to admire the beauty of one of the most extensive views of the British Isles. You'll fall in love with a patchwork of grey rocks, blue lakes, and white paths spreading in front of you. Relish the moment while you enjoy the crisp Welsh air and search for fairies. The best thing is, if you're tired, you can take a train ride back from the top of the mountain.
The Highlands, Scotland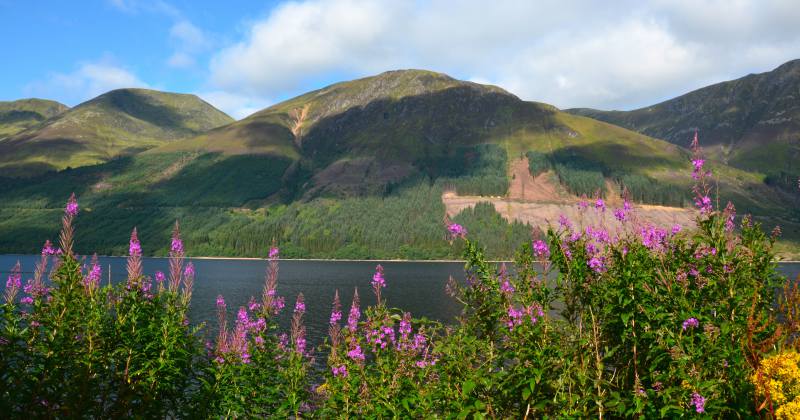 The tallest mountain in Scotland soars over the Highlands. This weathered landscape promises jaw-dropping views over mysterious lochs with crystal-clear waters and shady glens echoing past battles. Here, you can feel how unpredictable and untameable nature is.
Delve into the landscape on our award-winning Highland tours.
Scotland's Tallest Mountain Profile: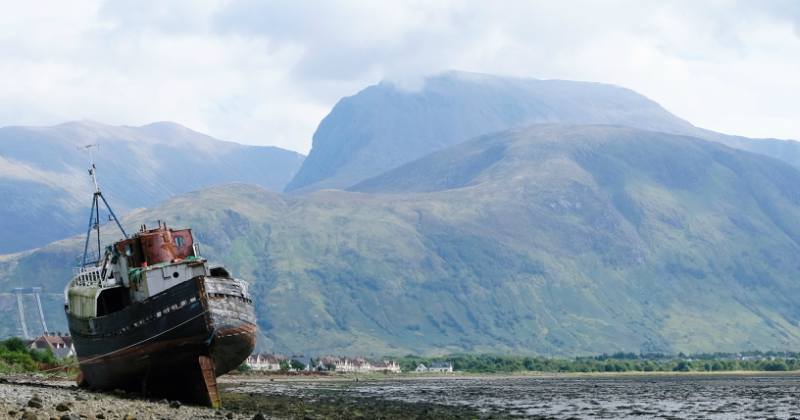 Name: Ben Nevis
Location: North West Highlands, near Fort William
Height: 4,413 feet or 1,345 metres
---
The tallest mountain in Scotland is the king of the Great British mountains. You can feel it when you approach this ancient giant. The name 'Ben Nevis' can be translated from the ancient Gaelic language in two ways: 'mountain with its head in the clouds' or 'venomous mountain'. Once you've climbed it, you can choose your own translation.
Bagging 'the Ben' is likely to be on your Scottish bucket list, and whether you're an ardent hiker or a newbie, you'll find a path that suits you. The challenging journey to the top will reward you with magnificent views of deep glens, forbidding crags, and glistening lochs and lochans. And if the weather is on your side, you can see as far as Northern Ireland.
This experience may inspire you to start bagging 'Munros', Scottish mountains over 3,000 ft (914.4m), named after Sir Hugh T Munro who catalogued them. Now that you've ticked the highest one off the list, you've still got 281 to go. Enjoy!
Continue the Adventures with Rabbie's Tours
If you've begun your adventures of climbing the tallest mountains within the United Kingdom, then reward yourself with a small group tour. Choose between Scotland, England, Ireland or Wales and then narrow down the area or landmarks you'd like to see. Once booked, climb aboard our 16 seat mini coaches and listen to our driver-guides share their knowledge. You'll be sure to come away with an interesting tale or two to tell your friends! Book now or sign up to our newsletter to stay up to date with everything our trips have to offer.