Where Are the Best Outlander Locations in Edinburgh?

You never know where Jamie and Claire will end up next.
The charming Highlander and head-strong time traveller may be on the other side of the world when you read this.
But luckily, you don't have to venture into the unknown to immerse yourself in the world of Outlander.
You can simply come to stunning Edinburgh.
The Scottish capital is full of Jacobite history and filming locations.
I've created a special guide with a map to help you explore all the interesting places. It'll make your time travelling much easier.
So, pack your essentials and follow Jamie and Claire to discover the best Outlander locations in Edinburgh.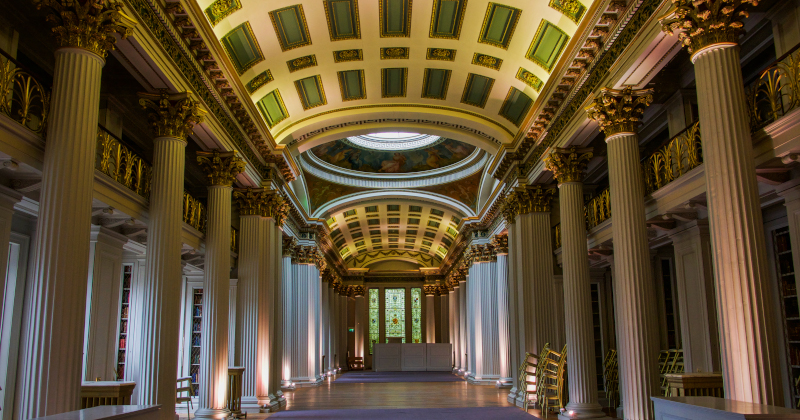 1. Signet Library
Believe it or not but the impressive interiors of this Georgian building starred as … the Governor's Jamaican mansion in season three.
The producers transformed the Upper Library into a glamorous ballroom. It's a night full of unexpected meetings and events which complicate the entangled stories of the characters. And it's also the place where Jamie and Claire share one our favourite intimate moments.
Interestingly, the Signet Library has another Outlander connection. This grand 19th-century building belongs to the Writers to the Signet, the law society Ned Gowan was a member of.
You can get an on-set experience in the Library's grand hall and visit the Commissioners' room which was turned into Lord John's private office. Remember to celebrate your visit with a glass of ginger ale which was used during the filming. Who knows, maybe you'll get the same glass Sam Heughan or Caitriona Balfe used.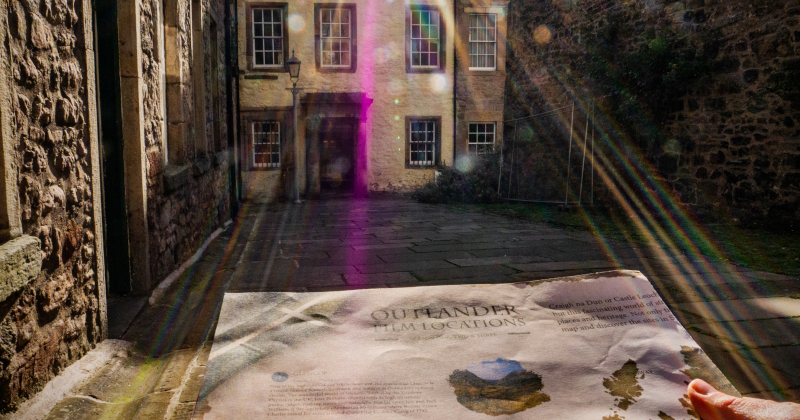 2. Tweeddale Court
Tweeddale Court is an oasis of calmness off the Royal Mile. But the skilful Outlander producers turned this place into a bustling market full of people, stalls and goods.
It's here where Claire reunites with Fergus, the French orphan boy who is like a son to Jamie. This emotional meeting poses difficult questions about Claire and Fergus' past.
Today, this alley doesn't look like a vibrant 18th-century market at all. But it's an interesting location with a rich history. When you explore it, make sure to admire the quaint Tweeddale House that dates to the 16th century.
As with all closes hidden along the Royal Mile, Tweeddale Court is easily accessible. It's tucked away from the High Street, just a stone's throw away from the World's End pub.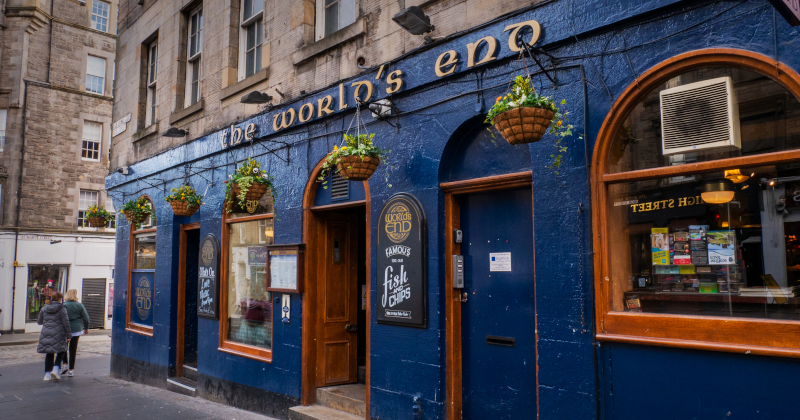 3. World's End Pub
Exploring the Royal Mile is not complete without visiting an old tavern. And the best place for an Outlander themed drink is the iconic World's End.
When Edinburgh was a medieval walled city, this tavern was one of the last buildings within the city boundaries. You had to pay to leave and enter the capital. And if you couldn't afford it, this pub was where Edinburgh ended for you. It was tough, but hey, if the end of the world was full of traditional Scottish food, whisky and local beer; it wasn't that bad.
You'll remember that Jamie rescues his associate, Mr Willoughby, from getting into trouble in this pub. This unsavoury establishment is also where Jamie secretly meets to keep his illegal smuggling business running.
When visiting the World's End, you'll realise the dimly-lit interior you saw in Season was just a set. Instead of meeting shady clientele, you'll be greeted by friendly staff who are happy to regale you with local stories.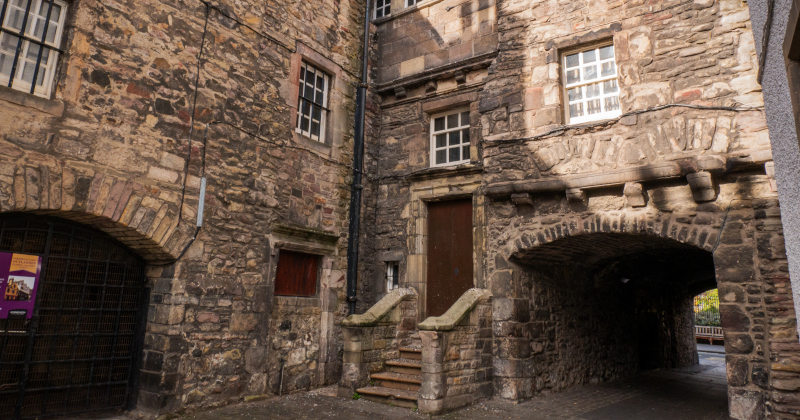 4. Bakehouse Close
This is possibly the most important location of season three for all Outlander fans. This wee alley starred as Carfax Close where Jamie ran a print shop under the false name of Alexander Malcolm.
With handkerchiefs at the ready and pounding hearts, we followed Claire down this alley to find Jamie after 20 years of separation. This is where a new emotional chapter of the Outlander story begins.
We don't want to dampen your spirits, but you won't find Malcolm's print shop at Bakehouse Close. But you'll feel as if you stepped back in time once you've walked through the dark opening of the alley. The solid stone walls of the well-preserved Huntly House give you a good idea of what 17th-century Edinburgh was like.
Adding this place to your private Outlander trail is easy. You can reach it on foot while exploring the Canongate section of the Royal Mile. The entrance to this alley is adjacent to the Museum of Edinburgh.
5. Palace of Holyrood
Mark me, this season two Outlander stop on the Royal Mile is a must-see sight in Edinburgh. The majestic palace served for centuries as the residence of the Kings and Queens of Scotland. And even today, it's where the British Queen stays in the summer when she visits Scotland.
In the Outlander universe, Jamie and Claire stayed in the palace with Bonnie Prince Charlie as his trusted supporters. But instead of enjoying lavish balls, they unceasingly tried to stop the slaughter at Culloden More. What happened next is history.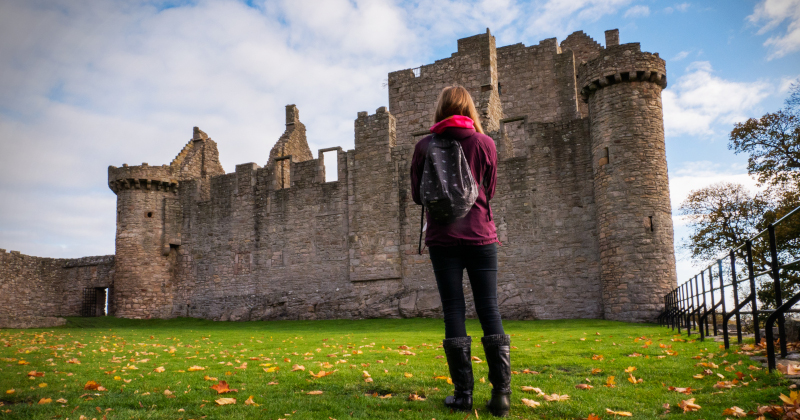 6. Craigmillar Castle
Gloomy, cold, and infested with rats. These are the most suitable words for Craigmillar Castle after the Outlander crew turned it into Ardsmuir prison. It's where Jamie gets imprisoned with other Highland Jacobites and meets Lord John Grey in Season three. These are bleak years full of hard labour and living in deprived conditions. But as always, Jamie is ready to face the challenge.
Whether you love Outlander or not, you must visit Craigmillar Castle. This beautiful ruin has a fascinating history and is connected to Mary Queen of Scots. It's also quickly becoming a star of the small screen. The stronghold appears in the new Netflix production The Outlaw King. Our advice: take your autograph notepad, you never know who can be filming there next.
Edinburgh Outlander Map
Going further afield
If you still crave more Outlander locations, jump on Rabbie's Outlander tours of Scotland.
On their trips, you can delve into the heart of the Highlands, explore the quaint houses and villages, and pay your respects to the Highlanders who fell on Culloden Moor.
So, follow in the footsteps of Jamie and Claire and discover the land, the spirit and the events that influenced this thrilling time-travel romance.
Kasia works for Rabbie's and loves everything Outlander. When she's not writing or looking after Rabbie's website, she enjoys exploring Scottish castles and roaming the Highlands.