12 Reasons to Visit the Dingle Peninsula in Ireland

Located in the rugged part of Ireland, visiting the Dingle Peninsula is a must for any traveller. This is one of the most scenic drives in the country that will surprise you with jagged coast, ancient sites, and food bursting with unique flavours.
With so many stunning vistas and hidden gems, you can feel spoilt for choice. So we've created a list of the twelve best experiences to help you discover the riches of this wild corner of the Emerald Isle.
The 12 reasons why you should visit the Dingle Peninsula
Touring the Dingle Peninsula, Ireland, reveals many wonders to its audience. From hidden beaches to the rich heritage of the area, here are the top 12 reasons you should add visiting the Dingle Peninsula to your next Irish visit.
1. Explore beautiful beaches.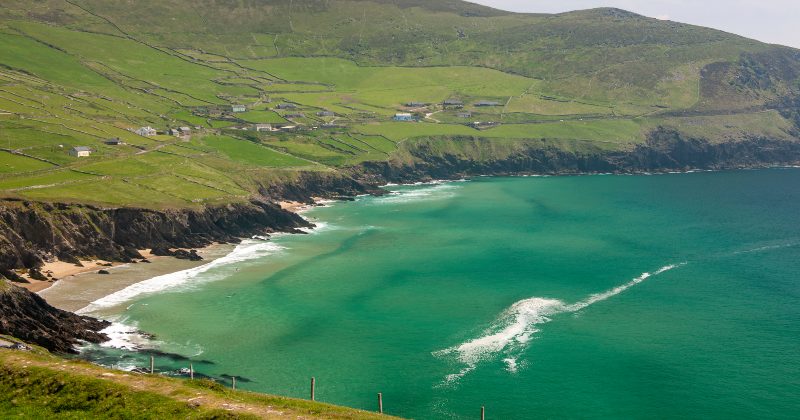 Touring Ireland you will see Mother Nature blessed the Dingle Peninsula with the best beaches on the Emerald Isle. From small coves tucked between rugged cliffs to wide beaches that stretch for miles, you'll find a place that suits your mood.
If you want to wrap yourself in pure wilderness, visit Ireland's westernmost gem, Coumeenole Beach. High cliffs protect this little cove from the wind, and emerald water laps the golden sand. This is a place of raw beauty and has been described by National Geographic as one of the most stunning places on earth.
If you fancy trying watersports or walking on strands of golden sand, head to Inch Beach. Framed by undulating sand dunes and offering breathtaking views out of Dingle Bay, this wide beach is one of the most beloved destinations in Ireland.
2. Sample Irish artisan cheese in the Little Cheese Shop.


View this post on Instagram
A post shared by Elizabeth Blau (@elizabethblau) on
A treasure trove of locally made cheese. This tiny shop in the town of Dingle is packed with aromatic cheeses made by Maja Binder, an acclaimed artisan. Inspired by the region, she created a range of cheese that is as original as it is delicious.
From seaweed-flavoured blocks to the Dingle Truffle cheese infused with pepper and garlic, all the produce is made traditionally.
When visiting Dingle, pop in, try some samples, and find out what all the fuss is about.
3.Tour Dingle Distillery.
Grab your whiskey glass and savour 'uisce beatha', the water of life, in Dingle. Established in 2012, this artisan Dingle distillery revived the tradition of independent whiskey distilling in Ireland.
Tour their facility and try award-winning whiskey with notes of marzipan and almonds, or subtle hints of citrus and vanilla. And if you prefer a different tipple, try their gin infused with Irish botanicals or high-quality vodka.
4. Catch the sight of Dingle's Famous Resident.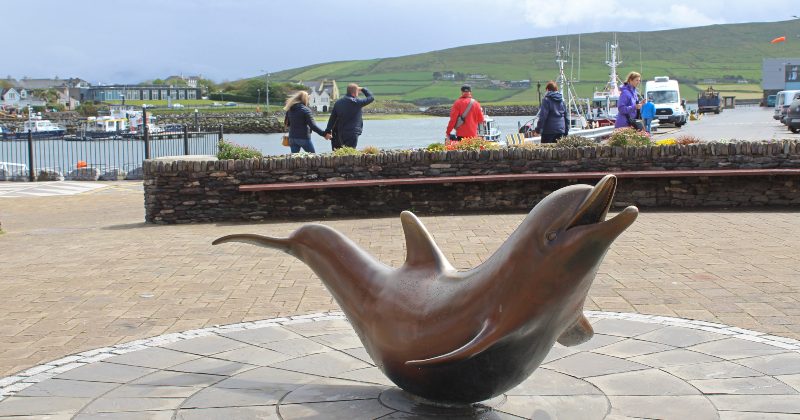 The Dingle's famous resident wins the title of the most charming inhabitant of the area, beating the likes of Michael Fassbender and Colin Farrell. He's playful, full of energy, and... he's a dolphin.
Fungie, an Atlantic bottlenose dolphin, was first spotted off the coast of Dingle in 1983. And since then he's become a legendary local whose frolics have attracted thousands of visitors.
He's become one of the main tourist magnets for the Dingle and several cruise companies offer a boat ride to see him. But remember, no matter how friendly towards people he is, he's still a wild animal and he's best left alone. So, swap a cruise for a pair of binoculars and try to spot Fungie from the shore. Alternatively get a selfie with his statue in the harbour.
5. Spot the Blasket Islands.
The Blasket Islands have fascinated people for hundreds of years. Surrounded by reefs and adorned with grand cliffs, these six islands were home to a remote, traditional Irish community. When life became too hard, the inhabitants left their houses and moved to the Dingle Peninsula in 1953.
Remember to stop and admire the Blaskets Islands and ponder over the story of hardy people as you explore the area.
6. Meet the famous duo; the Dog and the Donkey.
It's the locals in Ireland who make your journey special. And bumping into these guys is certainly a memorable moment.
The Dog and the Donkey like to pose for photos and hang out with a busker by Dingle Harbour. So, if you're nearby, keep your camera at the ready because you never know what kind of stunts they'll get up to.
7. Buy a hammer and a pint at Foxy John's.
The Irish are practical but also love socialising over a pint or two. So, in Dingle, they've come up with the best idea ever: a pub that's also a hardware store and a bike rental place.
Foxy John's provides a space where all DIY-lovers can get their supplies and share tips over a drink. How convenient is that?
This pub is so great, even Mark Hamill and the rest of the Star Wars crew had a party here after filming in the local area.
8. Taste the best seafood ever.
The North Atlantic Ocean boasts superb seafood, and Dingle is the best place to try it. From quaint eateries to elegant venues overlooking the harbour, every restaurant serves meals inspired by the catch of the day. Discover more Irish food you can try when visiting Dingle and neighbouring towns.
9. Feel like you're in a galaxy far, far away.
The rugged coast, lush greenery, and wind-swept landscapes are out of this world. And that's why the Dingle Peninsula was chosen as Luke Skywalker's hideout in Star Wars, Episode VIII, The Last Jedi.
The rocky island of Skellig Michael is a designated UNESCO heritage site and it appeared briefly in the film. A similar location was needed, and Sybil and Dunmore Head in the Dingle Peninsula stepped in. The replica beehive huts were built, Thala siren, and X-wing were CGI'd and Rey started her Jedi training.
The set was taken down after filming, but the stunning scenery makes it easy to imagine you're on remote Ahch-To.
10. Visit ancient Beehive Huts.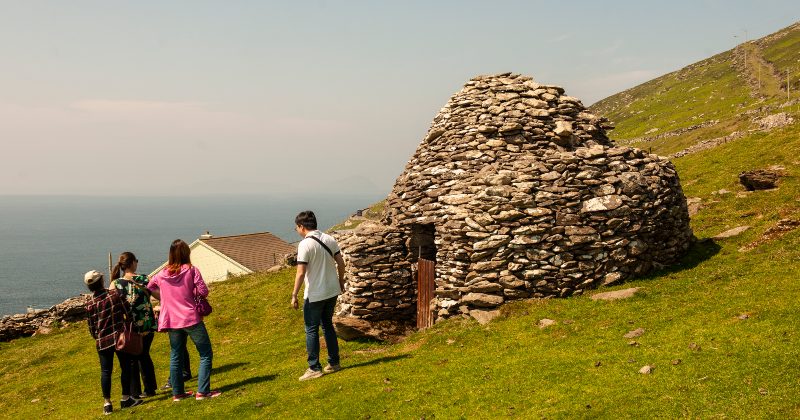 These unique, time-worn houses dotted along the Dingle Peninsula are a testament to the skills of mediaeval stonemasons. There was no mortar, so they built these cone-shaped huts by stacking stones with fastidious precision. When you visit, admire their craft and ponder over the monks and people who lived here more than 1,000 years ago.
11. Try ice cream with an Irish twist.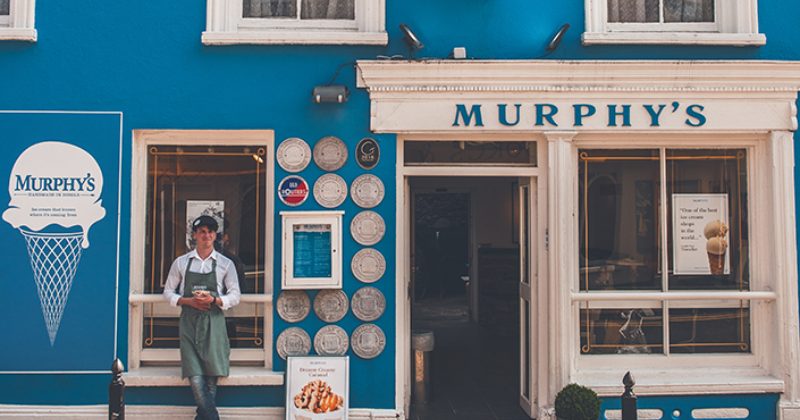 Sean and Kieran Murphy opened Murphy's Ice Cream Shop in Dingle with the mission of making the best frozen dessert in the world. And we think they've succeeded, because their range of flavours is heavenly.
Visit this legendary institution and sample ice cream that tastes of Dingle Sea Salt, Guinness, Irish Coffee, Dingle Gin, and Irish Brown Bread.
12. Marvel at the Gallarus Oratory.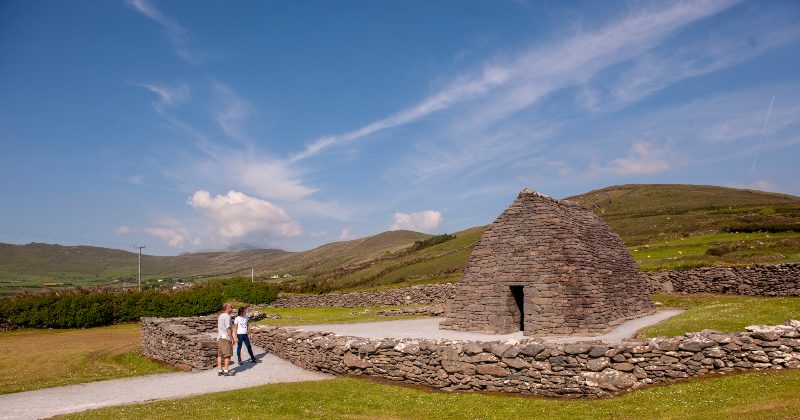 This curious building looks like an upturned boat left to the mercy of fierce storms from the Atlantic Ocean. Its origins are shrouded in mystery. Some say it was an early Christian church or a chapel; others claim it was a shelter for pilgrims or a burial place. And we can only assume it was built sometime between the 7th and 12th century.
One thing we know for sure is that you need to visit this ancient gem on the Dingle Peninsula. It's made of carefully-shaped rocks, stacked together in a way that stops rain from pouring inside. This technique is so efficient that even after more than 1,000 years, the building is nearly waterproof.
Experience the wonder of the Dingle Peninsula for yourself
Feel inspired to visit the Dingle Peninsula for yourself? Rabbie's provides small group tours departing from Dublin to this breathtaking location. Here you can marvel at the culture, history and landscape outlined above. With all our tours, our friendly and knowledgeable guides are on hand to provide insights and stories from the locations you visit. Meaning you not only experience the sights, but come away feeling like a local. Book today or signup to our newsletter to receive more inspiring locations to add to your travel list.