31 Irish Food and Drink You Must Try

Nothing says Ireland like wild coasts, lush green pastures, and vibrant towns. This dazzling little island is packed with spectacular sights but it also bursts with flavours. From the fresh seafood on the Wild Atlantic Way and high-quality lamb in Connemara, to creamy ice cream in Dingle and frothy Guinness pints in Dublin; the Emerald Isle is a foodie destination to be reckoned with.
We prepared a list of 31 specialities that celebrate the traditional and contemporary Irish cuisine. So bite into the fascinating world of flavours, quirky traditions, and passionate producers.
1. Colcannon


View this post on Instagram
A post shared by Cookie and Kate (@cookieandkate) on
This hearty Irish dish is a mix of potatoes, cabbage or kale, a slab of butter, and spring onions. It's as simple as it is epic, and there's even a song about it.
But colcannon is much more than a plate of ultimate comfort food; it's also a way of foretelling your future. The Irish often serve it for Halloween and on that day, they hide some symbolic items in it; a coin, a button or a thimble and a plain gold ring. If you find a coin in your portion, you'll get rich. If you're the unlucky one to get a thimble or a button, you'll never marry. And if your portion has a golden ring in it, start planning the wedding, because you'll make it to the altar within a year.
2. Champ
Potatoes are still a staple in the Irish diet. They are filling, available in every shop, and you can make them as fancy or as simple as you want.
Champ is an easy and yummy dish which is a great alternative to plain boring mashed potatoes. You just need to warm chopped onions in milk until they infuse it a bit, add everything to mashed spuds and crown with a knob of Irish butter. Pure bliss!
3. Irish Stew


View this post on Instagram
A post shared by Simply Recipes (@simplyrecipes) on
Nothing will keep you as warm and happy inside as legendary Irish stew. This one-pot wonder is traditionally made with mutton/lamb or beef, vegetables (like potatoes, onions and carrots) and a lot of patience.
If you're looking for an alternative to this classic, try some beef stew with Guinness. Just for the craic.*
*The closest equivalent in English will be 'fun'.
4. Lamb
Ireland is full of lush green pastures which are perfect for sheep-breeding. So, it's not a surprise that Irish lamb is known as a delicacy, especially if it comes from Connemara and County Kerry. It's used in hearty Irish stews or served as shanks with potatoes and mint sauce. It's not an everyday dish so enjoy every morsel.
5. Full Irish Breakfast
Ireland is known for veeeryyy filling breakfast. Such a morning feast is perfect if you have a busy day ahead, or you've had a late night working on your jigs.
Known as 'fried breakfast' or 'Ulster fry', the full Irish breakfast is a challenge for any foodie. Unbuckle your belt in advance because this dish includes some (or all of the following): bacon, sausages, baked beans, eggs, mushrooms, black and/or white pudding, grilled tomatoes and leftover potatoes made into a hash. Add some Irish soda bread, fluffy butter, marmalade and a lot of tea or coffee and that's your day's intake of calories in one meal.
And if you're in a rush, you can always opt for a breakfast roll (again, praised in a song) or a breakfast bap. Just squeeze as many ingredients of the full Irish breakfast into a soft bun or baguette as possible and tuck in!
6. Potato Farl/Potato Cake/Potato Bread


View this post on Instagram
A post shared by Feeding Little Loaves (@feedinglittleloaves) on
The Irish can make more things out of potatoes than you've had dinners in your life. So, while in Ireland you have to try another potato invention: potato bread/potato cake/potato farl. The name may vary depending on the region, but the philosophy is the same. You take some leftover mashed potatoes, creamy butter, and flour and turn it into something that looks like a quadrant-shaped flatbread. It's simple, yummy and ideal for breakfast or lunch.
7. Black and White Pudding
Some of the best recipes are the result of people's creativity and limited resources, just like black and white pudding, the stars of the full Irish breakfast.
The black pudding is made of pork meat, fat and blood mixed with barley, suet, oatmeal and some herbs and spices. The ingredients list may sound a bit scary, but believe us, it's delicious.
If you feel like eating something less adventurous, try white pudding which doesn't contain blood.
8. Boxty


View this post on Instagram
A post shared by Christina Conte #???????? #???????????????????????????? (@christinascucina) on
Another incarnation of the most versatile vegetable in Ireland. Known as potato dumpling or potato pancake, boxty can be prepared in many ways and can be teamed with almost anything. That's what makes it the ultimate Irish snack.
9. Battered Sausage
Everything tastes better when you cover it in batter and deep fry, right? Even a sausage. So, if you want to understand the Irish passion for frying in batter, visit a local chipper (a fish and chips shop) and get a deep-fried sausage. It's a perfect bite on a night out or a hangover cure.
10. Fish Supper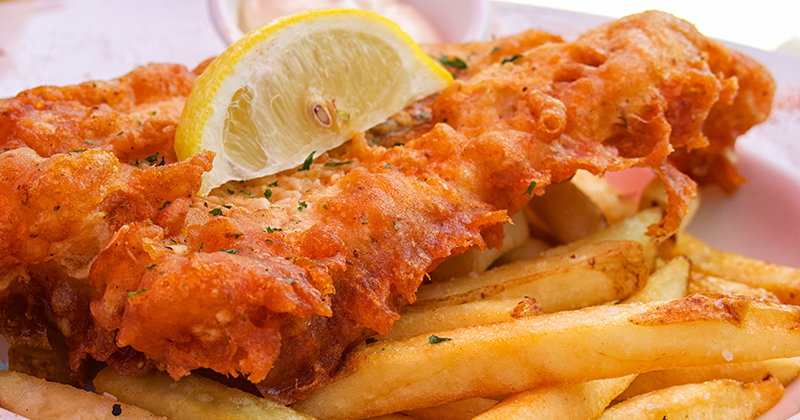 Just like in the UK, fish supper or fish and chips is the old-time favourite you can find in Irish pubs and local takeaways (chippers). Its secret lies in fresh fish, high quality potatoes and a perfect batter mix.
Deep fried so the dough is crunchy and the fish flaky, drizzled with cider vinegar, it tastes best when you eat it in a harbour.
11. Salmon
The Irish salmon is top-notch and should be high on your foodie list. The most common way to enjoy it is simply smoked, either on bread, with scrambled egg, or on its own with a side salad. With the oak-smoked, beechwood, and turf-smoked variety, you're going to be spoilt for choice on your trip to Ireland.
12. Shellfish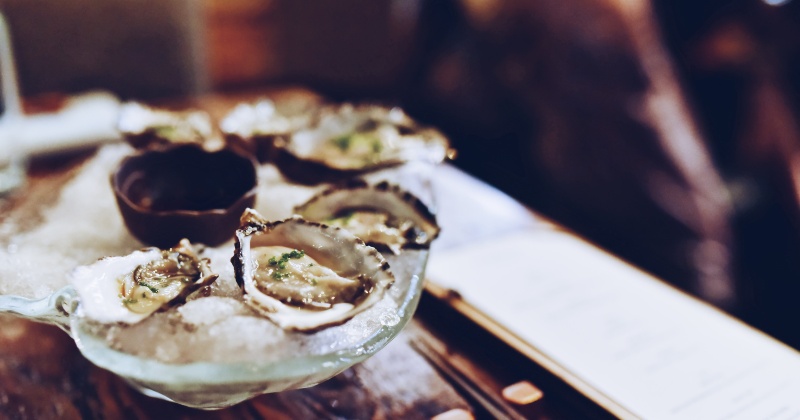 The perk of being on an island is access to a variety of fresh shellfish. There are Connemara clams, prawns in Dublin Bay, and Molly Malone's famous cockles and mussels. But it gets even better. The West Coast oysters have their own festival in Galway in September. This gourmet extravaganza is the oldest oyster festival in the world and is all about celebrating oyster-inspired dishes.
Seafood festival or not, Galway is the best place to get some oysters on ice and a pint of Guinness with the locals. Visit this city with us and discover its lively pubs and excellent restaurants.
13. Seafood Chowder
Seafood chowder used to be seen as a "poor man's food". But things have changed, and Ireland has built a reputation as a great seafood destination. Today the country proudly serves seafood chowder packed with the bounty of the sea like: prawns, lobsters, mussels, clams, haddock, salmon, potatoes, butter, and loads of cream. It tastes best in a cosy pub somewhere along the Wild Atlantic Way.
You can enjoy this legendary route and all its tasty heritage on one of our tours.
14. Leek and Potato Soup
Potatoes and leeks are staple ingredients in Irish cooking. And they can always be turned into something tasty. This comforting soup is an ideal option for vegetarians and it makes you feel warm and fuzzy inside.
15. Boiled Cabbage and Bacon


View this post on Instagram
A post shared by Simon Lambert & Sons (@slambertsons) on

In Irish cuisine, less is more. This land abounds in high quality meat and vegetables, so no wonder a simple dish of bacon and cabbage tastes like nowhere else in the world.
16. Slow Cooked Corned Beef and Cabbage
You could have noticed by now that food in Ireland is simple, comforting and trustworthy. And this dish is the same. It doesn't need any ingredients from that fancy grocery shop on the other side of the town. It's just simply a corned beef brisket, cabbage, and some other veggies slowly cooked to perfection. Good luck finishing all of it in one go!
17. Bread


View this post on Instagram
A post shared by Przepisy z 7 składników! (@wilkuchnia) on
Irish soda bread and brown bread are the spine of Ireland and probably the best bread you've ever tried in your life. Different families use different recipes, but in general, the Irish soda bread is made of white flour and the brown bread is a mix of whole wheat and white flour. It should also have a cross cut on the top for a blessing or to ward off evil.
This delicious masterpiece is perfect for breakfast or with some soup and tastes best served with rich Irish butter or a dollop of jam. Remember, once you've had it, there's no going back to what you used to eat before.
18. Waterford Blaa
Staying with bread, here's something that's only characteristic to County Waterford. A blaa is a soft bread roll that's so special, it was awarded Protected Geographical Indication status by the European Commission in 2013. Blaas taste best with real Irish butter and bacon rashers or ham.
19. Tayto Sandwich
Only the Irish could have invented a brand of potato crisps called Tayto. And then put them into a sandwich covered in butter. This snack can take you out of your culinary comfort zone, but the locals think it's an undisputed food gem.
20. Irish Butter
If you don't find any pots of gold during your trip don't despair. There's always a tub of creamy Kerrygold butter to cheer you up. Pair this soft delight with a slice of fresh soda bread and you'll be in Irish heaven.
21. Baked Ham


View this post on Instagram
A post shared by NEFF Australia (@neff_au) on

Succulent and aromatic, baked ham is quite a festive meal. Traditionally, it was coated with sugar, sprinkled with some cloves, and baked until crisp on the outside and delicate on the inside. It's served with loads of boiled cabbage, cooked or fried potatoes, and always attracts a queue of people asking for second helpings.
22. Irish cheese
High quality dairy and artisan methods of cheese production means that Irish cheese is the force to be reckoned with. So, keep your eyes peeled for any of these names: Gubben cheese, Kilree Gold, Durrus Cheese, or Diliskus.
23. Irish Coffee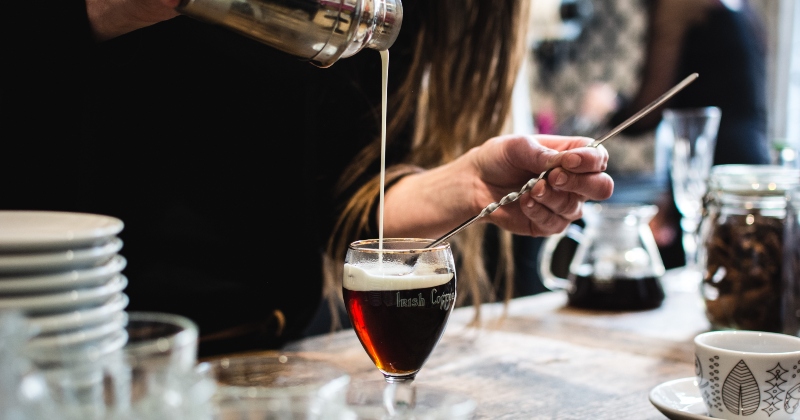 A heavenly drink (almost a dessert) that will satisfy everyone: whiskey connoisseurs, coffee lovers and those of you who have a sweet tooth.
This amazing cocktail was invented in 1942 by Joe Sheridan, a chef at Foynes Port, an airbase for transatlantic flights near Limerick. One night, Joe felt pity for the delayed, cold and weary passengers and decided to whip up something special for them. He used some Irish whiskey, coffee, brown sugar and topped his sumptuous concoction with cream. And the rest is history.
24. Baileys
High quality cream, triple-distilled whiskey, and fine spirits: Baileys is the very best of Ireland in a bottle. Since it was created in 1974, this silky, luxurious liqueur has won our hearts and is sold in over 150 countries.
25. Guinness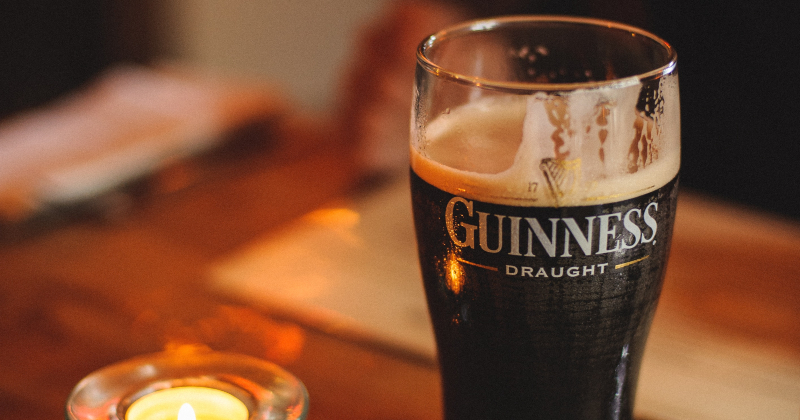 Deep colour, caramelised flavour and a thick, creamy head. You'll recognise this iconic drink anywhere. Guinness is a traditional Irish stout beer made from hops, roasted barley, yeast and water. But it's much more than that. It embodies Irish culture and cuisine, and it's a popular ingredient in many dishes. So, if you want to try something über Irish, try beef and Guinness stew or pie and wash it down with a pint of the black stuff. And if you want to discover more about this iconic tipple, head to Guinness Storehouse in Dublin for the ultimate fun experience.
26. Irish Cider
Known as Bulmers in the Irish Republic but referred to as Magners everywhere in the world, this cider is probably the best in Ireland. It's made from 17 kinds of Irish apples and when you drink it you can imagine yourself in an orchard on the Emerald Isle.
27. Irish Whiskey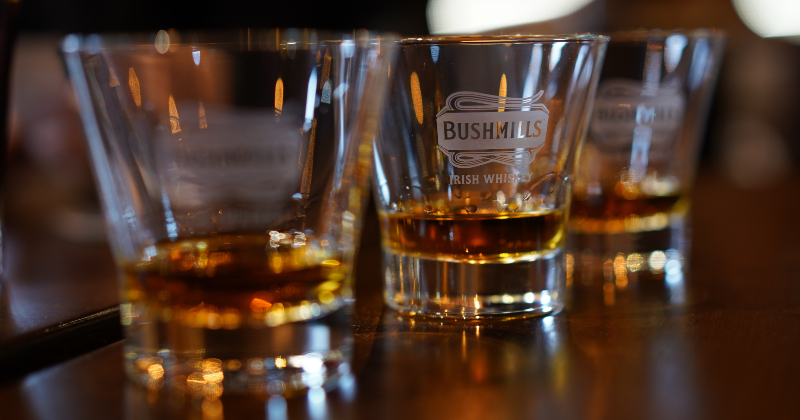 Things can get a bit confusing when it comes to Irish whiskey.
Firstly, it's spelt with an additional E. If you know your facts, you'll remember that whisky/whiskey derives from the Gaelic for 'the water of life'. This expression has slightly different forms in Irish and Scottish Gaelic, which could have led to this confusing E that means a lot to the Irish.
Secondly, the Irish whiskey is made in a different way. It's typically made from unmalted barley and other grains and triple distilled. This gives it a smoother and lighter flavour.
And finally, peat is seldom used in the malting process, so the Irish spirit is not as smoky as the Scotch.
The biggest players in the Irish whiskey market are Jameson (from the Republic) and Bushmills (from Northern Ireland). But there are many more worth trying, so enjoy your tasting.
If you fancy tasting a glass of whiskey in a place it's distilled, visit Locke's distillery on our tour.
28. Murphy's Ice Cream
No visit to Ireland is complete without popping into the Murphy's Ice Cream shop. This fantastic company started life in the colourful seaside town of Dingle and have got a range of distinctively Irish flavours. From Irish Brown Bread, Dingle Sea Salt, to Dingle Gin, Irish Coffee and Guinness, you'll be spoilt for choice.
You can try Murphy's delicious creation on one of our tours.
29. Handmade chocolate
If you're into artisan chocolate, the Skelligs Chocolate Factory will be right up your street. Tucked away on the famous Ring of Kerry, this amazing open-plan facility will dazzle you with high-quality sweet creations. We would argue that their chocolate bars and truffles taste best if you eat them in the nearby bay overlooking the Skellig Rocks.
30. Soda Bread Pudding
Irish cuisine is all about being thrifty and using up what you've got. This dessert is a clever way of using leftover soda bread and transforming it into a yummy sweet treat with a couple more basic ingredients. It's delicious with custard or ice cream.
31. Barmbrack
This special fruit loaf is a Halloween speciality, but like with many seasonal treats, you can get it at other times of year. Barmbrack is as delicious as it is entertaining because it's used for fortune-telling on Halloween. Pay attention to your slice because the charms hidden in the cake can change your life in the forthcoming year. A rag predicts bad luck or poverty, a ring means you'll be getting married within a year, a coin will bring you riches, and a pea means you won't hear the wedding bells in the coming year.
So there you have it, a guide celebrating Ireland's fresh flavours and rich beverages. This is the time of food and drink revolution and from Dublin to Dingle, every corner of the island brims with artisan producers, high-quality restaurants and buzzing farmers' markets.
So next time you come for a visit, open up to new flavours and bite into the local heritage. You'll thank us later.