Where Are the Best Outlander Locations in Glasgow?

We wait impatiently for new seasons; rewatch our favourite moments; and become immersed in anything connected to the series: We simply can't get enough of Jamie and Claire.
But if you really want to bring the world of Outlander to life, come to Scotland and visit the filming locations used in the show. Whether it's by train from England or by flights to Glasgow from the USA, there's nowhere quite like this for living out your Outlander fantasies and reenacting your favourite scenes from the show.
Edinburgh featured in the series and it's steeped in Jacobite history. But Glasgow also provided a backdrop for many unforgettable and heart-wrenching scenes throughout the story.
When you visit the filming sites in Glasgow, you travel in space and time because parts of the city starred as 18th-century Paris, 1930's London, and post-war Boston.
So, read on to discover the best Outlander locations in Glasgow.
(This article contains spoilers for season three)
The House on Dowanhill Street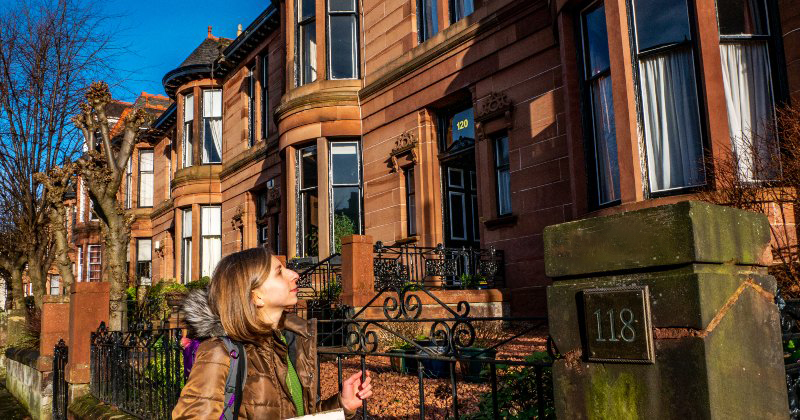 This peaceful street in the West End of Glasgow is lined with beautiful Victorian red brick houses. When the Outlander crew arrived, they made alterations to make it look like Furey Street in Boston in the 1940s-1960s.
In season three, Claire and Frank move here and expect the birth of Brianna. They hope a new home will help them reconnect, but they become disillusioned.
Dowanhill is a nice street for a walk and it's close to other Outlander locations at Glasgow University and Kelvingrove Park. While exploring the area, remember to be respectful of the residents.
Glasgow University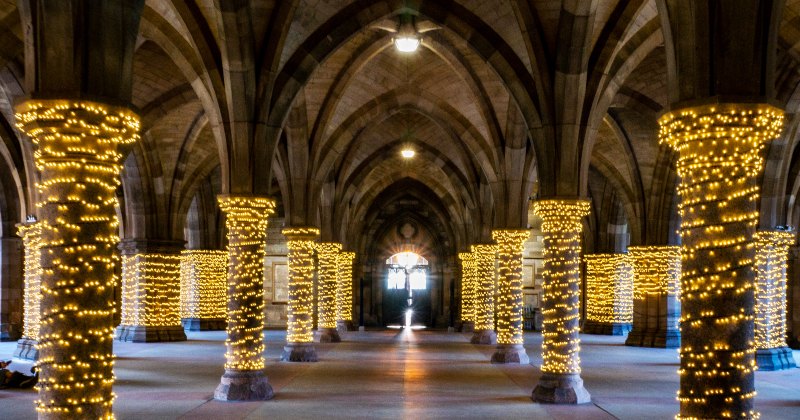 Cloisters, turrets, and a beautiful façade: the University of Glasgow can be mistaken for Hogwarts. Its stunning architecture and fascinating history (the second oldest university in Scotland) make it one of the top sights to see in Glasgow.
In season three, this stunning complex doubled as Harvard University, where Frank worked as a professor. You may not find similarities between these institutions, but Glasgow University worked perfectly for the show and provided great backdrops.
When you visit, you'll recognise the cloisters of the main campus where Bree and Roger stand before Frank's memorial. It's also where Claire and Bree talk about Frank's affair for the first time.
You can take a guided tour of the University, admire the rich collection in the Hunterian Museum or explore the grounds by yourself.
Kelvingrove Park
Kelvingrove Park is a large Victorian park situated on the River Kelvin in the West End of Glasgow. It offers a fantastic space for relaxation and hosts the famous Kelvingrove Art Gallery.
The park posed as Boston in season three, where we see Claire walk over a bridge and stroll around with little Bree in a pram. Even in this peaceful place, she's haunted by the memory of Jamie and Scotland.
You can retrace Claire's steps, walk over the Prince of Wales Bridge, and enjoy watching local life in this beautiful park.
Glasgow Cathedral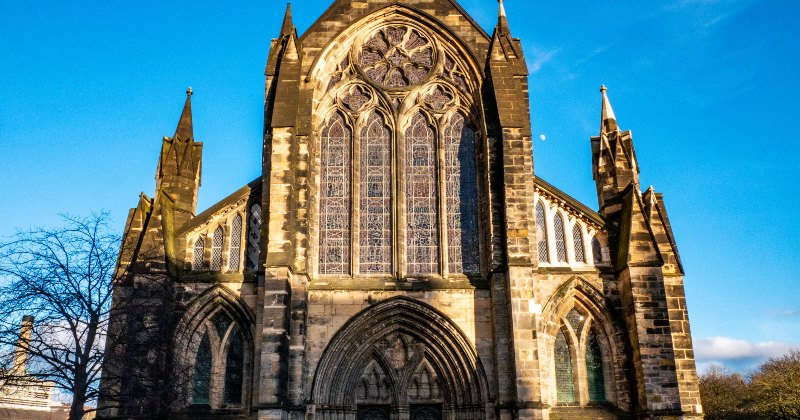 You should definitely add this medieval cathedral to your Glasgow bucket list. It's built on the spot where St Mungo, the founder and patron saint of the city, was buried. It has stood in the heart of Glasgow for nearly 1,000 years. And it was used in season two of your favourite series.
The cathedral's crypt posed as an 18th-century hospital, L'Hôpital des Anges in Paris. This institution, run by Mother Hildegarde and her four-legged helper Bouton, becomes an escape from the bourgeoisie for Claire.
John Street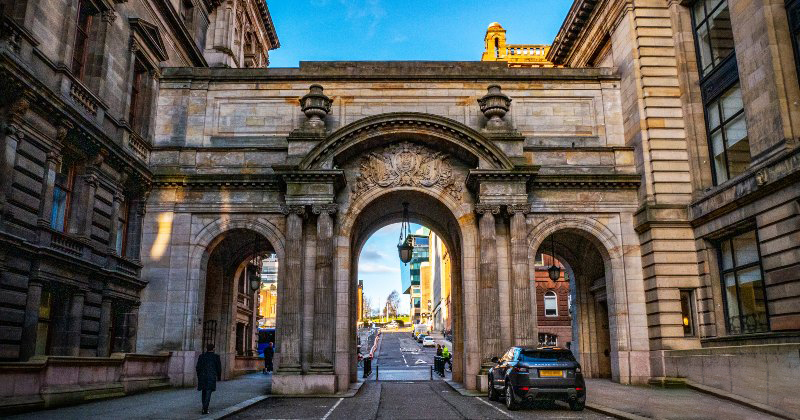 The prestigious Glasgow City Chambers and the adjacent John Street are a prominent feature of George Square.
The Outlander crew used this site as the Register Office in the City of Westminster. We see it in season one when Claire remembers her wedding day with Frank. His spontaneous proposal and an impromptu wedding revealed how in love they once were.
A few photos of the building and the stunning arch of John Street are essential. But if you have some free time, get on a guided tour of the City Chambers and discover its lavish interiors.
Glasgow Outlander Map
Going Further Afield
If you still crave more Outlander locations, get on a Rabbie's Outlander Adventure from Glasgow.
On this day tour, you visit the sites that starred as Castle Leoch, Cranesmuir, Lallybroch, Fort William, and Wentworth Prison. And a knowledgeable guide will regale you with the real history of the doomed Jacobite cause.
So, follow the story of Jamie and Claire and discover the spirit that influenced the time-travelling romance.