Where Are the Best Beaches in Britain?

Britain isn't exactly well known for its sunny beaches.
You don't see tourists rushing to book flights to the British coast in summer. At least not in the way places like Mallorca heave with sunbathing beauties over July and August.
But there's something enchanting about beaches in England, Scotland and Wales. It might be because they're hidden away. Or it could be because they can put on a show in rain, hail or shine. But our favourite thing is that you can often get entire stretches of empty white sand to yourself. Bliss.
So, before you dismiss Britain's beaches in favour of popular Mediterranean retreats, peruse our guide below. You may be astounded by these clear blue jewels on what people mistakenly perceive as a grey old island.
Wales
Rhossili Bay Beach (Gower Peninsula)
Panoramic views, gorgeous cliffside walks and a shipwreck make Rhossili Bay one of Britain's best beaches. It's a fantastic spot for surfing, romantic sunset walks, kite flying and birdwatching. It's also been touted as one of the UK's top dog-friendly beaches, so your furry friend can enjoy the fun too.
Three Cliffs Bay (Gower Peninsula)
Three Cliffs Bay encompasses a handful of beaches on the Gower Peninsula which can all be reached by foot during low tide. Access to the bay requires a bit of walking and can sometimes feel like you're out for an adventure. But when you break through the trees to find the gorgeous scenery below, the views are certainly worth the effort.
If you fancy a dip, lifeguards patrol the beach on weekends, during school holidays and on public holidays from May through to September.
Scotland
Luskentyre Sands (Isle of Harris)
Luskentyre Sands is one of Britain's more remote beaches, situated on the Isle of Harris in Scotland's Outer Hebrides. Its seclusion is part of its appeal and pure white sand stretches for miles in each direction. When the turquoise water sparkles on a sunny day, you may think you've been transported to the Maldives. Until you dip your toes into the icy Atlantic Ocean, that is.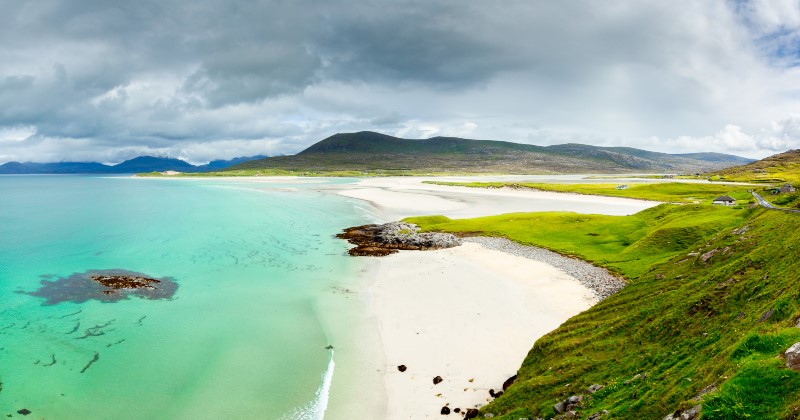 Balnakeil Beach (near Durness)
Balnakeil Beach is an essential stop on Scotland's famous North Coast 500 road trip. It's located on one of mainland Scotland's most northernly points and is a fantastic place for a scenic walk, especially at sunset. The sand dunes silhouette the horizon and the azure water is truly a treat for the the eyes.
If you're feeling adventurous, you can gain an aerial view of the beach while ziplining at 45MPH!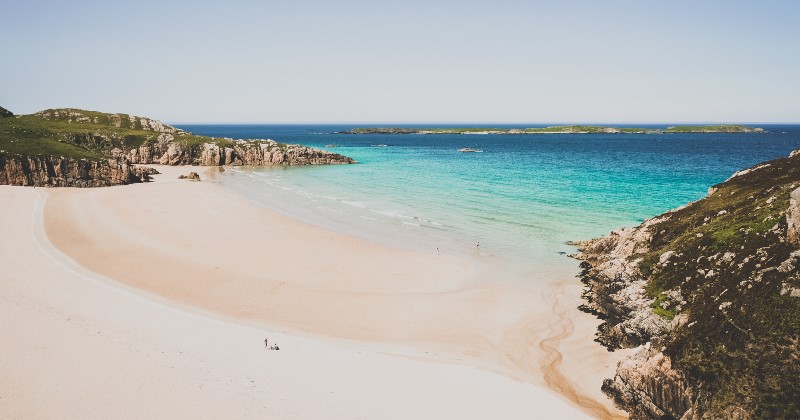 Calgary Bay (Isle of Mull)
Calgary Bay is a lovely seaside destination for a day out on the Isle of Mull. It's surrounded by a delightful woodland sculpture park worth exploring before wandering down to drink in the undisturbed shoreline. Gaze into rock pools, peer upwards in search of sea birds or simply enjoy the quietness of the surroundings.
England
Bamburgh Beach (Northumberland)
Is there a scene more dramatic than a castle by the sea? Bamburgh Castle stands overlooking undulating sand dunes and a white shoreline. When the weather is stormy, it looks dark and imposing. When it's sunny and clear, you can see right out to Lindisfarne. The waves are great for surfing, but the water is rarely warm enough for swimming. Brave souls may wish to dip their toes while gathering water for their sandcastle moat.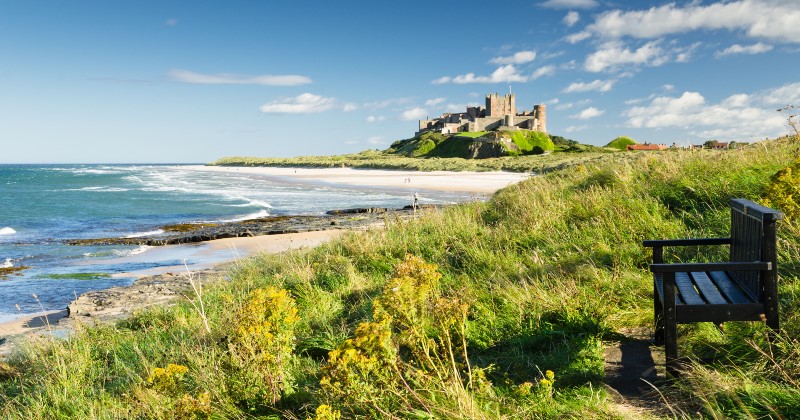 Blackpool Sands (Devon)
Arguably one of the best family beaches in Britain, the calm waters at Blackpool Sands are ideal for swimming in the warmer months. There are plenty of facilities to keep you going, including a beach shop, showers and toilets. You can also paddle board or kayak here, making it a great spot for your summer holiday.
Porthcurno Beach (Cornwall)
Porthcurno is a picturesque beach sheltered by granite cliffs. Whether you're swimming or sunbathing, you'd be hard-pressed to find a prettier spot. During low tide, you can access other beaches along the bay and even walk to the Treen cliffs and Logan Rock. And did we mention the astounding Minack Theatre? It's an open-air amphitheatre perched atop the cliffs overlooking the beach. What a sensational way to watch a live performance.
How to keep Britain's beaches clean
It's disheartening when you visit a beach and find plastic bottles caught in the seaweed or food wrappers wedged in rock pools. Even if you can't see any evidence of pollution in the sand, it may still exist. Microplastics are very harmful to sea life, especially when they're mistaken for food.
We all have a part to play in ensuring our beaches remain tidy. Here are a few ways you can help keep Britain's beaches beautiful.
1. Dispose of your rubbish responsibly.
Most people don't need to be told twice to use a bin. But in Summer, they can fill quickly at popular beaches. Don't jam your rubbish on top of a heaped pile as it can easily become dislodged by the wind and be blown back onto the beach. Find another bin or take your trash home with you.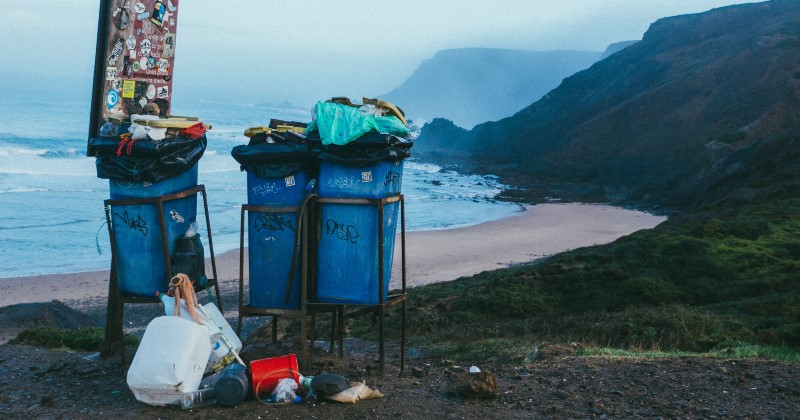 2. Participate in a beach clean.
Beach cleans are held all over Britain and are great community activities. It'll only take a couple of hours out of your weekend, and you may even meet a few friendly faces in the process. You can find a beach clean near you here.
3. Say no to single use plastics.
It's time to ditch plastic straws, disposable water bottles, and plastic containers. These wasteful products end up polluting our waterways and oceans. And it doesn't make sense to use them when there are oodles of reusable alternatives that're convenient to carry with you. These include Keep Cups for your takeaway coffee; multi-use drink bottles; and foldable, stainless steel straws.
Top Tip: Many travellers to the UK don't realise there's a charge for plastic and sometimes even paper bags at shops. So it's worth carrying a reusable bag with you on your travels.
4. Get on board with your local zero waste shop.
Zero waste, or scoop and weigh shops are popping up all over the world. The idea is to reduce plastic packaging by bringing your own reusable containers to the store, and decanting products such as flour, honey, shampoo, hand soap etc. from big buckets. Minimise the amount of plastic you use, only buy the amount you need and save money by shopping at a scoop and weigh. You can find a zero waste store near you here.
Looking for tips on how to be a more conscientious traveller? Pop over to our blog How to Choose Ethical Travel.