Four Days, Three Islands, and One Love Letter to Mull

The bollard glistened black like a Tahitian pearl just rummaged from the depths of the ocean. You'd not think of it as a seat, perhaps, but my friend Jenna perched herself atop its flat surface and peered over the side of the ferry with the glee of a child in an aquarium.
Her goal for this trip: to see a whale.
My goal was on a similar strain yet the cuddly sea creatures I was hoping to see are far smaller. But more on that later.
My new favourite thing is starting an adventure off with a ferry trip, just as I did a few weeks ago to the Isle of Arran. As someone who spent most of her life prone to seasickness, I've been delighted to discover that even the rough Scottish waterways have no effect on me anymore. Perhaps it's because Scotland loves me as much as I love her, and she doesn't want to do anything to drive me away.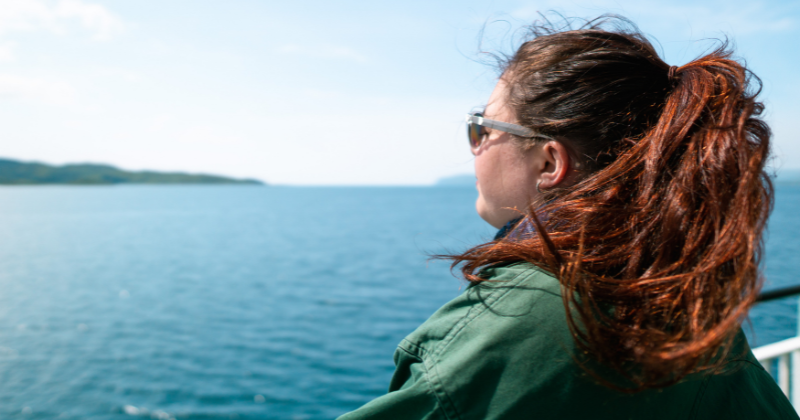 And this time we were heading to an island far bigger than wee Arran. The Isle of Mull is a boasting lass. She's proud to be the second-largest island in the Inner Hebrides (Skye wins out here) and she is crawling with enough wildlife that would keep even David Attenborough entertained.
It was perhaps the biggest reason I had chosen the Isle of Mull as my summer destination. And boy, this trip did not disappoint.
The second we reached land at the bashful village of Craignure, we cruised along the coast to its neighbour village of Salen. In my mind, I read it as Salem and was expecting something a little sinister. But instead of witches and gallows, we pulled up alongside the shipwrecks of Salen.
Unassumingly perched on the side of the road, these run-aground fishing boats lured almost every passing car in for a quick look. Fishing boat might make them sound modest, yet they are anything but. Wandering around their hulls, these abandoned giants shadowed me from the sun. Crab carcasses and rotting planks of wood were scattered all about my feet. I dared a walk across one of their decks, treading lightly and praying the wood was not all rotten. One good crack and I'd have been consumed by the darkness below.
And yet. The lone tree in the centre of the hull was proof that life still existed on these ships, long after their deaths.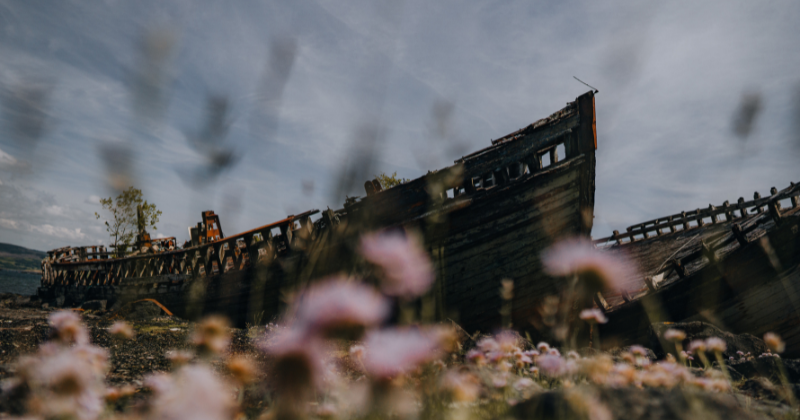 That night we slept surrounded by a kaleidoscope of colour in the seaside town of Tobermory. Needless to say, as a tourist, I am entitled to be lured in by shop after shop. There's no judging while travelling. If you don't come back with a backseat full of new purchases, have you truly travelled?
The sun dragged us out of bed early the next morning, which isn't difficult during a Scottish summer. You're constantly tempted to meet the excessive sunlight with excessive enthusiasm. The best thing about visiting a Scottish island is at almost every point of your journey you'll have dark Scottish waters on one side and an abundance of wildlife on the other.
What we didn't expect was to find anyone swimming in the ocean so early in the morning. Someone hairy and giant, calm and observant. Someone with the ability to cause tourists like myself to slam on their breaks and pull off to the side of the road, run gleefully (and perhaps dangerously) across a boggy landscape, and scramble down a face of sharp rocks to the beach below to say hi.
That's right. The Highland Coo.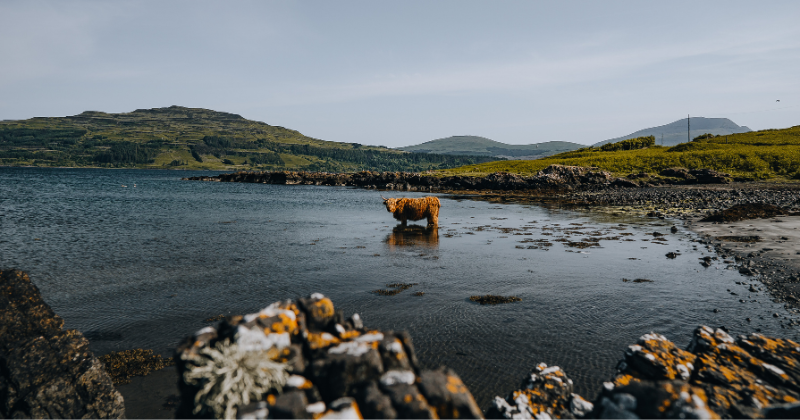 Just having a wee dip. His friends were keeping watch from the shore, like worrisome parents keeping one eye on their child. Yet they were as calm as an undisturbed loch. Barely acknowledging us. Barely caring that there were four random strangers standing in their midst, bonding over how lucky they were to be witnessing such a moment.
And the day only got better and better after that.
When I moved to Scotland, my dad said to me that I wasn't allowed to return home to Australia until I saw a puffin. Technically, I could return home now. But Scotland has far too many undiscovered secrets left for me to find, so fat chance.
At Rabbie's, we regularly work with a wonderful company called Staffa Trips when we take adventurers such as yourself on tours to Mull and the nearby Isle of Staffa.
Staffa. She's the black sheep of the family. Her parents, Mull and Iona, stare at her with incomprehension and even a little jealousy. Because whoever comes to Mull cannot resist the lure of the dark side. She is an island of pure contradiction.
Her heart is the lightless Fingal's Cave, façade of a sooty complexion, bones of hardened lava. Her yawning mouth looks as if it leads down to the depths of hell. Yet instead of Cerberus, the Hound of Hades, standing guard at the gates to this darkness, you'll instead find... the clowns of the sea.
And instead of running from them in fright as you would from Cerberus, travellers perch on the edge of the cliff atop the cave, waiting for these little clowns to come and play. There I sat, surrounded by a flowery garden nearly as beautiful as Howl's secret garden from Howl's Moving Castle, camera in hand, heart desperately skyrocketing at any slight movement before me.
Finally. One fluttered up towards us. I nearly fell over. Those little wings flapping, so disproportionately small considering the enormous feat he just achieved. I gaze down at the ocean crashing against the rocks below. How did the little guy make it all the way up here on those wee arms?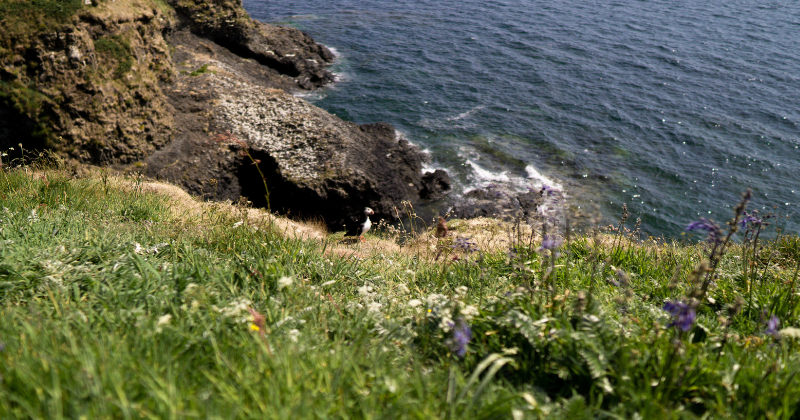 Perseverance. Hard work. Determination. And a dash of affection to see their friends: the humans. You might wonder why puffins often approach humans whereas most other animals tend to flee at the sight of us. Well, it just so happens that puffins are low on the food chain, often attacked by other birds such as gulls. However, when those pesky gulls see us humans lingering in their hunting ground, they think twice and dash off to find their meals elsewhere.
So, these wee clowns of the sea see us as their friends. And over the years, according to the lovely folk at Staffa Trips, they've become bolder and cheekier, often coming right up to patient travellers. Best not to attempt petting them though; they've got a sharp nip.
And just when you thought the day couldn't get any better, our boat detoured on the return journey to show us some of the local sunbathers lounging on the rocks. That's right. Seals.
Ever been to three islands in one day? I have. After a delicious bite to eat at The Keel Row (a local pub at Fionnphort), we jumped on yet another ferry and took the lightning-fast journey across to the Isle of Iona.
What I love about Iona is that, unless you have a permit, cars are not permitted. And since we had planned to camp overnight, we loaded ourselves up like mules and trudged from the terminal about twenty minutes inland to the campsite. Iona is a mere 2km wide and 6km long, with a population of around 120 people.
What draws many people to its shores is that Iona is the birthplace of Christianity in Scotland, brought to this wild land by Irish abbot and missionary Columba. We just so happened to be arriving on a special day too: Saint Columba's Feast Day. Even with special events all day at Iona Abbey and Nunnery, it was still a sleepy little place.
Sweat-covered and exhausted, we arrived at our campsite. Once set up, there was only one thing left to do: frolic in the ocean. Now you might find it strange when I say we walked to the other end of the island for a swim, but it was only about 45 minutes (and that was with a detour to the old nunnery ruins). Jenna had her heart set on a beach known as Traigh an t-Suidhe (Beach of the Seat). Guided in by a sea of machair and the bleating of sheep, the beach was ours alone to enjoy.
The funny thing about Scotland is that even in summer, the water still has a way of making you scream profanities as your body turns rapidly numb. Worth it.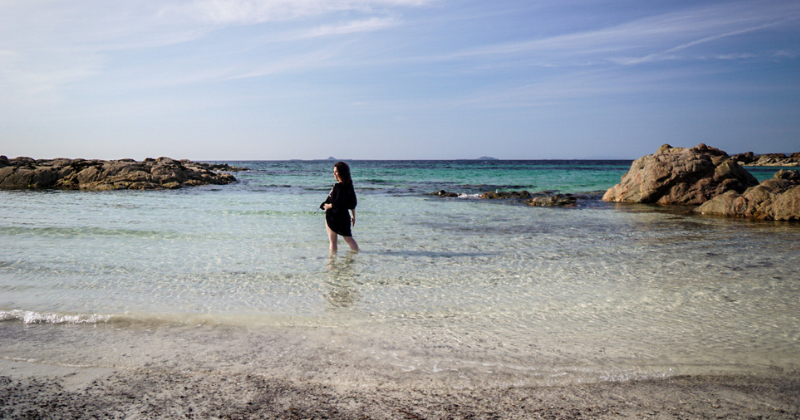 I could have spent a week on Iona, walking and swimming. Yet Mull called to us like a mother calling her children in from the street at dusk. The next morning, we hopped back on the ferry and resumed our journey. One more night before back to reality. Could Mull top what we'd seen so far on both Staffa and Iona?
I don't even know where to begin.
One of the lovely gentlemen from Staffa Trips recommended a spot known as Loch Buie for our wild camping experience. First up, we took the scenic route to Salen on our way back up to Tobermory for a bite to eat. Now when I tell you that you must take the scenic route to Salen, I mean you must take the scenic route to Salen.
Every few moments I would mutter aloud "what is happening?" and "how is this real?" because, honestly, Mull has an unparalleled beauty.
After refuelling our wearied yet exhilarated bodies, we popped just down the road to a lovely place called Aros Park where, tucked away among a richly dense forest pathway was an incredible waterfall. This walk was wonderfully easy and plenty worthwhile.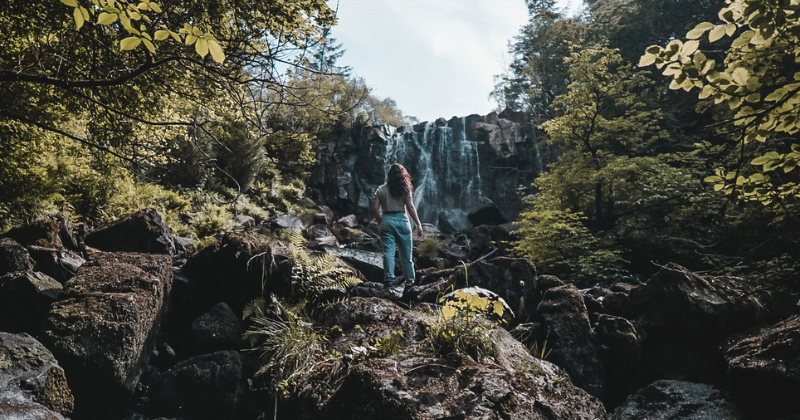 This was Jenna's pick for the day and a solid one, if I do say so myself. At the top of my list was something we had whizzed by the other day but, due to ferry time constraints, had to keep driving. Yet I remembered. The Three Lochs Viewpoint... if you're looking for that iconic Scottish Highlands shot, lochs hugged by mountains, wildflowers springing all around, then make sure you don't miss this.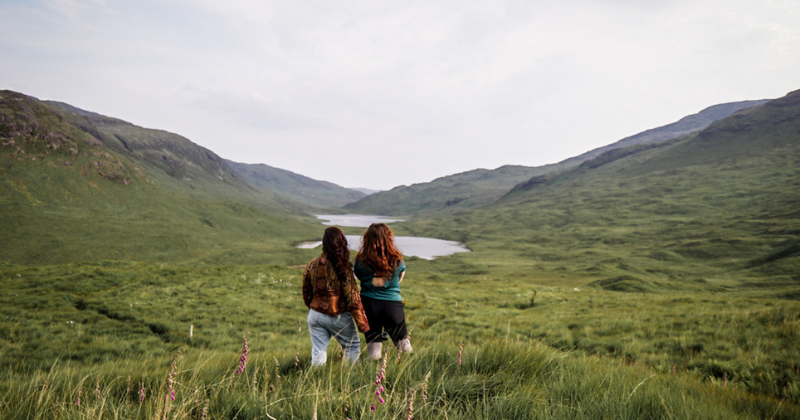 Many of you will know the Isle of Skye and how the landscape is movie-worthy. I won't deny it. I adore Skye. I've been four times. But the beauty of Mull hits differently. It was like some rich person's garden estate had burst through the wrought-iron gates and flooded across the entire isle. Enormous bushes of purple rhododendrons ruled the landscape. Everywhere we looked, there they were. Spread across the landscape. Scaling up the sides of mountains.
And then we saw this. On the side of the road, as if the entire world had turned purple. And dominating the scene was this incredible mound of them. I don't know if you've ever watched the movie Annihilation, but as Jenna and I wandered in a weird trance around this spot, it hit us. It felt like we'd slipped into the toxic alien habitation of Annihilation. Do you remember that scene when one of the characters turns into flower-covered ivy? That's kind of how it felt.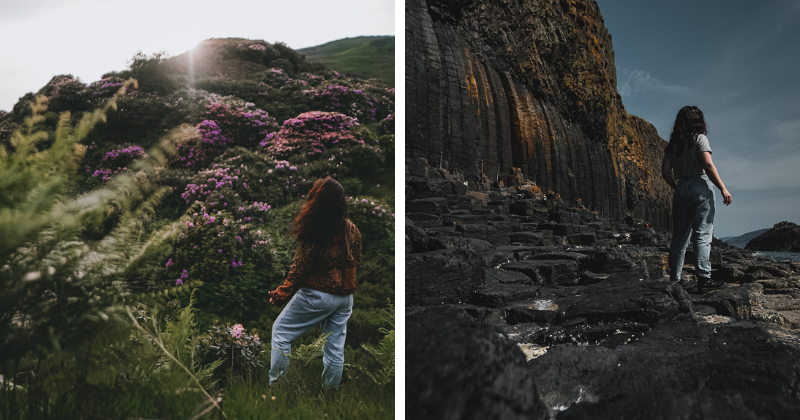 Were these purple rhododendrons once people? Would a mutilated bear corner us any moment now? Had we slipped into an entirely different universe? Was this Narnia, perhaps? Would we ever find our way out again?
And yet it wasn't frightening. It was arresting. A beauty so unbelievable that, given the choice to be trapped there forever or go home, we might just choose to stay in that beautiful prison.
Alas, the adventure called to us.
After a traffic jam of wayward lambs and sheep, we made it to Loch Buie. We weren't the only ones with the idea and gave our temporary neighbours a wee smile as we set up our tent. It was a peaceful night... until the midges descended. And yet it's all part of the Scottish summer experience, is it not? I was safely inside the tent, watching Jenna through the opening as a Hitchcockian swarm of midges attacked her like she was their first meal in a year. I admit I laughed a little as she frantically swatted and swore. But the laughing stopped when she hurried inside the tent, letting in an uncountable number of them with her, and thus began the game of human vs midge. We won, not to worry, though not without a few battle scars.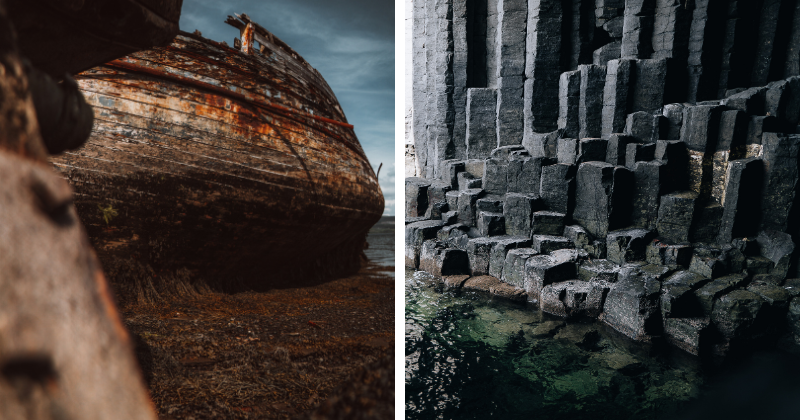 I hate to say it, but that's all for now folks. The next morning we headed for Craignure to board the ferry back to mainland Scotland. But what I'm left with is unimaginable affection towards this wee island that so many people overlook. I'm not sure why. I do understand the appeal of Skye, trust me, but this blog is my love letter to Mull, Iona, and Staffa. It is me desperately trying to convince you that you need to visit this incredible part of Scotland as soon as possible. Whether you travel with us on a small-group tour, or take yourself off into the wilderness, it's time to discover the beauty for yourself.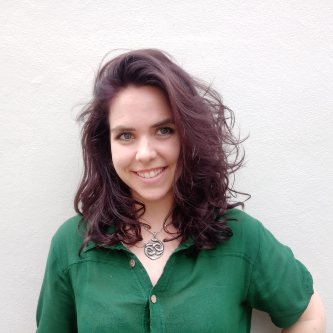 Bronwyn lives and breathes words. Before coming to work at Rabbie's, she spent 7 years in publishing and is a published author of YA fantasy books. Born and raised in Sydney, she was drawn to Scotland and affectionately calls it her 'soul home'. An avid traveller herself, Bronwyn's favourite places (so far) are Mongolia, Iceland, Morocco, and Scotland (of course). When she's not writing, she can be found exploring the Scottish Highlands with her camera, on the lookout for coos and men in kilts.