7 Facts About Chester Cathedral

Peruse any travel guide on Chester and you'll find the cathedral listed as one of the top sites to visit. The building is certainly ancient and impressive, but what are the other reasons why it's the main attraction in this historic town?
From bored, board game playing monks to fantastically carved beasts, these facts about Chester Cathedral may pique your interest and even leave you a little surprised.
1. The oldest parts of the cathedral date back to 1093.
Chester Cathedral began its life as a Benedictine Abbey in 1093. The site had previously been used as a place of worship during Saxon times, but the Benedictine monks were the first to build a church there in the Norman style. This Norman influence can still be seen in the north transept, the north tower and parts of the cloister. The cathedral was rebuilt from 1250 onwards in the much more dramatic Gothic style. Spotting the differences between the two architectural styles is an interesting exercise, even for those who aren't well-versed in design.
2. The friends of the cathedral are serious LEGO fans
You can help create a MASSIVE 350,000 brick LEGO recreation of Chester Cathedral, a community project which has been underway for quite some time. The cathedral's avid LEGO-lovers are designing unique pieces to reflect the historical importance of the building. During Summer 2019, Chester Cathedral will also be hosting 'The Deep,' an exhibition of LEGO sculptures of sea life. It will include a 2.7-metre-tall giant squid made from a whopping 120 000 bricks.
3. Chester Cathedral has been defaced throughout history.
Chester Cathedral has survived a few tumultuous periods in religious history. When Henry VIII dissolved the Benedictine Abbey in 1541, the shrine to St Werburgh was broken and the colourful walls of the Lady Chapel were whitewashed. Thankfully, The Lady Chapel has since been restored to its former glory. The cathedral was again defaced by puritans during Cromwell's influence, and many important statues and architectural elements were destroyed. You can still see evidence of this vandalism around the cathedral today.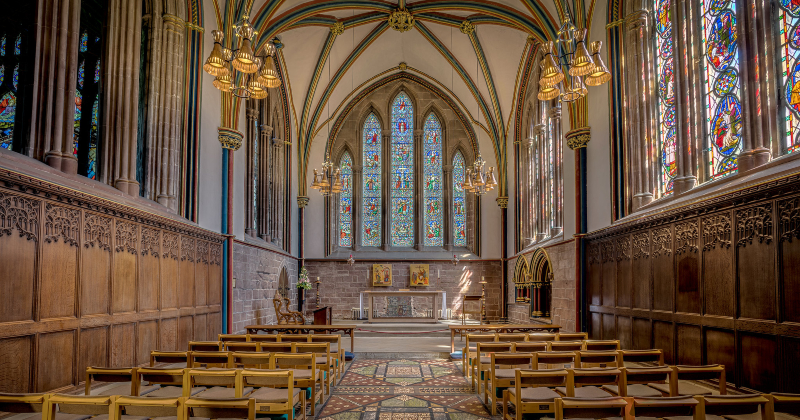 4. The cathedral hosts many unconventional events.
You wouldn't usually associate a 2,000-year-old cathedral with activities like abseiling. But the caretakers of Chester Cathedral are happy to allow thrill-seekers to traverse its ancient interior with ropes and grappling hooks for a good cause. This is just one example of how the cathedral readily adapts its space to enhance community interest and welcome peoples of all denominations. Chester Cathedral has also hosted numerous modern art exhibitions, one of the most recent being David Mach's 'Two Twisted.' Two classic cars were delivered into the cathedral and displayed in shipping containers – now that's something you don't see every day in a place of worship.
5. The woodworkers who carved the choir stalls had overactive imaginations.
The choir stalls found in the Quire, date back to 1380 and feature intricately carved misericords. Here you'll find all kinds of creatures including hounds, angels, dragons and maidens carefully weaved into the woodwork. However, on many occasions the craftsmen may have gone off-piste when depicting animals they'd never seen before. One elephant appears to have a horse's hooves for feet. Other wicked looking creatures have human heads meshed with the bodies of beasts. It's a vivid insight into these creators' imaginations.
6. You can catch your favourite movies at Chester Cathedral.
Chester Cathedral enjoys amazing acoustics and can house a large audience. So, what better place to watch your favourite film? Every now and then, friends of the Cathedral clear out the pews in the Nave, roll out the artificial turf and lower the projector to create an 'Indoor/Outdoor' Cinema. You can lay down your picnic rug and enjoy a free movie - rain, hail or shine. What's on the lineup? In the past, the Cathedral's walls have reverberated with Celine Dion's 'My Heart Will Go On' during a teary screening of Titanic. But it's also been filled with the joyful giggles of children and adults alike throughout an exuberant showing of Finding Nemo.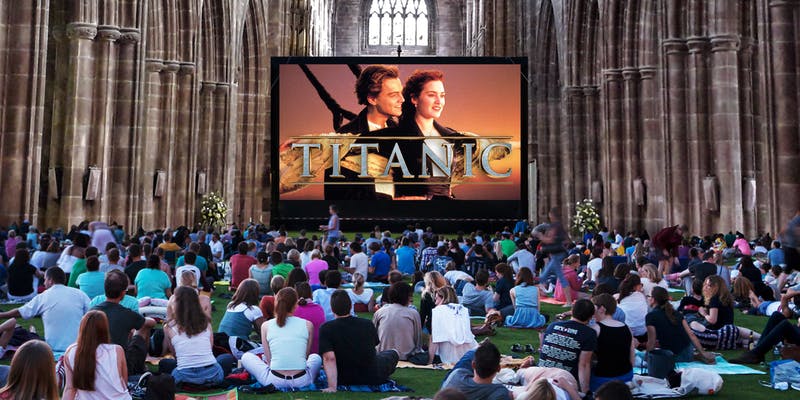 7. In the Baptistry you can discover the remnants of an ancient game.
Wander into one of the oldest sections of the Cathedral and you'll find the Baptistry. On the stone plinth of the north-east tower, you can find the board of an ancient game called nine men's morris. It's a two-person strategy game dating back to the Roman period. Perhaps the monks liked a competitive match in their downtime? Or some rebellious novice needed a way to while away time during lengthy services?
Chester Cathedral is much more than a place of worship. It's a site of incredible historical importance, an impressive example of several architectural styles and, moreover, a progressive community hub for people from all walks of life.
You can visit Chester Cathedral on Rabbie's 3-day Snowdonia, North Wales and Chester tour departing from either London or Manchester.