What do the English eat?

When planning a trip to England, you'll always look into where you'll be going and what you'll be seeing. Eventually though, you'll wonder what classic cuisines you might experience while you discover the history and culture of England. This often leads to the question "What do the English eat?"
England has enjoyed such a mix of cultures and traditions that many mouth-watering foods have found their way onto our plates and into our hearts. On any visit, you'll be spoilt for choice with dishes suiting every pallet and every budget.
You'll have heard of typically English foods like fish and chips and roast dinners, but have you wondered what makes a 'fry up' or what goes first, jam or cream?
To help you on your visit to Blighty, here's a little guide to some of the more obscure dishes you may come across, preparing you for every eventuality!
1. The Full English Breakfast or a 'Fry Up'
Not to be confused with the equally delicious Scottish, Welsh, and Irish breakfasts, the English fry up consists of back bacon, eggs (fried or scrambled), sausage, grilled tomato, fried mushrooms, fried bread, toast, and, of course, a mug of tea.

There are also many regional adaptations you can add to this gut-busting delight, such as black pudding, bubble and squeak (see number 4), hash browns, and baked beans. It's best eaten with either ketchup or brown sauce as an accompaniment, and it really sets you up for the whole day.
People ate it every day at the height of its popularity in the Victorian era, but now it's more of a treat or a hangover cure. They're a must try on any visit.
2. Pie n' Mash
Though pies are enjoyed across Great Britain and the world, pie n' mash is a very specific type of pie with a suet base and cold-water pastry lid that originated in London and could be found in pie and eel shops across the East End.
Going hand in hand with jellied eels, an order of two pie n' mash with liquor might confuse many, but they were part of the standard diet for South East London's working classes in the Victorian era and are still enjoyed today.
These small minced beef pies with a large amount of mash and a green parsley (and possibly stewed eel water) sauce are an acquired taste, but a tradition that should be tried if you can find a pie n' mash shop south of the River Thames.
3. Spotted Dick
Though this interestingly named pudding still brings a snigger to every table, it's a popular British pudding that's a firm favourite! Made with suet, dried currants, and raisins, this warm dessert is best ordered with custard and, along with sticky toffee pudding, should be on everyone's list of things to try when touring England. Now when it comes to its unusual name, the spotted element simply refers to the fruit you'll see and, thankfully, the 'dick' is from the 19 century and was widely used instead of the word pudding. Phew!
4. Bubble and Squeak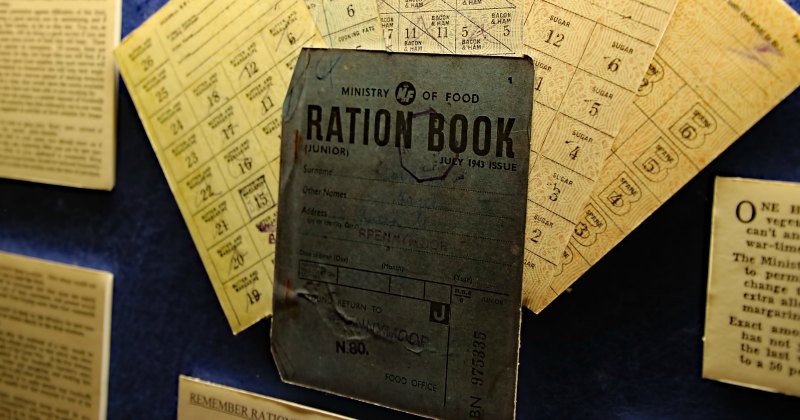 Another excellently named food, and one you don't see on menus that often. Bubble and Squeak is made by frying the leftovers of a roast dinner, which is usually a mix of potato, cabbage, sprouts, carrots, and anything else that hasn't been eaten! This food was popular during World War 2 as an effective way of making rations go further. Why is it called Bubble and Squeak? When the cabbage is frying, it makes a noise that can only be described as a bubble and a squeak, we're a literal folk!
5. Cream Teas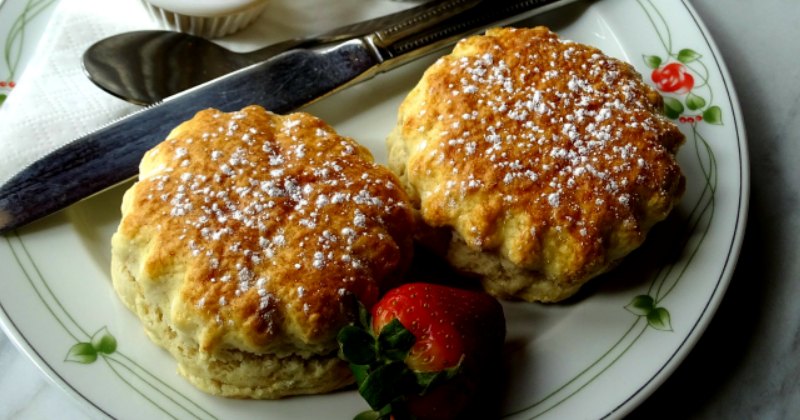 Now this you're sure to have heard of, but it deserves a mention and is certainly one not to be missed while travelling England. This traditional combination of a pot of tea with scones, strawberry jam, and clotted cream began life in the counties of Devon and Cornwall. It was potentially started in Tavistock Abby, Devon as far back as the 11th Century, but this is fiercely debated! How you eat your cream tea may also cause some friction, do you add jam then clotted cream or clotted cream then jam? However you choose to spread all the tasty goodness, we suggest trying as many different varieties as possible, with a nice cup of tea there's nothing better!
6. Eccles Cake
We're now moving up north to the town of Eccles, Greater Manchester. This town at some point in history decided to see what small rounds of flaky pastry, currants, butter, and sugar might taste like. The answer: amazing. This flaky cake, also known as fly pie or squashed fly cake, is a sweet treat that certainly deserves your attention. It seems many different areas have similar delights though, there's a Banbury cake, a Chorley cake, and a Blackburn cake all with similar designs, but it was the squashed fly name and the Eccles cake that stuck in both the nation's memory and to the hands of its children.
7. The Ploughman's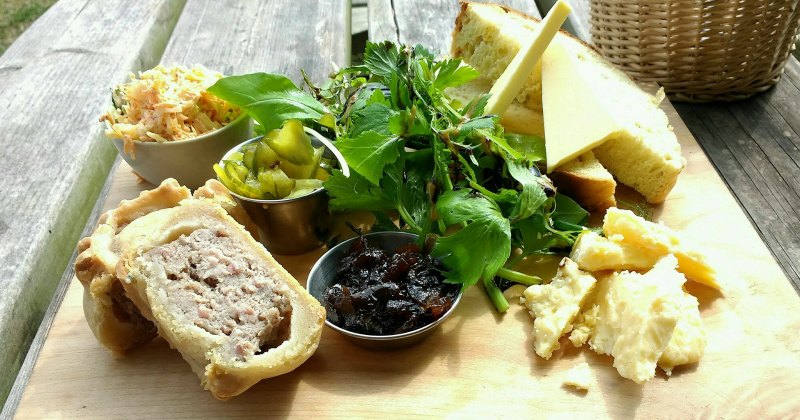 If you're travelling England and wander into a pub for lunch, you may see ploughman's on the blackboard. Don't worry it's not a job advert, it's a great way recharge! If you order it, you'll be enjoying a selection of bread and butter, cheese, pickled onion, cold meats, boiled eggs, and pickle that, with a beer, provide a simple but lavish meal. It's thought the meal stems from the hard-working farmers of yesteryear, however the origin of this 'traditional combination' only go back as far as 1956 and may simply be reflecting on the sort of food available due to rationing. So though, not a long history, this simple combination is well known to everyone to the point where modern cafes still sell Ploughman's sandwiches.
8. Eton Mess
This English dessert is a roughly mixed combination of strawberries, broken meringue, and whipped cream. Believed to have begun life at Eton College, a private boarding school for boys, it was first mentioned in 1893 when served at Eton's cricket match. Thankfully it made its way outside of the walls of Eton to become a popular dessert across the whole country. Once again, the name of this creamy delight is very literal, Eton as its birthplace and mess because well, that's just what it looks like, a mess.

9. Chips
We know you're fully aware that England and the UK are famous for their Fish and Chips. But do you know the different sorts of toppings the different areas of Great Britain like on its chips? Everywhere in the UK will have salt and vinegar on its chips, and most places also have ketchup. Fairly standard you might think? Well, as well as this, Londoners love a covering of mayonnaise, while the North of England preferring gravy poured all over. Wales loves curry sauce to dip their chips while the Midlands like mushy peas and baked beans. Cross the border into Scotland and you start finding chippie sauce, a combination of brown sauce and vinegar being introduced. It's great, try it with a deep-fried battered Haggis, honestly! For more tips on Scottish food try our 6 Things You Should Eat in Scotland. As you can see there are a wealth of possibilities in chippies (takeaway chip shops) across the country, but one thing is agreed, as well as salt and vinegar, adding cheese to your chips never does any harm!
So when you visit England and explore this great country, make sure you try as many local dishes as possible and always, always make sure you know what you're going to get on your chips!