Our 5 Favourite English Cathedrals

Why should you visit a cathedral when you come to England?
Cathedrals are usually the oldest buildings in continuous use in the cities they serve and are of immense significance to the local heritage and culture.
That alone would make them worth visiting, and that's before you consider that many of them are of great archaeological and architectural importance.
The word derives from cathedra, which means the 'bishop's throne', an item each cathedral must contain to be a cathedral.
So, they're not simply a big church.
It's also not true an English city can only be a city if it has a cathedral. There are a few cities that don't have one, and even a couple of towns that do!
England's cathedrals are usually staffed by volunteers who conduct guided tours and answer any questions you might have. Bear in mind that opening hours vary depending on the day of the week and can sometimes change at short notice. This is because these are working buildings, and there could be a service, a concert, a graduation ceremony, or maintenance work in progress.
So, which ones should you visit? Here are five of our favourite English cathedrals…

Canterbury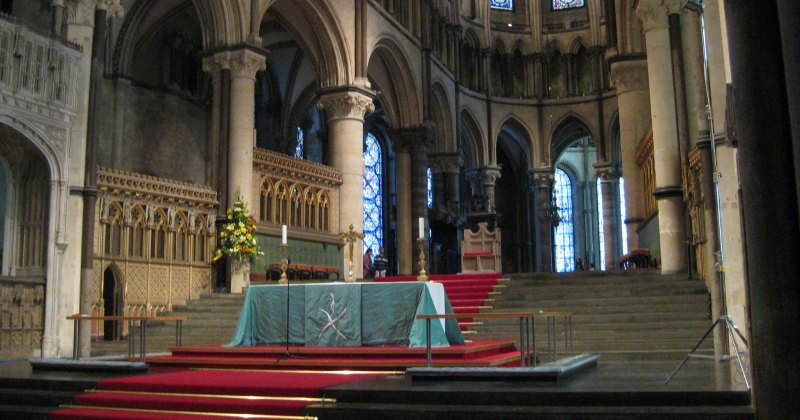 Part of a UNESCO World Heritage Site, the Cathedral and Metropolitical Church of Christ at Canterbury is the 'mother church' of the worldwide Anglican Communion (known in England as the Church of England, or 'C of E' for short).
The cathedral was founded in the year 597 by St Augustine, the missionary who had been sent to convert the Anglo-Saxons to Christianity. He landed in Kent, where the local ruler was an enthusiastic convert who allowed him to build a church. Ever since St Augustine, England's most senior cleric has been the Archbishop of Canterbury (the current one is the 105th man to hold the position!).
The current building is from the twelfth century, although some parts date back to the eleventh century. In 1170, it was the location of one of English history's most notorious events: the murder of Thomas Becket. Becket was an archbishop who had opposed the policies of King Henry II to the extent that the king wondered who would rid him of that 'tiresome priest', this prompted four of his knights to ride straight to Canterbury and kill Becket in the cathedral while he was leading a service.
As a result, Canterbury became one of the major pilgrimage destinations in medieval Europe which in turn inspired Geoffrey Chaucer's The Canterbury Tales, considered to be one of the most important works in the history of English literature. Becket's shrine was removed during the Reformation, although to this day you can still see the indentation marks made in the floor by the knees of pilgrims who knelt before it.
Tombs that can still be seen include those of the Black Prince and King Henry IV. Canterbury was targeted during the Baedeker Raids of 1942 in which bombing targets were chosen for their cultural and historical significance – the raids being named after the series of travel guides that were popular in the 1930s. The cathedral was partially damaged during these raids and fully restored after the war.
Today, it has around a million visitors per year, and it's especially busy during major Christian festivals like Easter and Christmas.
Website: https://www.canterbury-cathedral.org/

Exeter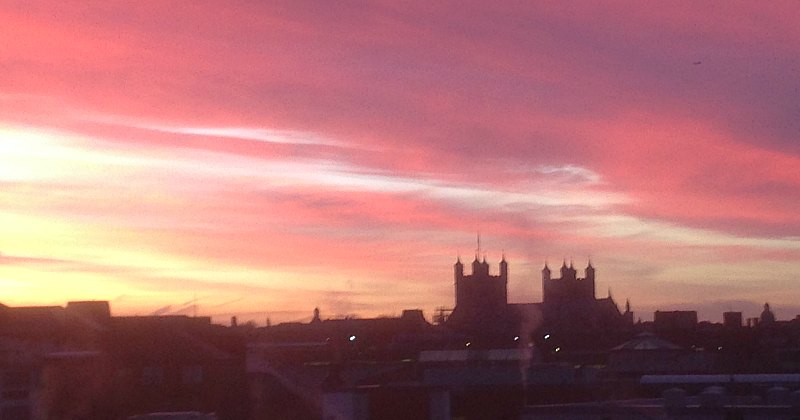 With its twin Norman towers, the Cathedral Church of St Peter at Exeter is the most distinctive feature of the Devon city's skyline. It was established in 1050, and the oldest parts of the current building are the twelfth-century towers, much of the rest of the rest of the building is a result of the rebuilding programme which ended in 1400.
Before you enter, check out the West Front which has the largest single collection of medieval sculptures in England; there are 66 of them, including Biblical characters and figures from English history. When you're inside, you should look up, because Exeter Cathedral boasts the longest unbroken medieval vaulted ceiling in the world (it's 315 feet or 96 metres long!).
You should also look out for the astronomical clock, the minstrels' gallery, fifty misericords (mercy seats – small wooden structures which act as supports for those who need it to stand for long periods of time during services), and a very impressive seventeenth-century organ. In the choir, you can see the bishop's throne which is covered by an ornate wooden canopy that's 59 feet (18 metres) high and was carved in the fourteenth century. And it's not just bishops who have used it, in 1688 William of Orange sat there shortly after landing in Devon during the Glorious Revolution, an event which would see him become King William III.
Like Canterbury, Exeter was targeted during the Baedeker Raids, but thankfully many of the cathedral's treasures had already been removed in anticipation of it being bombed.
More recently, Exeter Cathedral is one of four English cathedrals taking part in the Big Lego Build in which a scale model of the building is being gradually constructed by members of the public. This project, which started in 2016, can be found close to the entrance, and for £1 anyone can add a couple of Lego bricks to it; how else would you be able to say that you've helped to build a cathedral?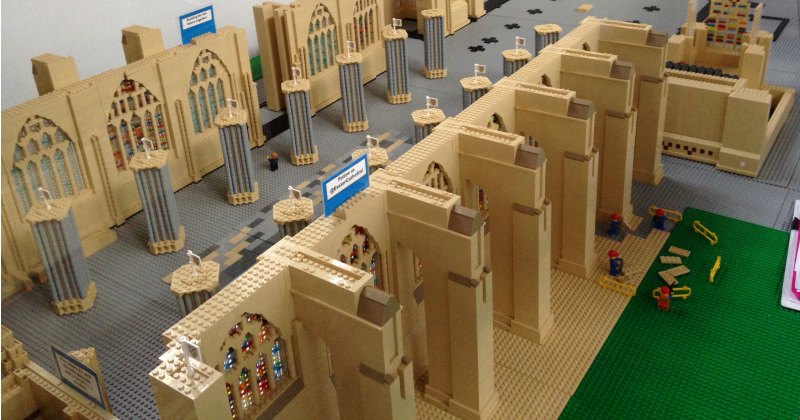 Website: http://www.exeter-cathedral.org.uk/
Exeter is our base for the three-day Stonehenge, Glastonbury, Bath & South West Coast tour and for the first part of our five-day Devon & Cornwall tour.

Oxford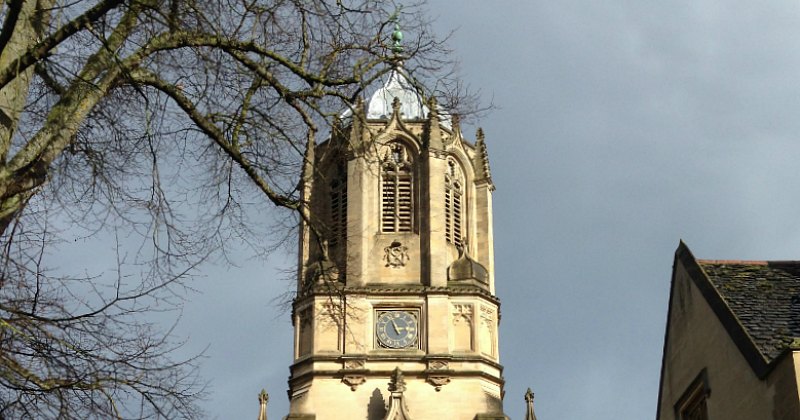 Oxford's cathedral is unique as it's also the chapel of one of the university's colleges. The Cathedral Church of Christ was a priory that was taken over by Cardinal Wolsey, Henry VIII's chief minister, in the 1520s as part of his plan to build a new college at Oxford. After Wolsey's fall from grace, the college was re-founded by the king, and in 1546 it was given its present name, Christ Church.
Unusually, for an Oxford college, it doesn't use the word 'college' in its name. 1546 was also when the Diocese of Oxford was founded, with the college's chapel being designated as the cathedral. It's a small one by English standards – indeed it was England's smallest cathedral for many years, but when the C of E re-designated several big churches as cathedrals in the early twentieth century it lost that title (which is now held by Derby Cathedral). Because of the location, there are plenty of academics who are buried or commemorated here. It also has its own time zone – Christ Church Time, also known as Oxford Time, which is five minutes behind the rest of the United Kingdom. This is a throwback to the days before the railways when every part of the country had its own local time.
When Greenwich Mean Time was introduced nationally in 1847, the dons (academics) of Christ Church refused to alter their clocks, leaving them five minutes behind everyone else! Today, the clock of the college's famous Tom Tower shows the correct time (Greenwich Mean Time or British Summer Time, according to the time of year) but in accordance with tradition the cathedral still runs on Oxford Time.
Tickets for visiting the cathedral also include access to Christ Church's quads, cloister, and hall, although you should bear in mind that some parts may be closed at short notice for services and other events.
Website: http://www.chch.ox.ac.uk/cathedral
We visit Oxford on our one-day Oxford & Traditional Cotswold Villages tour and on our two-day Cotswolds, Bath & Oxford tour.

Winchester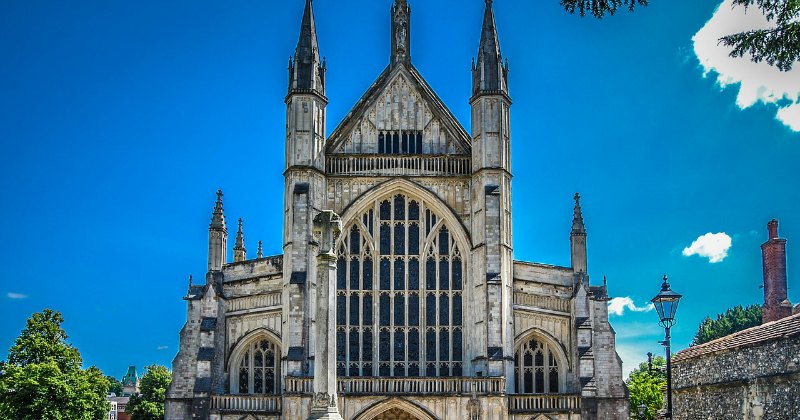 England's ancient capital is home to the Cathedral Church of the Holy Trinity which was founded in 642. The current building dates to the eleventh century but took three hundred years to build, resulting in a combination of architectural styles (Norman and Perpendicular, mostly). Inside, there's plenty to see in a building which boasts the longest nave of any medieval European church (it's 556 feet or 169 metres, long). The font is made of black marble, while the choir-stalls are the oldest complete set in the country.
Buried in the cathedral are several kings, among them Canute whose remains lie in one of the mortuary chests above the high altar, and William Rufus who is in the presbytery. Jane Austen is buried near the font.
The most famous of Winchester's bishops was St Swithun, a ninth-century holy man who was originally buried outside, but whose remains were later reburied indoors. According to legend, this prompted heavy rain, which was an indication of his displeasure at being moved inside – giving rise to the myth that if it rains on St Swithun's Day, 15th July, it will continue to rain for forty days afterwards. Today, Swithun's exact burial place is unknown although there's an impressive memorial shrine dedicated to him. Unfortunately, Winchester Cathedral was built on marshy ground which is why the crypt is rarely open as it is prone to flooding.
In the early twentieth century, the cathedral was faced with the prospect of collapse as the foundations were found to be slowly sinking. The hero of the hour was a deep-sea diver, William Walker, who over six years – during which he worked for six-hour days in total darkness at depths of up to 20 feet (6 metres) – shored up the foundations with some 25,000 bags of concrete, 115,000 concrete blocks and 900,000 bricks, saving the cathedral. For this, he was given a medal by King George V and had a pub near the cathedral named after him; what more could be done for an English hero?
Website: http://www.winchester-cathedral.org.uk/
Winchester is visited on the first day of our five-day Devon & Cornwall tour.
York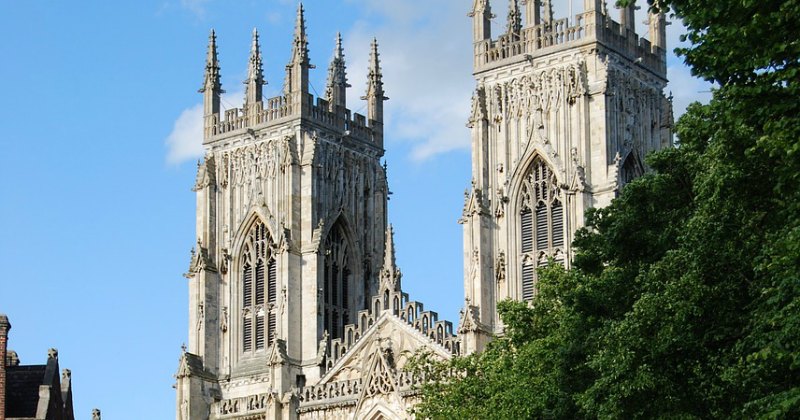 The historic city of York is home to the Church of England's second archbishop. His cathedral is the Cathedral and Metropolitical Church of St Peter at York, commonly known as York Minster or just the Minister ('minster' is an old English word for a church, which is also how Westminster got its name).
Dominating the skyline of the old walled city, it's the largest Gothic cathedral in Northern Europe. York has had a Christian presence since Roman times. In fact, it was where Constantine, the first Roman emperor to convert to Christianity, was proclaimed as the emperor.
Work on the present Minster began in 1220 and wasn't finished until 1470, with the Central Tower having to be rebuilt after it collapsed in 1407.
York has a long and distinguished tradition of producing beautiful stained glass, so it's appropriate that the Minster is particularly renowned for its medieval stained glass windows, some of which date back to the twelfth century. These artistic treasures include the ornate Five Sisters Window and the Great East Window which was finished in 1408 and is the largest expanse of medieval stained glass in the world. The Kings' Screen at the top of the nave is famously asymmetrical, containing seven statues of English kings on one side and eight on the other – this is because the fourteenth king, Henry V, died during its construction which meant that his successor, Henry VI, had to be added as well.
Much of the cathedral's interior was damaged during the Reformation, and since the seventeenth century restoration projects have been punctuated by fires in 1753, 1829, 1840, and 1984. The last one was caused by a lightning strike and was reported all over the world as residents joined with firemen, clergy, and staff to save valuable and historic items from the flames.
In 2015, York Minster was in the news again but for a different reason – it was where the Church of England's first-ever female bishop was consecrated.
Website: https://yorkminster.org/home.html
York is our base for the second part of our Heart of England, Wales & Yorkshire tour, the first part of our York, Dales, Lake District & Hadrian's Wall tour and for three nights on our eight-day London to Edinburgh Adventure.

As well as being a Driver-Guide on Rabbie's tours operating out of London, Nick is also a writer and a former history teacher. He is a regular blogger at http://nick-young.blogspot.co.uk.