Where to See the Best Moorish Architecture in Spain?

I remember the first time it truly clicked with me what exactly 'Moorish' meant. It was in 2014, when I spent six months travelling Europe on my own. Prior to that, I'd only been to Europe once with my parents where we did the classic check-list trip. Eiffel Tower, check. Colosseum, check.
But now that I was on my own, I got to explore places that called to me. My friend and I went to Spain and visited this lovely place called Córdoba, in Andalusia. After lounging at the hotel rooftop pool with our pizza, we headed to this place called the Mezquita ('mosque' in Spanish) and I was immediately obsessed.
Maybe the Mezquita is familiar to you – its famous red and white arches are easily recognisable, so no wonder it draws people from across the globe. This was the beginning of my obsession with Moorish architecture, of which Spain has plenty.
First, let's talk a bit about what Moorish even means.
What is Moorish Architecture and Who Are the Moors?
Now, I use the term 'more-ish' when I'm referring to something I just can't get enough of – like cookies, for example. But that's not the word I'm talking about… though it kind of does apply here. I just can't get enough.
'Moorish architecture' is a broad term referring to anything built by the Moors. The Moors themselves are not one defined group – rather it was the term used by Christian Europeans to describe people of Muslim descent who inhabited parts of the Maghreb and Al-Andalus in the Middle Ages.
The term itself is somewhat outdated, but Moorish architecture in Spain dates back to the 8th century. To this day, monuments built by the Moors are some of Spain's most iconic sites.
There are several elements that make up what is known as 'Moorish' architecture, such as horseshoe arches. My personal favourite are their incredibly complex geometric patterns and shapes, which indicate that the craftsmen were aware of mathematics and geometry. Also, they're just pretty. Really pretty.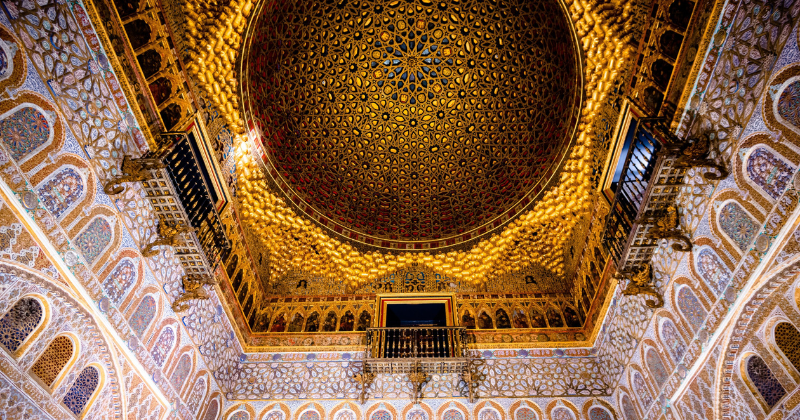 Where Can I See Examples of Moorish Architecture in Spain?
If you have plans to visit Spain, you should definitely add the following locations to your must-see list. You can see several of them on our tours of Spain.
1. Mezquita (Córdoba, Andalusia)
Starting off with my favourite – partly because you never forget your first, and partly because it was one of the first (if not the first) examples of Moorish architecture in this region. Construction began in 785-786, during a time known as the Umayyad Emirate. This was a medieval Islamic kingdom that ruled for nearly seven hundred years in what is now Spain and Portugal. The site was finished just one year later (though changes have been made to the structure over the years).
In 1236, the city of Córdoba was retaken by the Christians but luckily, they decided not to destroy the Mezquita.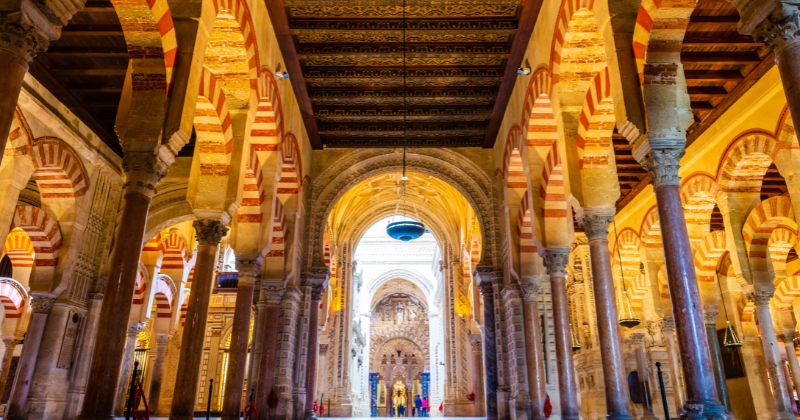 There are so many beautiful parts to the Mezquita, but it was the hypostyle hall that really got me. Hypostyle halls are enormous rooms with a roof supported by columns. In this instance, there is something about the unending red and white columns that makes you think it could go on forever. It's honestly like stepping into another world and I was actually inspired to write a novel set in this very hall.
You can visit the Mezquita on our tours to Spain.
2. Alhambra (Granada, Andalusia)
Easily my second favourite example in Spain is the Alhambra in Granada. I'm not just going to sell you on the Alhambra, I'm going to sell you on Granada.
I'm dying to get back to Granada and stay once again in the old town, a winding labyrinth of Medieval/Moorish-inspired streets. My favourite kind of store is anything hippy – crystals, lamps, colourful clothing, incredible silver jewellery… and that is what the entirety of Granada's old town is like.
But it wasn't just the endless ways I could spend my money that I loved. It was the architecture, the people, and the food. Below I've put a little collection of my photos from the trip back in 2014. Please excuse the terrible quality, this was well before I knew how to work a camera.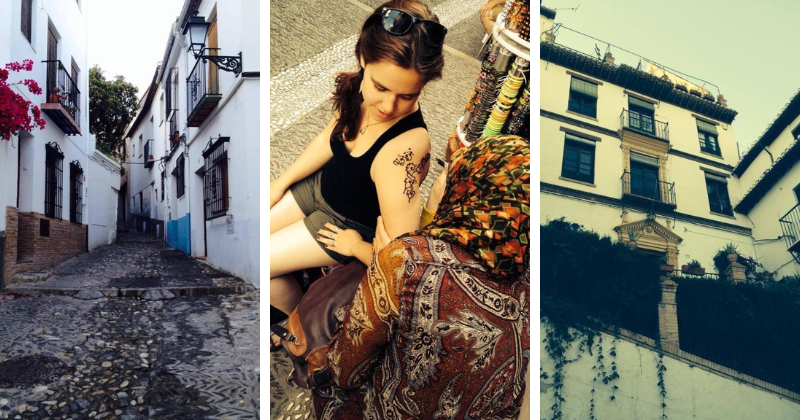 After I stuffed my face with vegetarian paella and covered myself in henna tattoos, we headed to the Alhambra. This is one of the most famous and best-preserved monuments that boasts this must-see Moorish architecture. It was built in 1238 on Sabika Hhill and, as you can see from photos, it commands the high ground and was a stronghold throughout many battles.
It wasn't just a stronghold, however. The Alhambra is a pretty swanky building, if I do say so myself. With its lavish designs, luscious gardens, epic courtyards and water features, the Alhambra rivalled some of its famous counterparts of the era.
It's now one of Spain's most popular tourist attractions and is a UNESCO World Heritage Site. You can visit the Alhambra on our tours to Spain.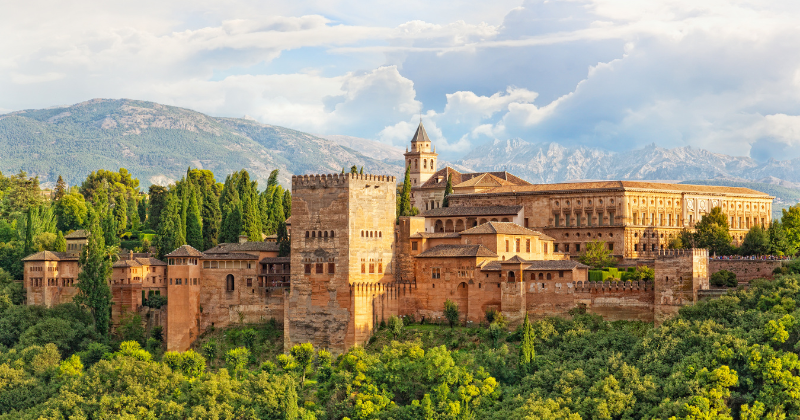 3. Torre del Oro (Seville, Andalusia)
If you haven't been to Seville yet, I must ask what on earth you've been doing this whole time. Jokes aside, Seville is one of my top recommendations for those planning to visit Spain. Being both the capital and largest city of Andalusia, Seville is known for its stunning architecture and flamenco dancing.
And tapas. Always tapas.
If you jump on one of our Rabbie's tours to Spain, you will get to spend some time in Seville. While you're there, wander over to the Torre del Oro ("The Tower of Gold"). While many of the historic fortifications in Seville have been removed over the years, the Torre del Oro is still standing strong… which is pretty easy to do when you have 12 sides. Dodecagonal. Do-dec-ag-on-al. Boy, that's hard to say.
Built in 1220, this military watchtower sits very prettily overlooking the Guadalquivir River, just a short walk from the Cathedral of Seville. It is well worth a visit during your trip to Seville.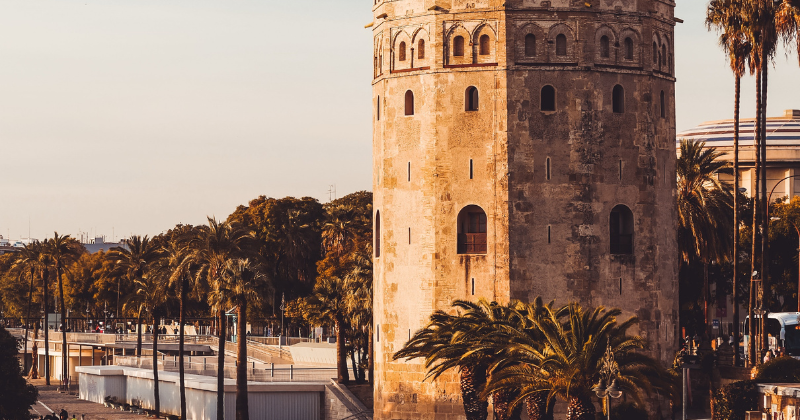 4. Alcázar of Seville (Seville, Andalusia)
If you're visiting Seville, you can't miss seeing the Royal Alcázar. Known for its stunning tile work, this palace was originally built in the 8th century by the Moorish rulers who occupied the area. Construction continued on and off, and in the 12th century there were further additions to make it even more like a palace. The new elements reflected the Islamic art of the time, including geometric patterns and calligraphy. This is what you will see today.
To this day, the royal family of Spain stay in the upper levels of the palace when they visit Seville, so you just know this is a site worth seeing. Not to mention you may already recongise it. Game of Thrones fans will get a kick out of seeing the palace, as it stood for the Water Gardens of Dorne in seasons five and six.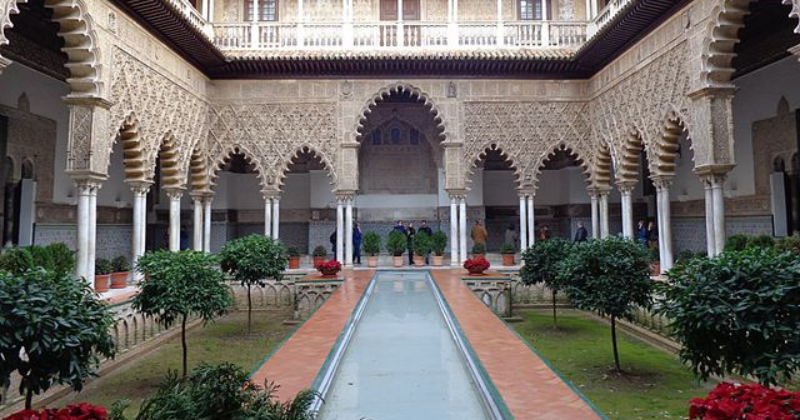 5. Alcazaba (Málaga, Spain)
Recently, I visited Spain again and it reminded me why I love it so much. Málaga was a pleasant surprise, this city is full of amazing things to do and see – including a visit to the Alcazaba. I wasn't really sure what to expect when I arrived, seeing as I'd made no solid plans and just happened upon it. But this should definitely be on your list. Luckily, I had my camera with me and I went to town.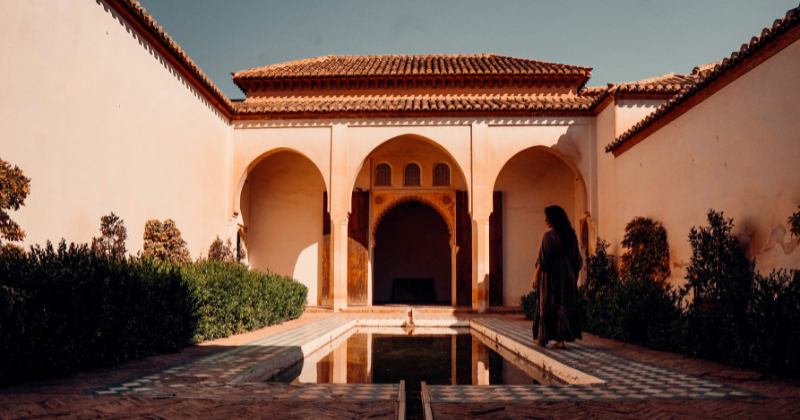 Construction on this beauty began in the 11th century and is one of the best- preserved alcazabas in Spain. What is an alcazaba? You might know it by another name – kasbah – or 'fortress', which is a fortified quarter of a city. While you're humming 'Rock the Kasbah' to yourself, take a look at a few more photos of this stunning fortress. I'm a bit better with a camera now, so enjoy.
The Alcazaba is also connected to the Castle of Gibralfaro and right across from the remnants of a Roman theatre from the 1st century. There's plenty to see, so make sure your camera is charged. Grateful that mine was, I wandered the Alcazaba marvelling at the beautiful Moorish architecture. I'm a huge fan of those iconic horseshoe arches, plus the tiling and patterns make the entire structure one stunning piece of artwork.
6. Alcázar de Jerez (Jerez de la Frontera, Andalusia)
Last but certainly not least, who doesn't love a good palace? The Alcázar de Jerez in Jerez de la Frontera is a beautiful example of a Moorish alcázar (meaning 'palace'). Dating back to around the 11th century, it's now a registered Bien de Interés Cultural – literally meaning a "good of cultural interest".
On our 6-day tour to The South of Spain & the Treasures of Andalucía, you have the option to visit Jerez de la Frontera on a half-day tour. The town itself is the heartland of sherry and Spanish brandy – so there's more than one reason to swing by for a visit.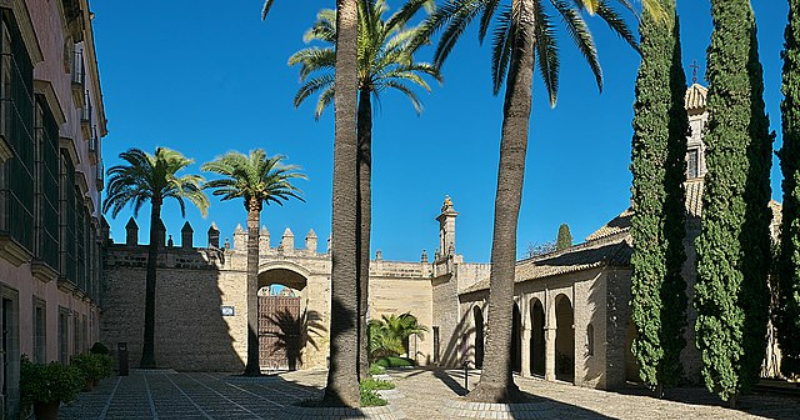 There are endless other examples of incredible Moorish architecture, so if your plan is to visit Spain anytime soon, make sure you look them up. Whether you're catching a direct flight to Spain from the USA, doing a self-driving trip through Europe, or joining us on a Rabbie's small-group tour, you should definitely keep an eye out for the iconic elements that make up this beautiful style of architecture.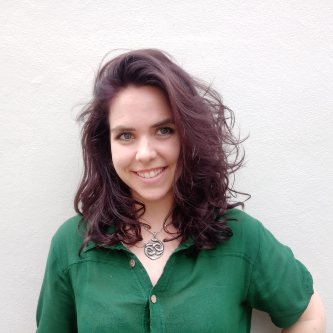 Bronwyn lives and breathes words. Before coming to work at Rabbie's, she spent 7 years in publishing and is a published author of YA fantasy books. Born and raised in Sydney, she was drawn to Scotland and affectionately calls it her 'soul home'. An avid traveller herself, Bronwyn's favourite places (so far) are Mongolia, Iceland, Morocco, and Scotland (of course). When she's not writing, she can be found exploring the Scottish Highlands with her camera, on the lookout for coos and men in kilts.