Top 10 Things to See in Scotland on a Small Group Tour

There are so many amazing things to see in Scotland. From remarkable feats of human construction to spellbinding natural wonders, visitors are spoilt for choice. The country is also home to fascinating historical sites, and scenic views are never in short supply. With so many amazing things to see in Scotland, it can be hard to know where to start. That's where the expertise of Rabbie's can help. We combine local knowledge with real experience to show you the very best of Scotland. Read on to discover ten of the best things to see in Scotland and be inspired to visit them for yourself on a Rabbie's small-group tour.

Table of Contents:
10 Best Things to See in Scotland
With so many wonderful things to see in Scotland, it was hard to come up with a list of our top ten. Whether you are a local looking for a new adventure or coming in for a short visit, here are some top must-see sites:
1. Scottish Castles
There are hundreds of impressive castles in Scotland making it impossible to choose a favourite. One thing's for certain though, and that's that Scotland's castles are a must see. Whether you want to uncover the history, live out your fantasy drama dreams, or admire the building work, castles are one of the best things to see in Scotland. Here are some of the greats:
2. The Old Man of Storr
The Old Man of Storr is a tall and steep rocky hill that rises dramatically from the surrounding area. Found on the Trotternish Peninsula on the Isle of Skye, this landmark is one of the most photographed places on this Scottish island. The Old Man of Storr is one of the best things to see in Scotland not just because it's a striking natural formation but also because of all of the myths and stories that surround how it came to exist. See the Old Man of Storr and learn all about it from our friendly driver guides on our Isle of Skye tour from Edinburgh.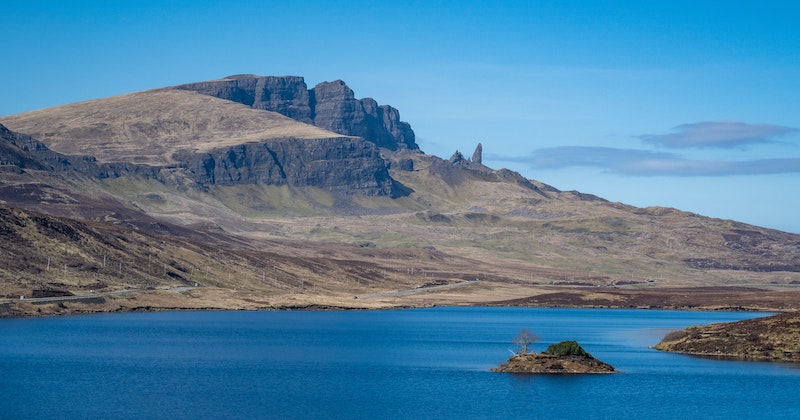 3. Loch Ness
Loch Ness is possibly one of the most famous things to see in Scotland. Known all over the globe as the home of the mysterious Loch Ness Monster, this huge loch contains more water than all the lakes in England. Even if you don't spot Nessie herself, visiting the outstanding Loch Ness is well worthwhile. The views across the water and the surrounding valley are breathtaking. Not to mention the picturesque neighbouring villages, ruins of Urquhart Castle, and many Insta opportunities. You can visit Loch Ness on many of our tours ranging from a short but sweet Loch Ness and the Highlands day tour to a longer 5 Day Highland Explorer adventure.
4. Whisky Distilleries
Scotland is famous for its whisky and a list of the top things to see in Scotland would feel incomplete without mentioning a whisky distillery. Learn about the history of Scotch whisky from our expert guides before seeing the workings of how it's made in an authentic distillery. From whisky connoisseurs to complete newbies, exploring Scotland's distilleries can be enthralling for anyone. Join us on our Speyside Whisky Trail or our Malt Whisky tour to learn more about this key part of Scottish culture. And best of all, you don't have to worry about who is going to drive!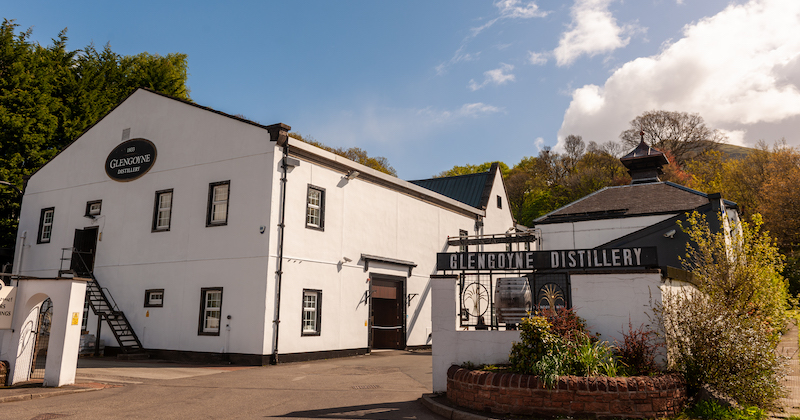 5. Glenfinnan Viaduct
Another of the top things to see in Scotland is the Glenfinnan Viaduct. This bridge is an impressive example of Victorian engineering and runs 100 ft above the ground. Harry Potter fans will recognise this railway bridge from the second and third movies in which the Hogwarts Express journeys through Glenfinnan. Even if you're not a Harry Potter fan you can still be impressed by the structure's iconic arches and the stunning surrounding scenery. You can see the Glenfinnan Viaduct on our Isle of Skye and West Highlands tour.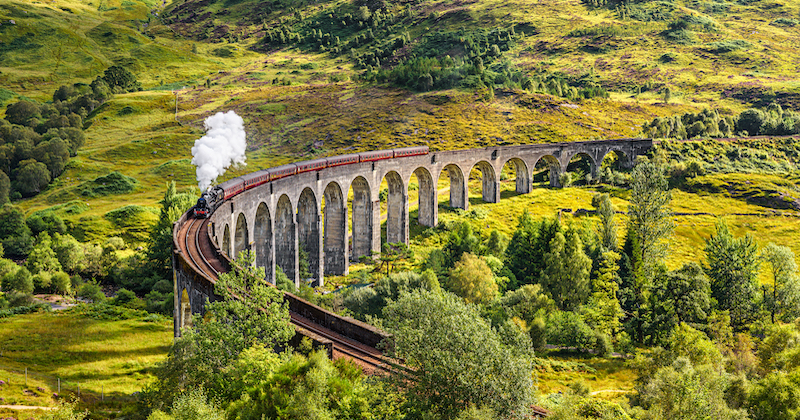 6. The Fairy Pools
One of the most unforgettable things to see in Scotland, the Fairy Pools are as magical as their name suggests. These crystal-clear rock pools on the Isle of Skye are fed by spring water from the Cuillin Mountains. With the backdrop of the amazing mountains and the serenity of the water, it isn't hard to imagine fairies making this their home. We certainly wish we could. Although we can't guarantee it because sometimes the pools are flooded, there's a chance you can see the Fairy Pools on a few of our tours such as the 3 day Isle of Skye tour from Glasgow.
7. The Kelpies
Made from 300 tonnes of steel, The Kelpies are a pair of giant horse head sculptures. Although they may not be one of the first things that come to mind when you think of the Scots, the Kelpies are still one of the top things to see in Scotland. In Scottish lore, Kelpies are fearsome water beasts that take on horse form to lure their prey to a watery death. Standing at a staggering 30 metres tall, these sculptures do well to convey some of the power of the mythical beast. Learn more about Scottish water monsters from our driver guides and marvel at the Kelpies on our Loch Lomond and Kelpies day tour from Edinburgh.
8. The Wallace Monument
The Wallace Monument near Stirling is another of the top things to see in Scotland on a small group tour. This tower honours the Scottish hero William Wallace, who played a key role in Scotland's fight for independence in the late 13th and early 14th centuries. Built between 1861 and 1869, the Wallace Monument is made from sandstone and stands 220 ft high. You can climb to the top for panoramic views of the surrounding area that will blow you away. Speak to us about organising a private group tour to visit the Wallace Monument and any other sites of your choosing.
9. The Cairngorms National Park
The Cairngorms is the largest national park in the UK and is a treat for any age to explore. Located between Pitlochry and Inverness, the park stretches over 1,748 square miles. The area boasts dramatic mountain scenery, luscious forestry and mesmerising rivers. One of the most wonderful natural things to see in Scotland, you won't regret getting lost in the beauty of the Cairngorms. Discover the landscape with us on our Cairngorms National Park tour.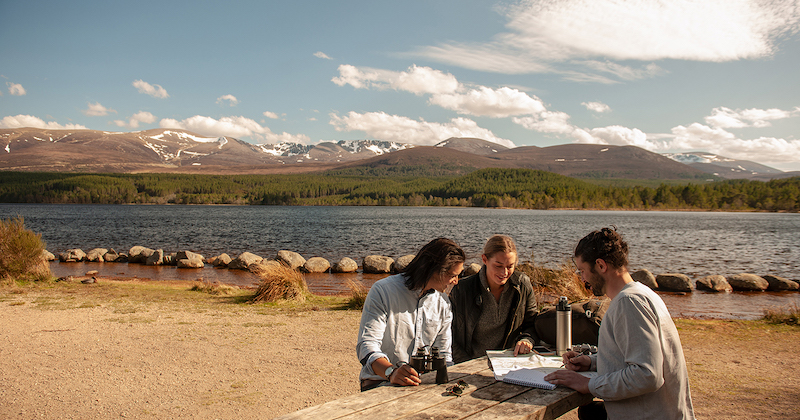 10. Scottish Wildlife
Scotland is home to some amazing creatures and if you are lucky, seeing these animals can be a highlight of your tour of Scotland. From adorable puffins to seal pups and Highland cows, there are so many animals to spot. Whilst there's a chance of seeing some of these beautiful Scottish animals on our tours, we don't ever promise it. There's an unwritten rule that if a traveller on the tour asks to see a Highland coo, they never do. But if nobody asks, then they're often out. The good thing is that because our mini-coaches are smaller than conventional buses, we can get off the beaten track as well as be far less intrusive to the animals. Causing minimal disturbances to the wildlife is a key part of our responsible travel ethos.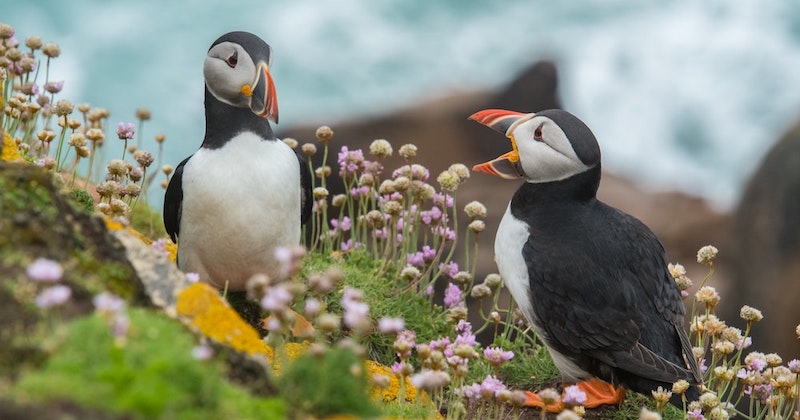 Benefits of Seeing Scotland on A Small Group Tour
There are so many amazing things to see in Scotland and what better way to visit them than aboard a small group tour? Ok, we may be slightly biased, but we do truly think a small group tour is one of the best ways to experience the country. Here are our reasons:
Hop aboard a small group tour from Edinburgh, Glasgow, Inverness, or Aberdeen and make memories to last a lifetime.
Explore Scotland and Beyond with Rabbie's
Exploring sites from the list of the best things to see in Scotland could be just the beginning of your adventure. The United Kingdom is a treasure trove of sites and Rabbie's are making it easier than ever to explore them all. We offer small group tours around England, Ireland, Wales, and beyond to Europe. Have an amazing holiday as you see all the best sights from the comfort of our mini-coaches. Book a tour now or sign up to our newsletter to hear the latest updates about new tours and departure points.