Scotland or Ireland: Which Country Is for You?

Loch Ness monster versus Leprechauns.
Whisky versus Guinness.
Haggis versus Irish Stew.
St Patrick's Day versus Hogmanay.
Bagpipes versus Celtic Harp.
Everybody knows the cliches of places like Scotland and Ireland. It's hard not to daydream about places so mystical, so quirky, so full of life. But when it comes to actually visiting these places, how can you look past the cliches and really get to know them?
You might not know which is the one for you, especially if you're pressed for time and can only visit one. That's a horrible dilemma: Scotland or Ireland? Each country has plenty to their name. When it comes to deciding which is for you, take a little look below where we run through some of the most incredible places in each of these countries. Places that may seem alike on the surface, but each country's history and culture make them unique.
Giant's Causeway vs the Isle of Staffa
60 million years ago, the earth was tearing itself apart. Fissures hissed heat and anger and, finally, lava oozed forth like the world itself was bleeding. But this wasn't an injury, as it might sound. This was art. And as the lava cooled, the molten rock formed into 40,000 interlocking basalt columns. Bursting from the ocean like trees in a forest. Gunmetal grey and completely inconceivable.
This is the Giant's Causeway in Northern Ireland. And, as much as the science behind it is awe-inspiring and fascinating, some prefer to believe in something a little more mystical.
One legend has it that Northern Ireland was once home to a giant named Finn McCool and that he created the causeway as a way to cross the Irish Sea and face his rival, the Scottish giant Benandonner. When the battle was done, Benandonner unleashed his rage on the causeway, tearing it to pieces. All that remains is what you see today on the coast of Northern Ireland.
But Scotland went: "Och, aye, we can do it better than that, no?"
Enter the Isle of Staffa. She's an island of pure contradiction. Both a black hole of mystery and a valley of pure beauty. Just off the coast of the Isle of Mull, Staffa is a mere ½ mile long and ¼ mile wide. Perhaps even more otherworldly than its Irish cousin, this mound of darkness looks like it could be a landing platform for aliens.
Science tells us that she's the Giant's Causeway's younger cousin, some 59 million years ago. But legend tells us that this was the home of the earlier mentioned Scottish giant Benandonner. Both so alike, with homes that were intrinsically linked, and yet they couldn't overlook their differences...
While perhaps a little harder to reach (you'll have to join a boat tour, such as with Staffa Trips), we think the Isle of Staffa has a few things on Giant's Causeway. Like a mouth to hell itself, Fingal's Cave greedily drinks in the ocean outside, churning it up and spitting it back out. The cave is an incredible feature of the island, one of the biggest draws for travellers.
Remember before when we were speaking about contradictions? Well, that's where the surface of the isle comes into it. Scampering atop this black hole are some of the world's most adored wee creatures: puffins. Sit long enough with a view of the glistening ocean below, and these sweet creatures often come to say hi to visitors. Get your cameras ready.
Causeway Coast vs NC500
130 miles of rugged coastal roads... sounds ideal, doesn't it? Vast ocean views and cliff-top castles spot the journey like wildflowers in a field. Perfect and captivating. That's the Causeway Coast. This four-day drive will take you easily from Belfast to Derry (Londonderry), and on the way, you'll be spoilt for things to do.
One of the biggest draws for Northern Ireland in recent years is its links to popular TV shows like Game of Thrones. If you're a fan, you can make a whole adventure out of visiting the various film sites. From the Dark Hedges to Castle Ward (home to House Stark), you might just start to believe you're in the Seven Kingdoms.
Speaking of stories, there are plenty of fascinating legends along the way for you to chase down. The ruins of Dunluce Castle, the seat of Clan MacDonnell, is perch in their ruinous state on the edge of a basalt outcropping in County Antrim along the Causeway Coast. There are many legends associated with this dramatic fortress, including the Banshee of Dunluce, Maeve McQuillan. It's Ireland's very own Romeo and Juliet. Falling for a boy from her family's rival clan, Maeve's favourite forbade her to be with him. But without defiance, there can be no story. Stealing away with her lover, the pair were caught in a terrible storm in the caves beneath the castle, where they drowned. So, if you hear a whisper of a scream on the breeze during your visit, you know who it is.
What about Scotland? Some might argue that a road trip in the Scottish Highlands is unparalleled. With Highland coos and heather, whisky distilleries and the Loch Ness Monster, it's a tough one to call. If a road trip is high on the bucket list, try the North Coast 500, or the NC500 route. It's considered one of the best road trips in the world with hundreds of miles to explore. Munros shrouded in mist, valleys stretched before you like they've consumed the entire world, little Scottish villages as gentle as the hairy coos that greeted you on the way in.
Perhaps we're biased, but there are few places in the world which can rival the level of harrowing myths and legends than that of Scotland. While cruising along the NC500, you could pop into one of Scotland's most haunted buildings: Ardvreck Castle. Filled with ghosts and smothered in bloody history, even the heavens saw the darkness within and, in 1795, the castle was struck by lightning. Perhaps some higher power thought it better to wipe its existence from this world.
All that remains is a charred ruin, like an animal husk devoured by vultures. But the bones of this creature still tell a story. Many stories, in fact. Like the betrayal of the Marquess of Montrose back in 1650. You might spot him dressed in all grey. Standing within the tower. Staring at the ground. Don't disturb him, though. After what he went through, he's likely to trust no one.
Dark Hedges vs the Fairy Glen
Stand under this canopy of darkness long enough, and you may just see Arya Stark trundling down the road on the back of a wagon. More than likely, you won't, but its link to Game of Thrones is what has drawn many people to the Dark Hedges in Northern Ireland in recent years.
But the hedges were popular long before the show drew further attention to them. They've been remarkable since their inception back in 1755, when James Stuart decided to build a mansion for his wife Grace. But James was not the kind of man to do things halfway. Along the entrance road to this new statement, James decided to plant over 150 beech trees leading up to his estate to impress visitors as they approached.
To this day, people flock from all over to see the imposing Dark Hedges and they're now one of the most photographed spots in Northern Ireland. Tread lightly if you do visit, though. The hedges are haunted (of course) by the Grey Lady. Maybe she's the spirit of James' daughter. Or perhaps she's the ghost of one of the housemaids who died mysteriously. Whoever she is, the hedges belong to her now.
We all love a good ghost story. But what about a dark fairy tale instead? In Scottish folklore, fairies have been long painted as something to fear. These twisted trickster creatures deceive, steal, manipulate. Drawing their attention, crossing into their territory, tempting fate... be warned.
With a castle of basalt rock, a stone circle, and haggard, witch-looking trees, it's no wonder the Fairy Glen on the Isle of Skye is a frequented place. Strangely enough though, it's one of the few places in Scotland that looks as it does but doesn't have a direct legend attached to it. As far as anyone knows, it has no real link to fairies... but what if that's the influence of the fairies themselves? What if anyone who's ever found evidence of it has been stopped from spreading the word? The simple fact that somewhere so magical and mysterious exists without dark legends attached to it makes us think that there must be a fairy conspiracy going on.
So, which will it be? Ireland or Scotland? Of course, we implore you to reconsider this indecision and simply visit both countries. As you can see, each land is brimming with sites to see, legends to hear, and dark creatures to avoid.
Don't know if you've heard, but fairies and ghosts kind of like us here at Rabbie's Tours. They (usually) leave us alone when we visit them on a small-group tour, so you're welcome to come under the shelter of our mystical protection. If not, and you're the kind of person who likes to tempt fate, all that's left to decide is: where to first?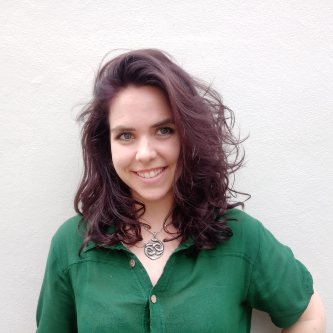 Bronwyn lives and breathes words. Before coming to work at Rabbie's, she spent 7 years in publishing and is a published author of YA fantasy books. Born and raised in Sydney, she was drawn to Scotland and affectionately calls it her 'soul home'. An avid traveller herself, Bronwyn's favourite places (so far) are Mongolia, Iceland, Morocco, and Scotland (of course). When she's not writing, she can be found exploring the Scottish Highlands with her camera, on the lookout for coos and men in kilts.