Pancake Racing Politicians and Other Curious British Traditions

Have you ever wondered why people do what they do? Why your neighbour touches wood for luck or your friend misses a crack in the pavement when walking?
Us Brits can be a little quirky, potentially some of us might even seem slightly weird to visitors from further a field.
We decided to explore some of the most curious British traditions and even we were surprised with what we found we found! And we felt duty-bound to share the quirkiness with you.
The House of Lords and their Pancakes
Pancake Day, or Shrove Tuesday, originates in the feasting day before the start of Lent on Ash Wednesday, and this year it falls on 13th February. This was the beginning of fasting for Christians, and the pancake was a great way to fill your belly and use up all the flour and eggs. Thus, Pancake Day has a long history and can be seen in Britain as far back as 1439.
But we don't just eat the pancakes, oh no. We race them too! The pure enjoyment of competing in a running race whilst flipping your pancake is still loved across the nation! It began in Olney, Buckinghamshire in 1445, simply because a woman was late for church and ran to make it in time while clutching her frying pan and pancake.
And the quirky tradition? For over 20 years, MP's, the media, and honourable members of the House of Lords have regularly taken part in a charity Pancake Race in Westminster, along the bank of the Thames. It's not the first thing you'd imagine Lords doing when you think of their day to day life!
It turns out this Lord of the realm lead race wasn't the strangest of British traditions, not by a long shot! Here are a few more peculiar pastimes to show you quite how quirky we are.
Gurning Contests
Gurning contests are a rural English tradition that started in 1269. Entrants place their head in a horse collar and pull the ugliest face they can. A game for children you might think, but you would be wrong. This 800-year-old competition is taken very seriously, and to this day it draws contestants from all over the world!
Don't believe us? Just watch this!
Cooper's Hill Cheese-Rolling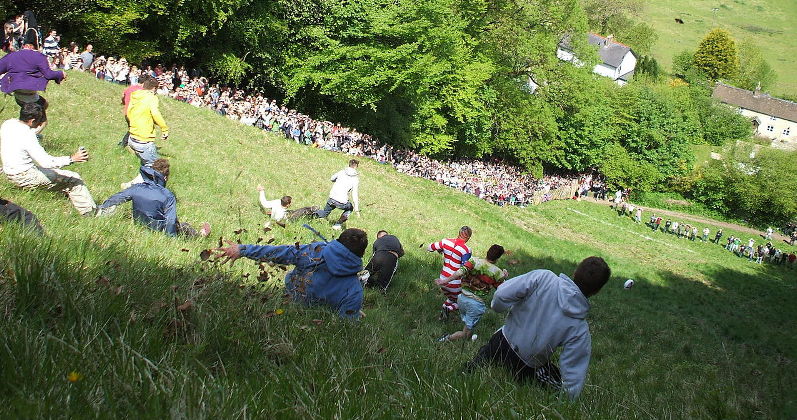 Once a year in Gloucester, locals chase a cheese down a hill and all try to be the first to catch it. This even makes the national news each year! It's a tradition that can be traced as far back as 54BC and first appeared in print in 1826 as an ancient past time.
The 'hill' in Gloucester isn't a gentle slope either, but a steep uneven incline which helps the 9-pound cheese (4.1kg) reach speeds of 70 MPH!
Injuries are frequent, but this event has still become world-renowned. Entrants travel across the globe to take part, and winners come from as far away as New Zealand and Australia! It was described by a previous participant as "twenty young men chasing a cheese off a cliff and tumbling 200 yards to the bottom, where they are scraped up by paramedics and packed off to hospital" - The Sydney Morning Herald, 2008.
Sounds like fun.
Image by Dave Farrance [CC BY-SA 3.0 (https://creativecommons.org/licenses/by-sa/3.0)], via Wikimedia Commons
Bog Snorkelling
A slightly more modern event, this tradition in Llanwrtyd, Wales is no less strange and started after a conversation in a pub.
The challenge is simple - two entrants race against each other, travelling the length of a trench cut into a peat bog filled with water. Flippers and snorkel must be worn, although a wetsuit is optional. The twist in this boggy tale? No recognisable swimming strokes can be used! It's now known worldwide, and events have been held in Ireland, Australia, and even Sweden.
Image by Rud-gr (Own work) [CC BY-SA 3.0 (https://creativecommons.org/licenses/by-sa/3.0) or GFDL (http://www.gnu.org/copyleft/fdl.html)], via Wikimedia Commons
Up Helly Aa
Last but by no means is least is a Viking based fire festival in Scotland. Held in Shetland, a group of islands off the north is Scotland, this tradition has expanded into a huge event! Though it was developed from other older traditions, the first official Up Helly Aa was held in the 1880's and has grown in size and popularity ever since.
The event goes throughout the entire day and night and is led by the 'Guizer Jarl' and his squad, with the highlight being a well-known torch-light Viking procession in the evening. Participants march through town behind the Jarl squad, who are dressed in full Viking dress and followed by a Viking long ship. The event culminates in the burning of the ship to mark the end of the Yule season. One of the more picturesque of the traditions we've found since pondering the simple pancake!
So it seems there's a lot more to Britain than red phone boxes and cups of tea. With such a rich history, Great Britain truly loves a little of the weird and wonderful, and proudly following its traditions year on year.
Image by Mike Pennington, CC BY-SA 2.0,(https://commons.wikimedia.org/w/index.php?curid=14)