Our Partner Charities: Refuweegee

Majestic mountains. Like. Beautiful green glen. Like. Cute cottage. Like, Like, Like. Our social media feeds are full of amazing places. But behind these inspiring images are communities of people who can be positively or negatively impacted by our visit.
That's why we tax ourselves £10 for every tonne of carbon we use. Our team vote on which community or environmental projects this money goes to every year. This way we give back to the communities we're part of and enable visitors to enjoy the things we love in the future.
Refuweegee (a portmanteau of 'refugee' and the nickname for a Glaswegian, a 'weegie'), is one of the charities we support. We've helped them by offering tours to focibly displaced people. It's our way of giving people the warm welcome that everyone deserves.
So, we've interviewed one of their team who'll introduce you to the work they do and inspire you to give back to local communities in any way you can.
What's your name and role at Refuweegee?
"My name is Hannah Gibbons and I am the Donations and Volunteering Coordinator at Refuweegee. My days are spent sorting through new donations, making up clothing requests that come in from partner organisations and single-handedly managing the logistical nightmare that is our buggy list.
As prams are not provided to new families as an essential item, the majority of my time is spent arranging how to get buggies from donors to families in the easiest way possible. Which is very rarely easy and usually in my tiny car!"
What does Refuweegee do?
"Refuweegee was set up to provide a warm welcome to forcibly displaced people arriving in Glasgow. Our aim is to enable the existing community in extending the friendly welcome that Glasgow is world-renowned for.
We do this through our welcome packs, our events and our volunteer opportunities. As a result of the amazing response from people in Glasgow and beyond, we have provided over 2,500 community-built, personal welcome packs and gained charitable status in September 2016.
We work with multiple organisations around Scotland, from our partners who distribute welcome packs through to schools and community organisations looking to do something similar in their area."
Why do you do it?
"Refuweegee was started as a way of welcoming people to Glasgow and giving the existing community the opportunity to share their welcome; be it through writing a letter, donating essential items, joining us at an event or fundraising. Sometimes people need to be reminded that a small act of kindness can make a huge difference."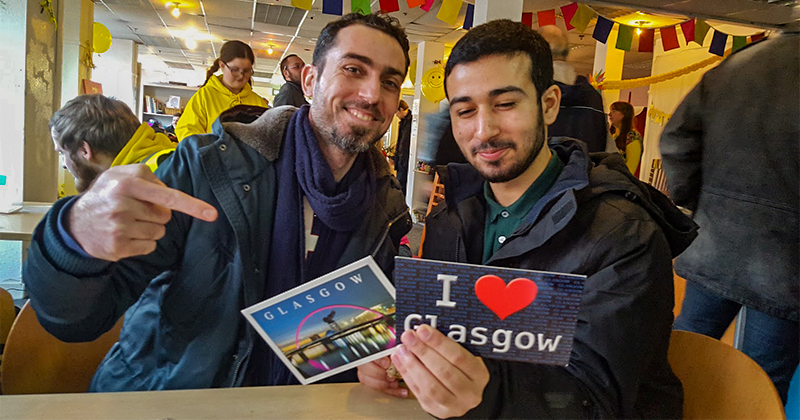 How long have you been partnered with us?
"We have partnered with Rabbie's since around February 2019, and we are all really excited about the opportunities this will give to forcibly displaced people in the future."
How do we help you?
"This partnership is the epitome of what we set out to do at Refuweegee. It gives us the chance to open up Scotland and give people the opportunity to engage with what is already happening within our city and country.
Working with Rabbie's Tours allows people to not just see Scotland but to connect with other individuals."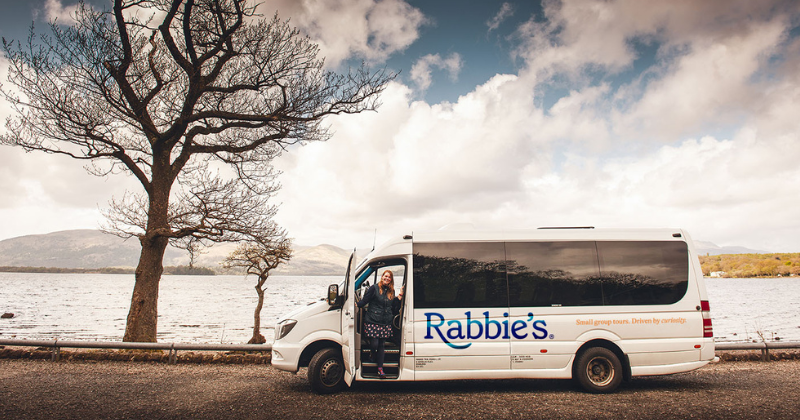 What's the biggest challenge you face?
"The biggest challenge we face is that enough is never enough. We can never do enough to support people both in and new to our communities. There will always be gaps in service provision but to overcome this, challenges need to be made.
We are very fortunate to be surrounded by so much positivity and kindness that it makes it easier to manage."
Message from a lovely Father who enjoyed the chance to explore Scotland with us: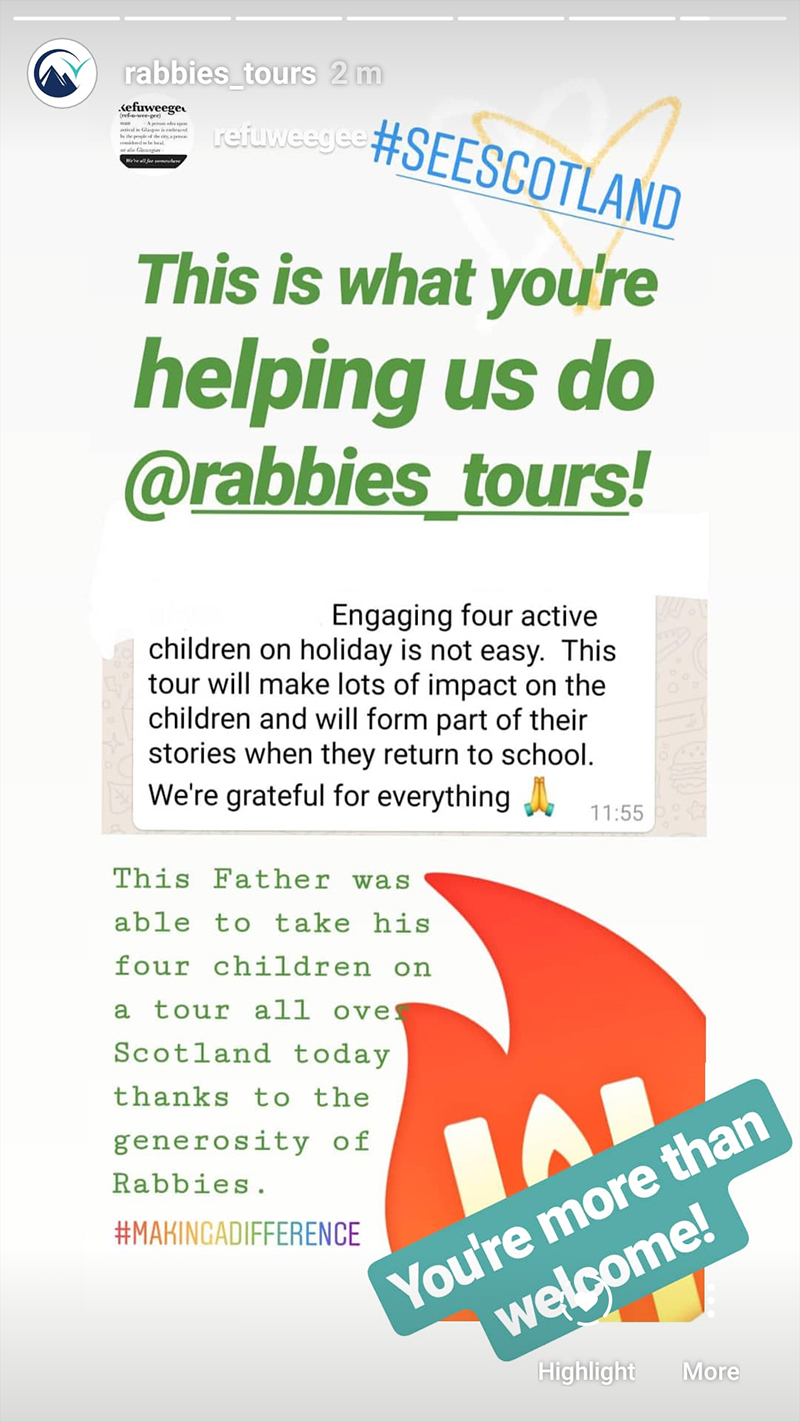 So, now you're familiar with the great work Refuweegee do to help forcibly-displaced people arriving in Glasgow. Or at the very least, the reputation Glaswegians have for their friendly and welcoming nature. You've probably seen first-hand how travelling can open your mind. Let's use that as an opportunity to leave the communities and environment better off than we find them.