An Interview with our Guide, David Withers

Rabbie's guides are more than just people behind the wheel.
They're the history, castle, nature, food, and culture specialists.
They're also a lot of fun, so we want you to meet them.
Here's an interview with David Withers, aka Jacobite Dave.
Tell us about yourself, please.
I'm called Dave, I'm about 6ft tall, I'm a ginger and I look like Billy Connolly, so I've been told on many occasions. My colleagues call me Jacobite Dave because of my passion for that period in history. I'm originally from Glasgow, but I've lived all over Scotland. I was the first in my family to go to University and get a degree.
Which tours do you normally do?
The tours I do range vastly. Just now, I'm doing all day tours in Scotland, as I'm about to become a dad. I also do many of the extended tours but this year I've been mainly doing the day tours. I've done this job for 7 years now.
Why did you decide to work with Rabbie's?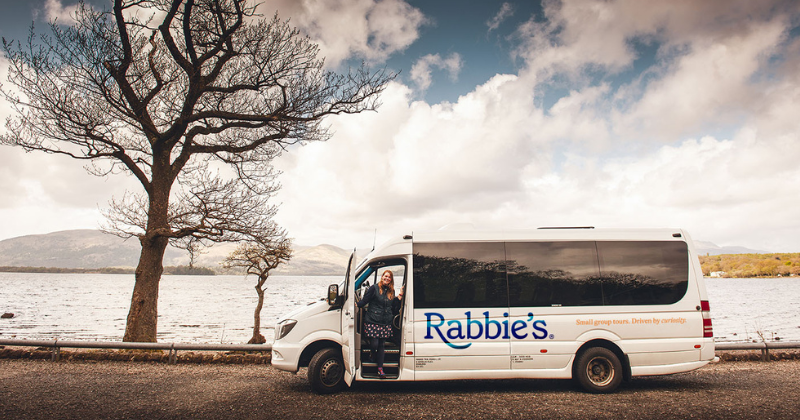 "Small is beautiful", the philosophy which Rabbie's was founded on. Small tours are better for the passengers. It gives them a personal experience of the places they're visiting.
Small tours are better for the passengers. It gives them a personal experience of the places they're visiting.
People want to be happy when they are on holiday and I want them to be happy as well. I also have a few good friends who work here, and it was highly recommended. With the smaller coaches you can go beyond the guidebooks! And further!
Why are you passionate about travelling?
I believe, travelling for me opens you up as a human being. To new experiences and adventures, while meeting new people on the way. Travelling bridges gaps in our understanding of the world around us. It helps you absorb the knowledge to become a better human being. I think it makes us realise that we all share a lot in common, and through this it makes the world a beautiful and safe place to live. It bridges the gaps in geography to help us understand and respect one another better.
Do you have a favourite Rabbie's Tour?
Mull and Iona and also Lewis and Harris.
Best place you've visited in the UK & Ireland?
Iona, hands down anytime. There's something magical about this part of the land. I can see why for so many years people regarded Iona as a special and sacred place. The rocks there are pink, and it looks like something right out of a fantasy movie. I'm not even religious, and it had this effect on me.
Strangest request from a customer?
I once had a passenger ask me if I was able to arrange for her to meet JK Rowling, the author of Harry Potter. Being best friends with JK, I tried to make this happen, but she was on holiday in Barbados at the time.
Funniest thing to happen on your tour?
There are so many, but one stands out. So, I was returning from an Orkney tour heading towards Dunrobin Castle. I must have driven through some cow poo on the way down to the castle, because on the way down we could smell cow poo pretty much for a good 15 mins of the journey and I kept saying it was just the farmers' fields.
So, we got to Dunrobin Castle and the passengers went in to explore. I decided to inspect the bus with a few of the remaining passengers because, by this point, we were sure there were no farmers' fields producing such a putrid smell.
So, we were on the bus, smelling people's bags and then we looked under the bus and we realised the whole under-carriage was caked in cow poo.
then we looked under the bus and we realised the whole under-carriage was caked in cow poo.
Needless to say, the bus stunk for about a month, and was nicknamed the Pooey Bus! Ha ha ha.
Which TV/movie shows off this country the best?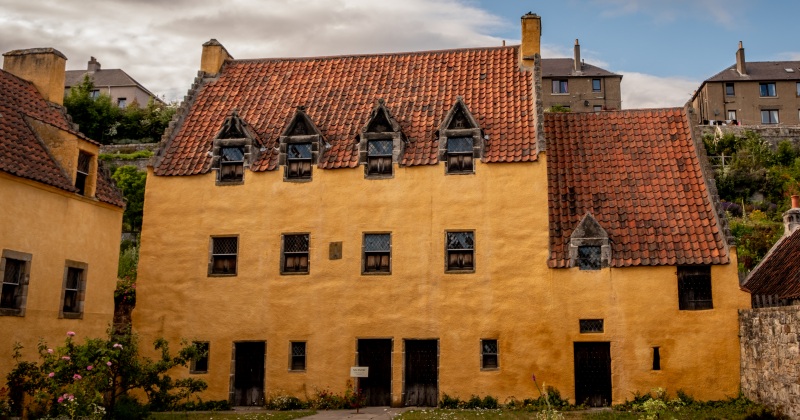 Recently, I would have to say Outlander, the TV Series. It really does show some beautiful parts of Scotland, and up until recently some of these places didn't get much coverage, so it's been good for the locals in terms of business as well.
Favourite season of the year?
Autumn, the colours in Autumn are other-worldly. Some parts of Scotland look like you're driving on an alien planet. The pastel colours and the heather is unbelievable.
What's the best thing about Edinburgh?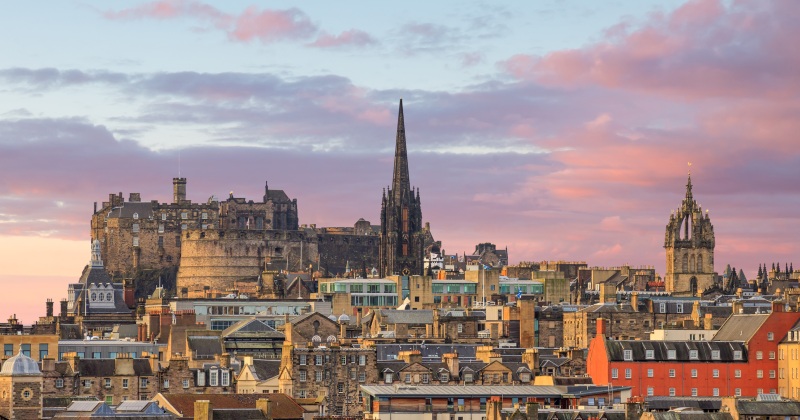 The architecture and history. Growing up in Glasgow, I used to get so excited knowing I was coming to Edinburgh. I loved the dark stories and spooky side of Edinburgh which every close and street seemed to have. If you are a fan of JK Rowling and the other authors that were inspired to write things in Edinburgh, you can see how they got their inspiration. Dreams do come true in Edinburgh, it worked for JK Rowling, Charles Dickens and Mary Shelley. Maybe if you write your dreams down, they might come true as well.
Finish this sentence: everyone on the planet should…. spread love and you'll get it in return.
spread love and you'll get it in return.
What are you looking forward to in the next 12 months?
Becoming a dad for the first time in my life.
Where's the most beautiful place you've ever been?
North Portugal. I would live there in a heartbeat. The people, the land, the food, it's just such a beautiful part of the world and their history is very similar to Scotland's, so I felt an instant connection with that place!
What's the best advice you've ever received?
Life is a race that nobody wins, it's just about who enjoys it the most! FACT!
What's your favourite tour story?
The story of how we got salt in our seas, oceans and some of our lochs. It involves a Clan Chief, Vikings and a witch. However, I'm not going to recount it now, you'll just have to come on a tour with me to hear it.