Beautiful Pitlochry: A Guide to Perthshire's Highland Gem

Pitlochry is well known within the UK as an outdoor base brimming with culture and architectural beauty. Nestled in the heart of hilly Perthshire, this Victorian resort town has always been an attractive holiday destination for travellers. But Pitlochry's name won't sound as familiar to those outside the UK, with many visitors from abroad only learning about it when they arrive here. We think its adorable shops and mountainous landscape are enough to lure most, but if these don't draw you in, the whisky heritage should do the trick.
Headed to Pitlochry? Here are some of our recommendations:
INTO THE WILD
Pitlochry is a hillwalker's dream. Trails beginning from the edge of town offer easy access to the countryside. And frequent public transport makes longer excursions possible for those without a car. We've recommended a couple popular walks below, but WalkHighlands is another great resource for trails in this area.
THE QUEEN'S VIEW
This is predominantly known as a lookout point, but the Queen's View has some great little trails to explore. People often think the name "Queen's View" comes from Queen Victoria's frequent visits to the area, but some also suggest it refers to Isabella of Mar, wife of Robert the Bruce, King of Scots.
The Queen's View is located 15 minutes from Pitlochry, and you can easily get there using frequent bus services. For more information, check out their website.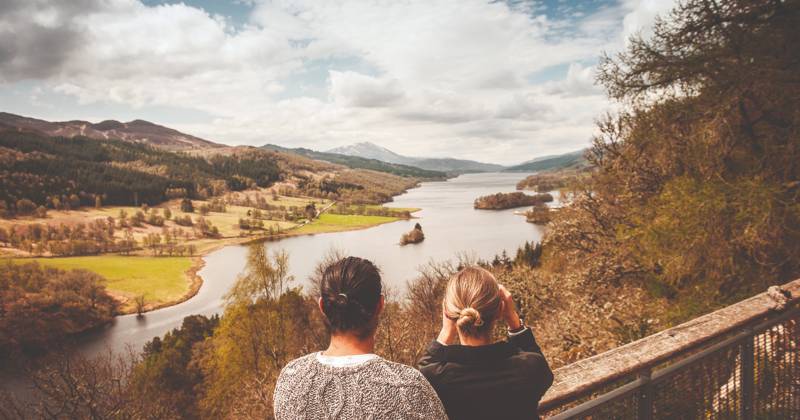 BEN VRACKIE
Climbing this small mountain is a must for hillwalkers. Spanning 10km, this walk begins just outside of town and you can easily reach it on foot. To the experienced trekker, this walk won't be too challenging, but the bare hills surrounding Ben Vrackie make for incredible views down to Pitlochry and the surrounding area. From the summit, you'll see some of the higher mountain ranges in the distance.
Click here for more details on how to get to the trail.
PITLOCHRY BOATING STATION
If walking isn't your thing, renting a canoe is a great way to experience the wilderness. A short walk from the centre of town, the Pitlochry Boating Station provides adventure gear to visitors year-round. If you fancy, you can also rent mountain bikes and fishing equipment here. Find more information on their website.
MAN-MADE BEAUTY
Not all of Pitlochry's outdoor attractions are natural. Several man-made features in the area offer a unique way to experience nature and wildlife.
THE SALMON LADDER
When the Pitlochry Dam was built in the 1940s, Scotland's government decided to maintain free movement for salmon occupying the Tummel River. To accommodate the demand, they built 34 pools which descend from the dam down to the water below. From April to October, you can watch in awe as the salmon leap from pool to pool and make their way past the dam. A visitor centre opened here in 2017, so be sure to check it out.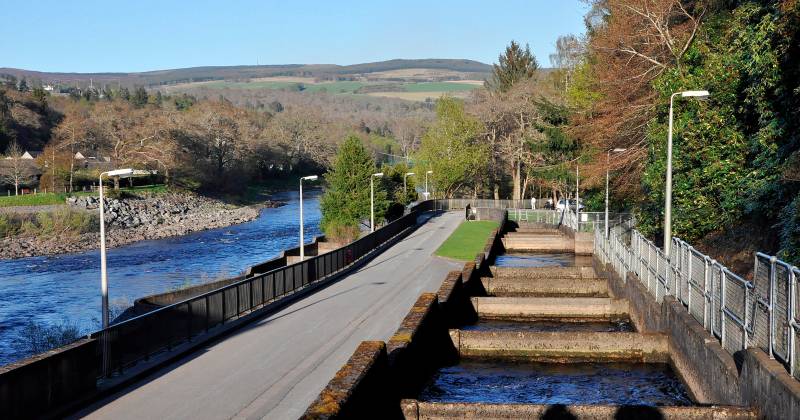 THE EXPLORER'S GARDEN
Fancy a wee walk through all the earth's continents? This beautifully diverse garden is a treasure chest of plants from around the globe, gathered by some of Scotland's greatest plant hunters. Here, you'll learn where certain flowers originated, discover rare plants retrieved from some of the most remote places on earth, and learn about what it meant to be a plant hunter in the 1800s.
The Explorer's Garden is a short walk from town, located just over the river next to the Festival Theatre.
FREEDOM AND WHISKY
Everybody knows Scotland and whisky go hand in hand, but did you know it's one of our top exports? Distilleries are an important part of the country's economy, providing employment and tourism to remote parts of the country and dispensing wealth to rural areas. In 2017, whisky brought in over £4 billion to Scotland!
Pitlochry boasts two great distilleries: Blair Athol, located at the edge of town, well within walking distance; and Edradour, just 10 minutes up the road by car. So, if you're curious about the Scottish national drink, visit Blair Athol to savour the nutty-spicy notes of their whisky. Or pop into Edradour, the smallest traditional distillery in Scotland that produces single malts of wonderful characters and flavours.
CASTLES & CULTURE
Don't worry culture seekers, there's plenty for you too. Who doesn't love a castle? Whether you're after exquisite buildings steeped in cultural significance or more humble ruins of something that once was, Pitlochry is a perfect place to go castle spotting. And those looking for a more modern cultural experience will love the town's thriving theatre scene.
BLAIR CASTLE
Blair Athol is a small village a couple of miles up the road from Pitlochry. Its centrepiece, Blair Castle, has hosted some of the UK's most notable historical figures, including Bonnie Prince Charlie and Queen Victoria. Lavish rooms maintaining their 18th and 19th-century décor are open to the public from 30 March - 30 October each year. Visit their website for more information.
Getting to Blair Castle without a car is possible but will require some planning. You can get to this village by bus or train, but remember to research departure times beforehand.
BLACK CASTLE OF MOULIN
Black Castle has been left to ruin. Occupied until 1512, it was burnt to the ground on suspicion it was responsible for the spread of the plague. It's a short visit, but the castle's history and surrounding nature are worth the walk up.
The ruins are located a short 15-minute walk from the town centre. Simply put your location into Google Maps to get the most accurate direction.
THE FESTIVAL THEATRE
Theatre enthusiasts will love Pitlochry's Festival Theatre, where you can see six plays in six days!
If the rumours are true, this is the only theatre in the UK to attempt such an extraordinarily busy schedule. Did we mention they offer matinees on some days as well? Recognised as a vibrant part of Pitlochry's culture as a community, this not-for-profit theatre draws over 100,000 people a year to its stage.
What's on? Find out here.
---
You can visit Pitlochry on our tours like Loch Ness, Glencoe and the Highlands, Loch Ness, Inverness and the Highlands, and Highland Lochs, Glens & Whisky.
Dana moved to Scotland from Canada and fell in love with the place. Her hobbies include dressing poorly for the weather and advocating the involvement of maple syrup in various food items.