13 Things to Do in Wales

Llanfairpwllgwyngyllgogerychwyrndrobwllllantysiliogogogoch.
Might look familiar to you. Might seem like a made-up word. We can assure you it's not.
It's the name of a town in Wales, often visited because it's the second longest place name in the world. Welsh is an incredibly complicated language, so no one is expecting you to be able to learn it while visiting. The name of the town means "St Mary's Church in the Hollow of the White Hazel near a Rapid Whirlpool and the Church of St. Tysilio near the Red Cave."
Even that's hard to say.
But Wales is known for more than its difficult language. Rugby fans will fit right in, since the Welsh are rugby mad and, on game day, create an atmosphere like no other.
The nature in Wales is something to awe at too. Mount Snowdon is the highest mountain in Wales in Snowdonia National Park. Climbing its 3,560 ft is at the top of many bucket lists... perhaps even yours? You might also get a kick out of visiting Swallow Falls at Betws-y-coed, the UK's most visited waterfall. Or perhaps crawling into the UK's deepest cave, Ogof Ffynnon Dddu, is more your thing.
No matter your reason for visiting Wales, we applaud your excellent choice. If your first visit is on the horizon, there are many incredible must-do-and-see things in Wales you might not be aware of.
So, sit back and relax as we take you through some amazing things to do when you visit Wales.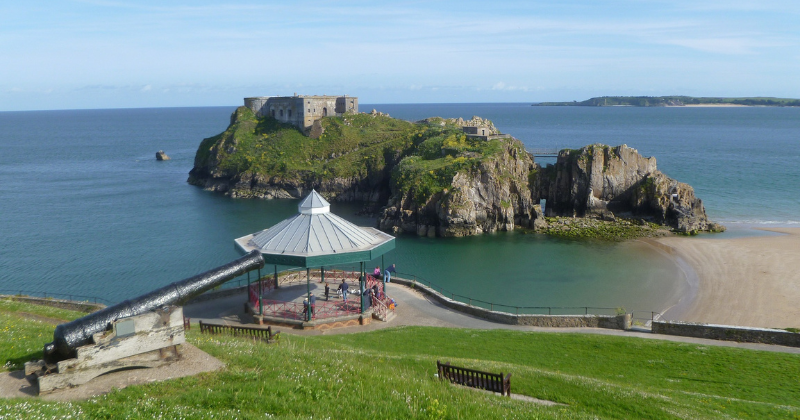 1. Lose Yourself in Tenby
Tenby is one of Wales' most amazing seaside towns. From its glorious beaches to its must-photograph Victorian houses, Tenby is a great day-trip from Swansea.
If visiting in summer, grab a bite to eat and head down to the beach. Even if it's freezing, it's the perfect spot for a crisp winter walk, taking in the pastel-coloured buildings that line the coast.
If you're craving a bigger adventure, head to Tenby and other amazing spots on our 3-day The Mountains & Coasts of South Wales tour from Bristol.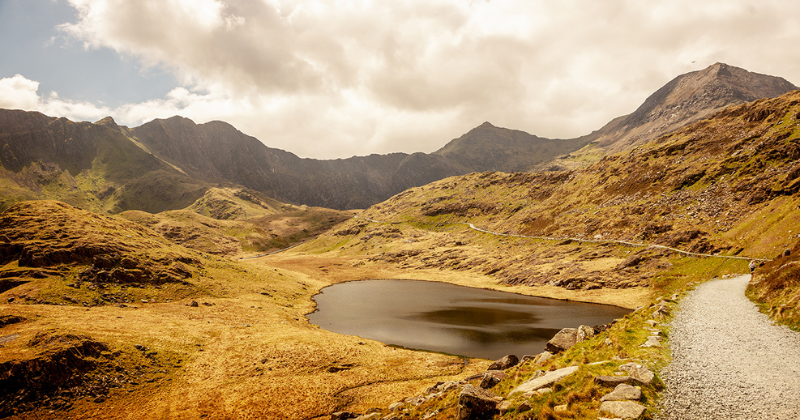 2. Explore Snowdonia National Park
A classic for a reason. Snowdonia National Park is one of the oldest parks in Wales and boasts the tallest mountain in both England and Wales. You can explore this 1000 square mile beauty on foot – or even take the mountain railway to the top.
Nature-lovers, hiking-enthusiasts, birdwatchers, and photographers will adore this place. We'd love to take you there on our 3-day Snowdonia, North Wales & Chester tour from London.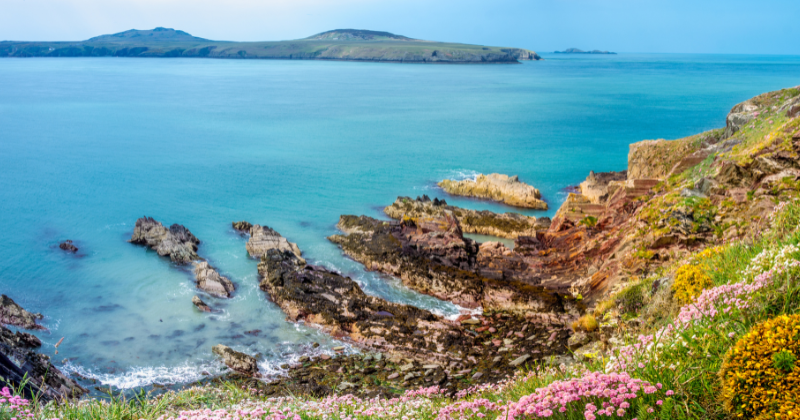 3. Pembrokeshire Coast National Park
We just love a national park. Singled out for their beauty and environmental signifcance, they make a wonderful playground for nature enthusiasts. One you can't miss in Wales is the Pembrokeshire Coast National Park.
Think of a national park and you might imagine rolling green hills and densly packed woodlands. This beautiful region has that and so much more. Backed by those lovely hills, and surrounded by woodlands, this national park is full to the brim with estuaries, valleys, and coastlines.
The Pembrokeshire Coast is also split into four parts, each one with its own quirks and qualities. From miles of golden sands to endless wide-open spaces, this is a must-visit. Luckily, we head there on a new small-group tour of ours: our 3-day The Mountains & Coasts of South Wales tour from Bristol.
4. Visit Portmeirion
Can't make it to Italy this time around? Not to worry, just head to Portmeirion. This little village is a gorgeous combination of Italy and Wales, and if there's one thing you must do when visiting any 'Italian' village, it's exploring its streets.
It was created by Welsh architect Clough Williams-Ellis and, strange as it sounds, the village itself is a visitor attraction. It costs to access the streets of Portmeirion but we promise you it's worth it, as is evident from the 200,000 plus visitors every year.
You can be one of them on our 3-day Snowdonia, North Wales & Chester tour from London.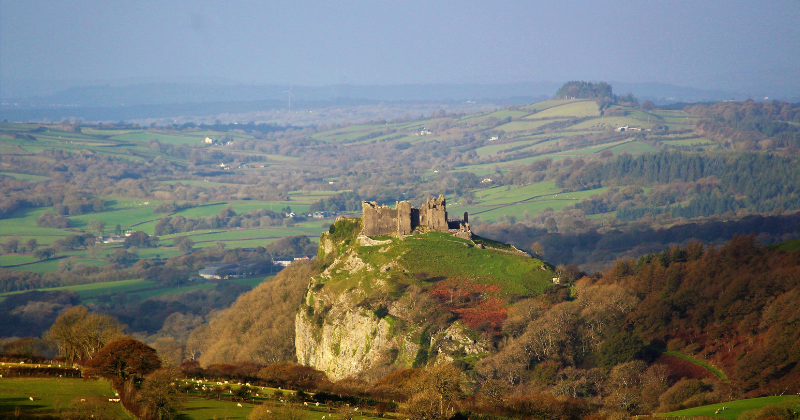 5. Gaze Upon the Past
There's a quote by Scottish novelist and poet Walter Scott that goes "A ruin should always be protected but never repaired – thus we may witness full the lingering legacies of the past."
There's something about a good ruin. Intact castles are beautiful, but ruins allow us to invent stories of the past, of what could have been. It allows us to hope, to imagine, to explore.
Wales is full of ruined castles – from Carew Castle, Carreg Cennen Castle, Llanthony Priory, Neath Abbey and Gatehouse, Ragland Castle… just to name a few.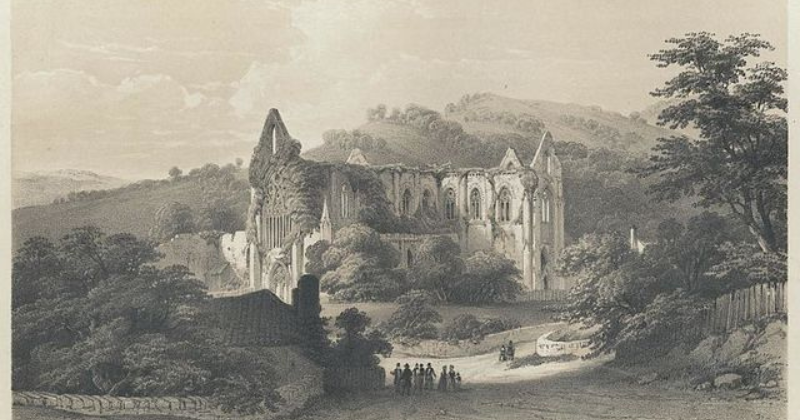 6. Tintern Abbey
From dramatic limestone gorges to its rich historical sites, no wonder the Wye Valley was classified an Area of Outstanding Natural Beauty back in 1971. And Tintern Abbey is part of that beauty. This gothic masterpiece has become an icon of the area. Even after 500 years of sitting in ruin, the abbey stands strong.
Founded back in 1131 by Cistercian monks, the abbey started out as little more than a timber building. But by 1269, thanks to the patronage of wealthy lords, the monks were able to bring the masterpiece you see today to life. Sitting snuggly along the beautiful River Wye, we make a stop here on our 2-day Stratford-upon-Avon, Oxford & the Cotswolds tour from Bristol.
7. Conwy Castle
Let's not forget those stunning intact castles we mentioned earlier. Conwy Castle is a top highlight for those visiting Wales. Go easy on her though, as she's nearly 1000 years old and has been named a UNESCO World Heritage Site. But there's plenty to explore inside the castle, and thanks to some restoration work, you can walk a complete circuit around the battlements of Conwy Castle.
And if castles are your favourite thing to see, there are over 600 to choose from in Wales. Supposedly, Wales has more castles per square mile than any other country in the world. So simply wandering around Wales, you're bound to run into one.
We can take you for a visit on either our 5-day Heart of England, Wales & Yorkshire tour from London or our 3-day Snowdonia, North Wales & Chester tour from London.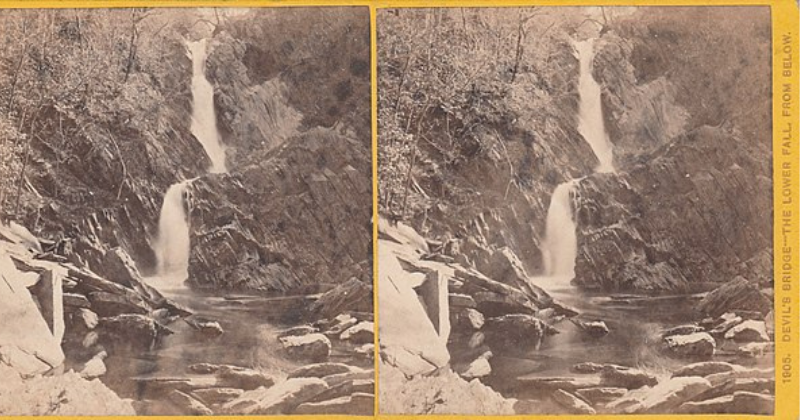 8. Tempt Fate at Devil's Bridge Falls
Back in the 11th century, the Devil visited Wales. Even he had heard of its beauty and put it straight to the top of his travel bucket list. Upon arrival, he came across an old lady who was upset that her cow had wandered over the river and refused to come back. The Devil, posing as an ordinary man, offered to build her a bridge in exchange for the first thing that crossed it.
Sounds a bit suss to us, but the lady agreed. The very next day, there was a bridge, and the old lady was thrilled to cross. Except, at the last minute, she tossed a loaf of bread to the other side, which her dog proceeded to chase. The Devil was not happy and vanished, too humiliated to admit that he'd been outwitted by an old woman.
Totally a true story. And it's the story of how the Devil's Bridge came to be... supposedly.
If you happen to be visiting Aberystwyth (another great spot for your list), you could easily drive or train out to visit Devil's Bridge Falls. You might go to see the Three Bridges, built one of top of each other, or perhaps you'll visit for the rugged beauty of the waterfalls. Maybe it's the legend of Devil's Bridge that has drawn you there. No matter what, you're sure to be impressed by this beautiful spot.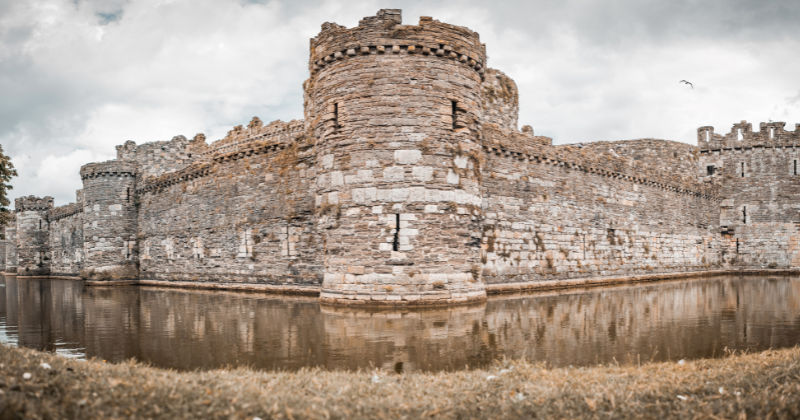 9. Beaumaris Castle
Commonly known as Edward I's masterpiece, his castle to end all castles, Beaumaris' name comes from 'beau mareys', or 'beautiful marsh', and you can find this stunning construct on the island of Anglesey.
The castle was never finished, which is part of the appeal of seeing it, but you can see King Edward's ambition reflected in this amazing fortress. In the most technical sense, it's the most perfect castle in Britain. Its 'walls within walls' design, involving no less than four lines of fortifications, was state of the art back in the 13th century.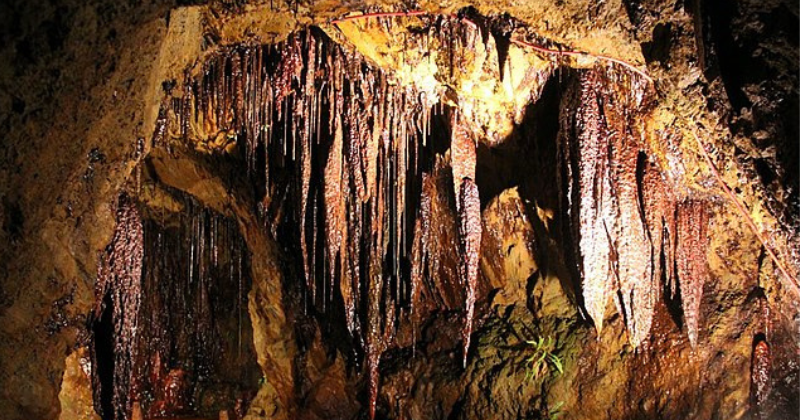 10. Brave the Deep
Sure, the landscape and castles of Wales amazing… but what about the rest of it? What lies beneath? People often forget there is a whole world of wonder lying just below their feet. For those who aren't afraid of dark, tight spaces, there are plenty of mines and caves to explore across Wales.
From ancient cave dwellings to people mining for gold, coal, and lead, the Welsh have spent plenty of time underground. You could check out the Sygun Copper Mine, the Great Orme Mines, or the National Showcaves Centre, just to name a few.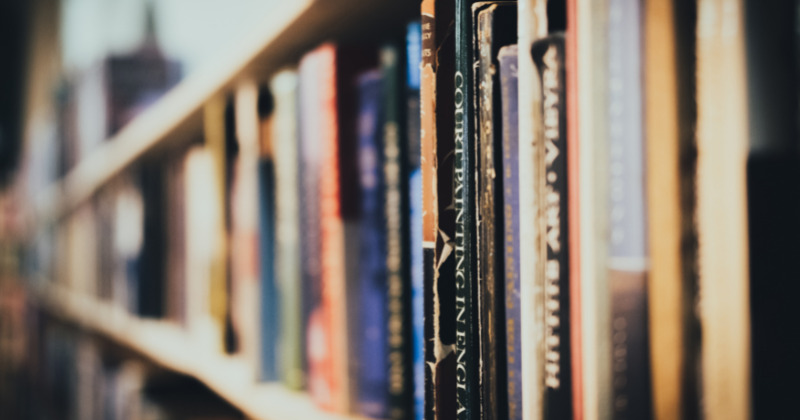 11. Hay-on-Wye
Bookworms get ready. Known around the world for its plethora of books and bookshops, Hay-on-Wye is a booklover's dream. The lovely little town became world-famous for its number of secondhand and antiquarian bookshops. Founded back in 1961 by Mr Richard Booth, it's now the world's largest secondhand and antiquarian book centre.
It's also the home of the Hay Festival, the world's leading festival of ideas. If you're a writer, reader, thinker, performer or innovator, you might consider heading to the festival. You'll be joined by hundreds of likeminded and passionate book people. We explore Hay-on-Wye on several of our new tours, including the 3-day The Mountains & Coasts of South Wales tour and our 4-day South Wales, Cotswolds & Oxford tour, both from Bristol.
12. Bannau Brycheiniog mountain range
Established as a National Park back in 1957, Bannau Brycheiniog was one of the first areas in Britain to be given this status. The park stretches over an incredible 520 square miles and two thirds of this area is comprised of old red sandstone rocks.
Each area of this national park is unique in its own way, so a scenic drive through is a must, at the very least. It's made up of several areas in Wales including Powys, Carmarthenshire, Monmouthshire, Rhondda Cynon Taff, Merthyr Tydfil, Blaenau Gwent and Torfaen... try saying that sentence ten times fast.
One fact we love is that its tallest waterfall, Henrhyd Falls, was used as the Batcave entrance in The Dark Knight Rises. So... to the Batcave, anyone?
The national park was known as Brecon Beacons for since 1957 but in 2023, on its 66th anniversary, its name was changed to its Welsh name: Bannau Brycheiniog National Park.
We coast through this beautiful region on our 3-day The Mountains & Coasts of South Wales tour and our 4-day South Wales, Cotswolds & Oxford tour, both from Bristol.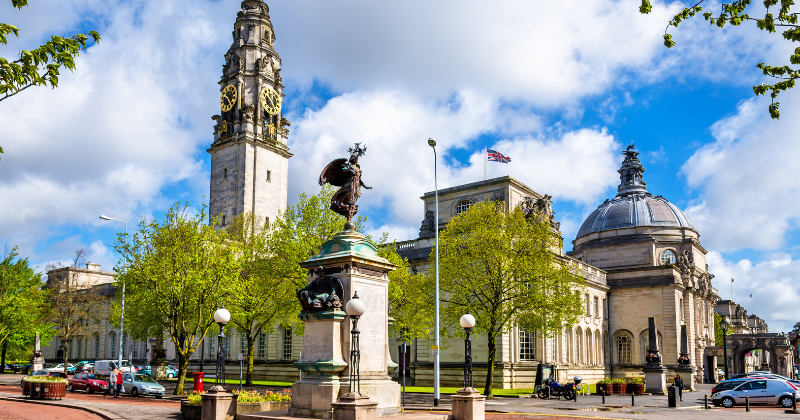 13. Cardiff
Time for a city break? As Wales' capital, there are plenty of things to do in Cardiff – perhaps too many. You can explore Cardiff Castle, see Millennium Centre, or explore the historic museum St. Fagans, just to name a few.
Permanent settlement in Cardiff began around the 11th century, when the Normans built a fortified castle on top of an old Roman outpost. It has both a fascinating and morbid history. If you're not squeamish, head to Dead Man's Alley. If you take a wander down the alleyway next to St John's Church, take a look at the paving stones. Those numbers you see? They refer to burial vaults beneath the city.
But it's not all grim!
We're no strangers to Wales ourselves and love exploring it with some of our small-group tours. Why not check them out? It may be just what you're looking for.